Hämeen Ilvesreitti, Häme Lynx Trail, is a 250 km long trail network that combines many wonderful outdoor areas and national parks such as Torronsuo and Liesjärvi National Parks in Häme Lake Uplands region in Finland. The Ilvesreitti extends into four municipalities: Tammela, Loppi, Hämeenlinna and Riihimäki. The nature in the area is very versatile and consists of bogs, clear-watered lakes, forests and ridges formed by ice age. Here's our introduction to many nature areas along the Ilvesreitti.
Table of contents:
How to enjoy the nature along Hämeen Ilvesreitti
Nature areas along the Häme Lynx Trail
Pääjärvi recreation area
Iso-Melkutin lake
Kivisammaljärvi lake
Liesjärvi National Park
Ruostejärvi lake
Saari folk park
Torronsuo National Park
Komio Nature Reserve
How to enjoy the nature along Hämeen Ilvesreitti
The Hämeen Ilvesreitti is well marked with yellow signs and signposts with pictures of lynx. See the complete map of the Hämeen Ilvesreitti on InfoGIS Häme or purchase the map from Adlibris.
According to everyman's rights you are generally allowed to camp over night along the trail. But there are specific instructions on camping in different areas. Camping is not allowed for example in Torronsuo National Park. In Liesjärvi National Park camping is allowed in three different campsites. In other areas camping is mostly allowed but preferably near lean-to shelters.
You are allowed to fish with a worm fishing rod. For lure fishing you will need to purchase a permit, for example from Eräluvat website. There might be some restricted areas, so always check before fishing.
You are allowed to pick wild berries and mushrooms. The berries that you find in Häme in large quantities include bilberries, raspberries, cranberries, and lingonberries. The best time for berry picking is from the end of July to September. Different types of mushrooms can be picked from May to November, the best season being in the autumn from August onwards.
You are allowed to cycle on forest trails according to the everyman's rights unless it is somewhere specifically prohibited. It is prohibited in Torronsuo National Park with the exception of few forest roads, and only allowed on certain trails in Liesjärvi National Park.
Making fire is not allowed by the everyman's rights, except in designated fire places when forest fire warning is not on. Gathering firewood from the forest is also forbidden, so carry your own firewood or use those provided in lean-to shelters.
Remember to take all your trash with you when leaving.
Nature areas along the Häme Lynx Trail
The Hämeen Ilvesreitti combines the following nature areas and few others to each other. You can visit all of these separately or go trekking on the Lynx Trail. Trails in these nature areas are much used. Those parts of the trail that combine different nature areas to each other are much less used and therefore not very easy to walk or cycle.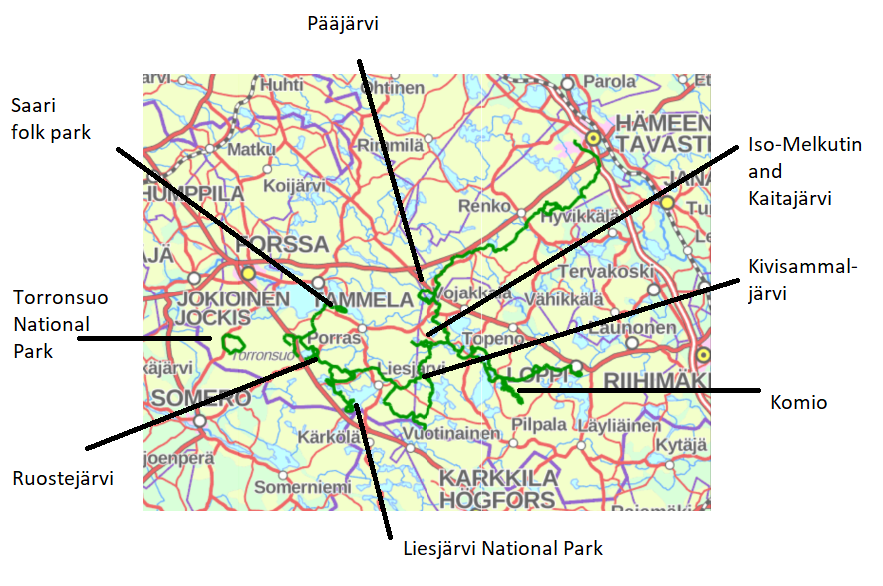 Pääjärvi recreation area
Trails in the area: 1,5 km, 4,5 km and 7,5 km
Facilities: 1 lean-to shelter and 1 fire place, outhouse toilet
In Pääjärvi area Ilvesreitti comes from Hämeenlinna, goes around the lake and continues towards Räyskälä and Iso-Melkutin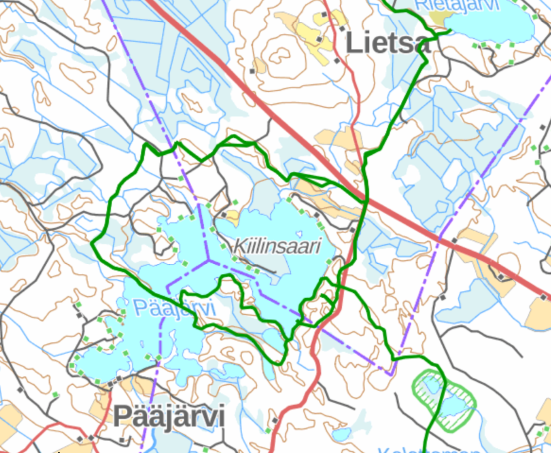 Pääjärvi recreation area's ridges were formed some 10,000 years ago when glacier rivers piled sand into cracks in the glaciers. Its fairytale-like forests make it a perfect spot for day visits or overnight stays. Fishing is popular in the Pääjärvi lake, and the short trail to the lean-to shelter make it a family-friendly destination.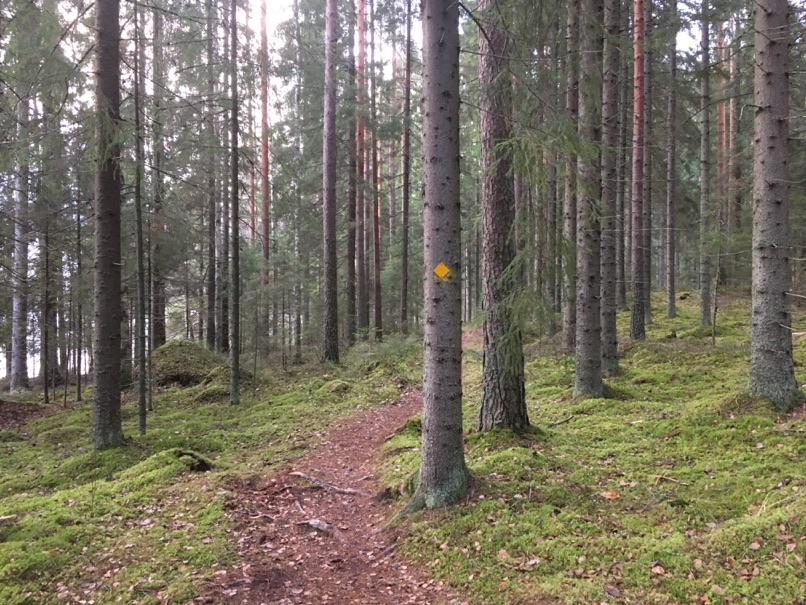 Iso-Melkutin lake
Trails: 7,1 km and 11 km
Facilities: 2 lean-to shelters and outhouse toilets
The Ilvesreitti comes from Pääjärvi in the north to Räyskälä and goes around Iso-Melkutin. From Räyskälä the trail continues to Komio Nature Reserve in Loppi, and from Iso-Melkutin towards Kivisammaljärvi and Liesjärvi National Park.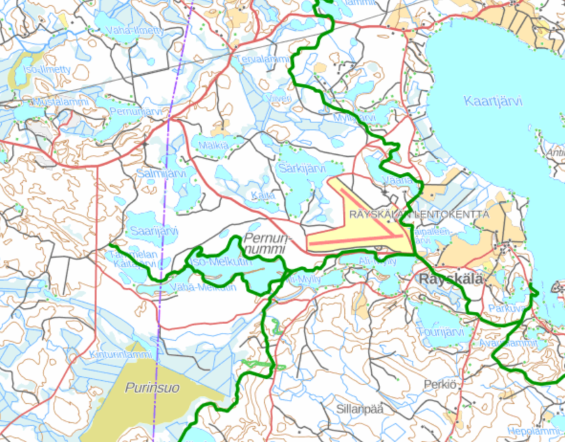 Iso-Melkutin is gaining popularity as it is easy to visit from the capital area. The Iso-Melkutin lake has 7 km trail around it, but you can combine nearby lakes Vähä-Melkutin and Tammela's Kaitajärvi to your route. That adds another 4 km to the circle trail, making it approximately 11 km long. There are two lean-to shelters by Iso-Melkutin lake. Melkutin is a popular camping destination, and the clear-watered lake is also suitable for swimming, snorkeling, scuba-diving and kayaking. Cycling is allowed on the trails.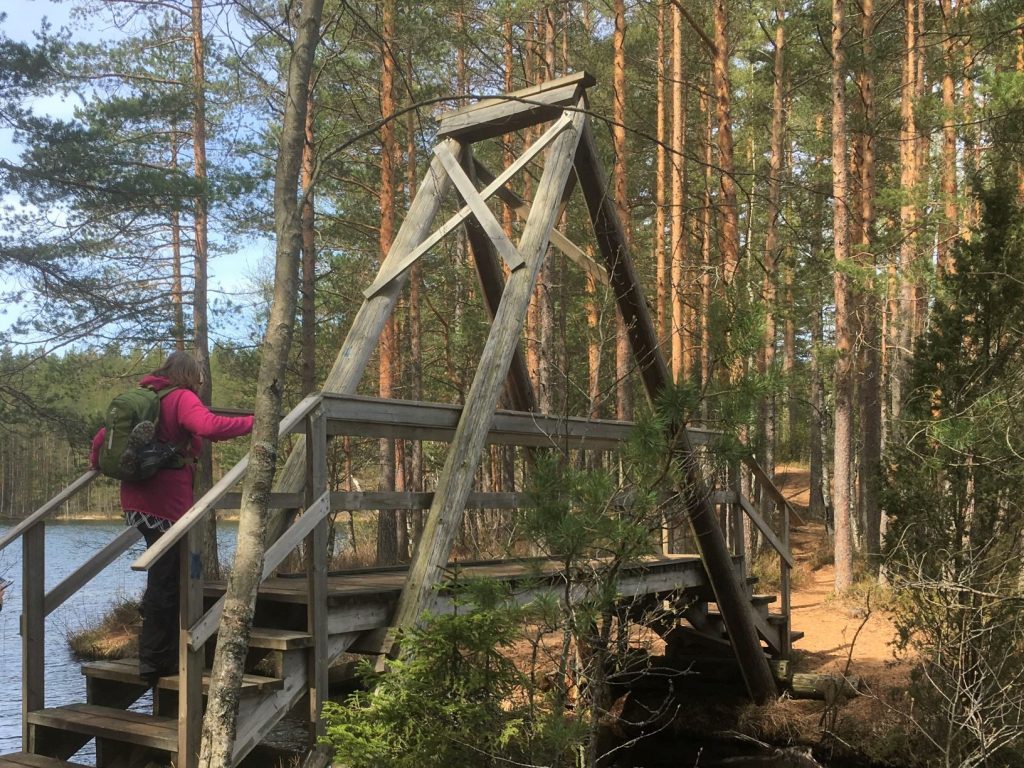 Komio Nature Reserve
Trails: 3,5 and 6,5 km
Many kilometers of cross-country skiing tracks in winter
Facilities: Fireplace and outhouse toilet close to the parking lot
The trail arrives to Komio from Räyskälä and continues to Loppi.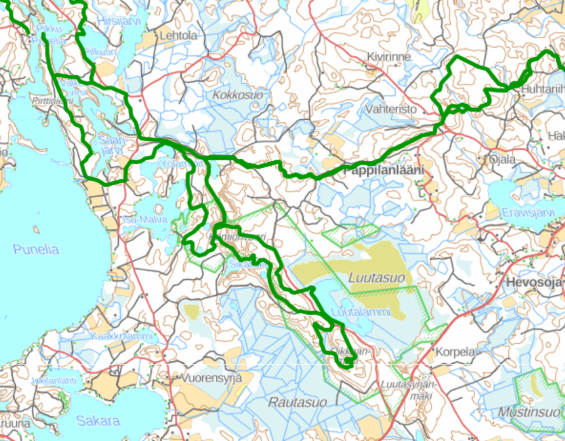 Komio Nature Reserve provides versatile nature and beautiful landscape for for hikers and cross-country skiers. Known as Luutasuo or Luutalammi by the locals, Komio Nature Reserve is a part of the nationally valuable and diverse Maakylä-Räyskälä Natura Site. Pikku Samo is 3,5 km long circle trail suitable for families. Luutaharjun Samo is 6,5 km long circle trail with steep stairs.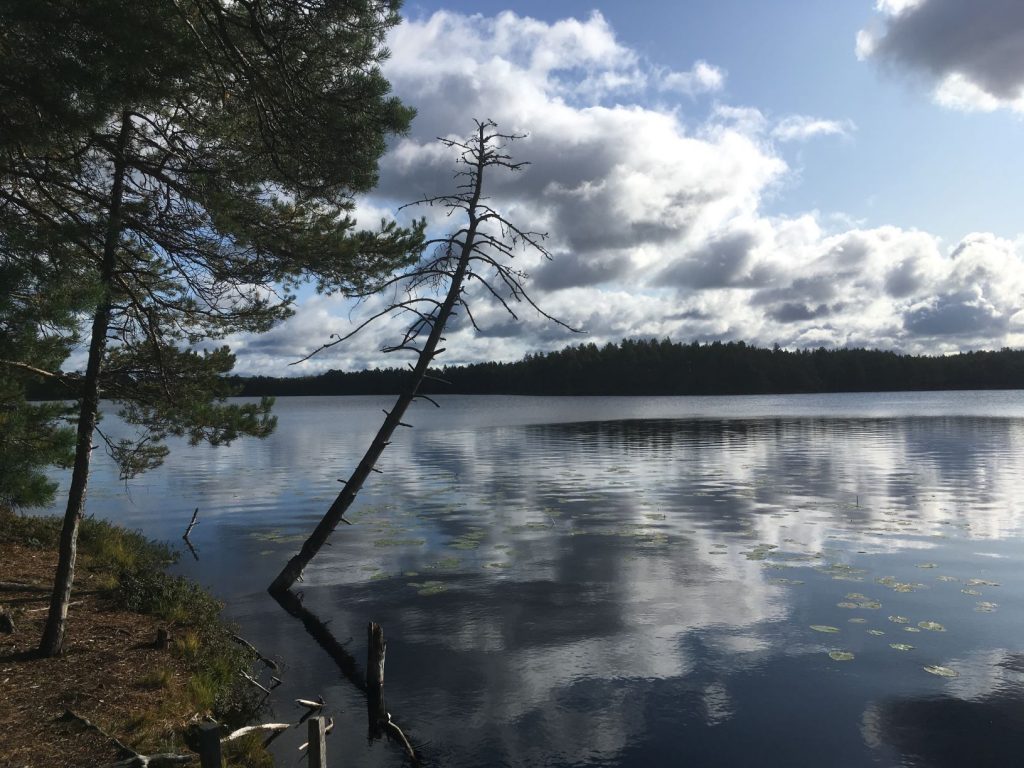 Kivisammaljärvi lake
Trails: 2,5 km circle trail around the lake
The trail comes from Iso-Melkutin to Kivisammaljärvi, where it makes a small circle around the lake. You can continue to Keritty or to Kivijärvi. Both of those trails eventually lead to Liesjärvi National Park, but Kivijärvi trail is shorter.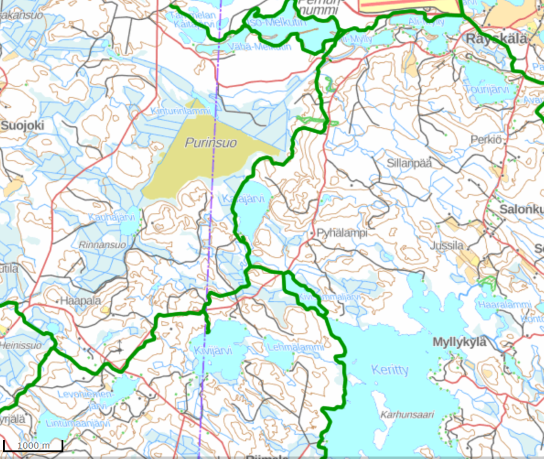 The Kivisammaljärvi lake is one of the most peaceful nature destinations along the Lynx trail. There are no lean-to shelters to visit but the lake itself has rugged beauty in it. Funnel chanterelles can be foraged near the lake.
Liesjärvi National Park
Trails: There are about 30 kilometers of marked trails in Liesjärvi National Park.
Facilities: Several campsites with a barbeque hut or lean-to shelters, Korteniemi Heritage Farm
The Ilvesreitti comes from Iso-Melkutin through Kivisammaljärvi and Kivijärvi to Liesjärvi. From here you can continue to Ruostejärvi in the north.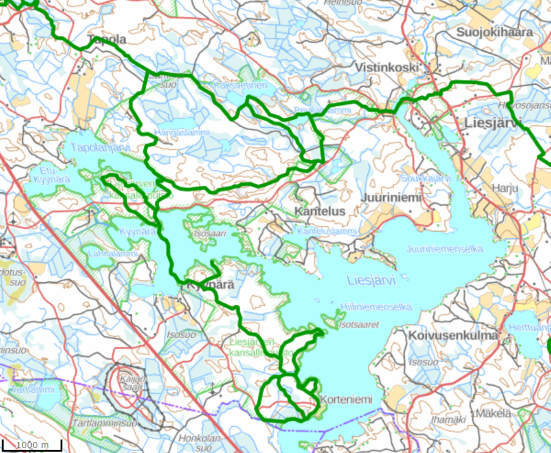 Korteniemi Heritage Farm and stunning Kyynäränharju ridge in Liesjärvi National Park are well worth a visit. You can camp in three different locations at Liesjärvi NP.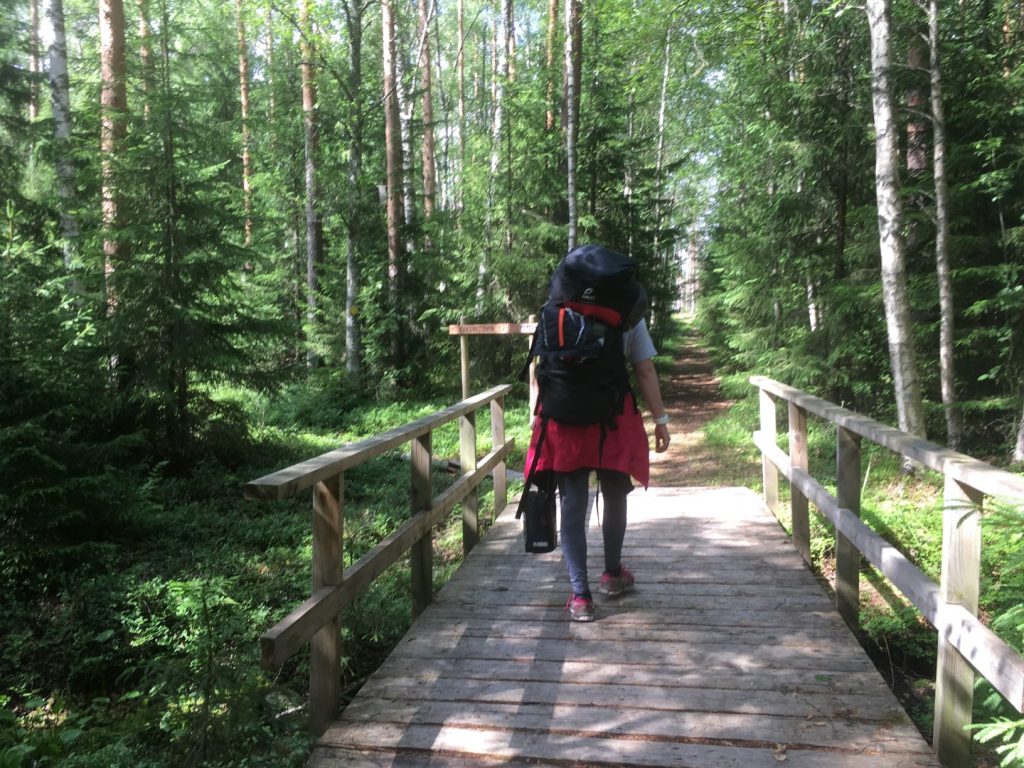 Ruostejärvi lake
Trails: 0,5 km, 0,8 km, 1,2 km, 2,8 km
Facilities: Lean-to shelters, picnic tables, toilets
The Ilvesreitti comes from Liesjärvi National Park to Ruostejärvi and continues from there to Saari folk park.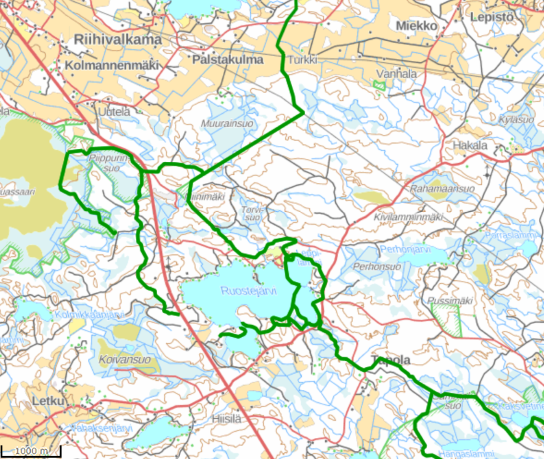 Short trails at Ruostejärvi are suitable for the kids. Ruostejärvi has a popular beach during summer, and canoes and stand-up paddle boards are available for rent from Eerikkilä.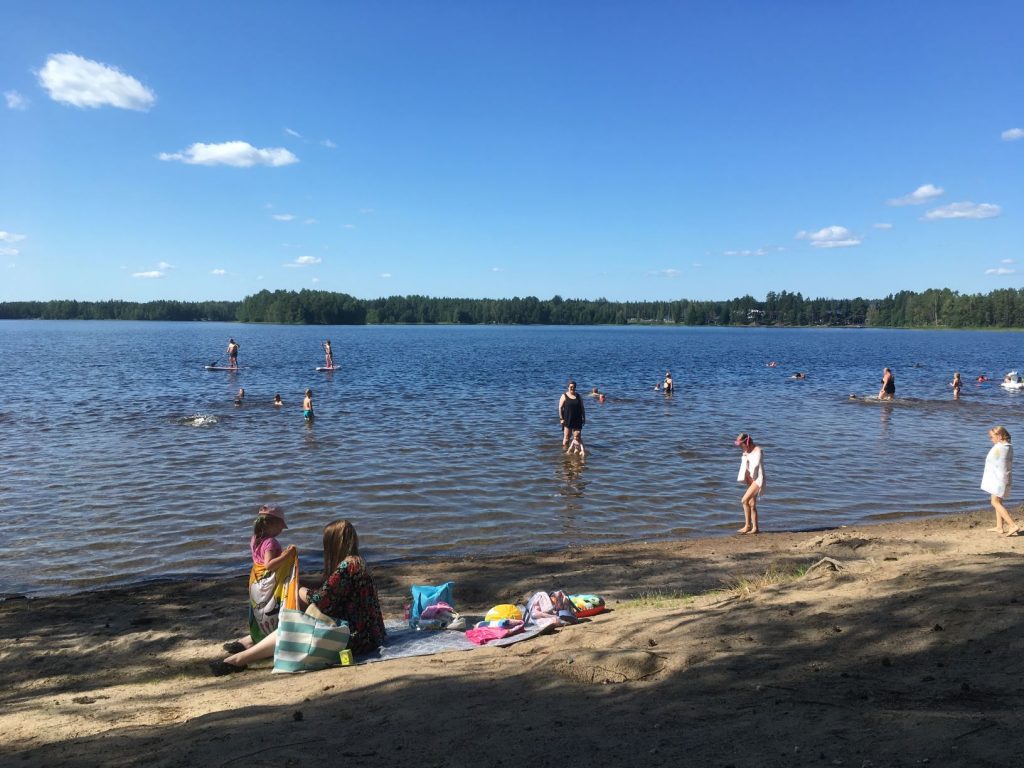 Saari folk park
Trails: 2,7 km and 3,4 km
Facilities: Observation tower, picnic tables, lean-to shelters and outhouse-toilets. Southwest Häme Cabin (Lounais-Hämeen Pirtti) serves as an order restaurant and there is also a kiosk, which is open during summer.
The Ilvesreitti arrives to Saari from Ruostejärvi.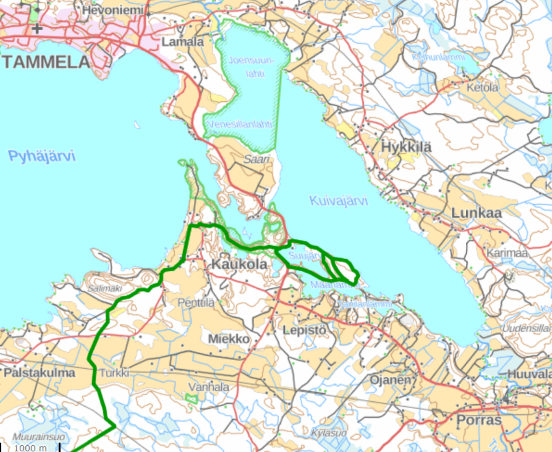 Saari folk park is a popular destination especially for picnics and swimming. Motorcyclists like to drive by Saari and have a little stop there. Saari hosts old and charming Kaukolanharju observation tower that can be visited during summer months. The view from the tower is marvelous.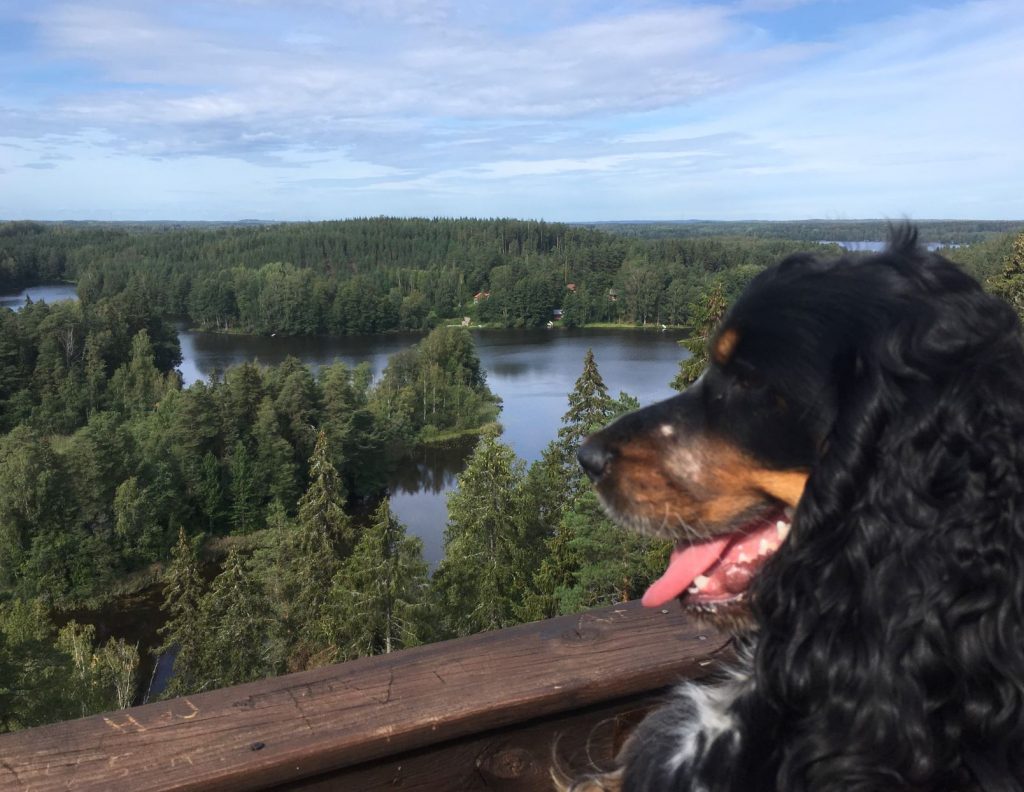 Torronsuo National Park
Trails: 1,5 km, 3 km and 10 km
Cross-country skiing tracks in winter, the lenght depends on snow situation
Facilities: Birdwatching towers and fireplaces
Good to know: Camping is not allowed at Torronsuo
Torronsuo trail is separate from the rest of the Ilvesreitti network. The map below is old as there is a new section of the duckboards near the road. You don't have to walk on the road anymore.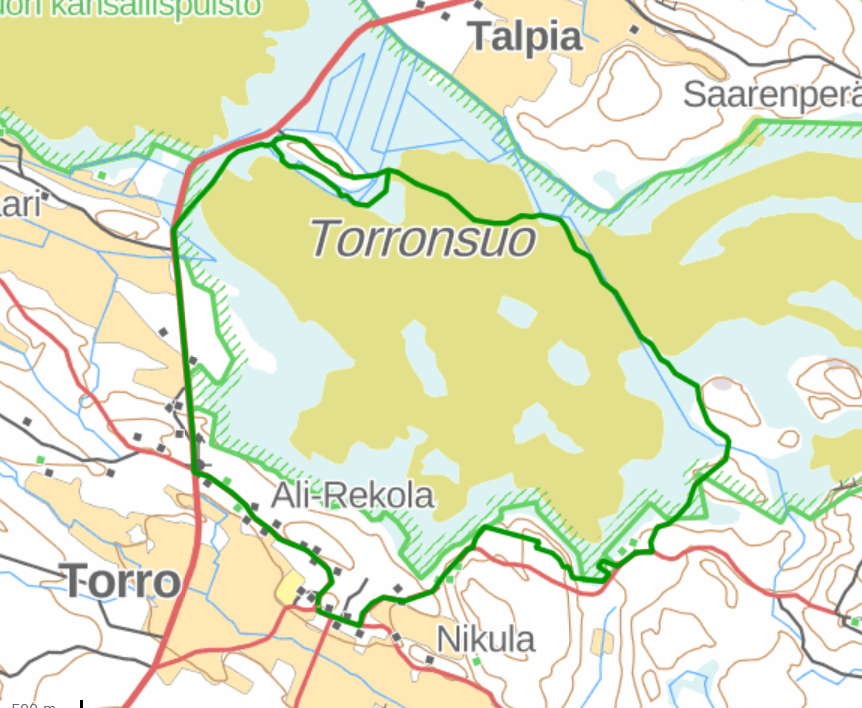 Torronsuo National Park has circle trails on the duckboards and bird watching towers that allow you to get a nice view of the national park on your day trip. Torronsuo is known as Finland's deepest bog and simply stunning nature destination in Tammela municipality.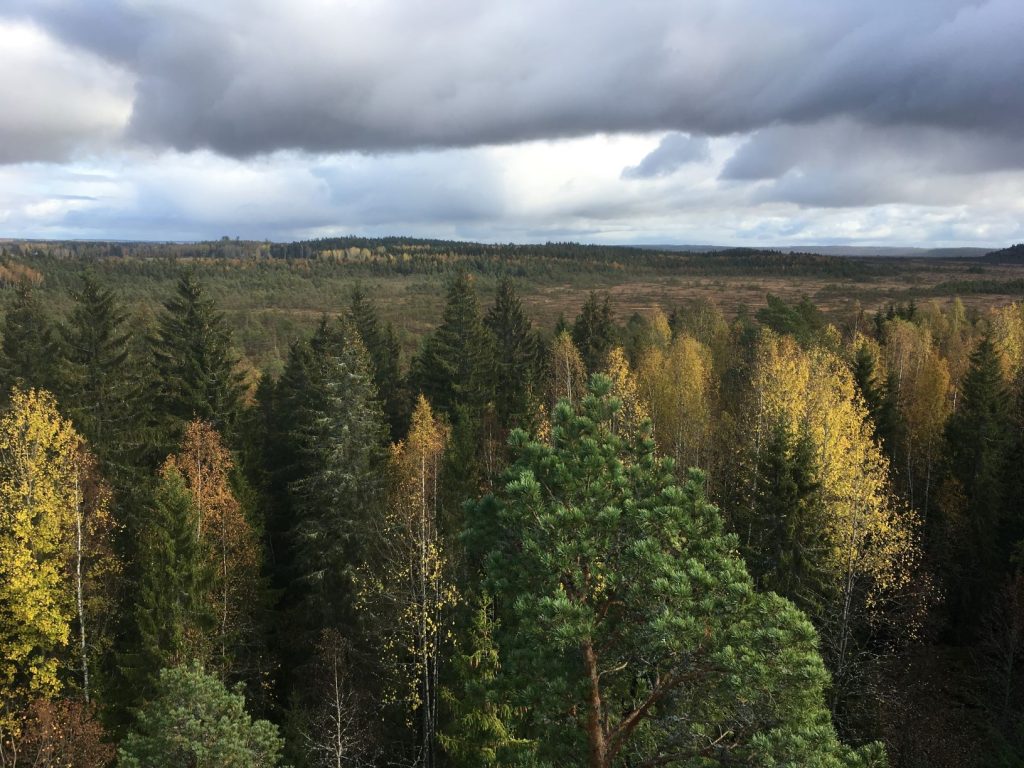 Have you ever been to the Lynx Trail? What is your favorite nature destination on it?