Kullaanvuori observation tower is located in Rusko in Western Finland. We visited the tower in the middle of November. We should remember that late autumn days in Finland equals to short days. For example on Sunday Nov. 15th, the sun rose at 8:32 am and it set at 15:58 that meant 7:25hrs of light.
Additionally to the lack of light, we are in a process to be deprived of the vibrant colors that nature has in summer and early autumn. For example at this moment, most of the beautiful yellow leaves that elegantly dressed the trees early autumn are now dry on the ground. To emphasize the colorless days of this time of the year, sometimes the sky is just grey. This might sound gloomy. However, even the colorless time has its richness for enjoyment, and the proper conditions to develop Finnish sisu. When we go to nature in this period of the year, we can observe how nature is preparing itself to sleep during the winter and to shine brilliantly next summer. Also one can find some gems hidden in these dark days.
Start of our journey
On Sunday 15th, we were at home, in Turku, and spontaneously decided to go for a walk outdoors. Then, we looked for a place close by that we could explore, and we found the Riviera recreation area, which is part of the hiking routes of Kuhankuono. It is a very short drive and we were at the info board at 12:50 pm. Then we decided to walk towards Karevan kierto.
Size of the parking place:
Beginning of our walk
The signaling of the area leaves space for interpretation, so we just started walking where we thought we should go. No idea if that was the correct path, but we walked anyway. What surprised me in this first section of our walk was to see many three trunks down on the ground. I need to ask knowledgeable people in the field, why? I acknowledge that there had been strong winds, but still, it called my attention that there were so many of them.
After some minutes, the path turned to be more populated with standing trees. It was in this area where we found our first info-signs surrounded with trees on different positions. I am curious to see this place in late spring or summer with all the leaves.
As we walked we found streams on both sides of the path. Actually, this is the first time I am walking in a path with these characteristics in Finland. In this particular area, apparently there are many streams, and they probably enjoy building bridges as well. It looks pretty.
Mushrooms were easy to find in this area as well. And the dry leaves are already on the soil of the forest.
Swamp
After this charming area, we started to walk through a terrain that seems to be some kind of swamp. This was a muddy path.
This section of our walk is finalized with a manmade road. Here is where we found a sign that we think was indicating the area where we were: "Karevansuo".
During this hike, the roots of the trees felt as a great support in our walk, especially in the muddy paths.
Rocks
After crossing this open area, we started to go toward the hills. There we changed municipality as there is the border between Rusko and Raisio.
In this part of the walk we were again in a kind of enchanted forest, and suddenly you could see a view with a cliff, which called my attention.
There is an area where they are extracting material. We didn't research more about the activities done in the area. However, from a distance the landscape looks interesting. Apparently, we were not the only ones curious about the location. There were tracks of some other visitors, maybe a deer?
The path continued and we could admire massive rocks too.
After some time in the beautiful forest with massive rocks, we found the sign of our destination at Kullaanvuori.
First we saw a lean-to shelter and dry toilet.
Next, while reaching the top one can find the observation tower.
Of course we went upstairs, and from the towers I have climbed in Finland, climbing to the second level of this tower felt inaccessible, especially if you do not have a strong grip in your arms. In any case we made it to the top and it is a wonderful view. We want to come back on a clear day and with binoculars to detect different spots from the area. Now you will have to imagine this. We recorded the 360 view from the top of the Kullaanvuori observation tower.
On the way back
I didn't take many photos as we were against time to avoid the darkness. We were not prepared to stay this long and the days are getting shorter. Even with the rush, we found a very nice spot for eating.
The night reached us on our way back. You can see how dark it was at 4:35pm while we were still on our way to the car.
Reminder to myself: Always bring a headlamp when hiking in late autumn!
Before finalizing this post you can read the story below which shares other discoveries close to the tower, when we were hiking on this trail, e.g. local tales. The story will challenge your knowledge of the area as well.
Directions to Kullaanvuori
You have two starting points where you can start your hike to Kullaanvuori.
You can park at the Kerttula Sports Center and the departure path is at the end of the sports hall over Kerttulantie to Vesakuja, from where you can get to the bridge over Raumantie.
Rusko Ski Resort NOTE! You are not allowed to walk on the slopes of the ski resort. During snow, the walking track to Kullaanvuori is signposted as soon as you turn from Hujalantie to the ski resort road.
These two points are indicated in map: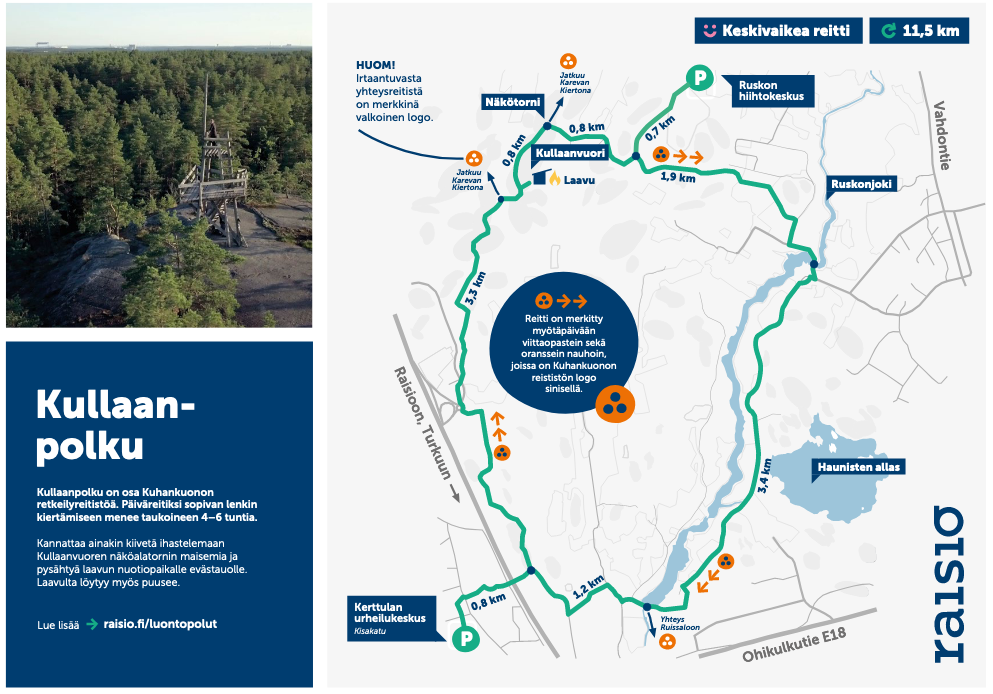 More information (in Finnish) in Raisio website.
Accessibility
Not accessible for those with mobility issues.