Peukaloinen trail, Peukaloisen polku, is a 4 kilometers long circle trail in Liesjärvi National Park. The trail departs from Peukalonlamminkangas parking area and leads you to Peukalonlammi lean-to shelter, Kaksvetinen barbecue hut, Tittilammi cooking shelter, and back. Me and my friend decided to take our dogs for a walk and check out this new trail.
The Peukaloinen trail allows everyone to explore Liesjärvi
The Peukaloinen trail, marked with black paint, is recommended to be explored anticlockwise. It departs from a green gate at Peukalonlamminkangas parking area first towards Peukalonlammi pond and lean-to shelter. Normally the Peukalonlammi lean-to shelter area is flat and accessible, but now there was a big pile of sand and a grey water tank waiting to be dug on the ground, as they are making new toilets in both Peukalonlammi and Kaksvetinen campsites. We did not hang around at Peukalonlammi lean-to shelter but admired the view towards the pond. There was some mist in the air and the clouds were gathering on the sky.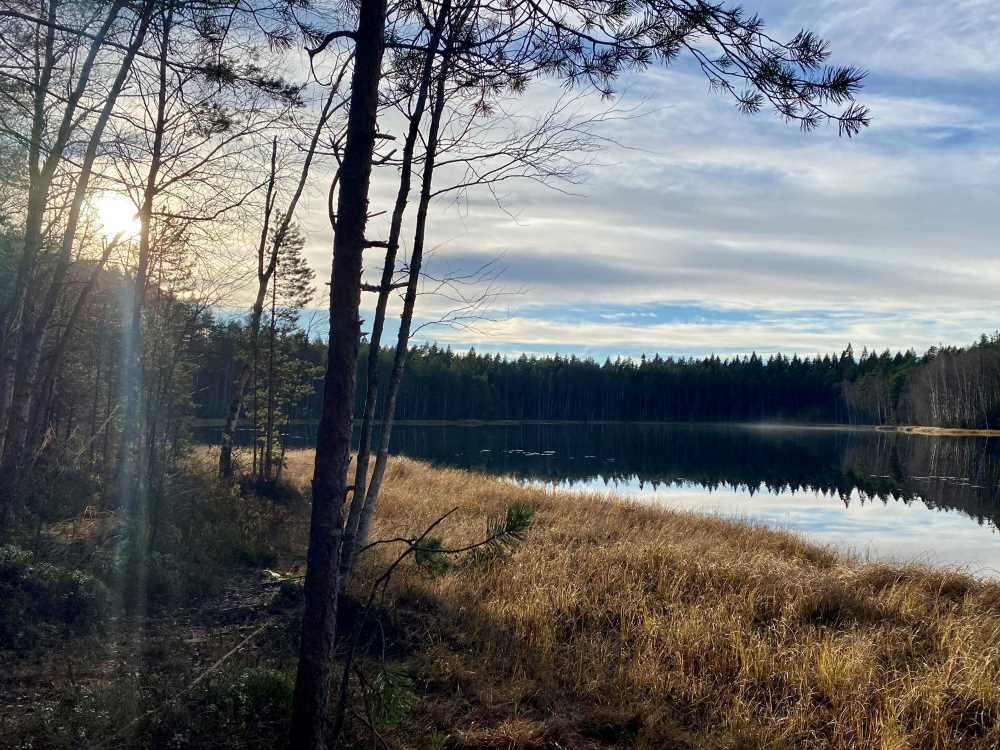 From Peukalonlammi begins my favorite part of this trail passing the pond and through a green moss-covered spruce forest towards Kaksvetinen. It was so beautiful and peaceful in here. There were many picnic tables along this trail, which is awesome for those who appreciate places to sit down. I have been walking here before but I'm pretty sure this part of the accessible trail was new. I like that they have utilized the maintenance roads and made this fully accessible circle trail. As accessible trail, this is considered demanding due to some hills.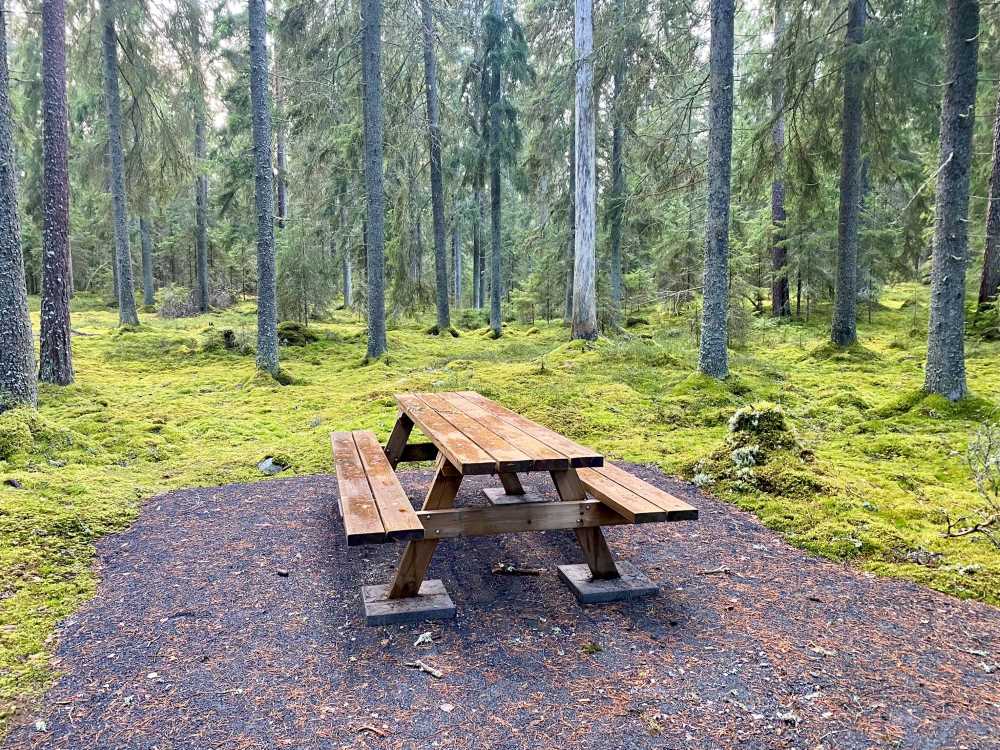 Soon we arrived to Kaksvetinen, which is a lake with campsite, equipped with barbecue hut and outhouse. There was an excavator covering the grey water tank in the ground with sand. The excavator driver let us pass him and apologized for making so much noise in otherwise peaceful nature destination. There was absolutely no need for that, it's understandable that extremely popular nature destinations like this need maintenance sometimes.
At Kaksvetinen, we had a little coffee break and chatted with a local man, who had been spending this beautiful autumn day out in the nature. Our dogs didn't need the break and got restless. What's the point of stopping if you are not going to grill any sausages?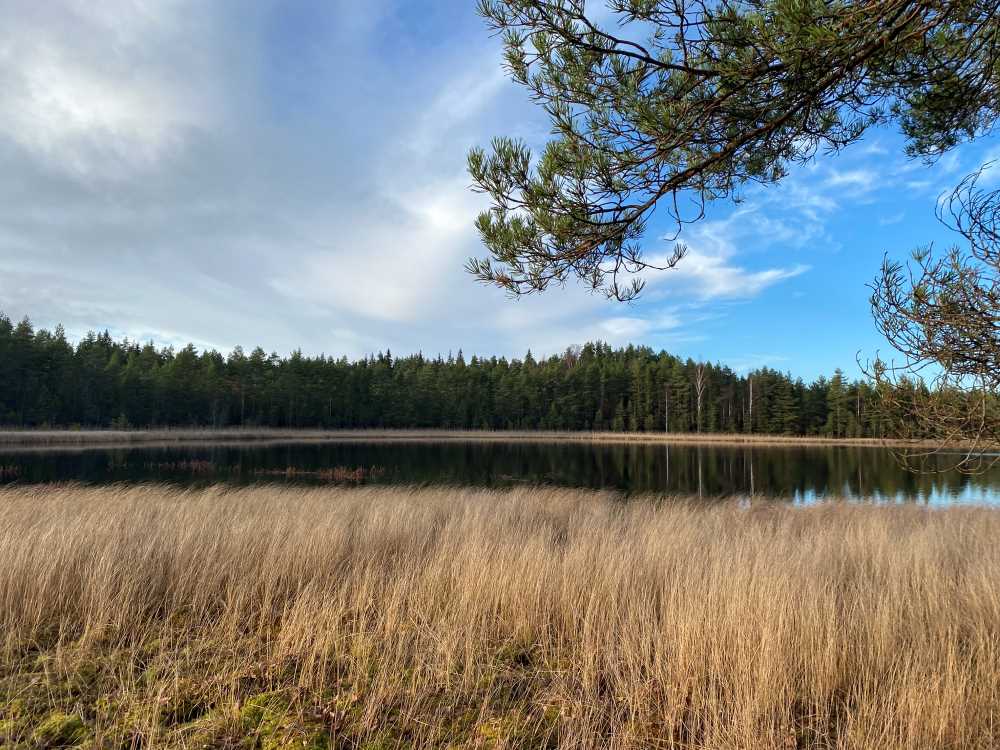 From Kaksvetinen, you could walk along duckboards to Sikomäki parking area, but we continued along the accessible Peukaloinen trail. It followed the maintenance road uphill and soon took us to intersection where we could see the black trail markings continuing in two directions; straight and left. Hmm… Which way should we go?
I checked the map and realized that we were close to Tittilammi cooking shelter. We decided to walk straight and go check it out first, and then come back to the same intersection and continue along the trail. It turned out that Tittilammi is not meant for camping, but it's available for group daytrips by reservation and everything is locked unless you book it and get the code for the key.
From Tittilammi, the Katavalammintie road goes through a little bog area and pine forest back to the Peukalonlamminkangas parking area. This road has a locked gate, and the only traffic in this area is either maintenance or those who have reserved Tittilammi cooking shelter for a day. So, we strolled happily in the middle of the road with our dogs on the leash.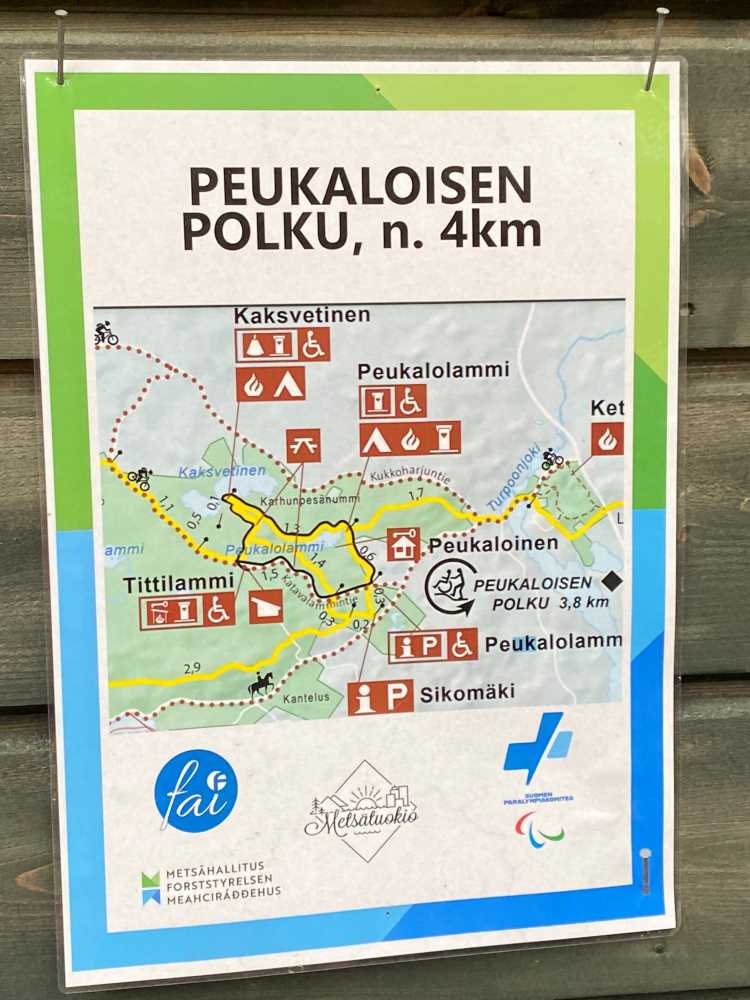 Directions to Peukaloinen trail
Peukalolamminkangas parking area
Katavalammintie / Kanteluksentie 580
31350 Tammela
Car: Set 'Kanteluksentie 580 Tammela' in your navigator. From Kanteluksentie road turn to Katavalammintie to find Peukalonlamminkangas parking area. Please note that there is another parking area, Sikomäki, close by. From Sikomäki parking, you can also get to the Peukaloinen trail, but Peukalonlamminkangas is the accessible parking.
Public transport: Getting to Liesjärvi National Park in general is pretty easy also by public transport as it is located near main road 2. The closest bus stop is called Kyynärä (Tammela), use that when searching for tickets at Matkahuolto website. Peukalonlamminkangas is located 5,8 kilometers from the main road.
Accessibility: This trail is accessible.
Facilities: Toilets and firewood are freely available in both Peukalonlammi and Kaksvetinen campsites. For Tittilammi, you need a reservation and key. There are plenty of picnic tables along the trail.
Check out our other stories about Liesjärvi National Park