Urho Kekkonen National Park, also known simply as UKK, was founded in 1983 and covers an area of 2,550 square kilometers. It is Finland's second largest national park so there is plenty to see and to admire, and lots of other hikers with the same spirit.
I've been waiting for months for this. Last autumn's hikes, as well as the spring hikes, got cancelled. But finally… Finally, I'm here. I know my racing thoughts will calm down when the first 20 kilometers have been walked. I head to Sokosti, again. This is my third hike at the UKK and I feel like I know the national park like my own pockets. No, I don't actually know it yet.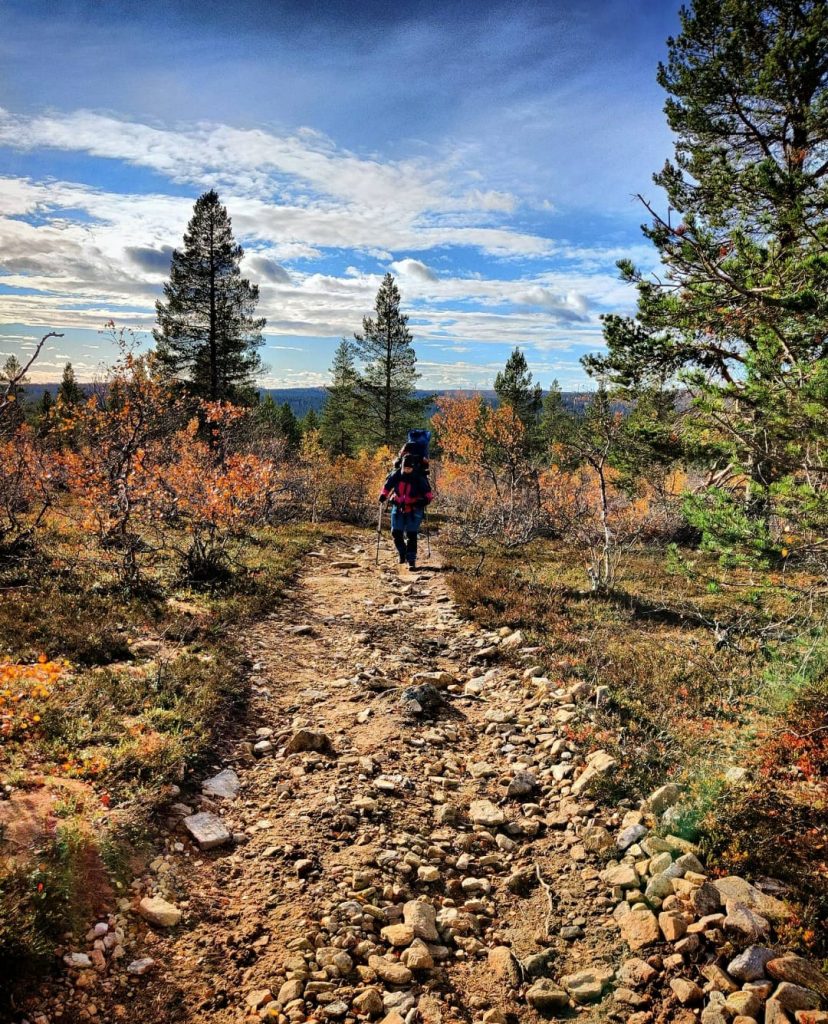 I'm ambitious, sometimes a little too much. On hikes that feature comes out strongly in me when the day journeys stretch to 20–25 kilometers. The weight of my backpack is about 18–20 kg. I have kept it as the maximum weight, so the hike could still feel pleasant. After all, it's splitting hairs, but once you've bought good equipment, you'll be camping with them for a while.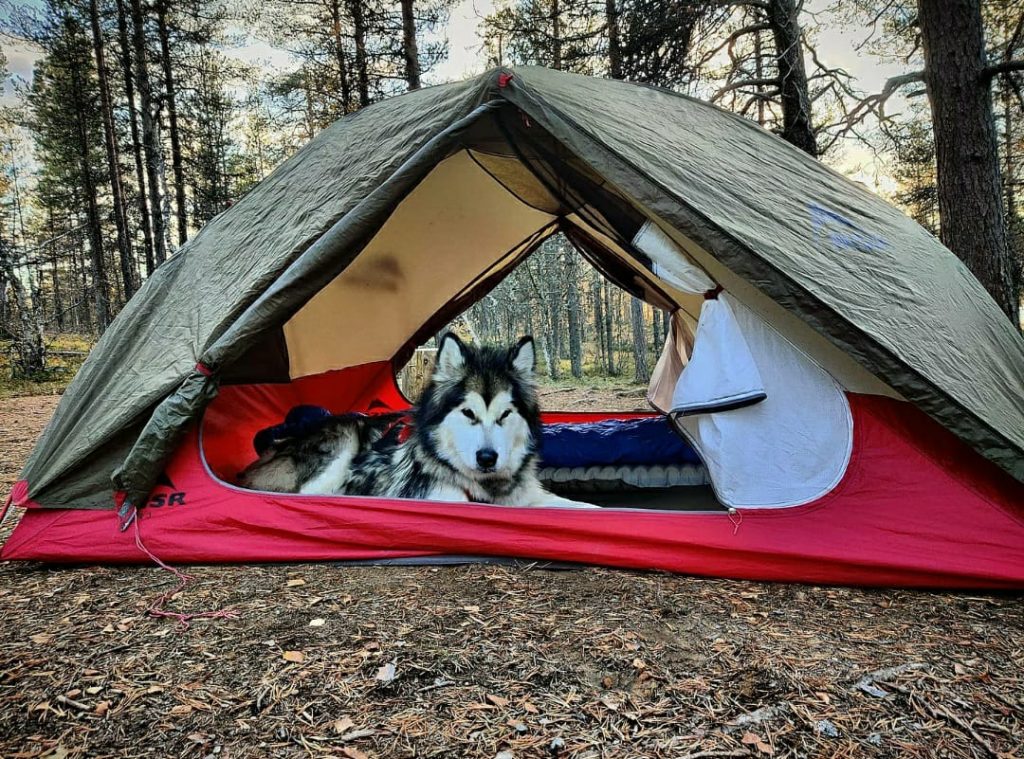 The Urho Kekkonen National Park is a pleasant terrain for both, beginners and more experienced. That's why I prefer going there with people when I'm not sure how they're handling the hike.
The reasons why many hikers prefer the Urho Kekkonen National Park are; opportunities to camp in good wilderness huts, clear routes, and of course Lake Luirojärvi and the saunas in the wilderness. Also known by the name Hilton of Luirojärvi, it is used by many hikers, because of the number of wilderness huts and the number of people it can accomodate. Depending on the season, around 20–40 people stay in Luirojärvi at the same time.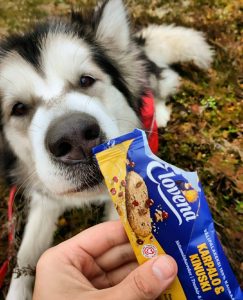 My feet are moving towards Suomunruoktu. The step still feels light, much lighter than I expected after a year long hiking break. I take a breath, as deep as my lungs allow me, and I smell the autumn in the air. The smell of forest feels damp, chilly and at the same time fresh. It penetrates into the bones and beep into my body. I've missed this. I open the backpack from the pelvic buckle in the front and drop the backpack on the ground, in front of the wilderness hut of Suomunruoktu. My eyes are drawn to a few other backpacks by the hut. I wouldn't sleep in a wilderness hut with a dog when there are others, but our clothes are soaked, and Viima, my Alaskan malamute girl, has a bit of a chill.
Many people usually comment that my dog can't get cold with that fur. This year it was bad luck again when my malamute (my sled dog, who does not always act as an outdoor dog should) decided to drop its bottom wool just before the hike. A dog of any breed will freeze, if the bottom wool is missing.
Carefully we go to the door of the wilderness hut, and I ask the couple who lies on the wooden bed, if I can come in with a dog, hoping no-one is allergic. However, it is entirely my responsibility when camping with a dog that my dog does not cause any inconvenience to other hikers. The couple welcome us warmly inside and it makes me smile.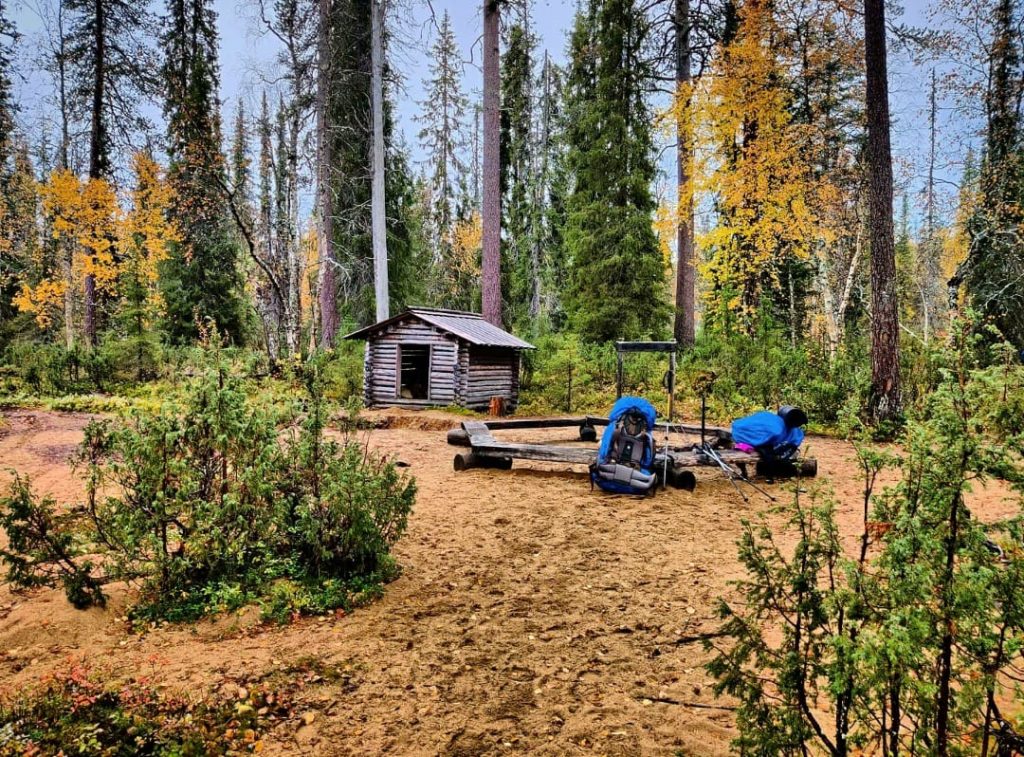 I lift the backpack back on and glance at the sky, which looks a little bit rainy. We have to hurry up to set up camp, before a bigger storm reaches us. Step by step, the path becomes smaller and rockier. My legs don't want to get up anymore, they don't want to work with the brain. I thank for the fact, that there are only few kilometers left, because the rain is escalating. I see a man further away sitting by a fire, holding it under the lean-to shelter. The man greets kindly and offers seatings in the dry lean-to. My friend and I sigh and take a few minutes to breathe, before we start setting up the camp."
There are unwritten rules among hikers, that everyone should know when going on the long hikes.
1. Respect nature – do not change it. Keep pets on the leash.
2. Favour marked routes and follow the rules on different modes of transport. Check the area's restrictions, and checkpoints of your destination.
3. Camp only in permitted places. Do not do the dishes or wash laundry directly in lakes or rivers. Follow the rules of the wilderness huts.
4. Make fire only in allowed places, preferably use a tour cooker. Do not make a fire during forest or grass fire warning.
5. Do not litter.
The rain is pouring to the outer fabric of the tent. I listen to noises surrounding the tent. I feel serene. I see you're awake too. You're listening to what I'm listening of. You're not afraid, which amuses me a little. I knew you have the nerves of steel, but how easily the whole hike has gone. I hear the sounds of wolves. A tense and eager smile rises to my face. I feel like I'm home, and I couldn't wait until the morning. I can feel Viima curling up tighter on my side and listening the same voices as we. My fingertips touch the hairy ears, it calms me down and eventually makes me fall asleep again.
Kiilopää is definitely the most popular starting and ending point, for myself as well as for other hikers. After a hard hike, I enjoy going straight to the shower and having a lovely home-cooked lunch at Kiilopää's hotel, Hotel Niilanpää.
Remember to read the second part of Ella's journey at Urho Kekkonen National Park.
Follow more Ella's adventures on Instagram at ellashiking.

Read more about all National Parks in Finland or take our fun quiz to find out which Finnish national park suits you the best!