Camping at Liesjärvi National Park is gaining popularity because of its close proximity to Helsinki, various camping sites to choose from, and short trails across the national park. Liesjärvi is a good option for crowded Nuuksio National Park, but on summer weekends you won't be camping at Liesjärvi alone either.

There are three camping sites to choose from; Savilahti, Kaksvetinen and Peukalolammi. All of them are located close to lakes and maximum 2 kilometers from the closest parking lot. They all have dry toilet facilities, firewood, and fireplaces.

Savilahti is probably the most popular camping site at Liesjärvi. It is located 1,2 kilometers from Kopinlahti parking lot or 2,7 kilometers from Pirttilahti parking lot, if you want to cross Kyynäränharju ridge on your way there. Savilahti has the best beach out of these three camping spots, even though the lake shore in Savilahti consists mainly of rocks. Savilahti is closest site to Korteniemi Heritage Farm, which is interesting place to visit especially in summer. There are several circle trails departing from Korteniemi.

Peukalolammi is located on the eastern side of Liesjärvi National Park, only 600 meters from Peukalolamminkangas parking lot or 900 meters from Sikomäki parking lot. There is a spacious lean-to shelter at Peukalolammi and plenty of even ground for tents. Like other locations, Peukalolammi has dry toilet facilities and plenty of firewood available.

Kaksvetinen is located further 1,2 kilometers from Peukalolammi, altogether 2,1 kilometers from Sikomäki parking lot. It has a barbeque hut, open fire place, dry toilet facility and plenty of firewood. Häme Nature Center and Ruostejärvi beach are located approximately 5,5 kilometers away from Kaksvetinen.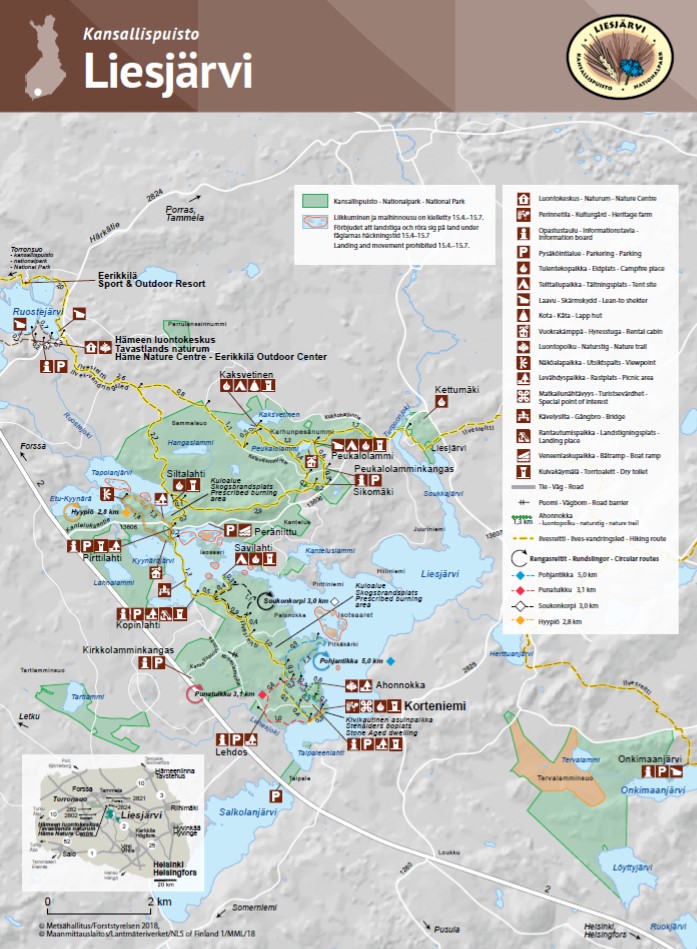 I have been visiting Liesjärvi National Park numerous times, but as it was my friend's first time in this national park, I tried to show her the best parts of it before we set up our camp at Kaksvetinen. For example, Kyynäränharju is one of the best-known sights at Liesjärvi, a scenic ridge that cuts between Liesjärvi lake and Kyynärä lake. We also checked out Korteniemi Heritage Farm and some of the trails at the south end of the park prior to heading to Kaksvetinen.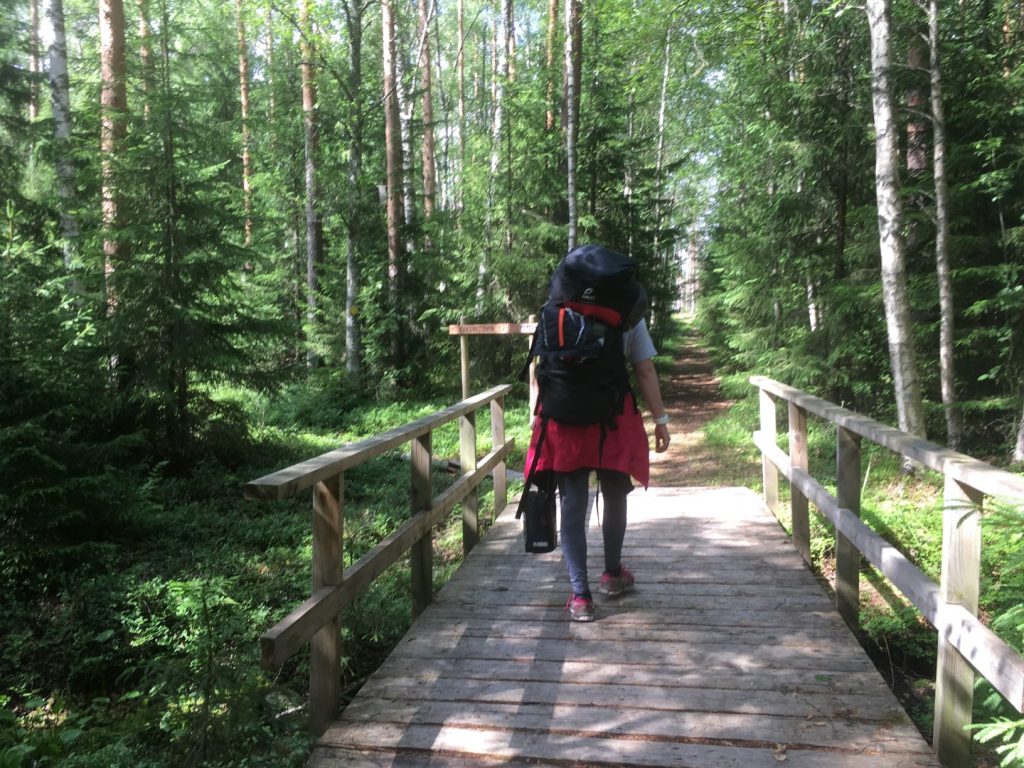 We chose to go camping to Kaksvetinen mainly because there was a possibility for rain in the forecast, and we thought that the barbeque hut might be good backup for our hammock and tent if it rains. Another reason was that we hoped that Kaksvetinen would be less crowded than popular Savilahti or nearby Peukalolammi. Kaksvetinen turned out to be a good choice for us as there was only one tent in addition to us.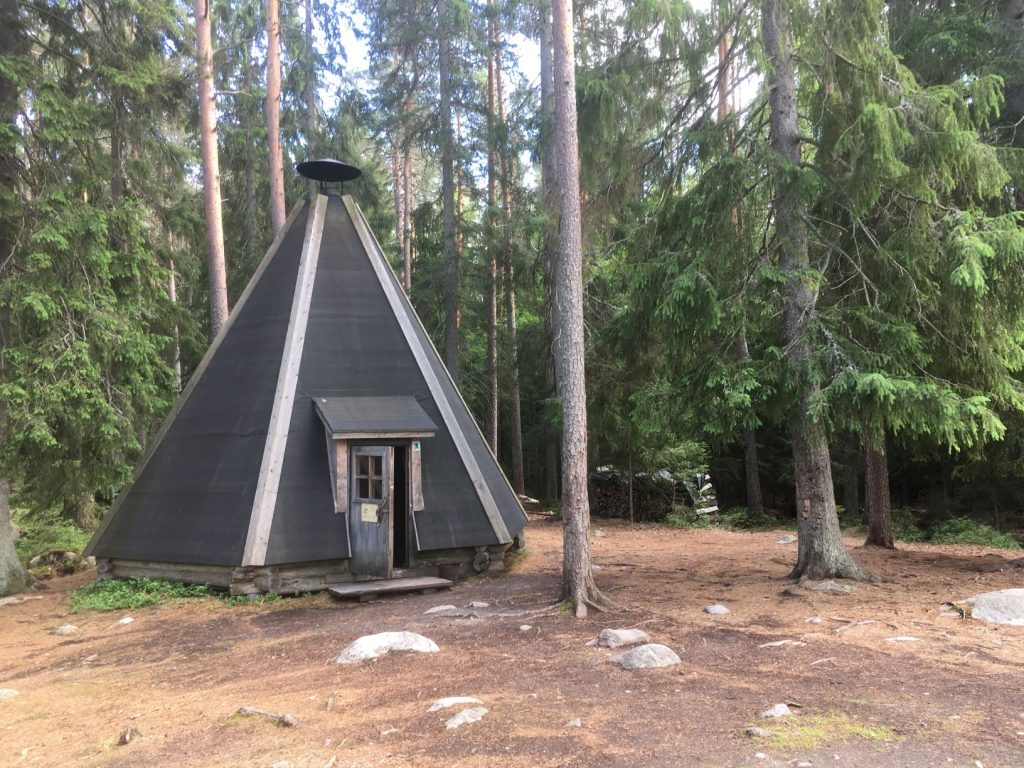 Always carry your trash away from the forest
We arrived to Kaksvetinen to find the camping area, barbeque hut and dry toilet facilities clean from any trash. It's always delightful to see that people can be smart and carry away their trash, which is the most important rule when camping in Finland. There are no park rangers or cleaners to clean up after you, so please carry all your trash away from the forest. We picked up some cigarette butts from the ground, but other than that there wasn't any trash to pick.
By the way, did you know that cigarette butts are the single greatest source of ocean trash, the most littered item in the world, and it disintegrates into microplastics easily consumed by wildlife? My friend told me that not only she had stopped smoking but she had also formed a habit of collecting cigarette butts from the nature. She is now determined to make up for all those cigarette butts she threw away when she used to smoke. What a great example of good habit to have!
Make your own firewood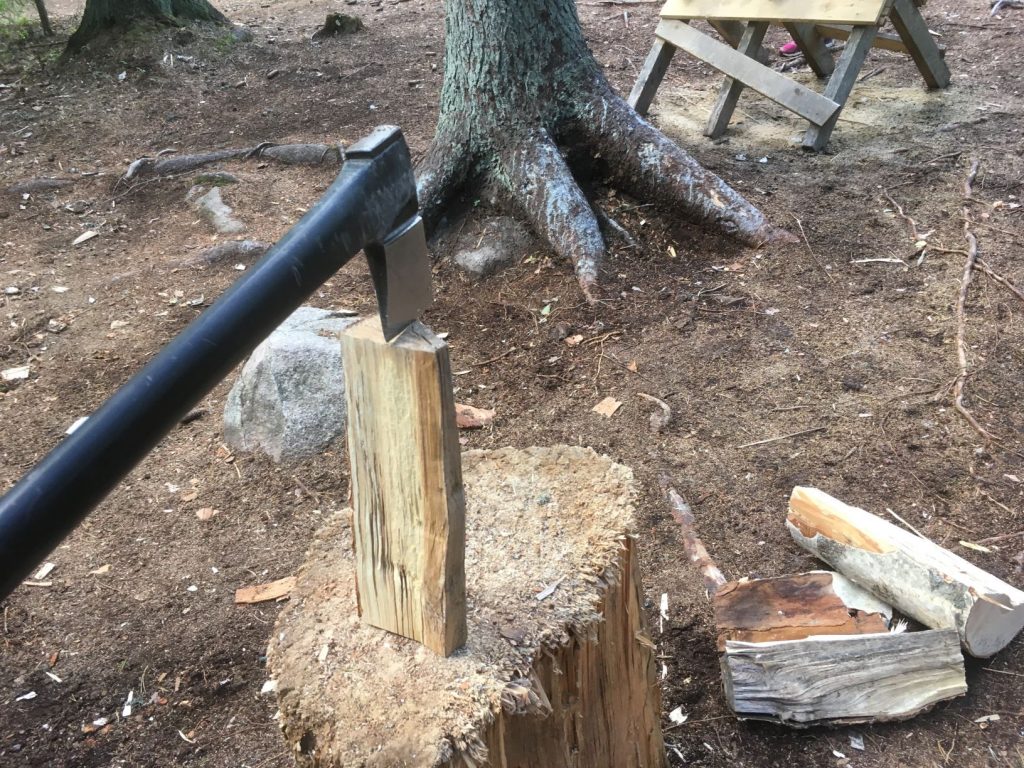 Somebody had left some firewood to the barbeque hut, which is one unwritten rule in the Finnish national parks. We also began our evening by cutting our own firewood and some extra to the barbeque hut from the half logs that were stored in a shelter close by. The extra firewood is usually left to the lean-to shelter or barbeque hut in case somebody arrives tired or wet late in the evening. It is supposed to serve as a first aid, allowing quick heat and cooking possibility if somebody has been trekking for long. The firewood in these camping sites is stored as big logs so that people wouldn't steal it or burn exessive amounts of it when camping. But there are saw and axe available, so get ready to roll up your sleeves and sweat a little before relaxing by the campfire.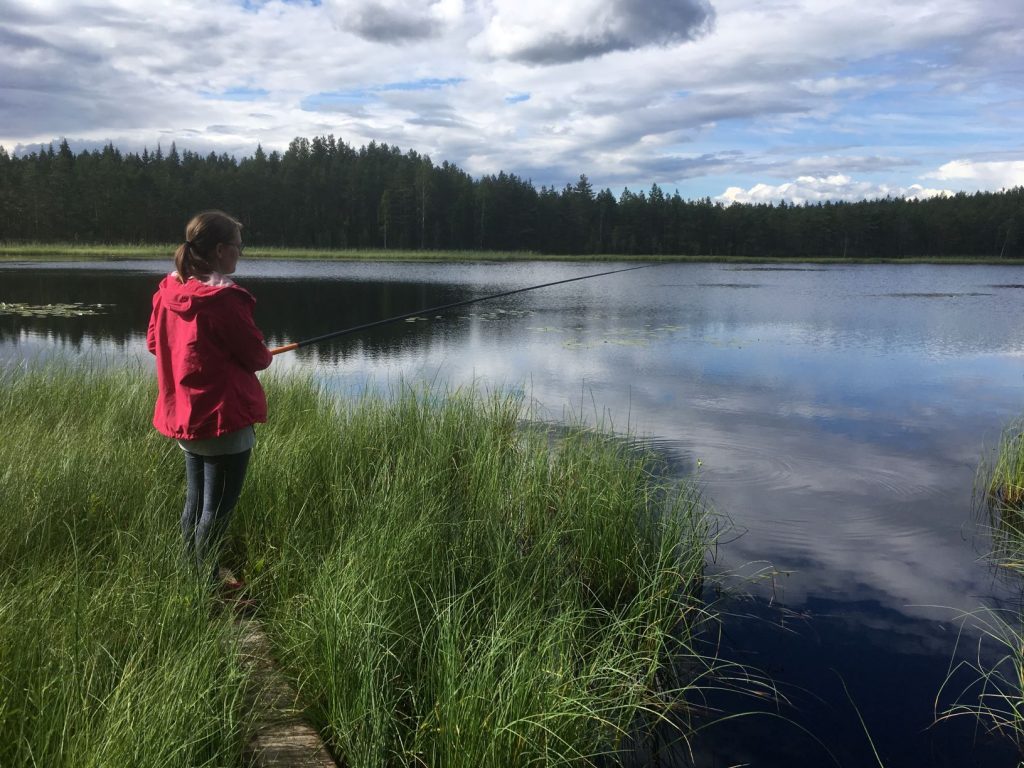 When we had finished making firewood, it was finally time for worm fishing, allowed by everyman's rights. We were the first ones to arrive to this camping spot and before making any fire outside in the fireplace, we checked from the Finnish Meteorological Institute's website that the forest fire warning wasn't on. I keep mentioning this in almost every post, but it is pretty important.
Some forests in Liesjärvi National Park area are burned on purpose to reconstruct the vegetation, but uncontrollable forest fires can be caused by negligent behaviour by national park visitors. I still remember the news about the massive forest fire that happened in Tammela about 20 years ago when over 240 hectares burned down close to Liesjärvi National Park. That fire spread over the main road 2 reaching nearby Torronsuo National Park, and firemen just managed to escape from the flames by reversing their trucks from the forest. If the wind had been blowing into different direction, we could be talking about ten times larger area affected by the fire. The fire still destroyed forests from dozens of forest owners and threathened the life of 80 children that were on summer camp by Ruostejärvi lake. Forest fire warning is one way to avoid these kind of massive fires in Finland, and everyone hiking in the forest should respect them.
It didn't really get dark at night, but the temperature dropped close to +10 Celcius. I was a bit cold despite of being prepared for the cool night. But at least it didn't rain. We ate some perch for dinner and chatted with the people who also camped at Kakslauttanen that night. In the morning I started boiling water by the fire for a coffee and porridge. Some people passed by our campsite walking their dogs. A swan family landed on the lake and had breakfast with us.
Directions to the parking lots near Liesjärvi camping sites
Kaksvetinen and Peukalolammi camping sites:
Sikomäki parking lot
Kanteluksentie 542
31350 Tammela
Savilahti camping site:
Kopinlahti parking lot
Kansallispuistontie 203
31380 Tammela
Read more about all National Parks in Finland or take our fun quiz to find out which Finnish national park suits you the best!
Also visit in the area
There are many other nature destination in Tammela to explore:
Featured image by @outipoppis.