Pääjärvi recreation area is a perfect spot for day visits or short overnight stays, when you want to be out in the nature in Southern Finland. Pääjärvi provides clearly marked trails and nice resting spots around the lake. It's a good place for picking berries and mushrooms, hook and line fishing, skiing, cycling, swimming, and camping. Pääjärvi is also a multi-cache location, in case you are into geocaching.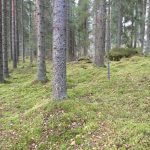 I headed to Pääjärvi last weekend to enjoy the autumn day and have a barbecue with my family. I didn't expect to find many mushrooms anymore, but funnel chanterelles are tough cookies and this year you can still pick them in mid November. Yellow chanterelles were also still reaching through the moss, but they had clearly suffered from the cold and were not edible anymore. What a shame!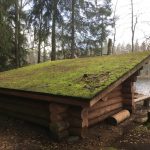 It had been rainy and miserable for the most of November, so there was no forest fire warning on and we knew we were allowed to set fire on a designated fireplace at a lean-to shelter. The kids were most excited about having a barbecue. It's very typical in Finland to grill sausages by open fire, so that was our lunch for the day. We had brought some firewood with us, but there was plenty of them by the shelter. The area was clean with no trash in sight, and we made sure that we also picked up everything we had brought with us. The extra firewood we left to the shelter. Just before heading back to the trails we wrote our names to the guest book at the shelter. The shelter would have been big enough for us all to stay over night, but maybe next summer.
Traces of the ice age
Similarly to Kyynäränharju ridge, there are traces of the ice age in Pääjärvi area. Ridgebacks are a dominant feature of the area and trails flow up and down the slopes of the ridges. The area's ridges were formed some 10,000 years ago when glacier rivers piled sand into cracks in the glaciers. There are also numerous dislodged boulders and suppa-depressions, as well as small forest lakes and small mires in the area.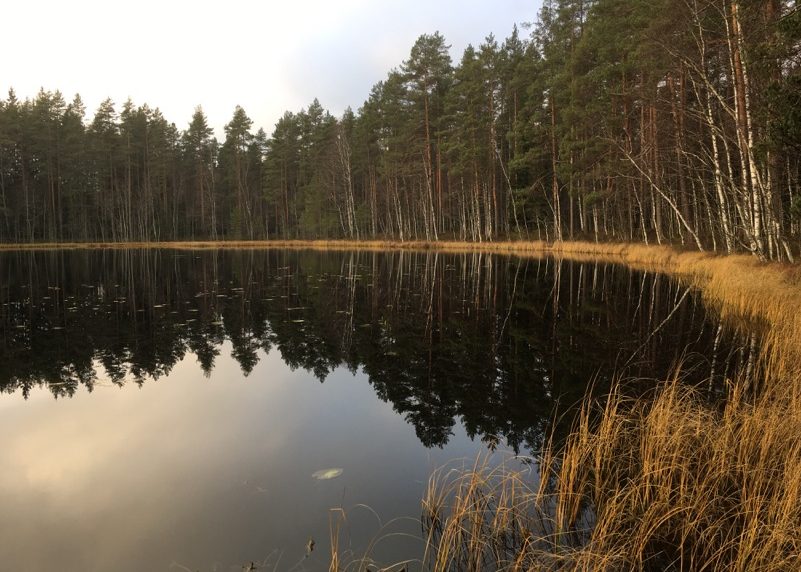 Trails at Pääjärvi recreation area
The parking lot is the start and ending point for the trails, and it also has a good map of them. The trails are moderate to walk on as there are some changes in altitude. There are few duckboards along the way to help to keep your shoes dry. The trails in Pääjärvi are part of the 200 km long Ilvesreitti trail network, so trekking is also possible.
1,5 km circle trail to the lean-to shelter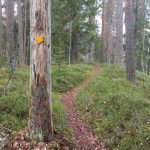 The shortest trail is 1,5 km long circle, which takes you along the shoreline of the Pääjärvi lake to the lean-to shelter and back. There is a new viewing point along the way when you are coming back to the parking lot, but it is not really worth the climb as there are trees in front of the view. You can basically see that you are up in the highest hill, but as you are in the middle of the forest, it's not really a view towards the lake.
4,6 km Kynnysniemen lenkki, circle trail
The longer 4,6 km long circle trail takes you around the Kynnysniemi peninsula. Both of these trails are marked with yellow signs on the trees and are easy to follow. Parts that belong to Ilvesreitti trail are marked with pictures of lynx. On Kynnysniemen lenkki there are slippery duckboards on the north end of Kynnysniemi peninsula, and few steep hills near Pitkälammi.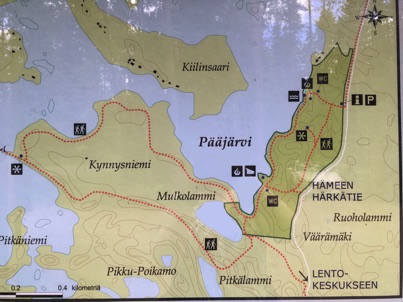 7,6 km Pääjärven kierto circle trail
Pääjärven kierto circle trail takes you to this beautiful bridge and around the lake.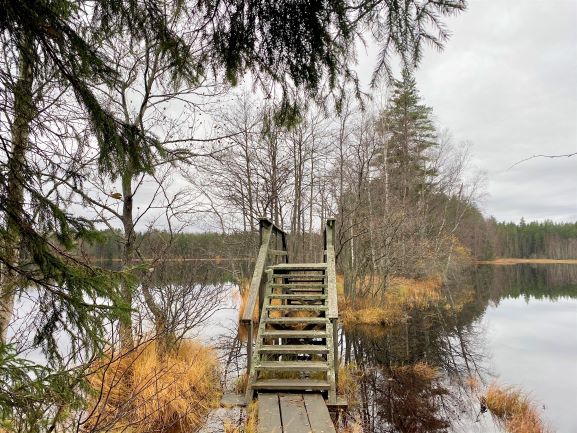 Directions
Address:
Pääjärven virkistysalue (Pääjärvi recreation area)
Härkätie 1127
14300 Hämeenlinna
How to get there:
Car: Pääjärvi recreation area is located in the border of Hämeenlinna, Tammela and Loppi municipalities. The small parking lot can be found in the address Härkätie 1127 Hämeenlinna, close to a road number 54. You should note that Härkätie is famous old ox road that streches all the way from Turku to Hämeenlinna, so make sure you pick the right city in your navigator for the address.
Public transport: Buses travel along road 54 daily, but the closest bus stops (Vojakkala Loppi and Perähuhta Tammela) are both 5 kilometers away from the Härkätie Road and road 54 intersection, which is close (750 meters) to Pääjärvi parking lot. If you don't mind an extra 6 km walk, you can search for the buses and their tickets at Matkahuolto. Select either Vojakkala or Perähuhta stop as your destination.
Bicycle: The Häme Härkätie Road cycling route passes Pääjärvi recreation area. For more information about cycling the Härkätie Road, I recommend a map called Fillariopas Härkätietä itään (Cycling guide East along Härkätie Road). That map includes information in Finnish, English and German for cycling between the cities Turku, Hämeenlinna, Lahti, and Kouvola. It's available in various online stores.
Accessibility: There are no services for the disabled in the area, but the area is suitable for families with children.
Special to remember: Everyman's rights apply in Pääjärvi recreation area. Additionally during nesting season visitors should be especially careful to not to disturb any animals. Campers are kindly asked to set up their tents in the vicinity of campfire sites, and dogs should be kept on leash. There is a campfire site near the parking area on the shore of a lake, and a lean-to shelter just over half a kilometre from the parking lot. But you should remember that lighting campfire is forbidden also at these campfire sites if the forest fire warning is in effect. Check the latest information on forest fire warnings at the Finnish Meteorological Institute's website.
Also visit in the area
There are many amazing nature destinations in Tammela to choose from:
The Korteniemi Heritage Farm is part of the Liesjärvi National Park and Häme Lake Uplands. It showcases the history of the farming in Finland and it is a lovely place to visit during summer. Kyynäränharju is a beautiful ridge in Liesjärvi.
Ruostejärvi is fun nature destination for kids in Tammela. It has a popular beach during summer and many short nature trails to explore.
Saari Folk Park is known for its ridges, lakes and sandy shores. Old and charming Kaukolanharju observation tower at Saari Folk Park welcomes visitors during summer months.
Iso-Melkutin lake is a popular scuba-diving destination in Southern Finland because of its clear water and underwater ridge. It's also a beautiful hiking and camping area.
Torronsuo National Park is also located in Tammela. Torronsuo is known as being Finland's deepest bog. Camping at Torronsuo is not allowed, but there are few circle trails on the duckboards as well as few birdwatching towers and fireplaces available.