The famous Ox Road of Häme in Finland combined the historical trading places and castles of Turku and Häme to each other. The Ox Road of Häme, Hämeen Härkätie in Finnish, also known as the Oxen Road, has been in use already in Iron Age in the 9th century. The main reason for the early use of road is believed to be the fact that there is no clear waterway from Häme to the coast. At first the road was basically a wide path with duckboards and bridges along the way. It used to be 162 kilometers long and it was used by peasants, merchants, bandits, and even kings.
History of the Häme Ox Road
The first known description of the Hämeen Härkätie is made by Jaakko Teitti, the secretary of King Gustav Vasa, in 1556 in his list of roads. The journey from Turku to Hämeenlinna took approximately 4–6 days as people walked about 30-40 kilometers on one day. Sometimes horse carriages were used, especially for carrying goods and even more so in winter when many items were more easily transported. The road was also used by oxen, especially in 17th century when horses were confiscated to the army, but the origin of the name is uncertain.
Research concerning Finland's old roads suggests that they have become fixed at an early stage and remained unchanged in historically documented times. In the most recent studies it has been suggested, that the Ox Road developed as early as the Late Iron Age. However, there is very little material evidence of that and in Finland the early transport must be studied from the perspective of economic history. It is also possible that the road connected Aurajoki River valley and Vanaja in Häme already in the early Iron Age.
The earliest known trade systems are dated back to the Viking era, which in Finland occured during the Iron Age and before the Crusade. Birka on Lake Mälaren in Sweden was one of the leading trade centres from 800 to 975 AD and it had influence on Finland. Some evidence suggests that Vanaja or Häme was not linked to the main currents of trade in the period concerned, but some finds such as weapons slightly contradicts that assumption. In any case, from the Viking era onwards hunting territories from the Häme region can be linked to Aurajoki River valley. Shallow and narrow rivers made the trade by boats unfeasible and the road was needed.
With the downfall of Birka from the 10th century onwards the trade in the Baltics came to be dominated by Gotland and Sigtuna, and during those times Koroinen near present-day Turku grew as town in the Aurajoki valley. The importance of Turku-Koroinen as a port of trade to Häme may have diminished to some degree in the Crusade period when Rikala on Halikonlahti Bay grew its importance. Rikala was reached from the Ox Road by so called Hiidentie Road from Somero. In the late 13th century, Turku, which had started to form around Unikankare hill, became the main centre of communications in Finland Proper, and the Ox Road became even busier.
Barter trade was used in the old days when communities traded with each other. Merchants in Finland Proper were interested in fur pelts of sable, ermine, and otter. Castoreum from beaver's genital glands was highly seeked. It was dried and mixed with wine as it was believed to help heart problems and epilepsy, and enhance libido. In exchange for these the people from Häme received metal, weapons, jewellery, textiles, and salt. The salt was valuable as it helped to preserve fish.
When travelling along the road became more popular and merchants were moving more, so did the illnesses. Black death came to Finland in the 14th century, and in 1530 the Turku market was closed in fear of the plague. We are not actually living in such extraordinary times right now. The travellers on the road were protected by law, which was especially strict for those who broke the peace of the road. It was common to greet other travellers along the road, as you couldn't be sure of their intentions. Only one traffic rule was known, it wasn't allowed to cross bridges by running with horses. In 1870 a railroad between Riihimäki and St. Petersburg was built. That increased the traffic on the road as goods were transported from Ostrobothnia to Turku by water, and from Turku to Riihimäki by road. Later cars became more common, and so did the accidents. There were many turns where cars easily spinned off the road, for example Turpoonjoki river in Porras village in Tammela.
The road was referred as Härkätie in the poetry, and there is a strong occurrence of oxen in place names of Uskelanjoki valley and in parts of Somero. It is possible that folk poetry has preserved features of the ancient mythical explanation for the road. Instead of the road being made by oxen, it was rather believed to be made by some strong ox-like creatures.
Tuu tuu tupakkirulla,
mistäs tiesit tänne tulla?
Tulin pitkin Turuntietä,
hämäläisten Härkätietä.

Folk poem
The road was replaced by highway 10 in 1962, and today the Härkätie route is scattered among several regional roads, private roads and streets. It still a lovely road to explore in sections or all at once.
How to travel on the Ox Road of Häme
The Ox Road attracts visitors especially during summer.
By walking – Hämeen Härkätie is also known as a pilgrimage route. It is in fact a distant part of the famous pilgrimage route through Europe, Santiago de Compostela.
By bicycle – Hämeen Härkätie cycling route is recommended for experienced cyclists only as it runs along the side of the car road without separate cycling nor pedestrian lanes and there are crossings of the highway without underpass as well as several unpaved sections along the way.
By motorbike – Hämeen Härkätie is popular among motorists because it's challenging and fascinating. Many small cafeterias or grocery stores are targeting their services especially for the bikers. When riding on the road, speeding is not the thing, enjoying the curvy alsphalt road, landscapes and resting stops is. For motorists who like to test their limits, please go to Alastaro Circuit and do not endanger other people along the public road.
By car – A car is pretty good means of transit for the road trip. Pro tip: Check out the road by car on Epiphany, 6th of January. Each year on this day the locals light up candles and other fires by the road to celebrate the Epiphany. It's a beautiful time to experience the road.
In addition to Turku and Hämeenlinna, the road passes towns of Lieto, Marttila, Koski TL, Somero, Tammela, Loppi, and Hattula. Renko and Tarvasjoki are also along the road, but Renko is now consolidated with Hämeenlinna and Tarvasjoki with Lieto. Two parts of the road have been preserved as museum roads; a section in Lieto and another one from Porras to Renko. The historical road is marked with brown Ox signs. It's a bit tricky to follow the historical road to a teeth as there are sections that have been cut off and straightened, and the name and numbers of the road change many times along the way. Usually the road is named as Härkätie, but at times also by its other name Turuntie. The signs of the Ox Road are planned to be renewed during 2021, so it should be even easier to follow this famous road in the future.
Here's my basic interpretation of the route: In the 13th century (even before Turku castle was built), the Ox Road began from the market square of Turku. That was located next to the Turku cathedral. From Turku you would make your way along current highway 10 to the direction of Lieto. Before Lieto you must turn left to follow the old Härkätie to Vanhalinna. Lieto actually hosts the oldest settlements in the area, and Vanhalinna castle hill offers amazing views over the road. After Vanhalinna you need to got back to the highway 10 briefly before turning left to Härkätie again, towards Tarvasjoki along road 2230. From Tarvasjoki the Ox Road continues as road 2250 to southeast, crosses highway 10 again, and takes you to Marttila. In Marttila the road number changes to 2264 and from Marttila you continue to Koski TL, where the number changes to 2810. The road is known in this area by name Hämeentie and changes to Turuntie later on. From Lieto to Somero the road basically follows rivers Aurajoki, Savijoki, and Paimionjoki. Turuntie takes you all the way to Somero, from where you continue first along Vanha Härkätie for about a kilometer and then along Hämeen Härkätie road number 2802 to the direction of Letku in Tammela. After Letku village the Härkätie road passes highway 2 and continues with number 2824 in Tammela to Porras village. In Porras village the historical part makes a little detour and comes back to paved Härkätie road. It's easy to miss these detour parts on the road. Later on Härkätie curves left with number 2831, crosses road 54 and takes you through villages of Lietsa and Nummenkylä. In Renko the Härkätie road swirls over highway 10 few times and continues with number 2855 to Hattula and to the Häme Castle.
Historical sights and museums along the Ox Road
The following external links can be helpful if you are interested in historical sights and museums:
As the route was a way to get from market place to market place, Turku castle in Turku and Häme castle in Hämeenlinna are the most famous landmarks on both ends of the historical road. All towns also have beautiful lutheran churches worth visiting. Lieto has a medieval stone church, St. Peter's church, that originates from around the 15th century. It is closed for renovations in the beginning of 2021. Bikers congregate annually to begin the season at drive-in church near the St. Peter's church. Lieto also hosts Lieto Museum of Nautelankoski and Tarvasjoki Museum, which have preserved cultural heritage in buildings, collections and landscape. Vanhalinna is a manor museum next to archeological Linnavuori hill in Lieto.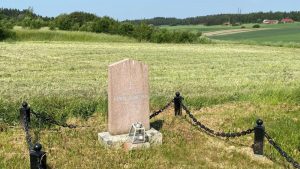 In Lieto you will also find an old grave right next to the road. It belongs to Henrik Antinpoika (1753–1808). The cause of death is not certain, it could have been plague, but it was his own wish to be buried in this location in the yard of his home, and not on the graveyard.
In Marttila you can find Marttila Museum right along the Oxen road and Nostalgia Museum nearby, and from the Ox Road in Marttila you can also find a peculiar memorial stone that has been erected 22 October in 1974. On the same day in 1824 last official death penalty was executed in Finland. Yrjö Liipola Art Museum in Koski TL is an interesting attraction for those who are more interested in sculptures.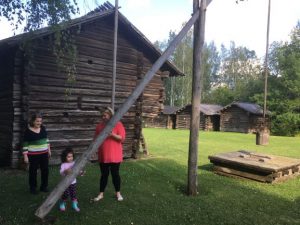 Interesting museums along the road in Somero include Mäkilä's Tractor Museum, Croft Museum Torpparimuseo and Clay Museum Savenvalajamuseo. The Croft Museum is a collection of old buildings and equipment from the18th and 19th centuries connected with the crofters' life in the area. The Clay Museum is an old clay potter's workshop and it's open only by request.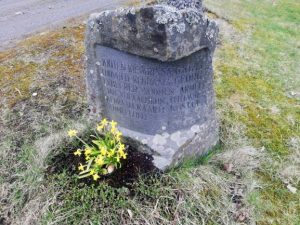 King's stones are monuments that were erected in Somero after the important, often royal, visits in different inns and taverns that used to serve travellers along the road. There are alltogether seven stones to be found along the road. They are in Långsjö manor, Hovirinta, Åvik manor, Lahti manor, Isopappila, Torkkomäki, and Juote. There is also one memorial stone, which is dedicated to those families, who had to leave their homes in Muolaa in 1944 and move to this location. That stone is in the corner of Hämeen Härkätie and Vähä-Kapilontie.
Porras village in Tammela has been one of the most important resting stops along the road. It is mentioned in the historical books first time in 1463. Today the village has a unique Tannery Museum Portaan Nahkurinverstas and a charming cafeteria by a small river. Härkätie Museum in Renko village in Hämeenlinna has a collection of peasants tools and the Oxen road related objects.
Nature sights along the Ox Road of Häme
The following links are to our posts about the nature sights along or in close proximity to the road:
Vanhalinna in Lieto is a manor and an ancient castle hill. It was an important location before Turku castle was built. There are few nature trails in the area, and the views from the top of the hill are amazing.
Marttila wilderness trails few kilometers south from the road provide nature sights such as big boulders called Juomakivi and Isokarhunkivi, views at Mopokallio and Rajakallio hills, and a narrow gorge and cave called Lotikonkellari in Marttila. It is less crowded nature destination than many national parks but yet it showcases the nature in South Western Finland extremely well. Palainen also has a nice beach, in case you happen to be travelling on a warm summer day and long for a refreshing swim.
Hevonlinna is a peaceful little outdoor sports center in Koski Tl. The nature around the area consists of many hills as the Hevonlinna esker was created by the ice age. Hevonlinna is known for its disc golf and skiing tracks, but it is also a good place for hiking and stairs workout. The Hevonlinna is located 9 kilometers northwest from the centre of Koski Tl, where Ox Road passes.
Kultelan Savipuisto, Clay Park, in Somero is lovely child-friendly destination. Villagers in Kultela are active in organizing events such as flea markets, garden Sundays, family gatherings, and annual Savi Palaa (Burning Clay) -festival in the park. Kultela has a history of clay tile making and you can find a historical clay oven still in the park. There might be something for the geocachers as well. The park is located in address Hämeen Härkätie 189, 31400 Somero.

Metsäkoivula trail in Somero is just few kilometers off from the road. Metsäkoivula is a hidden gem between two national parks, Torronsuo and Liesjärvi. It offers stunning views, diverse nature and a little creek with a shelter. And some geocaches, too. The trail in the area is approximately 5 km long and clearly marked.
2 kilometers off the road, in the border of Somero and Tammela, next to Kapilontie road in Letku, you can find an odd Giant's sarcophagus. It is a nearly 5 meters long retangle stone, which is said to be hollow. It is believed to be an ancient sacrificial altar from the Iron Age. Letkun Puoti is a small store in the village, and close to the store there is an old school. The school has some cryptic cup-marked stones. Villagers of Letku are also active in organizing fun events, such as hose throwing World Championships (because Letku in Finnish means a hose). After Letku, the Ox Road crosses highway 2.
The next nature destination along the way is Ruostejärvi in Tammela. Ruostejärvi lake has a lovely beach and many nature trails to explore. It is connected to Liesjärvi National Park. Liesjärvi National Park and its scenic Kyynäränharju ridge are located about 10 kilometers south from the Ox Road. If you are into history or farm animals, Korteniemi Heritage Farm at Liesjärvi is the place to go. Saari folk park and Kaukolanharju observation tower with beautiful views over Tammela's landscape are located about 5 kilometers north from the Road.
Pääjärvi recreation area with a lean-to shelter and a trail around the lake is the perfect spot for a day visit or short overnight stays in the border of Tammela, Loppi, and Hämeenlinna. It is part of extensive Hämeen Ilvesreitti (Häme Lynx Trail) network, which showcases the ice age formed nature in Häme Lake Uplands. About 8 kilometers northeast from where the Ox Road crosses highway 10, you will find protected marsh Heinisuo in Renko in Hämeenlinna. Aulanko Nature Reserve in Hämeenlinna is a vast yet accessible greenery with stunning landscapes.
Accommodation
The following external links can be helpful if you are looking for accommodation along the way:
Check out also the official website of Hämeen Härkätie and download their map in Finnish.