Piippurinsuo in Torronsuo National Park is a bog on the other side of the park where most people go to. Usually, when you want to explore Torronsuo by foot on duckboards or by skis in winter, you depart from Kiljamo. Piippurinsuo is situated on the east side of the national park, adjacent to highway 2. Piippurinsuo is well worth visiting, but there are few things you should know about this area.
About a third of Finland is covered by bogs and wetlands, and only 10% of them are protected. There are about 100 different types of mires in the country. Torronsuo is Finland's largest raised bog, which is a very special type of bog. Raised bogs are very threatened by peat cutting, but Torronsuo has been protected since 1967 and established as national park since 1990. In 1997, there was a large forest fire just outside of the national park. The fire spread over the highway and reached Piippurinsuo. Approximately 10 hectares of its peat burned in the fire.
Today, the east side of the park is much less visited than the popular western side. If you have never been to Torronsuo, I highly recommend exploring it from Kiljamo. At Kiljamo you will find brand new duckboards, birdwatching towers with amazing views over the mire, and a fireplace. Piippurinsuo is interesting for those who want to explore less travelled trails.
There is a circle trail around Piippurinsuo
In many maps you can find Hämeen Ilvesreitti, Häme Lynx Trail, making a circle around Piippurinsuo. At the moment you can walk a circle trail around the bog, but the duckboards and bridges along the trail are not in good condition. They are half collapsed and it's challenging to make it through with dry feet. The circle trail is about 5 kilometers long. The duckboards along the trail are only about 600 meters long.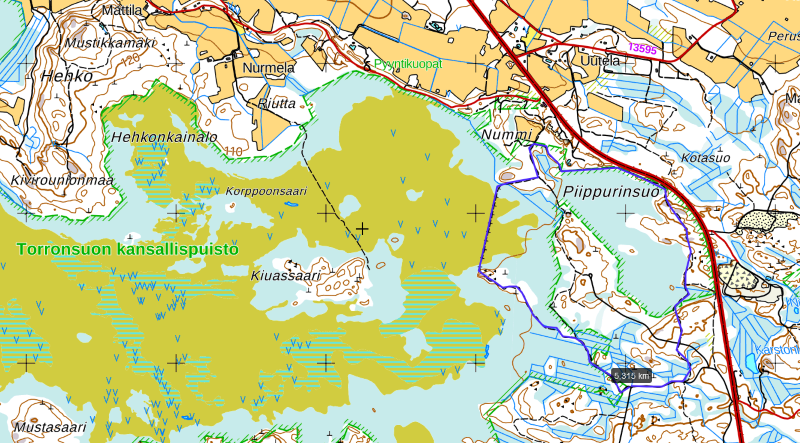 In the map, in the middle of the circle trail, there is a road that ends in a turningpoint in Piippurinsaari island. Along this road there is a deer hunting station and several places marked for moose hunting. This is an active hunting area as it is located outside of Torronsuo National Park.
From the duckboards, you can see Kiuassaari island in the west. It was really misty so we could hardly see it. The mist made the bog feel very mysterious. For a brief moment, it reminded me of Stephen King's books. Anyone who has seen The Mist, probably remembers how the movie ended. It's the most brutal and terrifying movie ending I have ever seen. But did you know, that the original book has a different kind of ending?
On the other end of the duckboards is Haapasaari island. Haapa means aspen in Finnish, but I have to say I couldn't see any aspens on that island. I don't think you would be able to find any stoves from Kiuassaari either (kiuas=a stove).
Nalle was hiking on the leash, as all dogs should in the Finnish national parks. I was expecting to see some wildlife on this side of the national park, but unfortunately we didn't see much. We saw a single hazel grouse in Haapasaari and a flock of Eurasian jays in the forest. Most of the bog seemed really wet, and I couldn't spot any cranberries.
Piippurinsuo was still strikingly beautiful and reminded me of wilderness areas in Lapland. It was equally harsh, uninviting, and cold. One thing I noticed even on the duckboards was the traffic noise. Highway 2 is really, really noisy.
How to get to Piippurinsuo?
You can access Piippurinsuo via Kolmikkaantie from the highway 2 between Helsinki and Pori. There is a moose fence on the highway 2 and it blocks access to the forest from the road in most places, but Kolmikkaantie is the closest intersection with the highway to go to Torronsuo from the east.
Address:
Kolmikkaantie 7
30100 Tammela
Accessibility: The nature trail around Piippurinsuo is not accessible for all. I would not recommend it to small children nor elderly due to poor condition of the duckboards and bridges. There is an accessible trail with brand new duckboards departing from Kiljamo.
When to go: There are no limitations to visiting this part of the Torronsuo National Park, but in winter Kiljamo has much better skiing tracks.
Special to know: From October to February there might be hunters inside of the Piippurinsuo circle trail. If you see any sign that warns about ongoing moose hunting, turn around and avoid the area. I also highly recommend you to remain on the Ilvesreitti trail as some trails visible on the map don't exist. Remember that camping is not allowed at Torronsuo National Park.
Read more