Komio Nature Reserve in Loppi municipality provides a very versatile nature and beautiful landscape for daytrips for hikers and skiers. Located in Häme Lake Uplands, Komio showcases the signs of ice age with its amazing ridges, esker valleys, suppa ponds, bogs, and boulders.
The 500 hectare area of Komio was designated in 1995 to protect this part of the Häme Lake Uplands region near Luutalammi lake. Known as Luutasuo or Luutalammi by the locals, Komio Nature Reserve is a part of the nationally valuable and diverse Maakylä-Räyskälä Natura Site. The area is owned by the Finnish State and managed by Metsähallitus. The area is not in its original state, and many restoration measures such as controlled burning are carried out.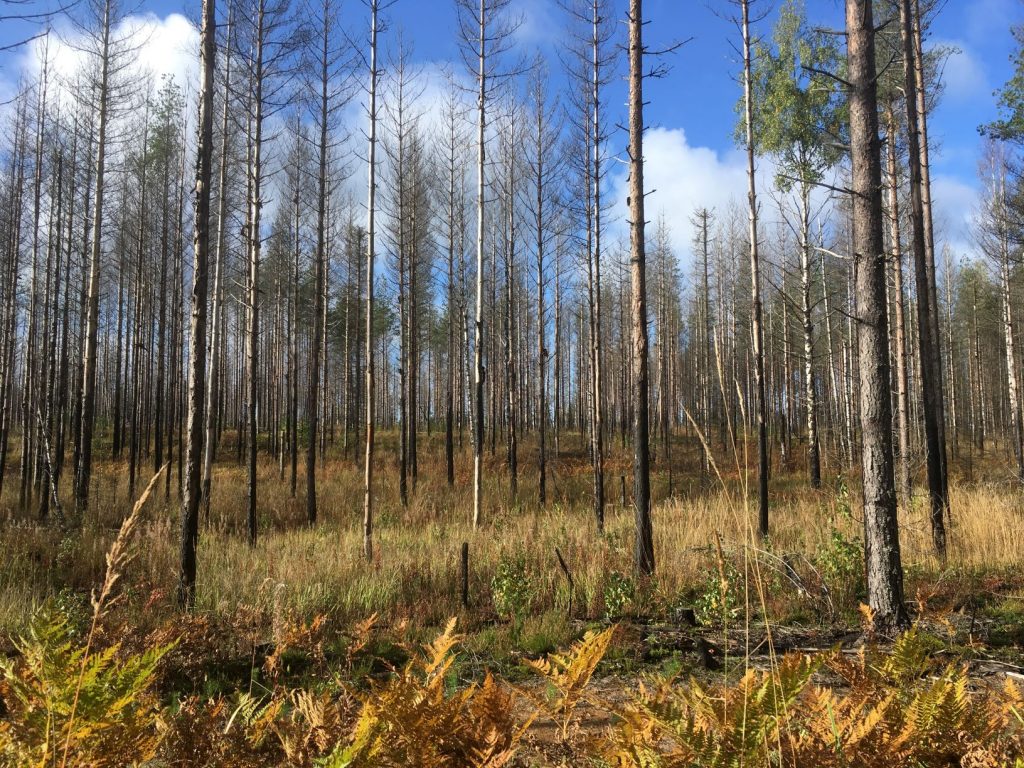 Loppi is a small municipality in Southern Finland and part of the Tavastia Proper region. Loppi was founded in 1632. The municipality has a population of 7,865 and it covers an area of 656 square kilometres of which almost 10% is water. There are around 300 lakes or ponds in Loppi.
I ended up visiting Komio after I saw a hiking event organized in one Facebook group. I didn't know any of the other hikers beforehand, but we had a fun group of 5 people and 2 dogs. It's nice to visit nature trails alone, but sometimes it's more fun with friends. Or strangers.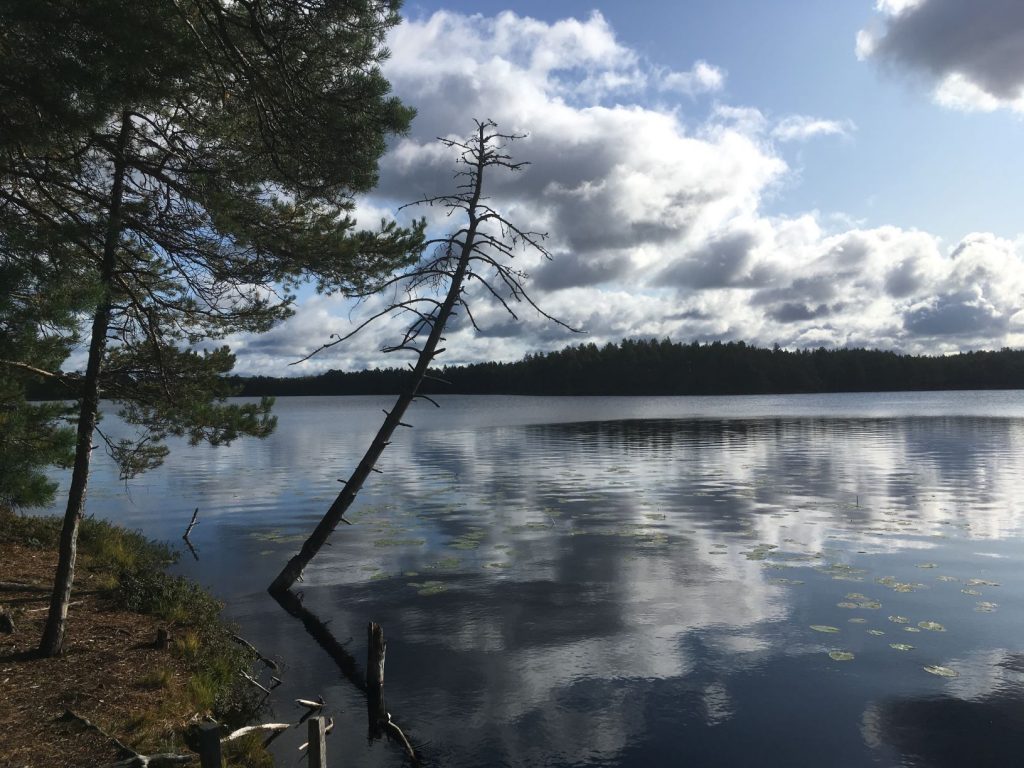 Trails at the Komio Nature Reserve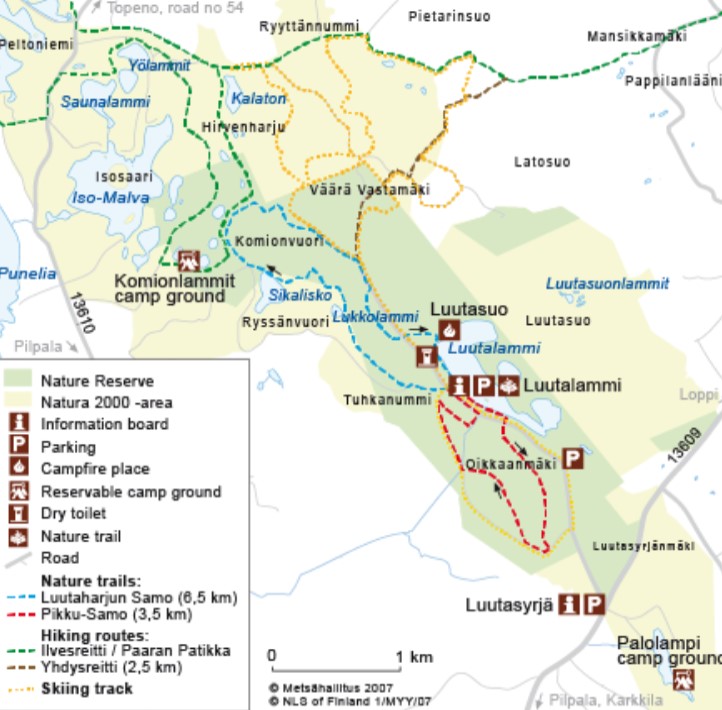 Luutaharjun Samo Nature Trail 6.5 km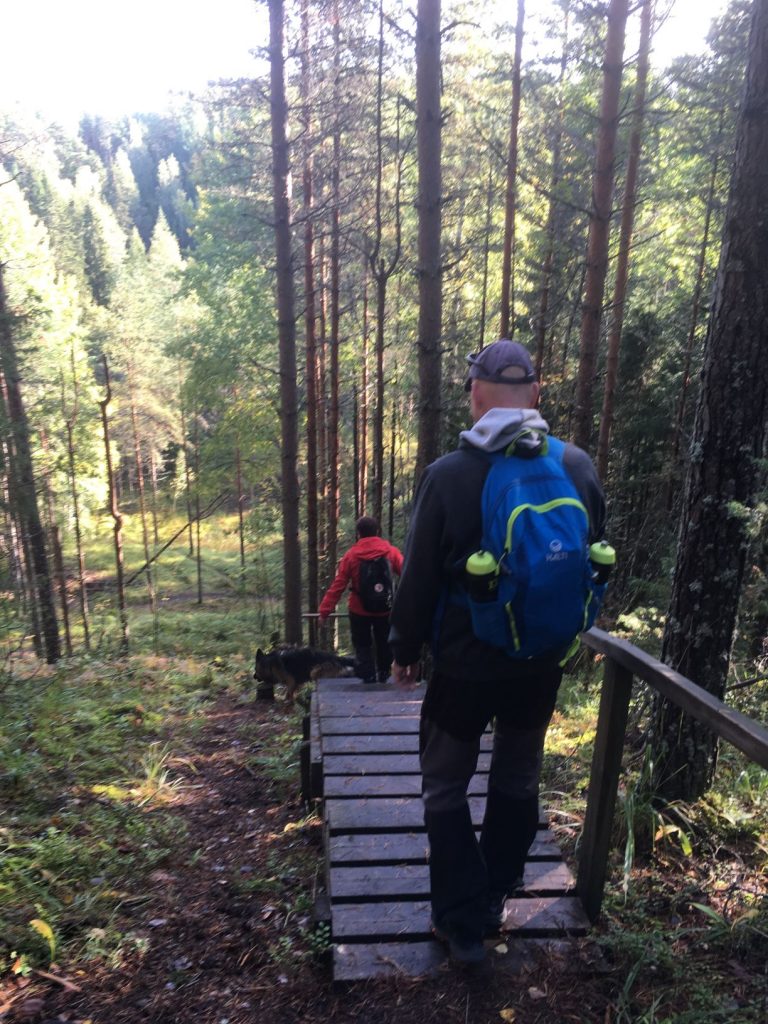 We hiked the Samo trail and around Luutalammi lake at the end of September on a sunny day. We started early in the morning and it took us about 4 hours, plus the lunch break we had by Luutalammi's fireplace. Samo trail is marked with the text "Samo", and it is pretty easy to follow. There are many ridges and hills along the way, which make this trail somewhat demanding. Few viewing spots on top of the hills have nice views over the forests. This area would be probably called wilderness area if it didn't have so many roads cutting through the forests. In case you are into trekking, the Samo trail is connected by a 2 km trail to the Häme Ilvesreitti trail network, which is over 200 km long.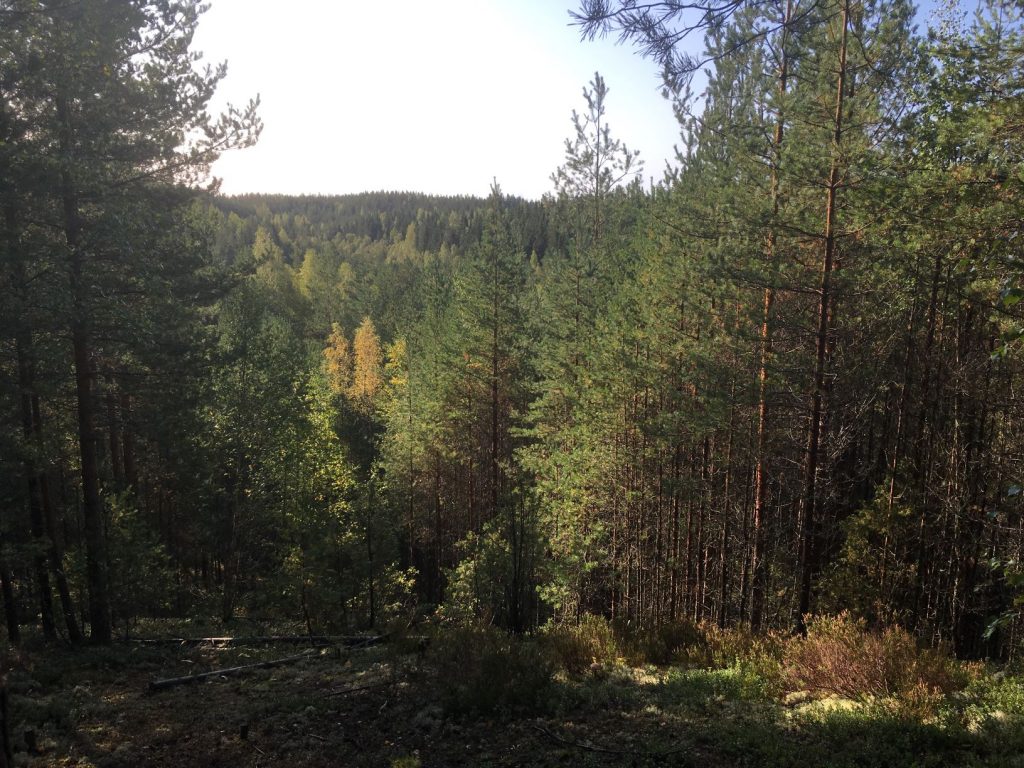 The Luutaharjun Samo trail is recommened to be walked clockwise. That way there are some steps going down the steepest slopes. Komionvuori hill is the highest point on the trail. Funnily it is called vuori, a mountain, when it is only about 150 meters above the sea level. I really enjoyed the versatile nature along this trail, but climbing up and down the hills made me tired. It was nice to arrive to the duckboards on Luutalammi mire and our resting spot by the fireplace. The fireplace was crowded as many families were there, enjoying the beautiful autumn day. When I arrived back to the parking lot, I was surprised to see 25 cars parked there. This is a popular destination on a day like this.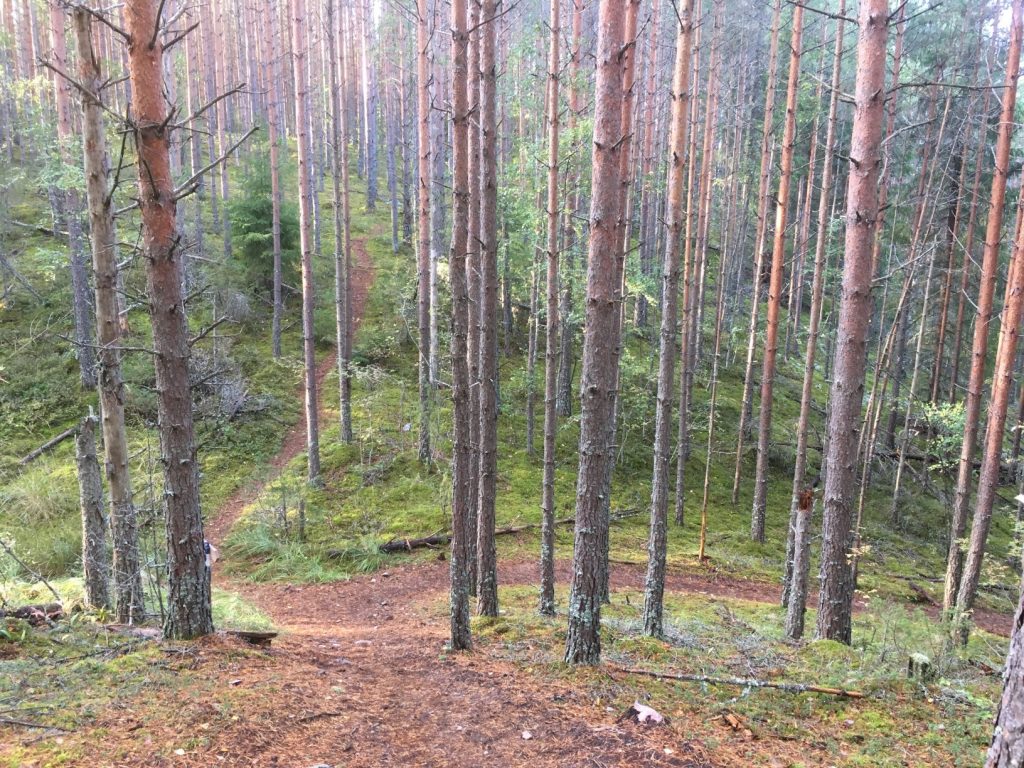 Pikku-Samo 3.5 km
Pikku-Samo is much easier than Samo as it travels through esker forests and across tree filled mires. This trail should also be travelled clockwise. Both Samo and Pikku-Samo have info boards explaining the sights in the nature only in Finnish.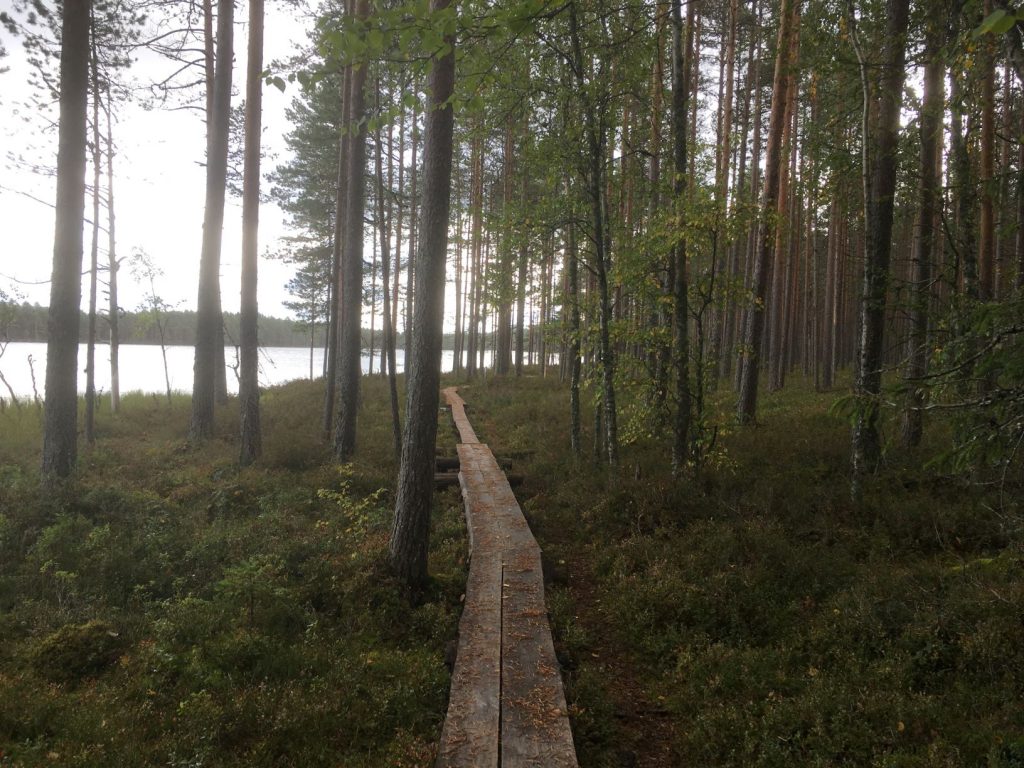 Poronpolku Trail 28 km
Poronpolku trail partly follows the same path as Luutaharju Samo. Poronpolku is marked with blue-green Poronpolku symbols. Lopen Samoojat association organizes Poronpolku hiking event every year at the end of September. Color marks by the trails in the area are part of Poronpolku trails.
Luutalammi 4 km
Unmarked trail around the Luutalammi lake is approximately 4 kilometers long. It's easy to combine this trail to the Samo trail from the fireplace before returning to the parking area.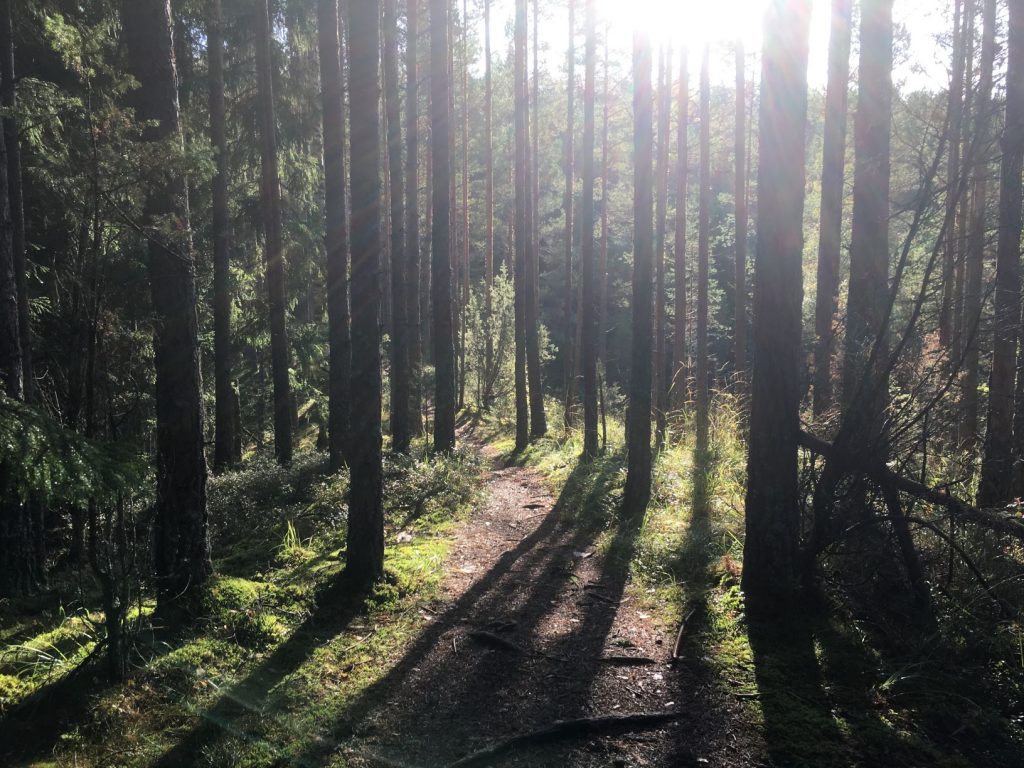 Skiing tracks 20 km
There are approximately 20 kilometers of skiing tracks in the area in winter. The ski trails form several short circle trails. For the ski trails there are three starting points: Luutasyrjä parking area, Luutalammi parking area, and Kalamaja cabin. The ski trails are maintained by Lopen Samoojat and the municipality of Loppi.
Directions to the Komio Nature Reserve
Address:
Komion Luonnonsuojelualue / Komio Nature Reserve
Luutalammi parking area
Luutasuo
12750 Loppi
How to get there:
Car: Drive along Pilpalantie road Pilpala-Loppi and turn onto a dirt road with a sign for Luutasuo. At the intersection of Pilpalantie and Luutasuo you will find the first parking lot called Luutasyrjä, but I recommend following the dirt road Luutasuo for about 2,2 km at which point you will arrive at Luutalammi parking area. From there you can easilly reach the Luutalammi fireplace and the trails. You can also arrive to Luutasuo from direction of Räyskälä through Eräläntie-Kalamajantie-Hirvenharjuntie-Luutasuo. There are few gates along the way, because in spring they close some parts of the roads due to road conditions. Luutalammi parking lot can be always accessed from Pilpalantie road.
Bicycle: The cycling route is the same road cars use so please take care if you arrive by bicycle.
Public transport: There are few school buses and preorder buses that operate from Loppi to Pilpala, but you need to contact the Loppi municipality to find out their schedules and routes. Please note that Luutasuo bus stop in Forssa, which comes up at Matkahuolto website, is a completely different location and not anywhere close to Komio.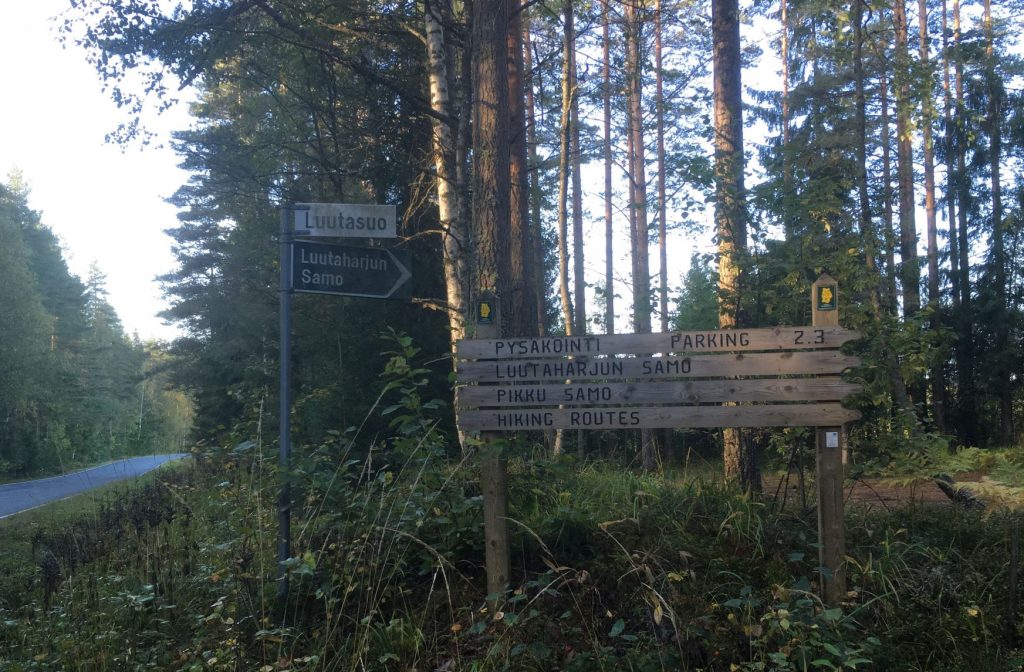 Accessibility: The trails in Komio Nature Reserve are not accessible for disabled or children's buggies, but families with children can reach the fireplace by Luutalammi on duckboards.
When to go: All year round. Summer and autumn are best for hiking and skiers enjoy the skiing trails in this area in winter. Check out also Poronpolku hiking event on the last Sunday of September.
Facilities: Fireplace, picnic table and dry toilet are located at the end of Samo trail by Luutalammi lake, less than 1 kilometer from the Luutalammi parking area.

Special to remember: Dogs are welcome to the area but should be kept on the leash. Lighting campfires is only allowed at sites marked for this purpose, and you should check the forest fire warning at Finnish Meteorological Institute website prior lighting the fire. Picking berries and mushrooms as well as hook-and-line fishing and ice fishing are permitted in Komio Nature Reserve by everyman's rights. Lure fishing is permitted with fisheries management permit. Camping is restricted. The Komionlammit camping ground serves scouts as well as other large groups for a fee.
Also visit in the area
The Häme Lake Uplands is a natural gem close to Finland's busiest urban centres. Read more about its marvelous nature destinations: