Hyypiö trail is 2,8 kilometers long and versatile trail in Liesjärvi National Park. It introduces different habitats within the national park from beaches and lakes to rocky hills, ancient spruce forests, and heaths covered with lichen. Liesjärvi is among the oldest national parks in Finland, established in 1956.
We visited Liesjärvi National Park at the end of October on a sunny afternoon with temperature quickly dropping close to zero. We had our dogs on the leash and some juice and sandwiches packed with us when we departed for the trail.
The Hyypiö trail departs from Pirttilahti and it is clearly marked with orange paint. If you haven't been to Kyynäränharju ridge before, I highly recommend you check it out before heading to the Hyypiö trail.
We started walking clockwise on the orange trail. From Pirttilahti parking area, the trail led first towards Kyynäränharju and soon turned right, passing Hyypiö rental hut. My niece was with us, so our goal was to collect as many geocaches along the way as we could. The trail was easy to follow but uneven at times. There were rocks and roots that erosion had carved out. Short duckboards led us deeper into the forest. Then the trail crossed Kanteluksentie road and continued slightly uphill towards Hyypiönkallio hill.
I have been to Hyypiö trail before and I remembered the Hyypiönkallio hill, but I hadn't done geocaching before and I didn't remember all big boulders that were along the trail. One structure is known as Mörri's hideaway.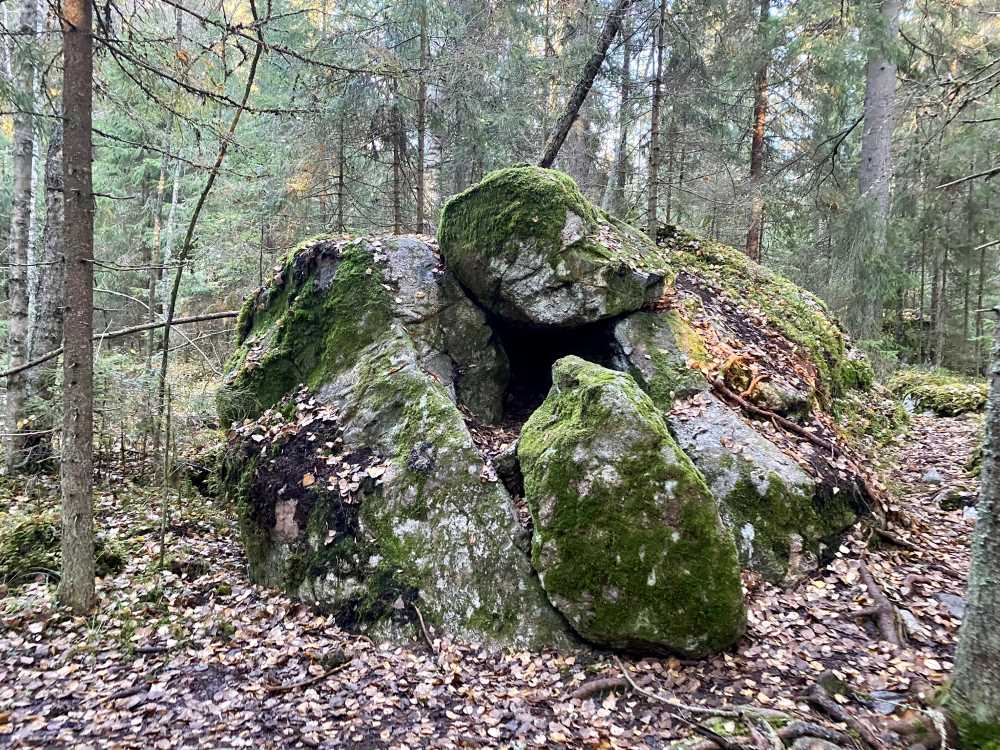 All kids know who Mörri-Möykky is. According to Finnish mythology, goblins like Mörri-Möykky have been connected to death or evil spirits but they were not considered mean. Folklore describes goblins as simple characters, living alongside human beings, often shying away from daylight. That might be why we didn't see any.
Hyypiönkallio hill bathed in sunshine and provided us the perfect setting for a little break and snack. The view wasn't open towards the lake, but it was a beautiful spot, nevertheless. One other hiker came up the hill and had a break there as well. During weekdays there aren't a lot of people visiting the national park.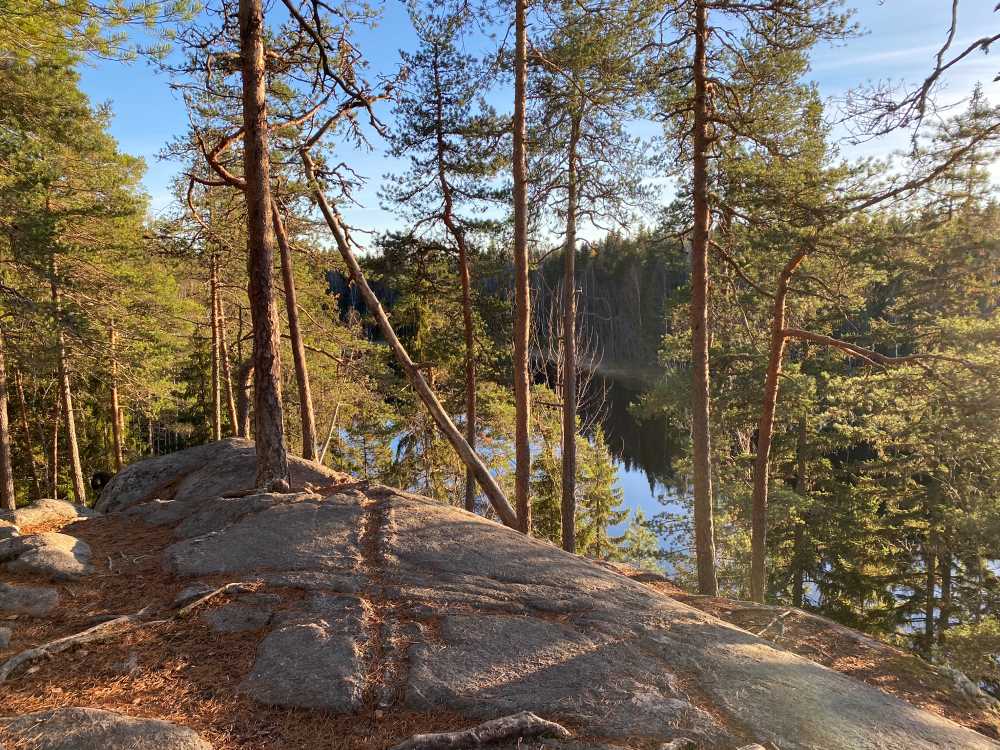 Short staircase helped our descent from Hyypiönkallio and our geocaching adventures continued. Nalle was pulling on the leash, and the trail got slippery. We came to an area where several trees had fallen on top of each other, but the trail was open. One of the geocaches was called decomposers, and we tried to explain what it means. Decomposers like bacteria and fungi convert dead plants into humus. Next, we arrived in a rocky area where we found several little caves.
When we descended from the forest to Tapolanjärvi lake shore, I noticed how cold the air really was. One of the rowing boats by the lake was filled with water and that water had frozen. Nalle opted for a refreshing dip in the lake, but we wanted to keep moving. From the lake it was only a short walk back to Pirttilahti following Kanteluksentie road.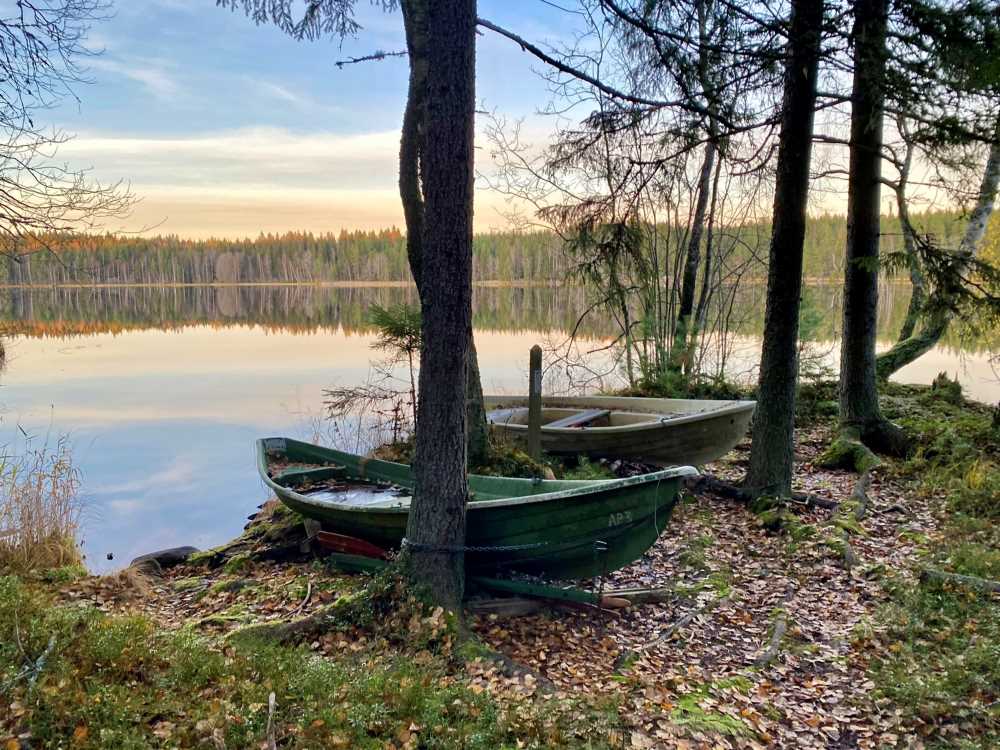 Highlights of the Hyypiö trail
Hyypiökallio – A scenic spot overlooking Tapolanjärvi lake
Mörri's hideway
Tapolanjärvi lake
Several geocaches along the way
Directions to Hyypiö trail in Liesjärvi National Park
Address:
Pirttilahti
Kanteluksentie 211
31380 Tammela
Car: Set 'Kanteluksentie 211 Tammela' in your navigator. You will see a sign by Kanteluksentie road to Kyynäränharju and the car park is located by the road.
Bicycle: You can reach Pirttilahti by bicycle, but the Hyypiö trail is not suitable for cycling.
Public transport: The closest bus stop is called Kyynärä (Tammela) in road 2 about 1,7 kilometers away. You can find timetables and tickets at Matkahuolto website.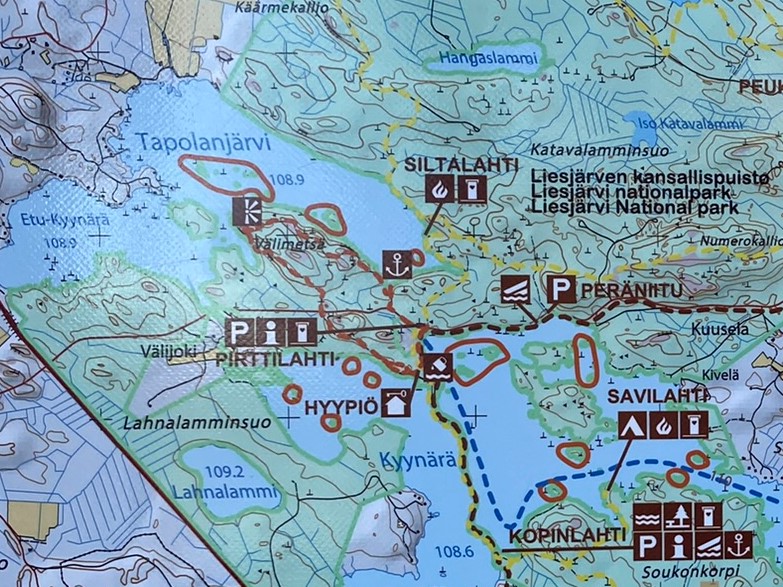 Accessibility: The Hyypiö trail is not accessible. Stay away from the edges of the Hyypiönkallio cliffs.
When to go: You can visit Liesjärvi any time of the year, but all trails might not be accessible when there is a lot of snow on the ground.
What to wear: Sturdy shoes are recommended due to uneven terrain.
Facilities: There is a dry toilet in Pirttilahti parking area and a picnic table by Tapolanjärvi lake. There are no fireplaces along the Hyypiö trail. Remember that you must not build an illegal fireplace.

Special to know: At Liesjärvi, camping is allowed on three campsites; Savilahti, Kaksvetinen and Peukalolammi.
Make sure you also check out