Kivisammaljärvi is a lake located along Hämeen Ilvesreitti trekking trail in Loppi municipality. The Hämeen Ilvesreitti, Häme Lynx Trail, is about 250 kilometers long trail network in Häme Lake Uplands in Southern Finland. Kivisammaljärvi has rugged beauty in it.
Many lakes in Finland share the same names and you have to pay attention to which lake you are actually referring to. Kivisammaljärvi is one of a kind and you cannot mix it with any other lake in Finland. "Kivi" means rock and "sammal" means moss in Finnish, and this lake seemed to have plenty of both. The Kivisammaljärvi lake is connected to a larger Keritty lake and they are both suitable for fishing and canoeing.
Trail around the lake is called Kivisammaljärvenkierto
The trail around the lake is 2,6 kilometers long and called Kivisammaljärvenkierto. The trail is classified as easy. It follows the shoreline and it is part of Hämeen Ilvesreitti, which continues on both ends of the lake. The trail is well marked with yellow signs.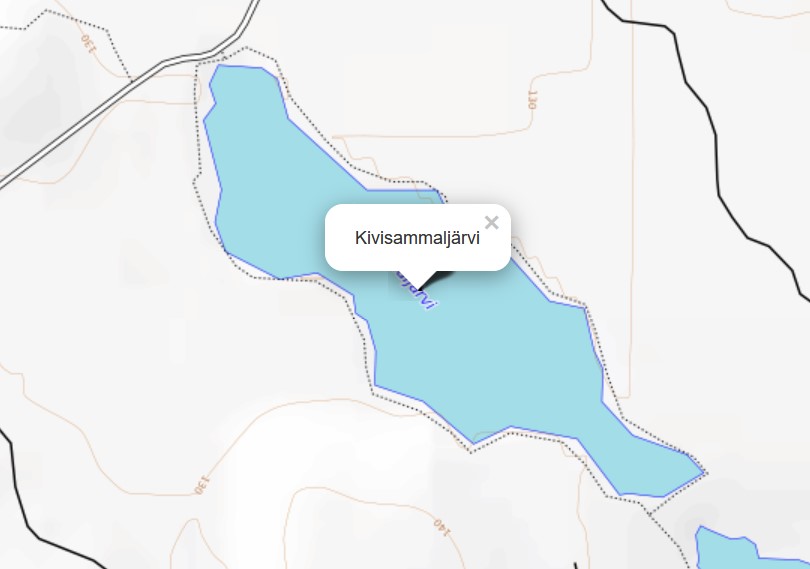 We began walking the trail clockwise from the north end of the lake. Eastern side seemed to be really flat. There were multiple little streams flowing into the lake, and small duckboard bridges over them. Marsh tea was growing by the narrow trail.
Pretty soon we arrived to the south end of the lake. There seemed to be an animal trail to the lake, but it looked more like animal trail from the lake. We were wondering what kind of crocodiles walk on shore from the lake! Just kidding, there are no crocodiles in Finland.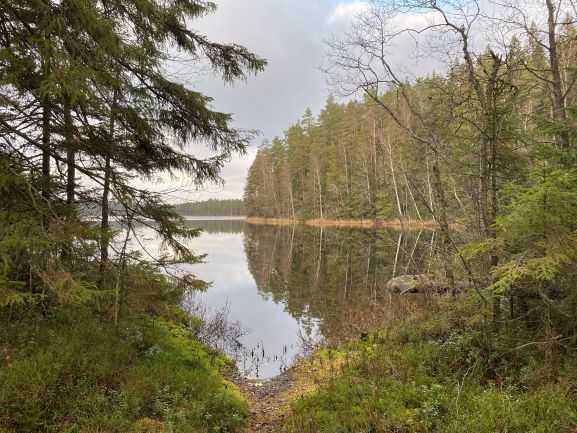 Funnel chanterelles were growing on many spots around the lake. Even though it's November, mushroom season is not over yet. Chanterelles that I have found have become soft and slimy, but funnel chanterelles are still perfect.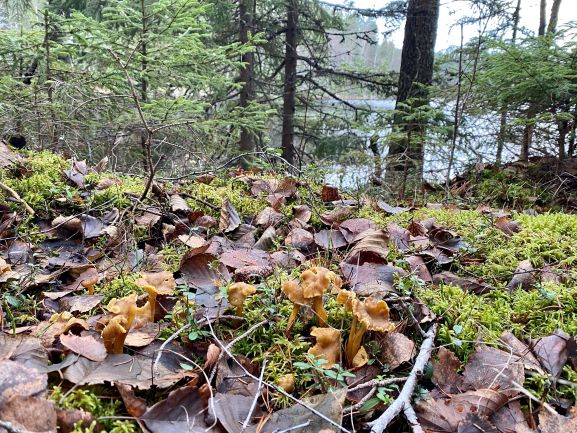 Next we came to a slightly bigger bridge that passed a small stream between Kivisammaljärvi and Keritty lakes. The water was only about 30 centimeters deep, but I think you could canoe through here. At least the bridge is high enough. On dry summer there probably won't be this much water in it.
After the bridge forest type changed slightly as there is a bigger hill on the western shore of the lake. The trail is not that flat anymore and there are few roots on it. The moss in the forest looked so green.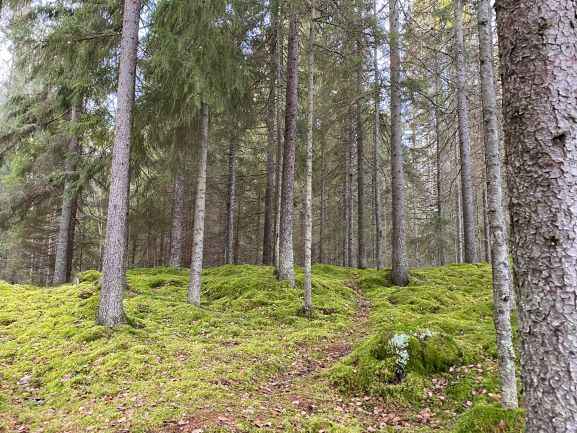 There are few unofficial fireplaces on the shore of the lake. This was not the best place to sit on, but the view was nice. Sun was just shining to the opposite shore, it is low in the sky at this time of the year.
Overall I really liked this nature trail around Kivisammaljärvi. It's very peaceful area compared to busier Iso-Melkutin or Liesjärvi National Park, which are the neighboring nature areas along the Hämeen Ilvesreitti. The trails here continue to Keritty and Kivijärvi, so you could venture out further if you liked.
Directions to Kivisammaljärvi
Address:
Pyhälammintie 670
12750 Loppi
How to get there:
Car: There is a tiny parking lot by the road in address Pyhälammintie 670. It fits 2 cars. You will see the sign post to the road.
Bicycle: The cycling is allowed on Hämeen Ilvesreitti. In case you are just passing Kivisammaljärvi on a bicycle, the trail on the eastern side is better.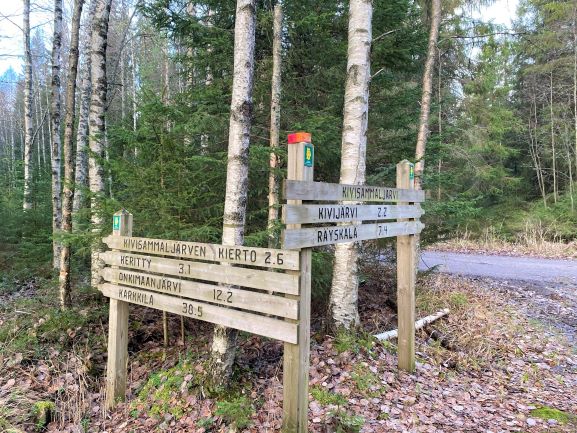 Accessibility: The nature trail is not accessible for all and there are no services for the disabled in the area, but the area is suitable for families with children (without a pram). Tell the kids to count how many bridges there are on the trail as I lost count.
Facilities: There are no facilities by Kivisammaljärvi lake.
Special to know: Everyman's rights apply. For fishing in Kivisammaljärvi you would need to purchase National Fisheries Management Fee for example from Eräluvat website. Hook and line fishing and ice angling are general fishing rights and do not require a fishing permit.
Also visit in the area
Iso-Melkutin lake is a popular scuba-diving destination in Southern Finland because of its clear water and underwater ridge. It's also a beautiful hiking and camping area with longer trails.
Liesjärvi National Park provides even more hiking and camping possibilities. The Korteniemi Heritage Farm in Liesjärvi showcases the history of the farming in Finland and is a lovely place to visit during summer. Kyynäränharju is a beautiful ridge in Liesjärvi NP.