Punatulkku and Pohjantikka trails in Liesjärvi National Park are located near Korteniemi Heritage Farm. Punatulkun polku, Punatulkku trail, is a 3,1 kilometers long circle trail that departs from parking area called Lehdos situated along Korteniementie road. Pohjantikan polku, Pohjantikka trail, is a 5 kilometers long circle trail that departs from Korteniemi parking area. You can also combine these two trails easily into one 6 kilometers long trail like we did in April.
Punatulkun polku / Punatulkku trail 3,1 km (red)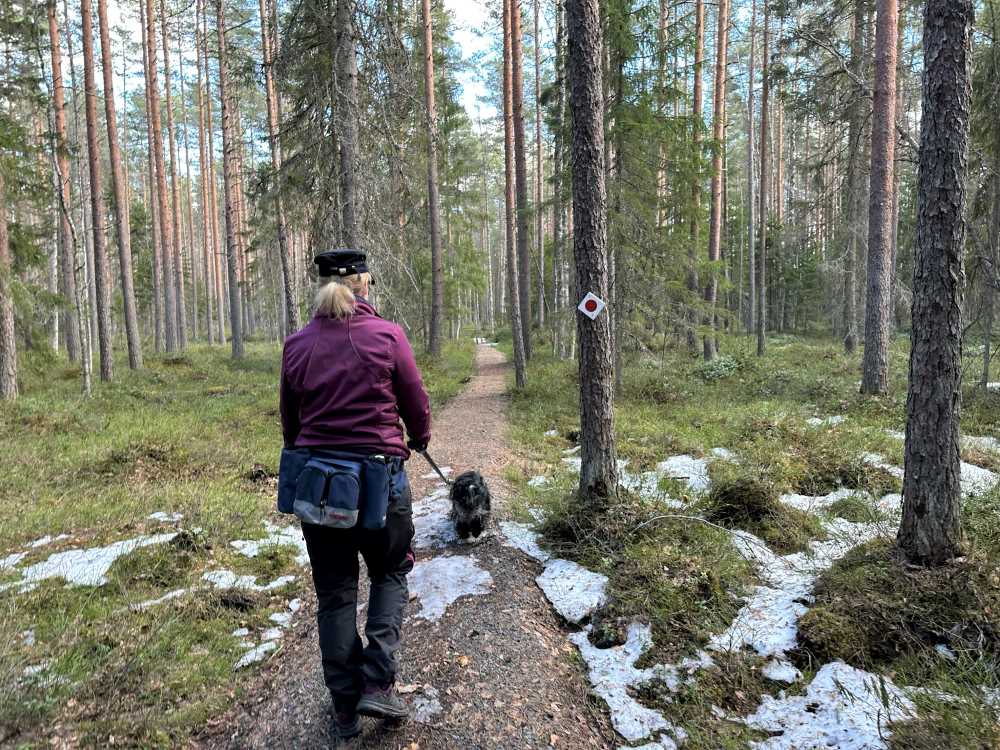 We began our walk from the Lehdos parking area by heading to Punatulkku trail anticlockwise as recommended. I was wondering about the condition of the trails and whether they would be too soft to walk on, but Punatulkku trail was mainly dry. There was some ice, but the trail was easy to walk on. This trail leads you through a relatively young pine forest to Liesjärvi lake shore and to Korteniemi Heritage Farm.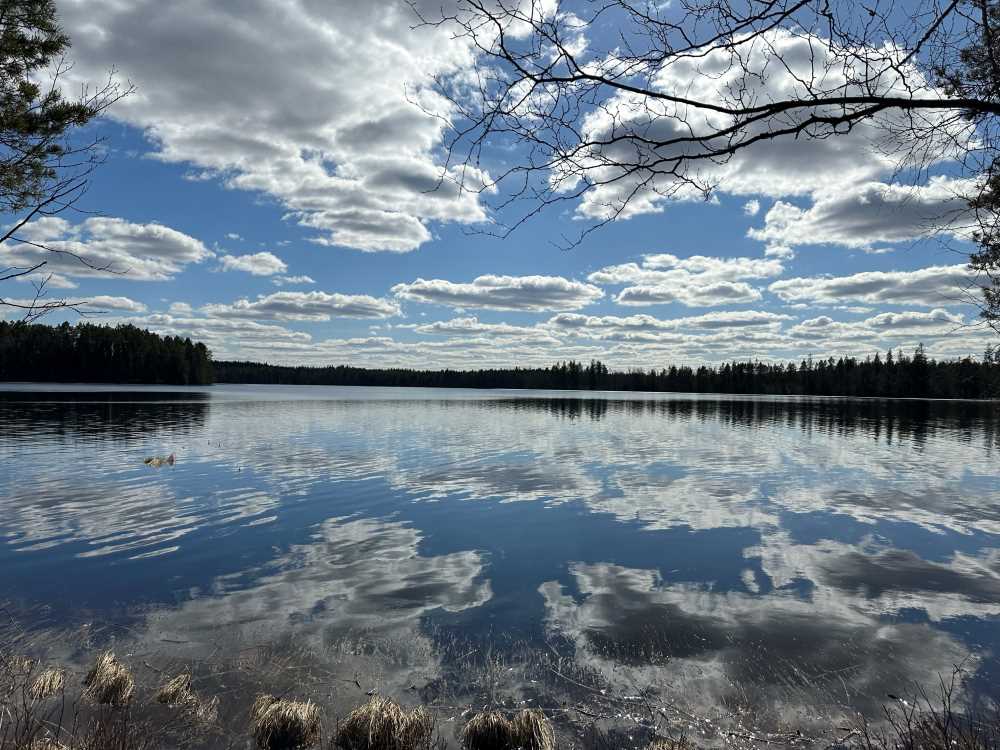 Korteniemi Heritage Farm's exciting sign of spring
There are farm animals living at Korteniemi in summertime but now sheep pasture was empty. Or almost empty. We did spot an exciting sign of spring by the side of the trail near the pasture; a viper was soaking in the sun! The viper (Vipera berus), also known as adder, is the most common poisonous snake in Europe, and the only poisonous one in Finland. You can recognize it from a dark and very distinct zig-zag pattern down its back, and red eyes. Early spring is a good time to spot them when they come from hibernation to soak in the sun and began mating. Since we had one dog with us, we carried the dog past the snake so they could both continue their day without any danger and disturbance.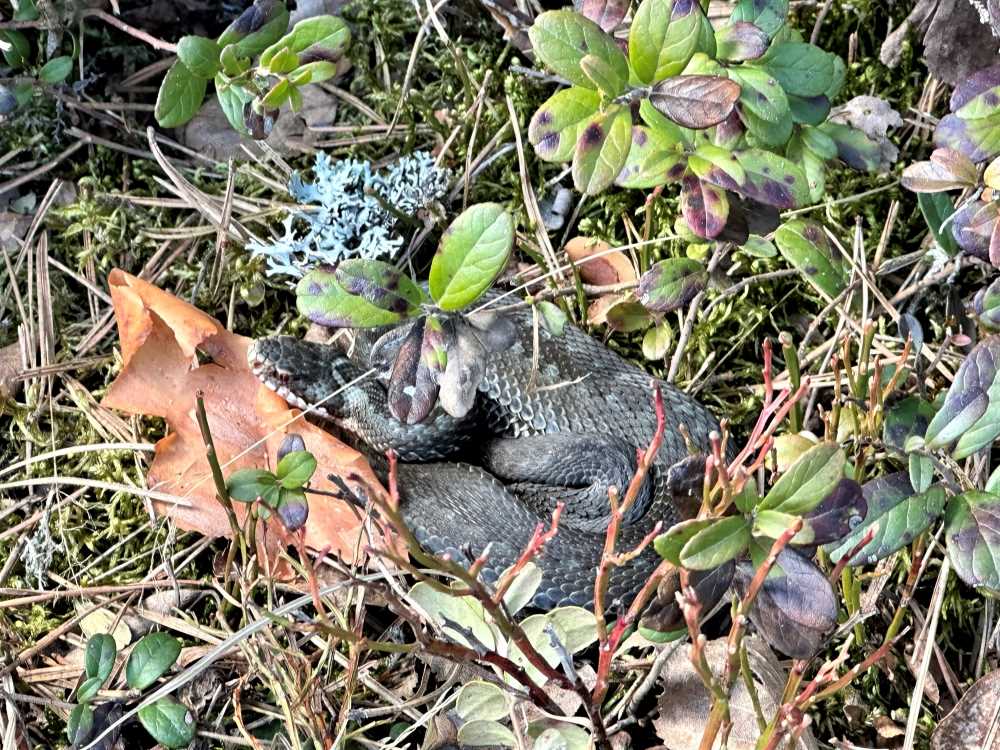 As the Korteniemi Heritage Farm is best to explore in summer, we continued along the trail towards Pitkäkärki. We passed signs to Ahonnokka, which is the shortest 1,3 kilometers long circle trail (green) from Korteniemi. To read more about Korteniemi and Ahonnokka, check out our earlier post: Travel back in time at Korteniemi Heritage Farm in Tammela. Korteniemi is also connected to Hämeen Ilvesreitti and the rest of the trails at the national park by yellow trail.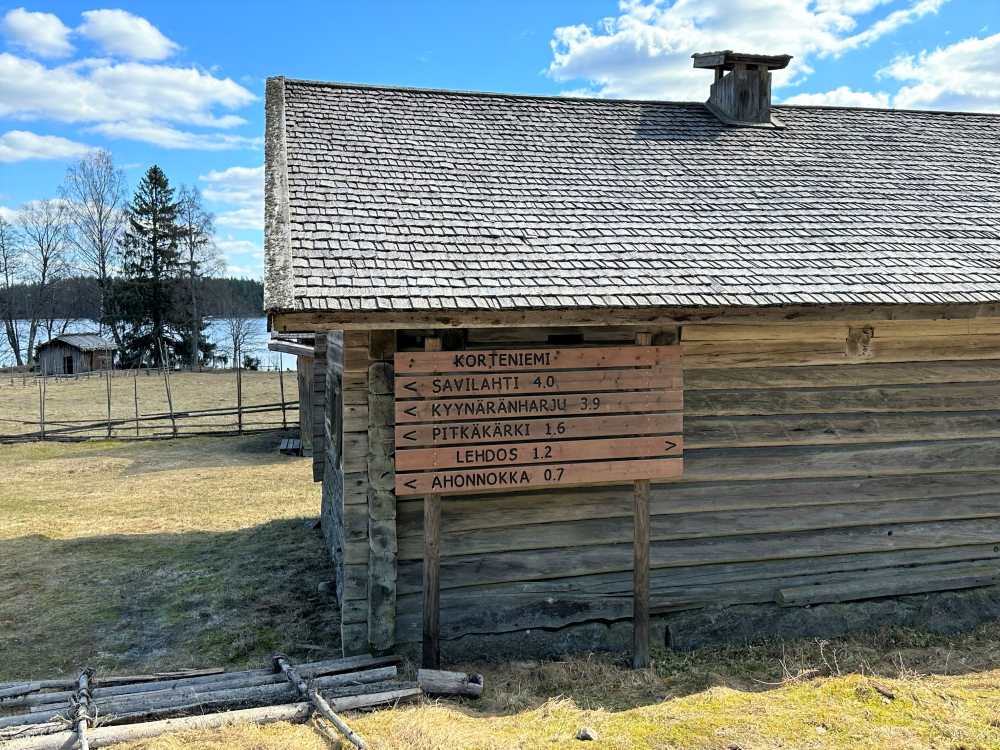 Pohjantikan polku / Pohjantikka trail 5 km (blue)
After Korteniemi, we passed a cow pasture and spotted the Liesjärvi lake on our right-hand side again. Here Liesjärvi lake still had some ice in it. Then we came to an intersection where the blue Pohjantikka trail departed from the red Punatulkku trail towards Pitkäniemi. Since the trail had been in such a good condition, we decided to take a little detour to Pitkäniemi along the blue Pohjantikka trail. Duckboards were dry and in good condition.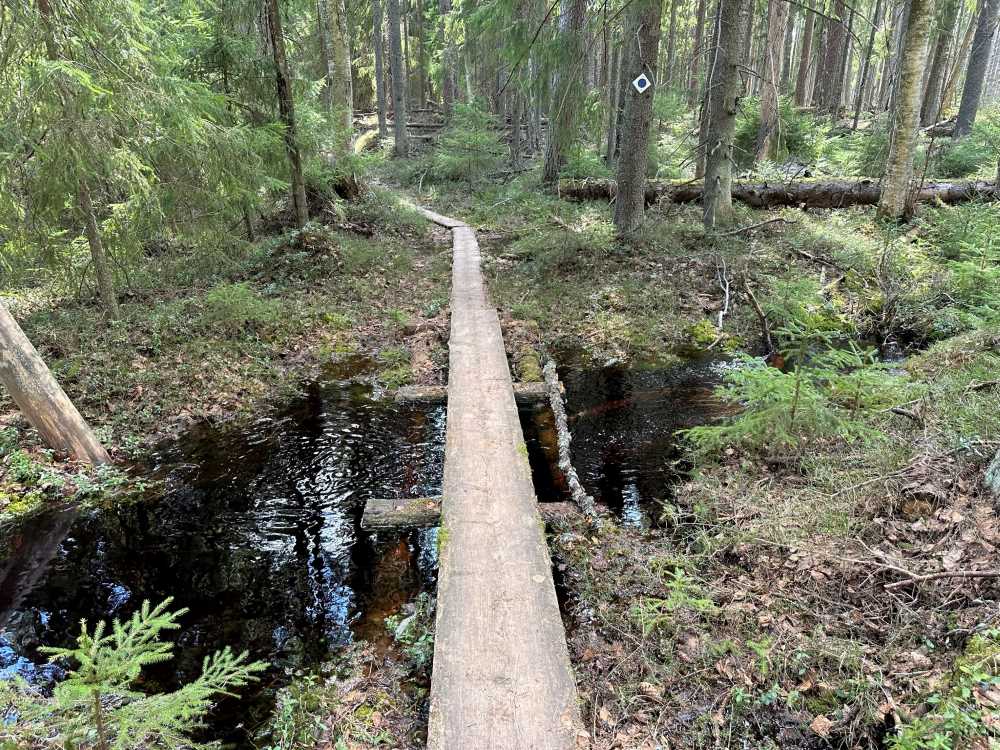 Pitkäniemi is an ancient place of residence from the Stone Age. Imagine how many generations of people and adders have wondered in these forests before you. At Pitkäniemi we found a small field and a barn. The blue trail turned out to be quite wet and challenging at times. The Pohjantikka trail consisted of old pine forests and also many fallen trees to climb over. One of them seemed to be squirrels' lunch table.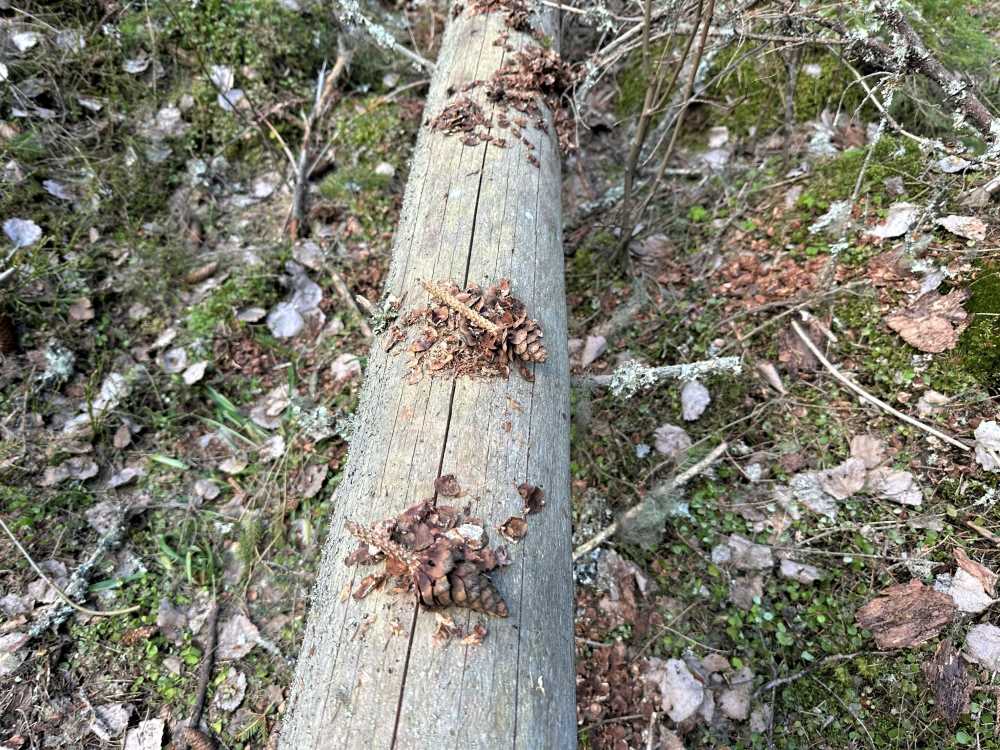 Our last section of the trail was again the red Punatulkku trail, which took us over a small ridge and back to Lehdos parking area.
Directions to Korteniemi and Lehdos
Korteniemi parking area (access to Korteniemi farm and departure to blue and green trails)
Korteniementie 242
Lehdos parking area (departure to red trail)
Korteniementie 160
31470 Tammela
How to get there:
Car: From Helsinki-Pori road number 2 turn to Kansallispuistontie, not Hennontie even though your navigator might want to go there. From Kansallispuistontie turn right to Korteniementie.
Bicycle: The cycling route is the same road cars use so please take care.
Public transport: Getting to Korteniemi and Liesjärvi National Park by public transport is possible as it is located near the main road 2, but there is about 4 km walk from the bus stop to the farm. The closest bus stop is called Kyynärä (Tammela), see tickets and timetables at Matkahuolto website.
Facilities: There is a picnic table at Lehdos parking area, and an accessible toilet right next to the Korteniemi parking area.
Accessibility: Both Punatulkku and Pohjantikka trails are not accessible as they have duckboards, and especially Pohjantikka trail has many obstacles such as fallen trees. Korteniemi Heritage Farm is accessible from the Korteniemi parking lot. Accessibility is limited within the farm and its garden and buildings, but the main building can be accessed by request. Contact Korteniemi at Metsähallitus website.
When to go: You can visit the area at any time of the year, the road and parking lots are cleared from the snow, but the farm will be closed and covered by snow in winter. The best months to visit Korteniemi are from May to September when the farm is open. Opening times and event information are available at Metsähallitus website.
Special to remember: Keep your dog on the leash and don't step on any adders.
Read more about Liesjärvi National Park