Korteniemi Heritage Farm is an old forest ranger farm, which is brought back to life every summer with some animals and traditional activities. The farm, its buildings and garden have remained unchanged for over 100 years. Visit Korteniemi in Liesjärvi National Park in Tammela during summer to see and experience what life was like in the early 1900s.
The Korteniemi estate has been part of the Liesjärvi National Park since the national park was established in 1956. The purpose of Korteniemi Heritage Farm is to maintain the cultural landscape, protect the old buildings, protect the traditional plants, and maintain the knowledge of traditional farming. The gate of the Korteniemi leads you to the farm from a parking lot and allows you to step back in time.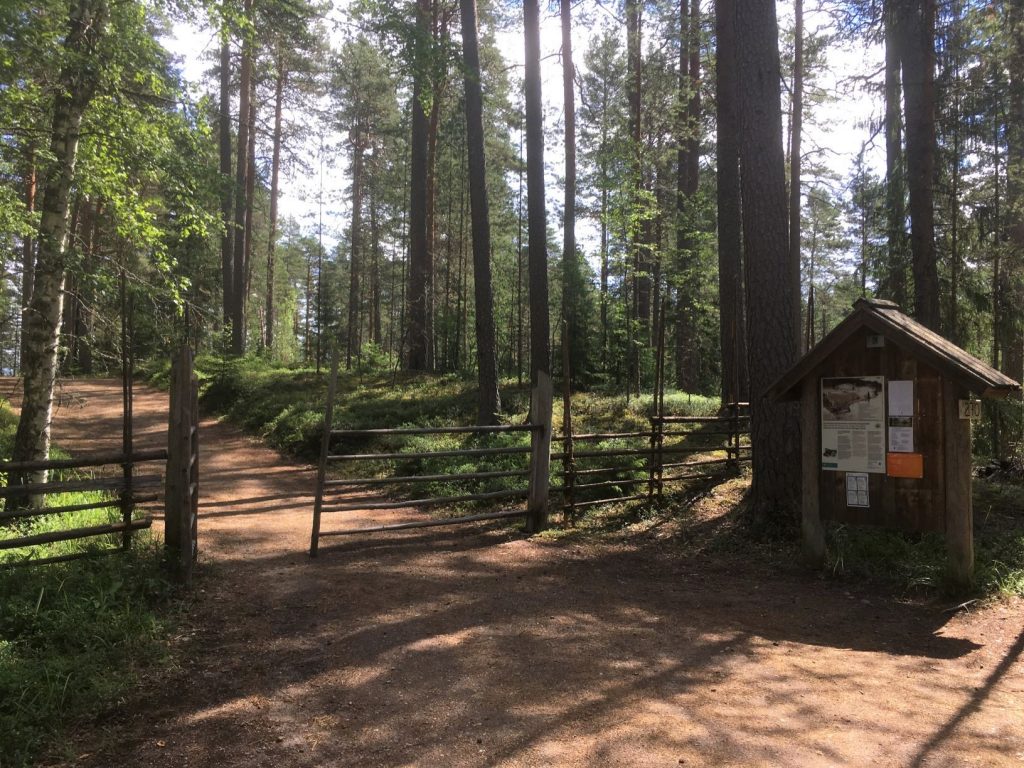 The fields around Korteniemi are cultivated with traditional plants and methods. Rye crops are reaped by scythe. The guide of the farm, dressed in old-fashioned frock and apron, happened to be working on the field when we arrived in Korteniemi. It really felt like we stepped back in time. Then we spotted some visitors who were having a picnic in the garden, and suddenly someone started flying a drone in the yard. My moment in the past was ruined by the noise of the drone.
We walked through the farm to check out the lake. Korteniemi is located by the beautiful Liesjärvi lake. It is no wonder this area has been inhabited since the Stone Age. The fence had also been made in a traditional way, without any screws or nails.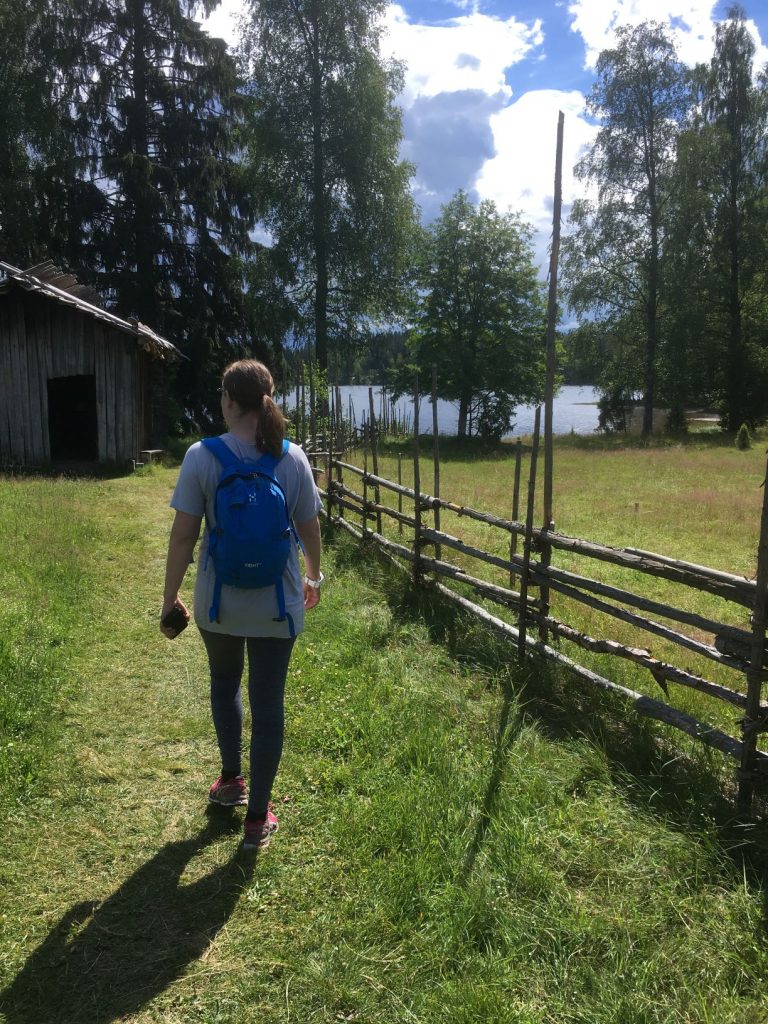 Animals that may be seen in Korteniemi in summer are typical to the early 1900s: horses, cows, sheep, chickens and roosters. They are transported here only for the summer from nearby farms. Unfortunately, Metsähallitus, which manages Korteniemi and all national parks in Finland, decided to limit the number of animals at the farm this summer due to financial reasons. The opening times are also shorter than before.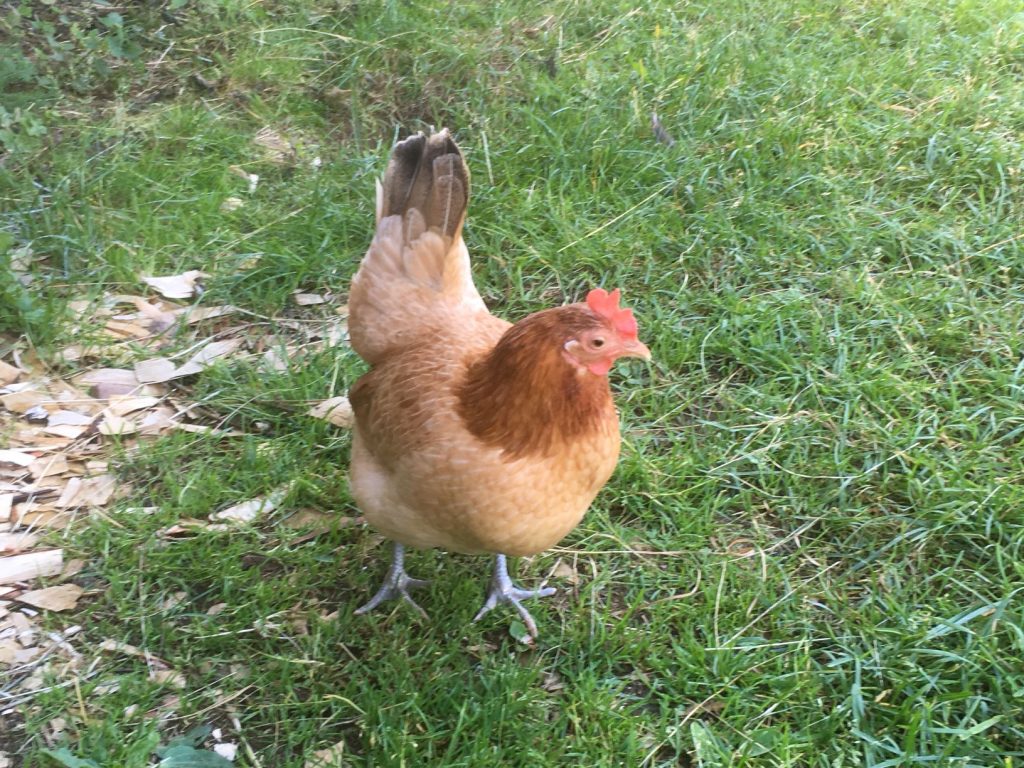 There is no entrance fee to Korteniemi, but guided tours are organized for a small fee. 1 hour tour normally costs 50€/group + 2-hour work show 100€/hour. The tours can be booked from Metsähallitus customer service at sisasuomi(at)metsa.fi or tel. +358 206 39 5270. There is also an old smoke sauna that can be rented, but it is closed this year due to renovations.
Trails departing from Korteniemi
There are three circle trails that depart from Korteniemi to Liesjärvi National Park in the south end of the park. To get to these trails you need to walk through the gate towards the Korteniemi farm from the parking lot, turn left just before the farm, leaving the main building on your right and passing by an old barn on your left.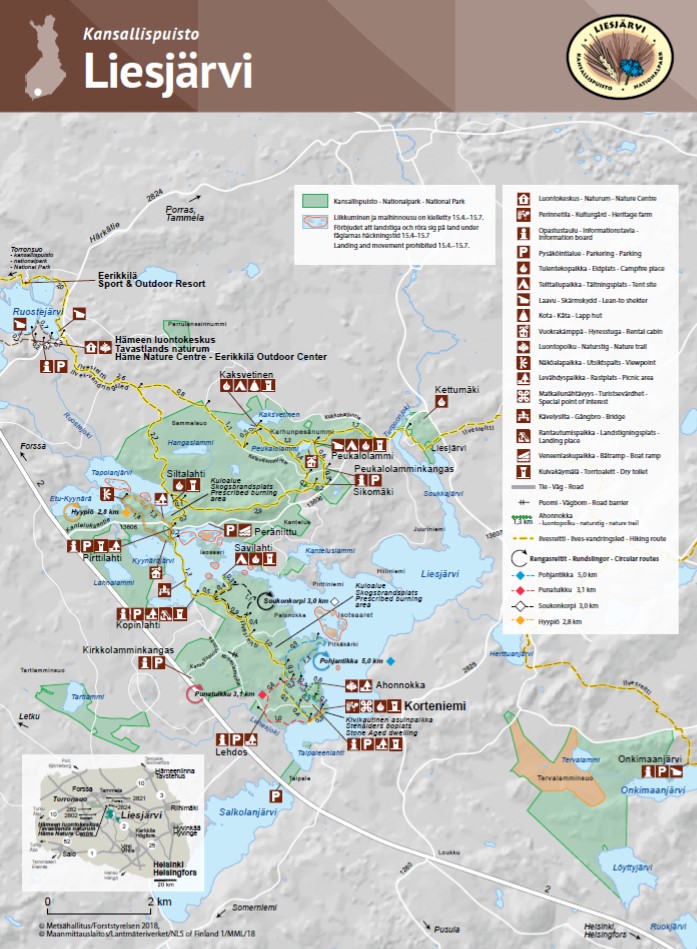 Ahonnokka 1,3 km
We headed first to Ahonnokka trail (marked with green on the map). As this part of the park has been protected since 1956, trees in this area are huge and the forest is magical. Ahonnokka is itself is a nice viewing spot to Liesjärvi lake. From this trail you have an option to turn back to Korteniemi or continue to Punatulkku or Pohjantikka trails.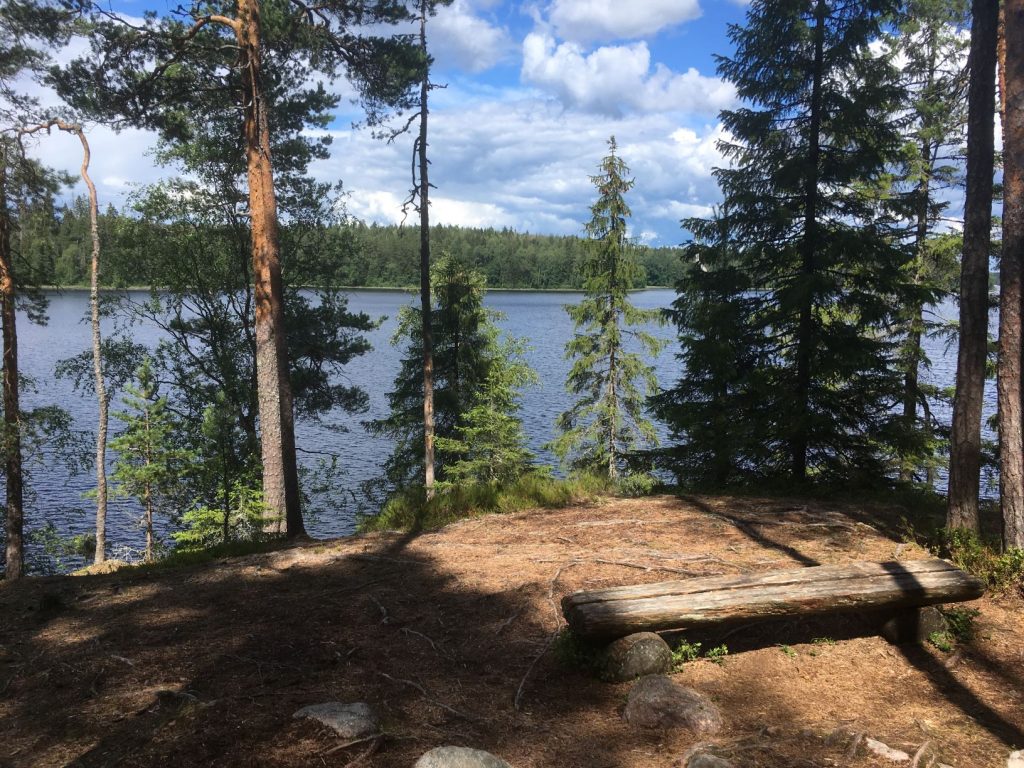 Punatulkku 3,1 km
Punatulkku is a circle trail (marked with red), which is connected to a hiking route that leads deeper into the national park towards Kyynäränharju ridge. It first cuts through the forest and some bog area before coming back to the Liesjärvi lake shore.
Pohjantikka 5km
Pohjantikka circle trail (marked with blue) passes Ahonnokka and goes to Pitkäkärki peninsula, where you can see a small barn on the field. There are also old trees along this trail.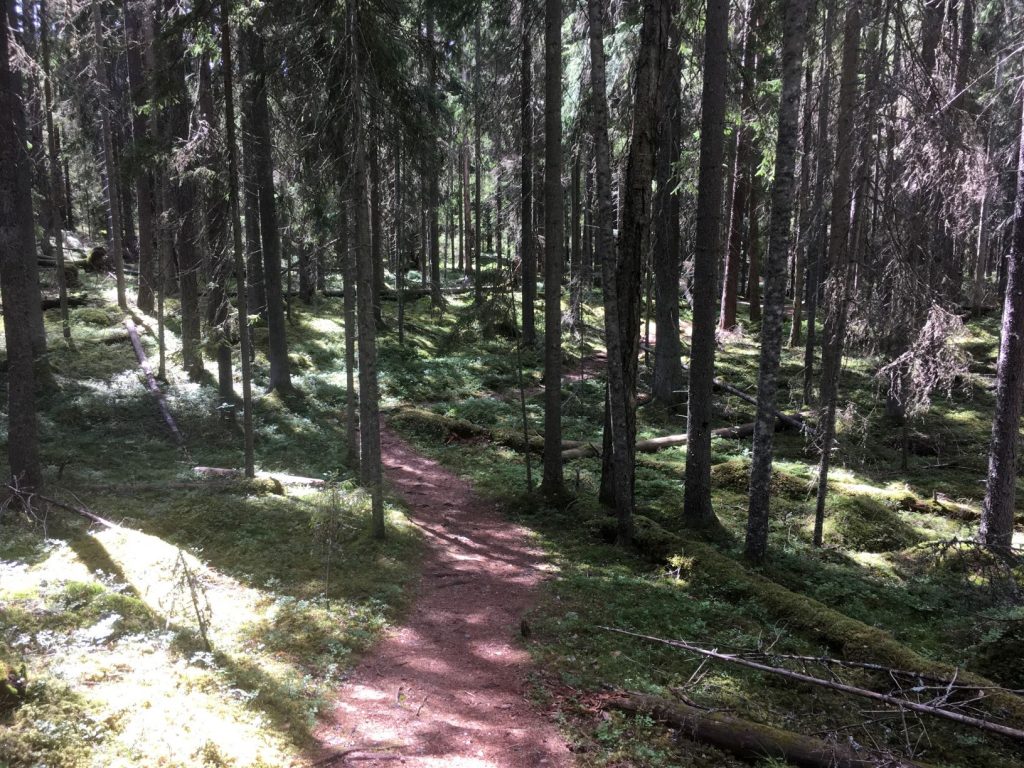 Directions
Address:
Korteniemen perinnetila / Korteniemi Heritage Farm
Korteniementie 270
31350 Liesjärvi Tammela
Korteniemi Heritage Farm is located inside the Liesjärvi National Park, which extends to three municipalities: Tammela, Karkkila and Somero. It is near Häme Nature Centre and Eerikkilä Sport & Outdoor Resort.
How to get there:
Car: Set 'Korteniemi' or 'Korteniementie 270, Tammela' in your navigator. From Helsinki-Pori road number 2 turn to Kansallispuistontie, not Hennontie even though your navigator might want to go there.
Bicycle: The cycling route is basically the same road cars use so please take care.
Public transport: Getting to Korteniemi and Liesjärvi National Park by public transport is possible as it is located near the main road 2, but there is about 4 km walk from the bus stop to the farm. The closest bus stop is called Kyynärä (Tammela), use that when searching for tickets at Matkahuolto.
Accessibility: Korteniemi Heritage Farm is accessible from the parking lot as the 200m path is wide. It is also possible to drive to the farm with permission. There is an accessible toilet right next to the parking lot. Accessibility is limited within the farm and its garden and buildings, but the main building can be accessed by request.
When to go: You can visit the area at any time of the year as some of the trails from Korteniemi are also being used in the winter. The road and parking lot are cleared from the snow, but the farm will be closed and covered by snow in winter. The best months to visit Korteniemi are from May to September, when the farm is open.
Special to remember: Make sure to check out where and when you are allowed to make a fire if you go hiking on the trails. You can pick berries and mushroom in the national park, and you are allowed to fish as long as you respect everyman's rights. If you want to swim in the area, check that Liesjärvi lake doesn't have blue-green algae in it as it's a health hazard. The Lake Wiki shows up-to-date algae info.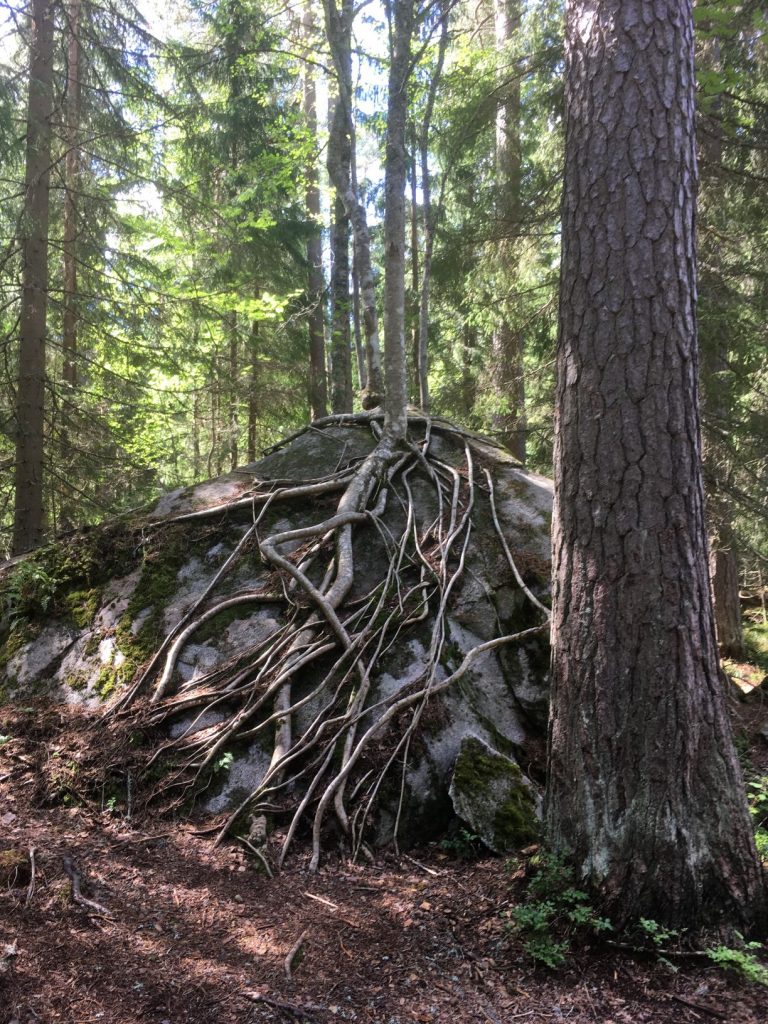 Also visit in the area
The Korteniemi Heritage Farm is part of the Liesjärvi National Park and Häme Lake Uplands. Saari Folk Park, Iso-Melkutin lake and Pääjärvi recreation area are all in proximity to Korteniemi. Torronsuo National Park is also located in Tammela.