Kupson kutsu is an extremely well-maintained trail network in Kupsonvaara hill in Jaurakkajärvi village, which is in Pudasjärvi municipality. It is easy to reach as the parking lot is right next to road 78. The short trail network is less than 10 kilometers long, and there is even a sauna at your service along the trails.

All circle trails can be reached from the same starting point, which even offers printed maps for visitors. How often are you treated with this well-maintained nature destination? Never! I was genuinely impressed by the maps in the mailbox. The only thing worth noticing is the fact that the trails are longer than what the signpost says. I guess for that signpost they have been measured as sections, but you must walk along the shortest trail to be able to reach the furthest one. The trails and their highlights are as follows:
Elämys 4 km – sauna
Lumous 5,6 km – viewing deck Isojyrkkä
Keidas 9,1 km – barbecue hut by Lohilampi pond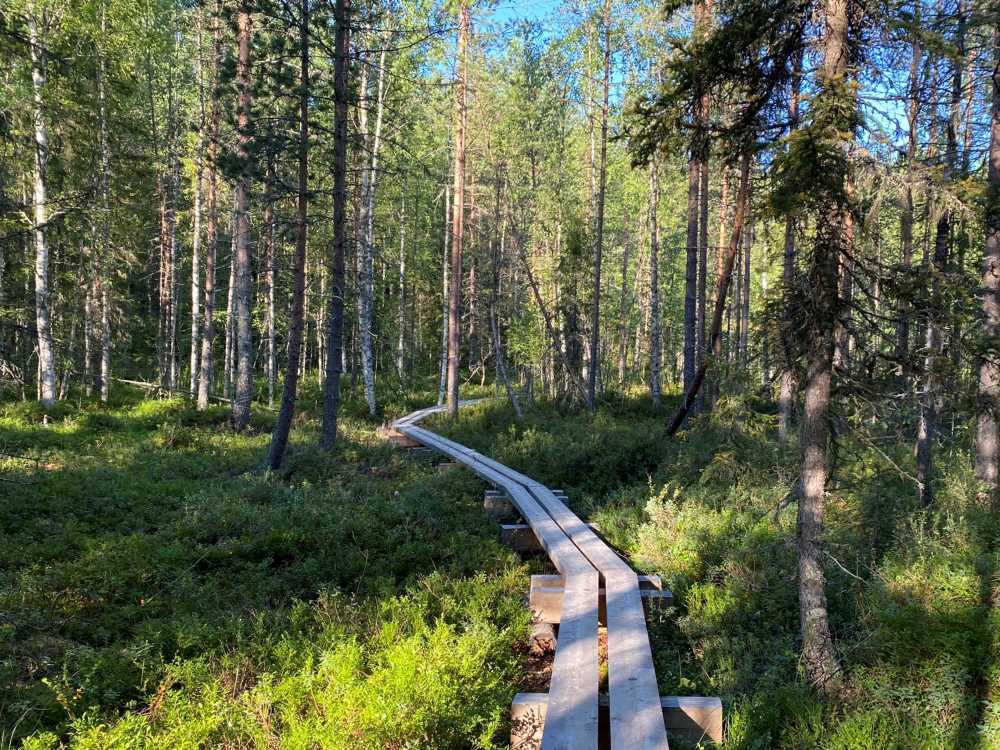 Tar burning inspired many folklore
At the beginning of all the trails, you can find a few remembrances from history: tar pits. Again, an excellent signpost Tervahauta makes sure that you don't walk by this spot. Unless you are pre-occupied with mosquitos and walking the dog and happily walk right by it!
Tar burning in a pit, i.e. dry distillation of wood, was an important export product for centuries because Finland is so rich in forests. Dry distillation, or pyrolysis, is the decomposition of wood into various products with the help of heat. Dry distillation can be carried out either by a direct method (tar pits) or by an indirect method (tar burning oven). The best tar is obtained from resin-rich coniferous trees, especially pine, as it contains more resin than other tree tar. Tar burned in tar pits, also known as grave tar, is considered more valuable than the one burned in ovens. It took about a week to burn the tar in the pit, and it had to be constantly monitored by the tar master. After burning, the tar still contains water and other substances dissolved in the water that can be removed by letting the tar settle.
The peak of tar business took place in 1863, when 30 million liters of tar were exported. Most of the tar burning took place in Ostrobothnia and Kainuu, where also Pudasjärvi is located. These kinds of iron furnaces were used in the 19th century.
Tar burning relates to an abundance of folklore and beliefs. According to one belief, you could not call tar by its real name while the tar burning process was ongoing. It could only be referred to with other words, such as "stuff". This was meant to secure a good batch, because the pit was believed to be able to hear everything that was said around it.
I don't know why I started whispering to Nalle next to the tar pit. The tar burning process wasn't ongoing.
Directions to Kupson kutsu
Address:
Puolangantie 3356
93350 Pudasjärvi
Car: There is a parking area right next to road 78 between Puolanka and Pudasjärvi. The trail departs from the parking lot.
Public transport: The closest bus stop is called Jaurakkajärvi only few hundred meters from the parking area. For tickets and timetables please visit Matkahuolto website.
When to go: The best time to visit this location is in the summer when there is no snow on the ground. In winter you cannot see the tar pits.
Check out also