Giant's sarcophagus, jättiläisen hauta, is a large retangle boulder in Tammela in Tavastia Proper region. It lies hidden in the forest, and by the looks of it, it could really be a coffin for someone fairly large. If you knock on the side of the boulder, it sounds like it's hollow. What is the story of this Iron Age giant's sarcophagus?
We visited the giant's sarcophagus on an early morning with Nalle. I parked the car on Kapilontie road in close proximity to where I believed the boulder was. I was almost expecting a sign, or at least a path, but there wasn't any clear path to the boulder. It was still relatively easy to locate with a map, and circling to it from the top was definitely the right choice.
When you are approaching the boulder from the top, you will encounter these man-made rock formations first. The giant's boulder lies just behind them, it's actually visible in the photo on the right. But it wasn't that easy to see it in the forest as it was laying low on its eternal resting spot.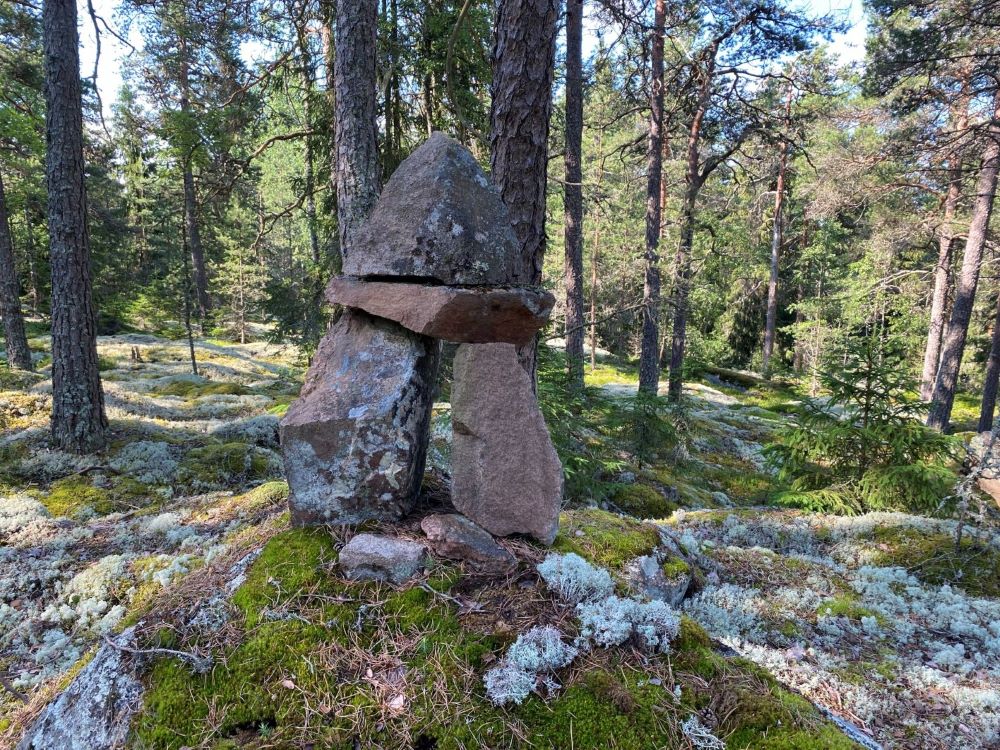 There was something magical about this place. Maybe it was the rays of sunlight that found their way to this opening. Nalle was excited about many deer and moose tracks in the forest. Some moose had spent time right next to the giant's coffin, as there was poop on the ground.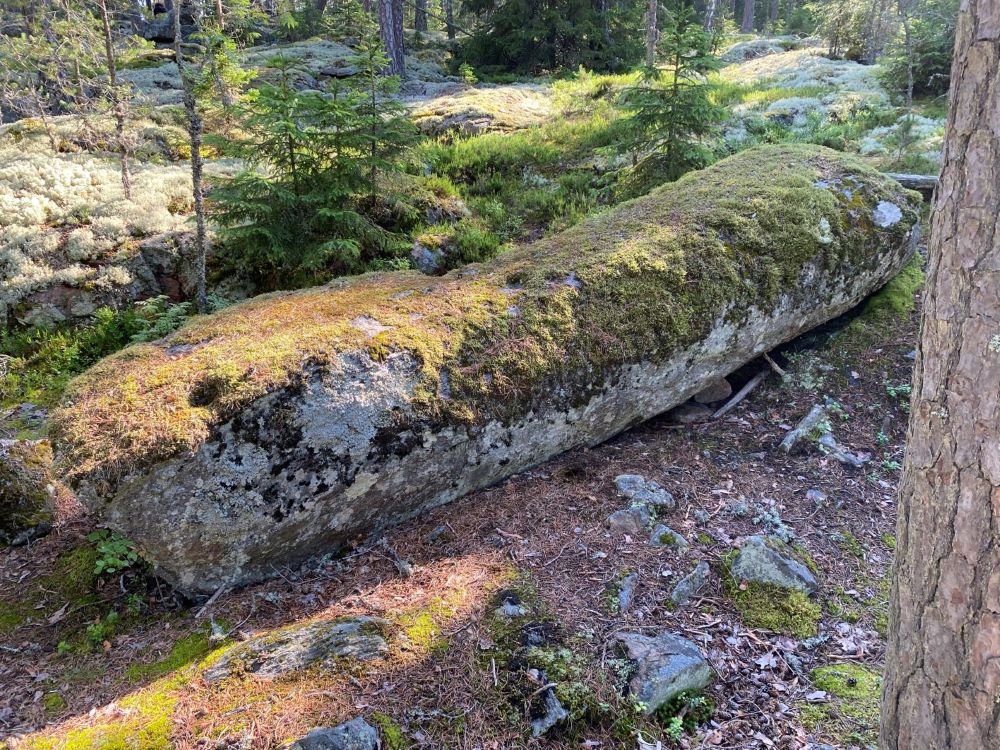 This stone is believed to have been a sacrificial altar in the Iron Age, and it is therefore protected. You can find some ancient cup-markings on top of the stone. The cup-marked stones, that can be found in hundreds of locations in Finland, possibly served as sacrifical places for better luck in hunting, fishing, or farming.
I have seen pictures of some people laying down on the boulder or standing on it, posing for a photo. I find myself respecting these kind of places so much, that I couldn't do that. If you look closely, you will also see few drill holes on lower end of the stone. Apparently, some boys tried to drill it open in the 40's, but something scared them away. According to a local legend, a gnome had appeared to them.
Directions to the giant's sarcophagus in Tammela
Address:
Jättiläisen hauta
Kapilontie 208
31380 Tammela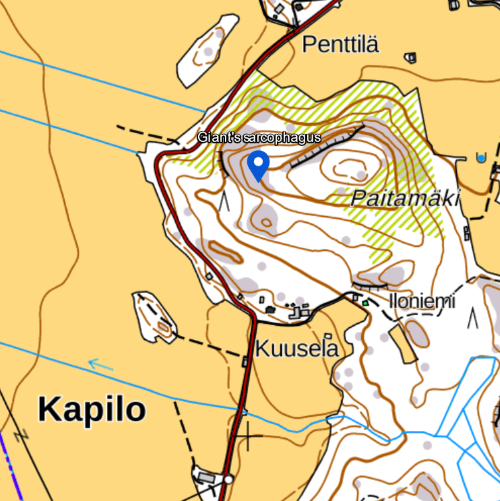 How to get there:
Car: The giant's sarcophagus is located on Paitamäki hill in Kapilo in Tammela. It's about 2 kilometers off from Hämeen Härkätie, and about 8 kilometers from highway 2 between Helsinki and Pori. There is a path leading to the forest from Kapilontie road, but it doesn't go directly to the giant's sarcophagus. You need to read the map to find it.
Bicycle: The bicycle route is the same as vehicle road.
Public transport: There is no public transport available to this location.
Accessibility: The giant's sarcophagus lies in the middle of the forest, so it is not accessible. There is no clear parking space available either.
When to go: The best time to visit this place is when there is no snow.
Read more about the cup-marked stones in Finland