Metsäkoivula trail is an easy day trip from Helsinki as it is located in a small town called Somero, about 100 kilometers from the capital area. Nearby are the national parks of Liesjärvi and Torronsuo, but Metsäkoivula has some unique characteristics that make this small trail worth a visit. There is a beautiful view to a small forest lake that occasionally attracts swans, a Moonshiners' Creek that now serves as a perfect spot for a barbecue, and geocachers may discover several hidden treasures along the trail. This part of Finland is usually flat, so these rocks and views are quite special in the area.
The trail is approximately 5 km long and it is clearly marked with a blue paint on the trees. The info board recommends you to walk the trail clockwise. On a rainy day the path may be slippery. It has few very steep climbs and some roots and rocks that make it challenging for elderly people. The final part of the trail, which comes back to the parking lot from another direction, is an old forest road and that part of the trail is accessible and easy to walk.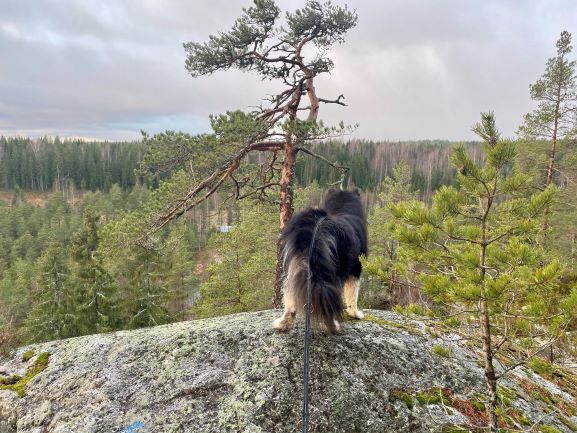 Origin and characteristics of the Metsäkoivula trail
The Metsäkoivula trail was established by a local man, who knew about the beautiful views, diverse nature and the little creek in this area. This land is owned by the city of Somero, which happily granted a permission for the trail to be established.
The trail takes you first through a pine and birch forest, soon climbing high on the rocks, where it offers a nice view to a round lake called Pohjaton, Bottomless. There are several lakes with this same name in Finland. Often the name Bottomless is given because lake is swampy and doesn't seem to have a clear bottom. Don't expect any sandy beaches by the lake Bottomless!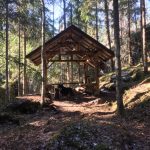 After the viewing point on the rocks the path continues down the hill back into the forest. Soon there is a sign and yellow paint marks guiding you to the barbecue place. It is few hundred meters off the trail, and to continue the trail you should return to this sign from the barbecue place. The barbecue hut is called Pontikkapuro, Moonshiner's Creek. The barbecue hut was built with city's permission by a couple of volunteers, from local trees that had been knocked down by a storm. You are allowed to make a fire in this barbecue pit when there is no forest fire warning announced. For current information about the forest fire warning, please check the Finnish Meteorological Institute's website.
In summer 2018 a new part was added to the Metsäkoivula trail. This new extension, marked with red paint, is called Hirvenpolku, Moose trail, and it takes you to an old forest, down to Särkjärvi lake, and later back to the original Metsäkoivula trail. This part of the trail is really worth checking out as it showcases the best features of this area.
Metsäkoivula trail continues through a swampy area and the final part of the trail is on Levolantie. The most challenging parts are descent and ascent to the red trail on both ends of it, as well as rocky crossings in the north of Tervahaudansuo. There are parts where you have to climb using your hands, so this trail is not suitable for all.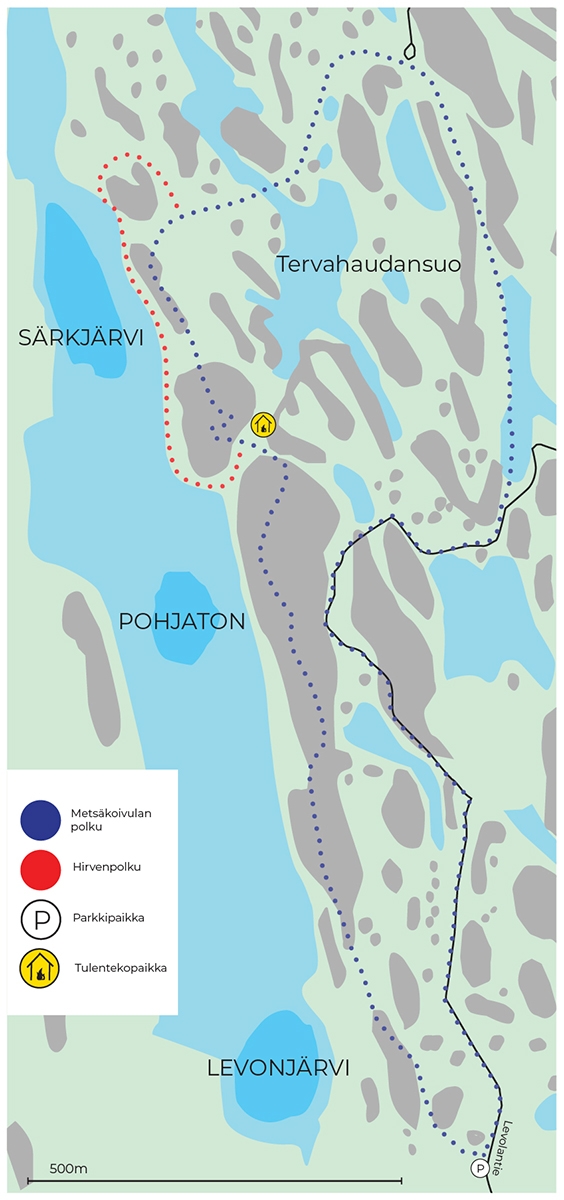 How to find the Metsäkoivula trail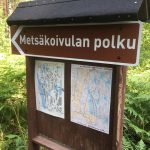 Metsäkoivula trail's car park is located approximately 8 km from the centre of Somero, just few kilometers off from Hämeen Härkätie, the famous Ox road. From Hämeen Härkätie you need to turn to Torro-Koivulantie and after about 1 km turn right to Levolantie. There is a sign that says "Metsäkoivulan polku". You should drive along the Levolantie until you arrive to a gate, and on the left side of the gate there is the beginning of the trail with a map. You may also arrive to Hämeen Härkätie from Finnish national road number 2, from which you have about 12 km to the Torro-Koivulantie intersection.
Address:
Levolantie
31400 Somero
If you are based in Helsinki area and are planning a day trip to Metsäkoivula trail, you can reserve approximately 1 hour 30 minutes for the drive one way and a good 2 hours for the trail.
More pictures and experiences from Metsäkoivula can be found from its Facebook page. A local hiking organization Lounais-Hämeen Retki Ry operates in the area of Somero, Tammela and Forssa, and may be contacted if you are interested in joining this club for organized group events and trips. They are mainly focused in hiking, cycling, canoeing and camping activities.
Metsäkoivula trail has a brand-new mail box at the beginning of the trail. In the mail box you will find a notebook where you can leave you greetings to the volunteers who have made the trail and shelter. In summer 2023, an outhouse has been added to the start of the trail. 
Metsäkoivula parking lot is kept open also in winter. The trail is accessible all year round, but it can get very slippery at times. The forest road part becomes cross-country skiing track in winter, please remember that dogs should not walk on the skiing tracks.
Also visit in the area
If you are planning to visit Metsäkoivula, I highly recommend checking out few other interesting nature destinations in Somero as well: