Marttila wilderness trails introduce nature in South Western Finland better than several national parks combined. I was particularly impressed by the great variety that the trails in Marttila have, big boulders called Juomakivi and Isokarhunkivi, views at Mopokallio and Rajakallio, and last but not least a narrow gorge called Lotikonkellari. And we only saw a part of the Marttila wilderness area.
There are two departure points for the nature trails in Marttila, Palainen and Huhtaanmäki. From them you can get to three different circle trails in the area. We chose to begin and end our trip at Palainen, because there is a beach and recently the weather has be really warm – we assumed we would like to go for a swim after hiking. The trail from Palainen is a minimum of 7,5 kilometers long. It doesn't really matter which direction you walk this circle trail, me and my three friends chose to walk it anticlockwise and went to Juomakivi first.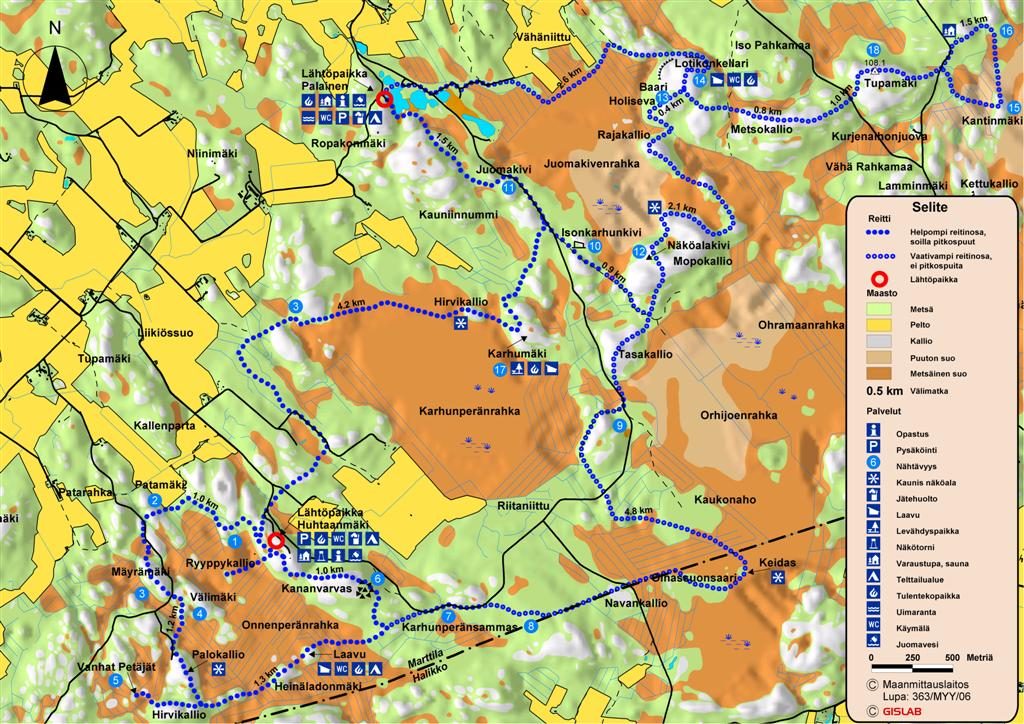 Trail around Juomakivenrahka bog
We were not sure where the trail begins, so we ended up walking to Juomakivi partly on the road. It took us a while to figure out that the pieces of plastic on the trees were the markings for this trail, after the original signs had dropped from the trees. We found the boulders Juomakivi and Isonkarhunkivi without any issues, and admired how massive they were. Juomakivi is translated as Drinking rock, and we wondered why many of these names in Marttila seemed to be connected to drinking. The name Isokarhunkivi means Big bear's boulder, and it might not be far feched considering the vast bogs in this area.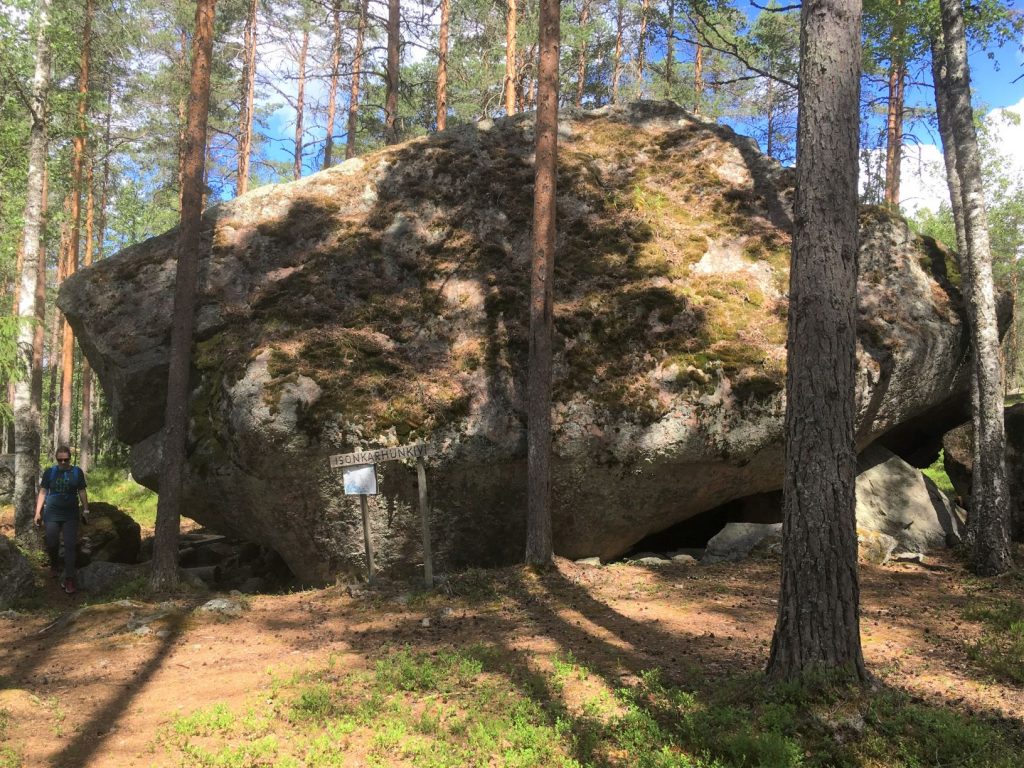 We continued the trail until we reached some kind of intersection. The plastic markings seemed to be going straight, but we could see a clear trail going up the hill to Mopokallio. We knew Mopokallio was part of the trail, so we turned left, thinking that it was the way we needed to go. That was a mistake as we later learned.
The views from Mopokallio to Juomakivenrahka bog were impressive. We also started seeing some really dark clouds in the horizon, so we thought that it would be nice to reach the lean-to shelter at Lotikonkellari before it started raining. At the top of Mopokallio we saw the trail again, checked our location from a simple map, and took a right turn. We walked to a next intersection of the trails only to see, that the arrow to Lotikonkellari was pointing to the direction where we just came. At that moment we realized what we had done when we turned to Mopokallio too early in the first place. So we headed back to Mopokallio, and managed to stay on the trail for the rest of the day. But I don't think these trails at Marttila are well marked, despite of the plastic pieces on the trees.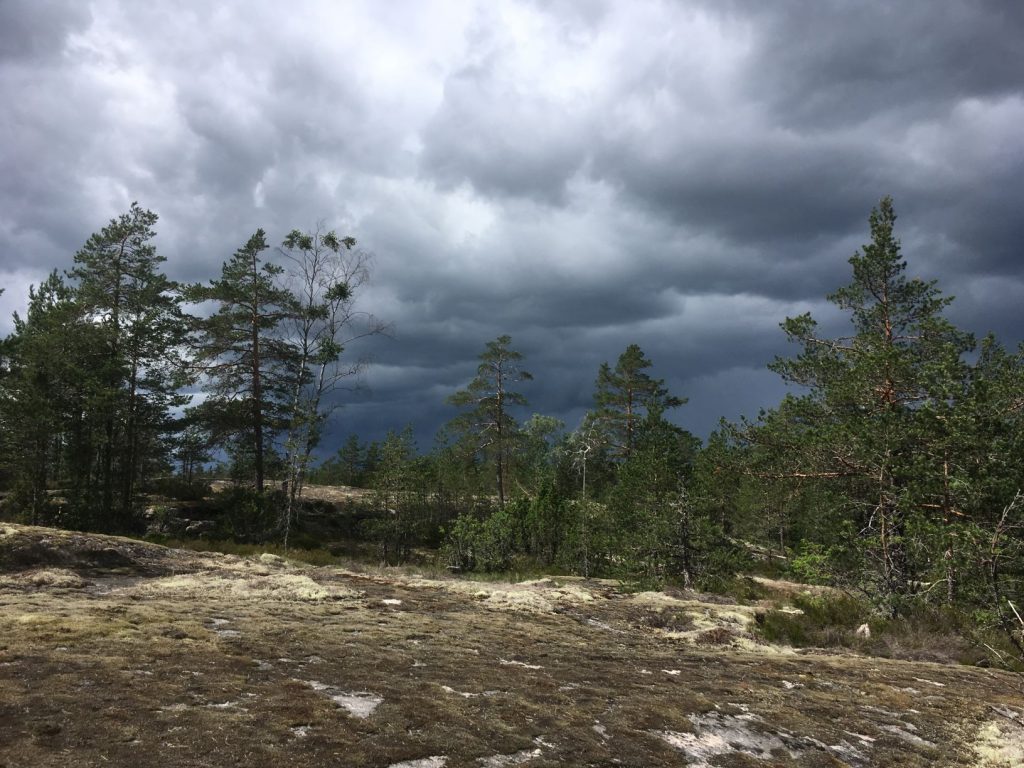 We were still admiring the views to the Juomakivenrahka bog when it started raining. The trail became slippery pretty quickly. We knew we were still far from the lean-to shelter, so we waited the heaviest rain to pass under some spruce trees. Finnish summer is always like this, you never know when you are going to have some rain or thunder to freshen up your day. We had checked the weather forecast in the morning, but were not expecting the rain. Luckily it didn't last very long.
Lotikonkellari is the most famous place at Marttila wilderness trails
Before arriving to Lotikonkellari we came to a boulder called Baari. What is it with drinking in Marttila?! Baari was an interesting looking natural lean-to shelter, and we wished we had reached it when it was raining. It would have been fun to shelter under it from the rain.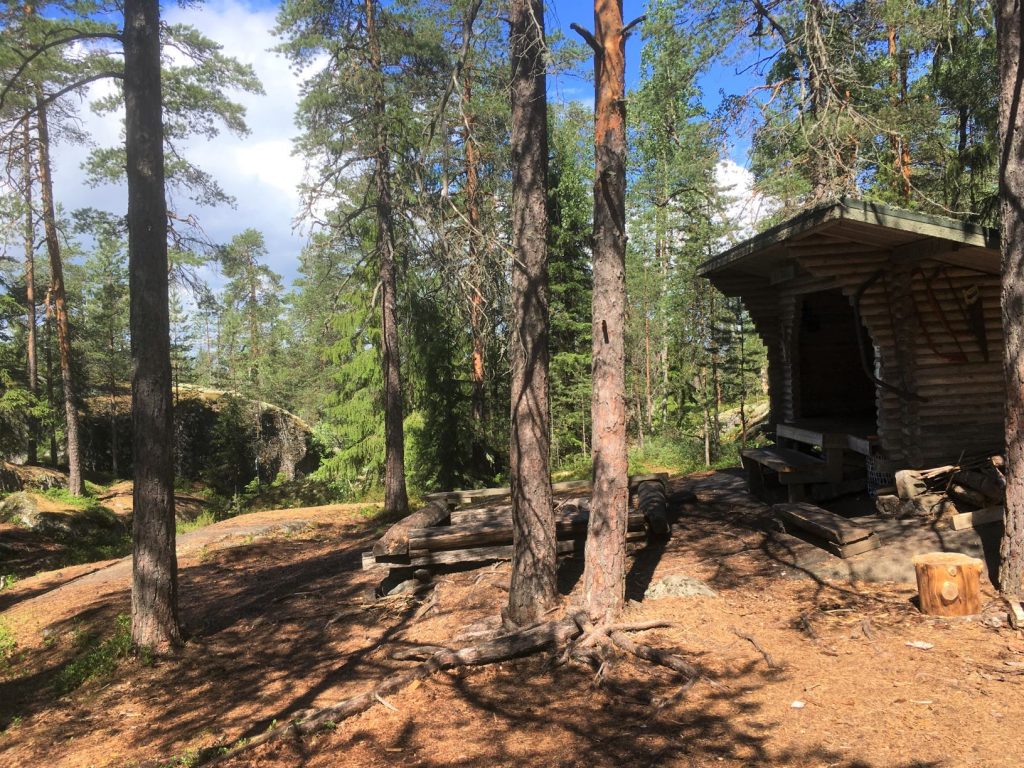 From Baari it was only about 300 meters to Lotikonkellari lean-to shelter and gorge. The forest fire warning was on, so we didn't make any fire and only had sandwiches to eat. Several other hikers that were on this trail were aware of the same issue and nobody set the fire.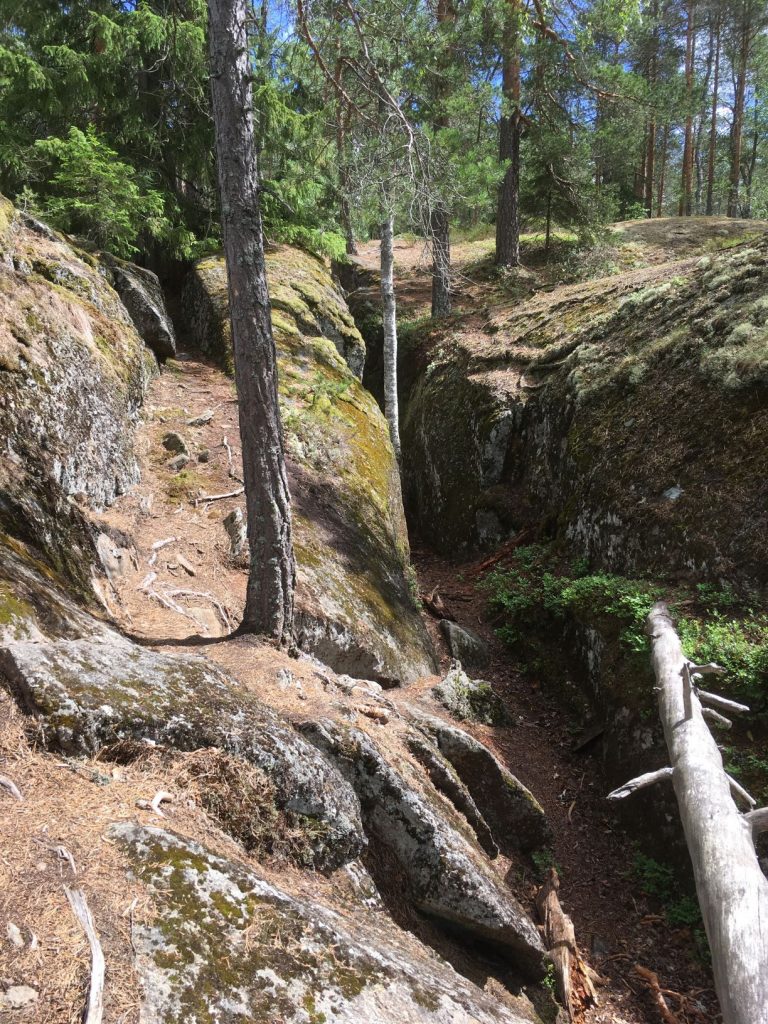 Just in front of the lean-to shelter you can see a narrow crack in the rock. You can actually squeeze through that crack and continue walking the Lotikonkellari, which is pretty impressive. It is about 50 meters long and several meters deep gorge. At the end there is a cave, which takes you to another side of that rock to Metsokallio.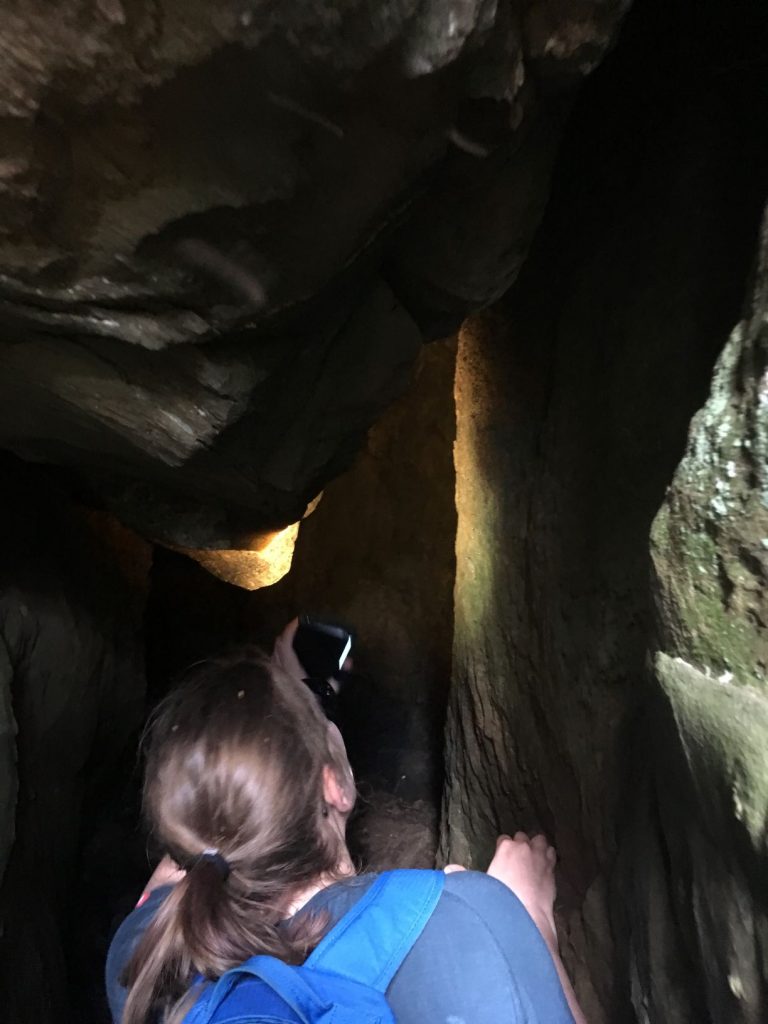 Beware of not hitting your head in the middle of the cave as there is a lower part in the ceiling. It hurts, said my friend. Maybe that was a kind reminder from elf of Lotikonkellari to leave his cave alone. According to the Finnish mythology, the elf of Lotikko lived here. He stole treasures from around the country and brought them here to his cave. He also took one young girl as a slave to keep those treasures clean, and still today you might hear her crying in this gorge. Apparently every midsummer night the wall of the hillside opens up and reveals all the treasures hidden inside. But then it closes suddenly and you might get stuck inside..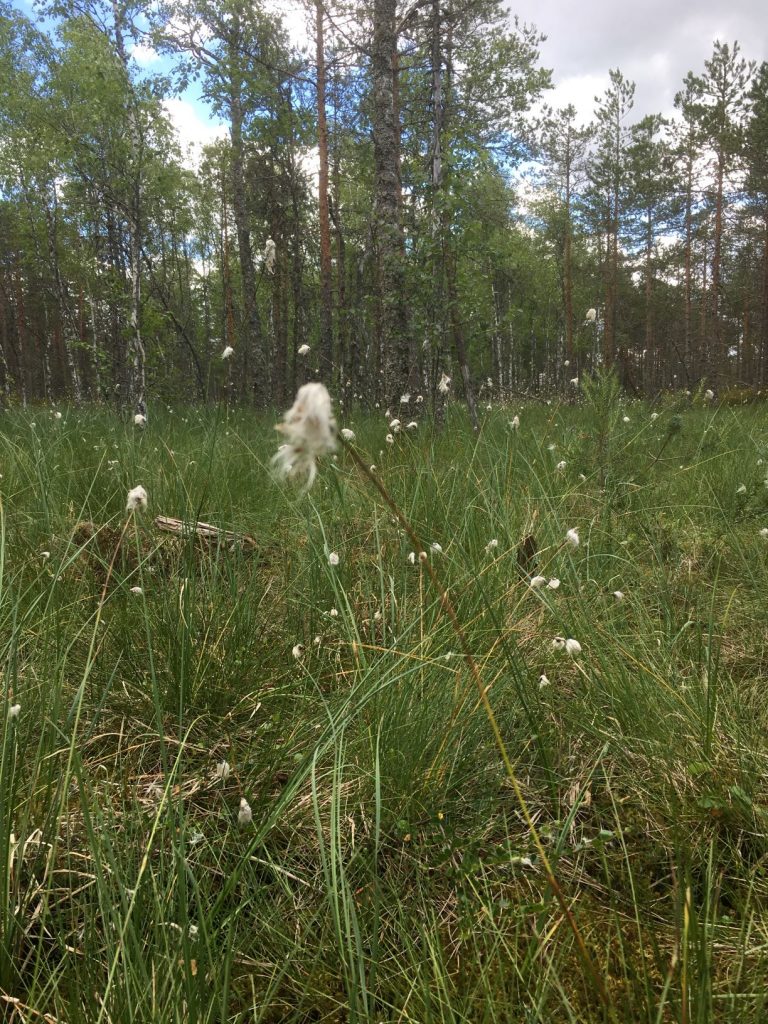 We didn't get stuck in Lotinkonkellari but managed to continue the hike. The trail continued back to the parking lot but there was still a lot to see. In one area marsh Labrador tea was growing high on the ground like a jungle. In another part hare's tail cottongrass formed a field around the duckboards. The next section was covered by fern. It was like going through a house with theme rooms following one another. Great variety in the landscape and lots of photo opportunities along the way. The duckboards and bridges were old but still in reasonable condition.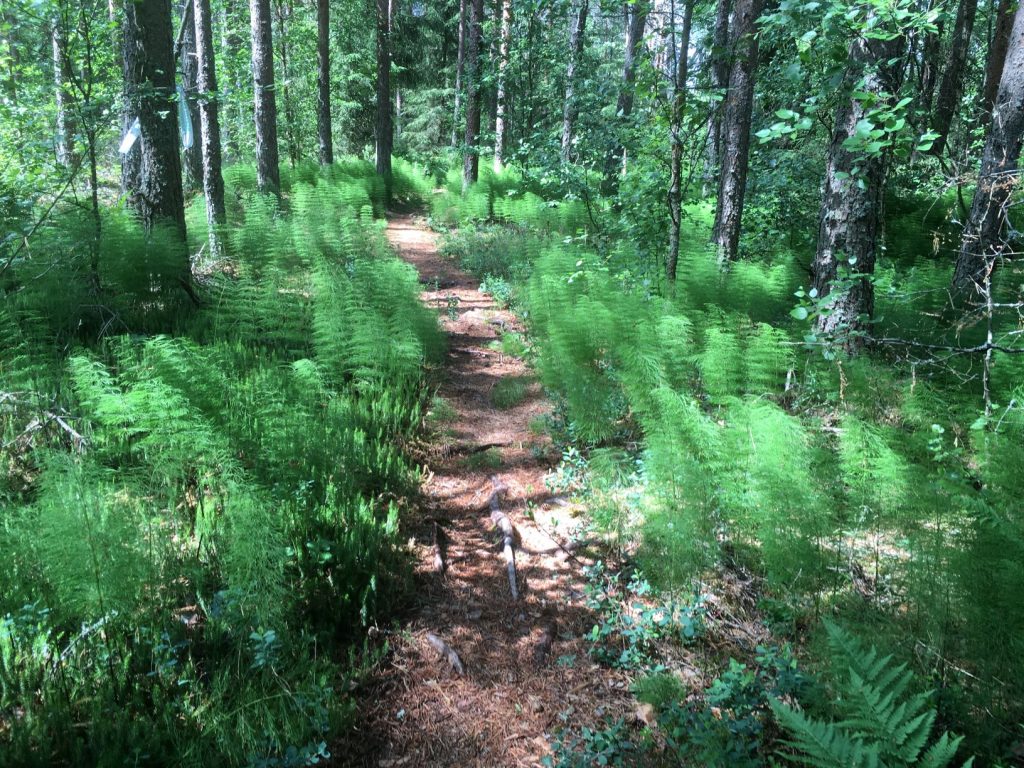 Couple swans flew over us when we were at the duckboards in the bog, and we later saw they had landed on the lake near Palainen. The beach was finally calling for us too. Marttila is not really known for its beaches, but this one was nice beach, equipped with some picnic tables, toilet, deck and playground equipment. We were very happy that we had chosen Marttila wilderness trails as our Midsummer weekend destination. This for sure won't be the last time we visit these trails. And what comes to the treasures of the elf of Lotikko and did we managed to see them inside the rock, I am not telling. You have to go there yourself next Midsummer!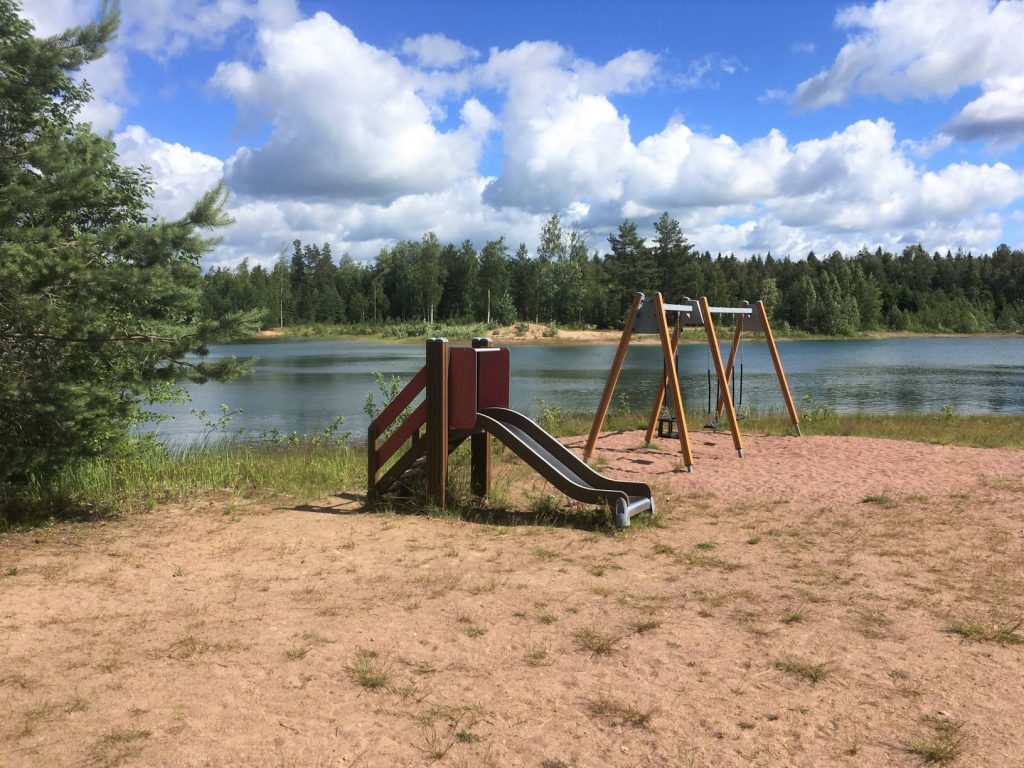 Directions to Marttila wilderness trails
Address:
Palaistentie 438
21490 Marttila
How to get there: You can get to the Palainen by car or by bicycle.
Car: Marttila is in very close proximity to road 10 between Turku and Hämeenlinna, so it is easy to get there by car. Use the address Palaistentie 438 Marttila in your navigator to reach Palainen starting point. There are signs to Palainen and the other starting point Huhtaanmäki for example from Härkätie road.
Bicycle: The cycling routes follow vehicle roads. Hämeen Härkätie (Häme Ox Road) is one of the oldest roads in the country, going from Turku to Hämeenlinna, and famous among bikers and cyclists.
Public transport: Buses operate from Turku to Hämeenlinna regularly, but you can only get until Marttila, which about 7 kilometers from Palainen starting point. See routes and timetables at Matkahuolto website.
When to visit: From spring to autumn. Or Midsummer, if you are brave enough. The trails are not visible if there is snow on the ground.
Accessibility: There are no services for the disabled in the area.