Aulanko was created as a forest park which was later turned into the first national urban park of Finland. This vast yet accessible greenery in Hämeenlinna (about 1h from Helsinki) offers a possibility for enjoying the lake waters, hiking in the forests, skiing down the slopes of steep cliffs, and following in the footsteps of adventurers (and even bears) to see stunning landscapes. In short, it has something for everyone. I've visited Aulanko several times both alone and with friends, and every time there is something new to explore.
There are may options for visitors in Aulanko. You can check out this detailed map of all the sights and trails available. The history of Aulanko starts from the 19th century with a gentleman, a colonel called Hugo Standertskjöld who started an English-style outdoor park in the area. But even before the colonel, the Aulanko hills were worshiped as sacred and even a fortress was built on the top of the hill in the 13th century.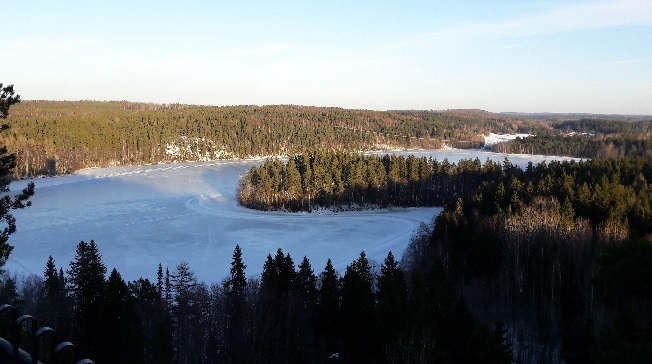 Having been at Aulanko with young kids, teenagers, and adults, it has to be said that all age groups have enjoyed the experience. Even the teenagers enjoyed the views from the sightseeing tower (while taking selfies for 2 hours, of course… but hey, no complaining).
Nature reserve and urban park
Aulanko is situated on the shores of Lake Vanajavesi, and views over Aulanko are one of 27 Finnish national landscapes. These national landscapes have been chosen to represent the different Finnish national and cultural landscapes. It has been said that the famous Finnish composer Jean Sibelius was inspired by the scenery of Aulanko when he wrote his nominal piece Finlandia, an orchestral piece depicting the struggles of Finland under Russian rule before its independence in 1917. I have to admit I agree with Sibelius: the view does evoke strong emotions in one's soul.

When you walk around the forests of Aulanko, you quickly notice how varied it is. You can see all the hardwood trees that grow naturally in Finland, you can hear dozens of birds such as nutcrackers, owls, and wood peckers. Storm trees (or fallen trees) are left where they fall in the forest so that all manners of creatures can benefit from them. Even when you are standing only a few kilometres from the centre of Hämeenlinna city, you can easily feel like you are in Narnia or some other fairytale place because the lush nature envelops you and transports you to another realm of reality.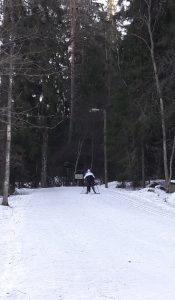 When there is no snow, the whole area of Aulanko is one large hiking ground open for all. During snowy seasons, some of the trails are converted into ski tracks.
When we visited Aulanko in the winter, we made sure we didn't walk on the dedicated ski tracks because the area is very hilly (and collisions with a skier coming down a hill very fast would probably break bones), and because there really are rules about not walking on ski tracks. Otherwise there are plenty of easy-to-walk tracks that are well maintained and lit, but we also explored the forest (and picked berries) in the summer time without sticking to any specific trails.
Sights of Aulanko
There are several specific places within the urban park to enjoy.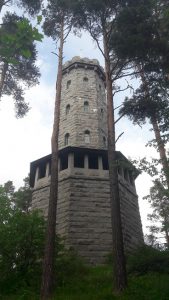 Sightseeing tower. The sightseeing tower stands next to a cliff overlooking Lake Vanajavesi. There is no elevator so the only way to get on top of the 33m tower is by the stairs. There is a possibility to rest between every level so even those who are most unfit can take it easy. The tower is open only during the summer time for safety reasons, and there is no fee. Once you reach the top, the views are definitely worth the climb. Yes, you will be out of breath but you will not regret the cardio.
Swan Lake, Forest Lake and Bear Cave. Next to the tower is a scenic platform, under which is a cave with sculptures of bears inside it. You have to climb down some stairs to reach the cave… and these stairs are deadly during winter times (so I've never actually managed to get down there because I quite like my legs intact). The two artificial lakes (Joutsenlampi and Metsälampi) are situated along the main road towards the tower, and right next to the Ruusulaakson paviljonki.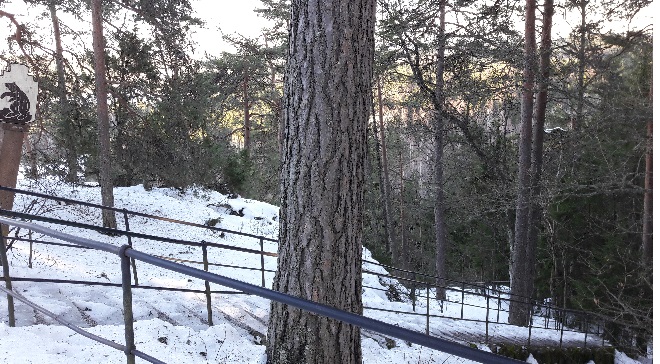 Rose Valley Pavilion. A lovely pavilion located next to Metsälampi pond is called Ruusulaakson paviljonki. It provides a nice resting place for hikers and overlooks the small pond as well as the magnificent tree-lined road towards the tower. The pavilion is neo-gothic in design, built probably in the 1890s.
Directions
Address: Set Linnanen 1, Hämeenlinna on your navigator. This will take you to the start of the Aulanko park roads, and you can choose yourself where you want to go from there. There are several areas where you can stop to hike and park your car (if you have one).
How to get there: You can get to Aulanko easily by car, by bicycle, and by public transport.
Car: Type Aulangon näkötorni on your navigator. It will take you to the car park area nearest to the sightseeing tower, the Bear cave, and most of the trekking areas in Aulanko.
Bicycle: There are some shared roads for pedestrians and cyclists in this area.
Public transport: Best ways to get to Hämeenlinna are either by bus or by train: check VR for trains or Matkahuolto route planner for buses. From Hämeenlinna centre, you can take a bus near Aulanko but you will have to walk about 2km to reach the sightseeing tower.

The nearest bus stops are Saarenpäänkatu P or Sairionmäki P right next to the Aulanko hotel. Stairs leading to the nature reserve start from next to the hotel. From these stops, you will have to walk about 2km to reach the tower but you will already be inside the Aulanko park most of the journey.
Accessibility: There are varying degrees of accessibility at Aulanko. There are asphalt paved roads, small woodland tracks, and some stairs at the sightseeing tower. If you stick to the better maintained roads, you will be able to see the area even in a wheelchair or with a children's buggy.
When to go: You can visit the area at any time of the year. Aulanko changes with seasons so many of the tracks in the forests will be converted into ski tracks for the winter. There are street lights in the area but only on the main roads so make sure you visit the area when there is enough light.
What to wear: Mosquito repellent in the summer. Hiking shoes are good but normal sneakers will suffice as well.
Special to remember: In the Nature Reserve, the following are
allowed:

Walking and skiing,
Driving cars in the summer from 8 am to 11 pm on the ring road,
Picking edible mushrooms and berries.

restricted:

Mountain biking is allowed only on routes best suited for the activity: the ring road and gravel tracks. Normal bicycling is allowed on the routes which are marked on the map with bold line (rengastie) and dashed line.'
Horse riding is allowed only on the roads marked for this purpose.
Hook and line fishing and ice fishing are allowed on Lake Aulangonjärvi and Lake Vanajavesi by the Everyman's right.

forbidden:

Littering,
Camping and lighting campfires,
Pets running at large,
Damaging signboards or other constructions and experimental plots,
Damaging or disturbing vegetation, soil or other natural features, and disturbing other visitors,
Hunting and fishing.
(List provided by National Parks Finland.)
Facilities: There are plenty of facilities in the area: cafes, places to rent equipment from, the sightseeing tower, and special hikes for children.