Red sand beach called Punainenhiekka in Pallasjärvi lake used to be a secret known only by locals. It is not so secret anymore as it is a popular day trip and overnight destination for hikers at Pallas-Yllästunturi National Park. The sand at this beach is reddish brown in color, unlike all other beaches by the Pallasjärvi lake. Punainenhiekka literally translates as red sand.
The Punainenhiekka is located in the heart of Pallastunturi fell on the south shore of Pallasjärvi lake within the Pallas-Yllästunturi National Park. The Pallasjärvi is also called as the Sea of Lapland. Fishermen like this lake for grayling and vendace, which is not only used as bait but considered as a delicacy all around Finland.

The Pallas-Yllästunturi National Park was the most visited national park in 2018, according to the Metsähallitus. It consists of over 1000 square kilometers in Enontekiö, Kittilä, Kolari and Muonio municipalities. It is also the oldest national park in Finland as together with Pyhä-Luosto National Park they celebrated their 80th birthday in 2018, both being established in 1938.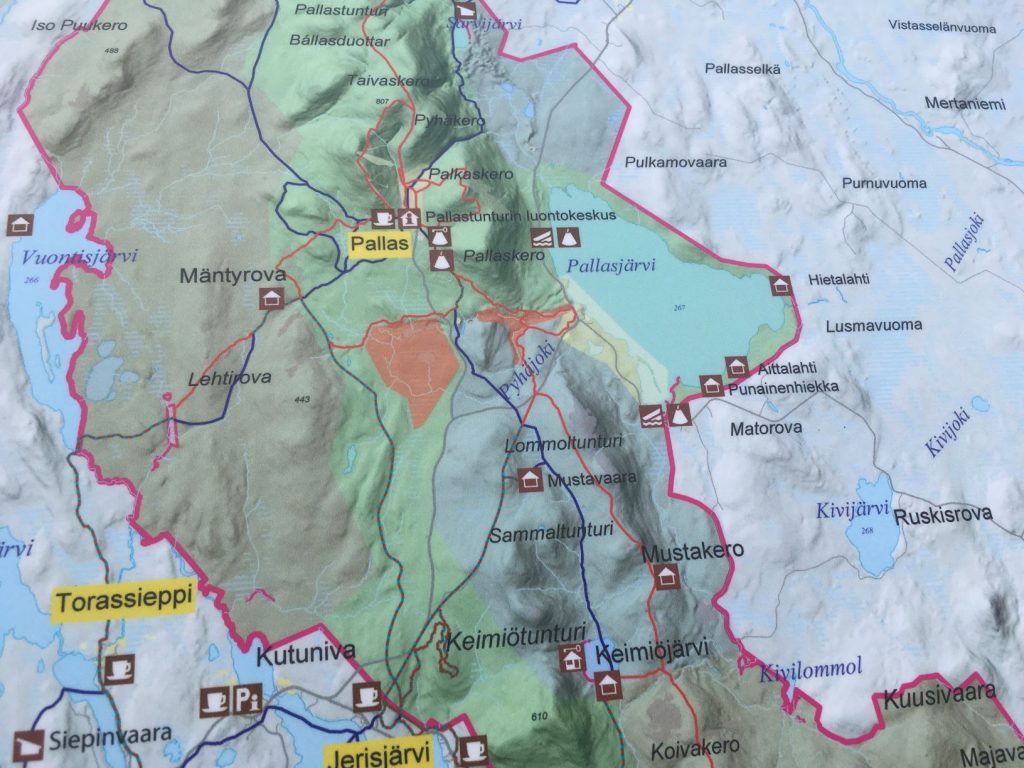 Punainenhiekka beach is a beautiful location for a wilderness hut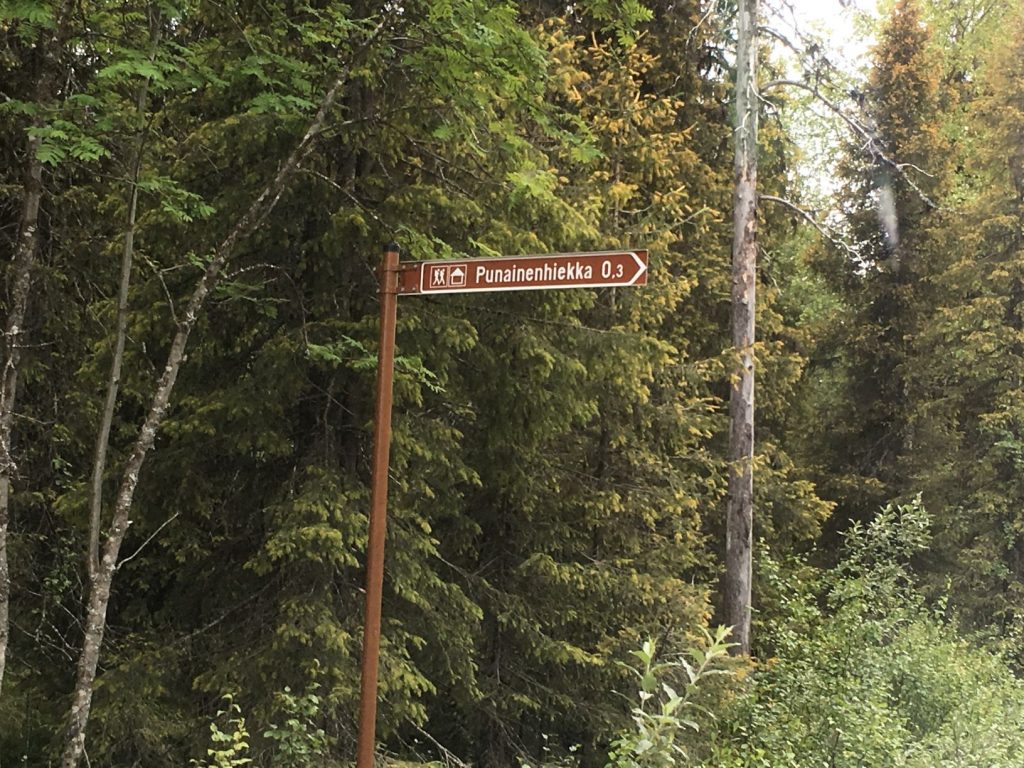 The parking lot is only a slightly wider spot by the road, so in case you are arriving by car, be careful not to pass the little sign pointing towards the beach. The beach is on the left side of the road, but this sign pointing to the beach on the right side of the road. The path to the beach is only about 300 meters long. I was surprised to see the path in a really good condition. But dry toilet definitely needed some maintenance. I guess full toilet tells its own story about the popularity of this place.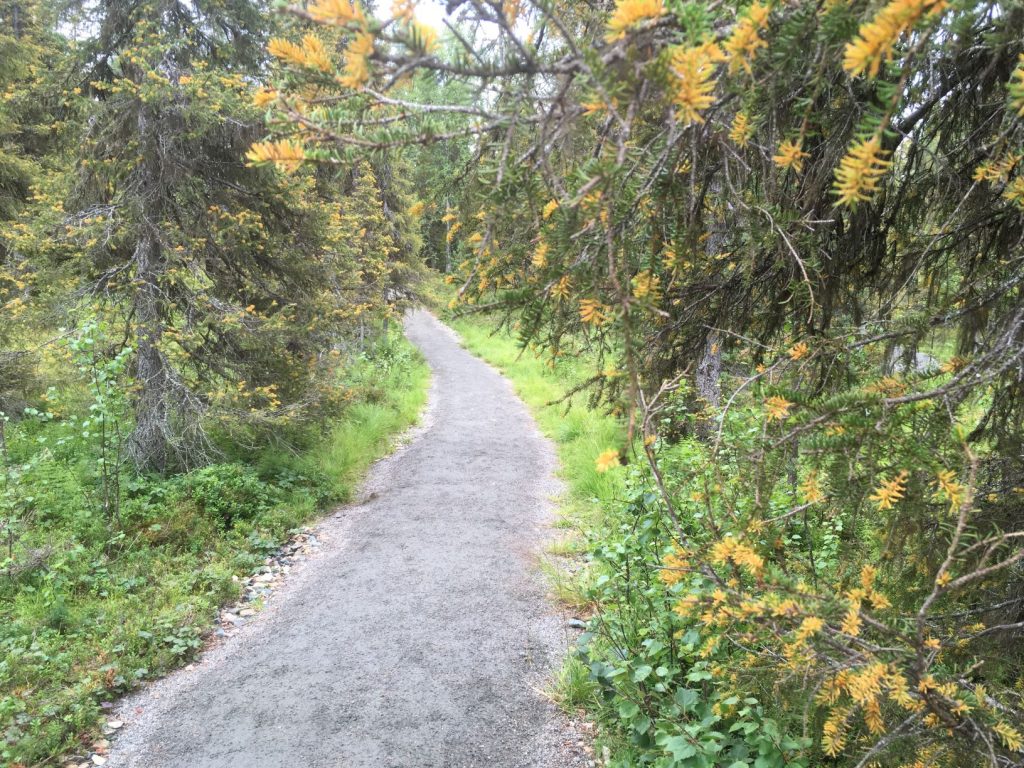 The beach provides a charming setting for a fireplace and open wilderness hut, which was occupied when we arrived to the beach for a picnic. Some hikers had spent a night at this wilderness hut and were cleaning it before leaving beautiful Lapland behind and heading back to Helsinki by train from Kolari. We chatted with the hikers while having our sandwich picnic outside. I didn't put my nose in the wilderness hut, but it seemed like a lovely little cabin right next to the beach. There was also a full firewood shelter close by.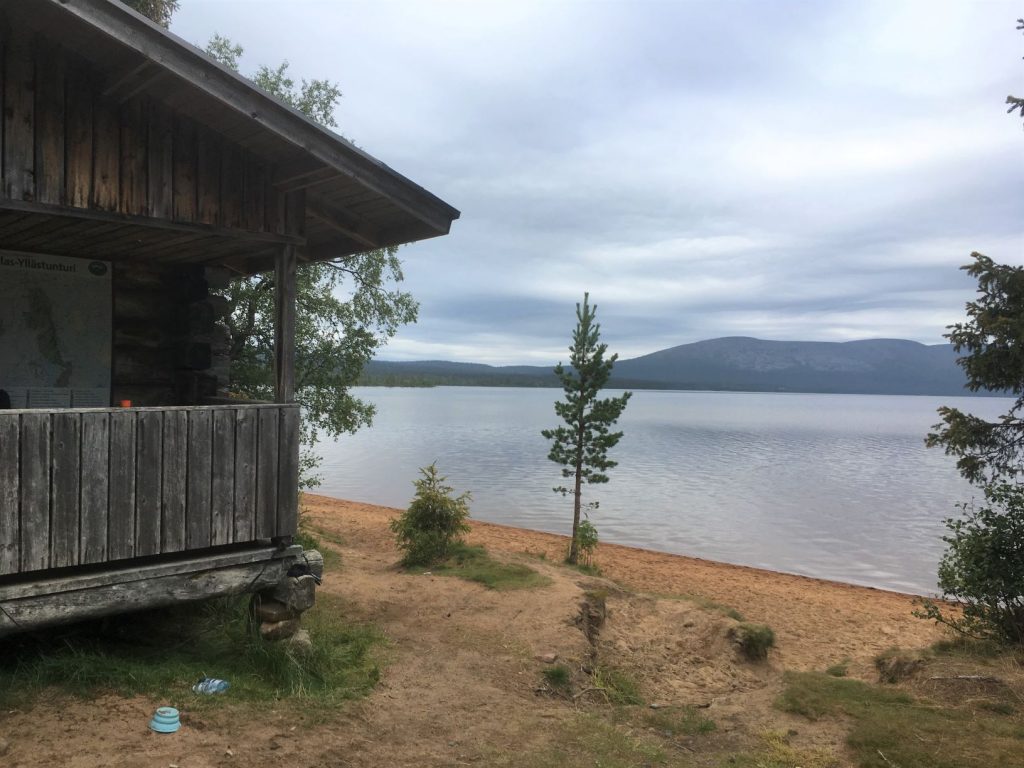 I can easilly imagine why this is a popular location for aurora hunters in the autumn. I was visiting Punainenhiekka in August, so it was still too bright to be able to see the northern lights at night. I definitely have to return here on a darker time of the year.
This arctic beach is shallow for a hundred meters and on a warm summer day this must also be a lovely spot for swimming. We visited the beach on a cool and cloudy day, so the only one who wanted to swim was my dog.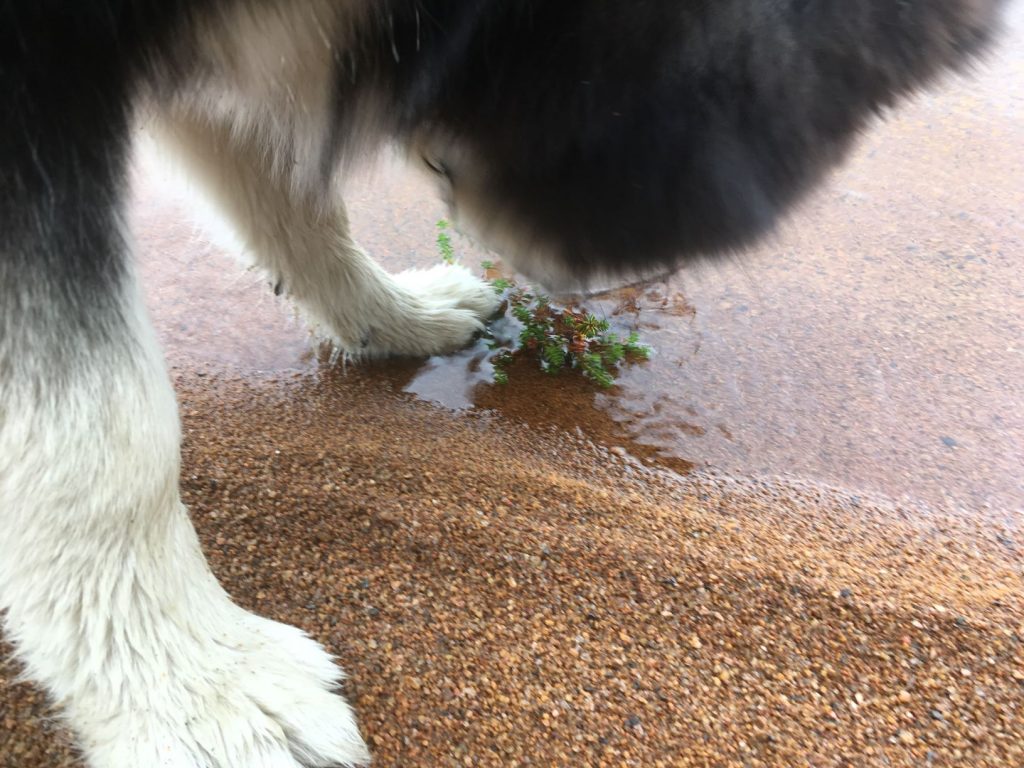 In case you are wondering how to use the wilderness huts, Metsähallitus (Parks & Wildlife Finland) has a set of rules for them and you should familiarize with them before planning any trip. The open wilderness huts such as this little cottage by Punainenhiekka are meant for hikers or cross-country skiers for one-night stay. The hikers we met here were a good example of responsible travellers, tidying up the place before leaving, having left their backbags outside, carrying some firefood inside for the next hikers to use, and taking all of their trash with them. While this idea of free accommodation sounds great and you might get excited to plan your next vacation around hiking from one hut to another, you should also be prepared to camp outside as the wilderness huts in Lapland are really popular during short Finnish summer. In winter knowing the hut etiquette is even more important as the last person to arrive always has the right to stay in the hut over night.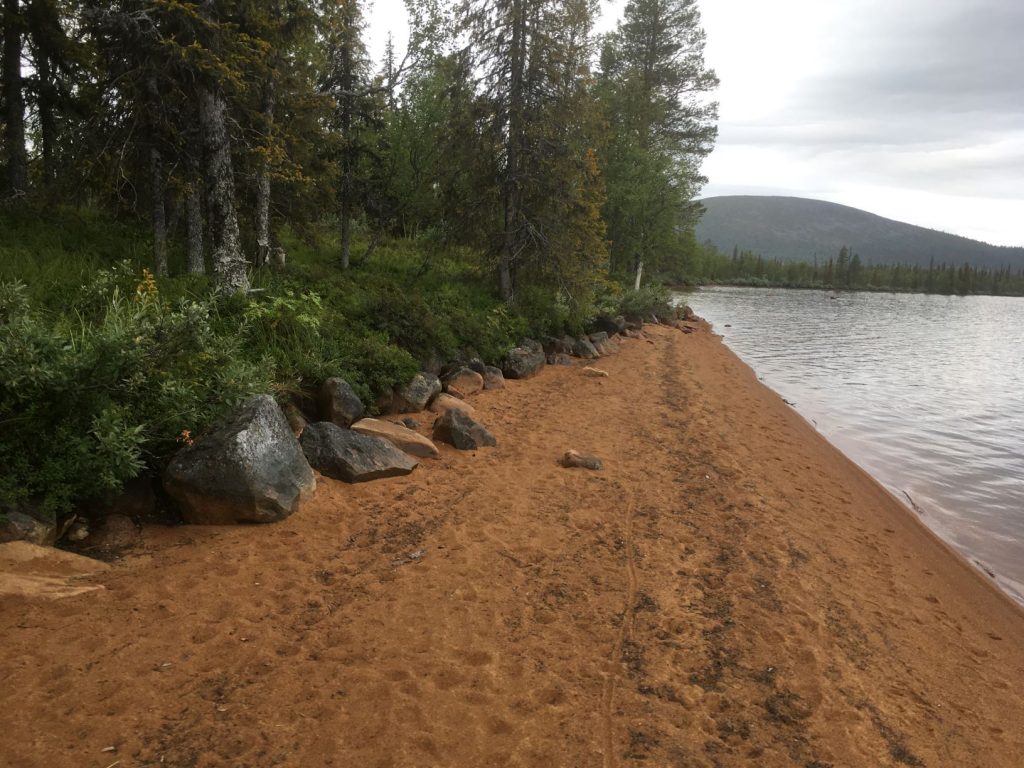 Directions to Punainenhiekka
Address:
Pallaksentie 1851
99380 Muonio
How to get there: You can get to the Punainenhiekka by foot, by car or by bicycle.
Car: Turn to this unnamed road on the southwest corner of Pallasjärvi from Pallaksentie 1851 and drive approximately 5 kilometers until you see a small sign on the right side of the road pointing towards the beach.
Bicycle: The cycling routes follow vehicle roads.
When to visit: All around the year, but you won't be able to see any red sand in winter. It will be white snow beach then. Hiking is therefore recommended during summer months from June to October. Autumn colors are quite spectacular in Lapland in September. The Northern Lights can possibly be spotted from September to March.
Accessibility: The path leading to the beach is wide and accessible, but the beach itself doesn't have a deck and there are no services for disabled. The area is suitable for families with children.
Special to remember: Wilderness huts have their own rules provided by Metsähallitus. For Pallasjärvi you need this fishing permit. Generally in Western Lapland you can fish in the state-owned waters using a fly or lure with Metsähallitus angling permit for Western Lapland 2410, but that does not apply to Pallasjärvi. From this map you can see the allowed water areas for the general permit. Also, remember to check the forest fire warning at the Finnish Meteorological Institute's website before making any open fire at the fireplace.
Also visit in the area
Kutuniva in Muonio is the place to spot swans in winter. Lake Pakasaivo, also located in Muonio, is known as the Hell of Lapland. Taivaskero trail in Pallas and wondrous Pyhäjoki nature trail in Pallas-Yllästunturi National Park are great for exploring the area further. Nearby Särkitunturi fell showcases rugged beauty of Lapland, and intriguing Ruoppaköngäs rapids are hidden in plain sight.