Särkitunturi fell has been on my daytrip bucket list in Lapland for a long time. I finally had a chance to visit it this June during a heatwave. Särkitunturi is located just outside of Pallas-Yllästunturi National Park. It can be easilly accessed from road 79 between Muonio and Levi, Kittilä. Särkitunturi is 492 meters high, and the hike up the fell is easy and only 3,2 kilometers long oneway. There is a spacious barbeque hut along the way.
The weather had been really warm in Lapland at the end of June, +25 degrees with plenty of mosquitos and horseflies. I packed some salad for lunch and drove to Särkitunturi parking lot early in the morning. Nalle has a thick fur and while it protects him from the mosquitos, this kind of heat is a lot for him. I chose a cloudy day and we were on the move very early so that it would be more tolerable for him. Some people were still sleeping in their tents and hammocks near the parking lot, so we tried to be quiet when departing to the trail. The parking lot had beautiful views towards Jerisjärvi lake. I could see why some people had chosen this as their camping spot near the road.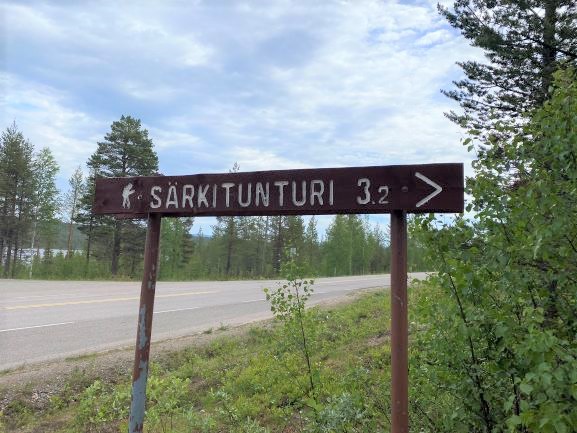 There was a light breeze in the air and I didn't even need my mosquito net. But I could smell my mosquito repellent in the air. The trail was wide and easy to walk. There was even one bench on the way to the barbeque hut.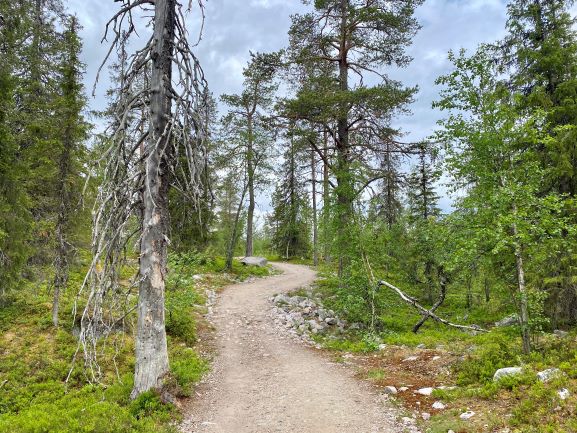 Särkivaara barbeque hut in the halfway
The beautiful Särkivaara barbeque hut was located by a small lake approximately half way up the hill. Nalle headed to swim right away as wet fur helps him cool down.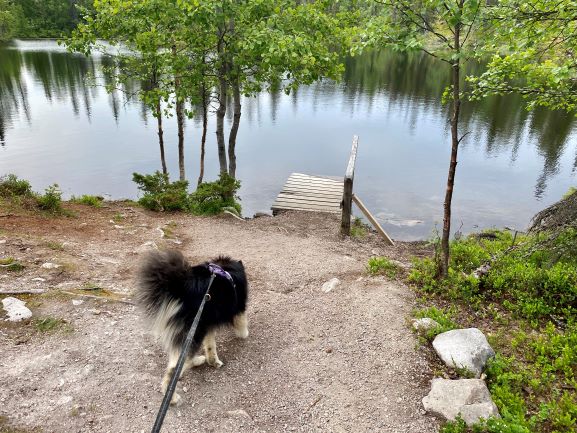 There was an outhouse and some firewood near the hut. We sat down and decided to have an early brunch here. We didn't lit up any fire, but this hut has a chimney and lighting a fire would have been allowed despite of the heatwave and forest fire warning across the country. There used to be a lean-to shelter at the top of the fell, but it burned down about 10 years ago.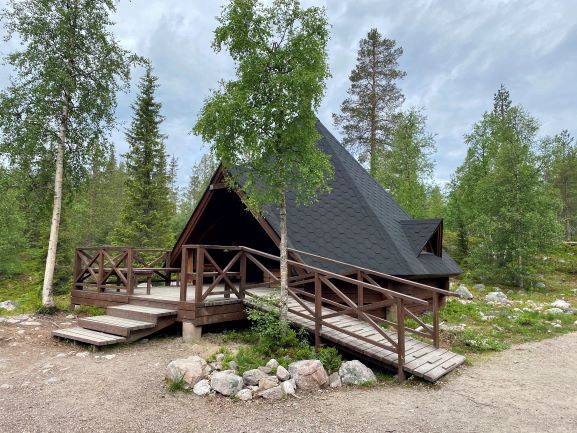 I'm at the top of the world, ma!
I continued walking up the hill on a good pace and passed some more benches along the way. When I was approaching to the top, I started glancing over my shoulder. The views were getting better and better behind me, opening towards Pallas fell. Soon I noticed that I had passed the tree line and there weren't any more trees. Just rocks. It was almost like walking on a different planet.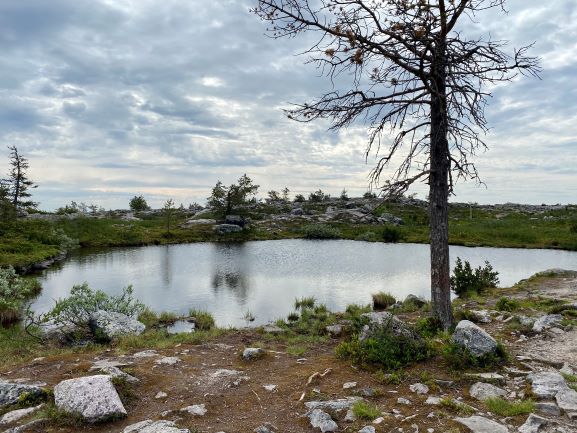 I found two little lakes at the top of the fell with crystal clear water. There were amazing views to all directions. Lapland has a special place in my heart, and it's exactly this kind of rugged beauty of it that I love. I sat down on a rock and enjoyed the views that were all around me. I welcomed the wind as it kept the mosquitos away.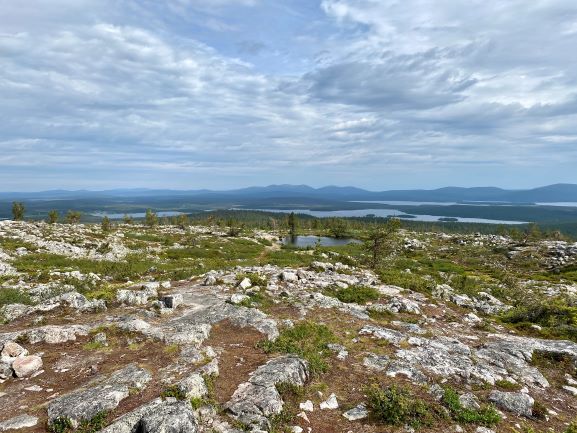 Directions to Särkitunturi
Address:
Särkitunturi parking lot
Rovaniementie 1513
99300 Muonio
How to get there:
Car: Särkitunturi is located along Rovaniementie, the road number 79, just 15 kilometres south-east of Muonio or about 50 kilometers north-west of Levi in Kittilä. The parking is available on both sides of the road.
Bicycle: There are no specific pedestrian or cyclist roads in this area so you will have to cycle next to the road. The Särkitunturi is accessible by bicycle in case you are into mountain biking.
Public transport: There are buses operating between Muonio and Kittilä, see the timetables at Matkahuolto website.
Accessibility: The nature trail to the hut is suitable for wheelchairs and children's buggies but it is a somewhat hilly trail. The area at the top of Särkitunturi is filled with rocks and it is not accessible.
Facilities: Barbeque hut in the halfway, outhouses in the parking lot and by the hut. Plenty of firewood available at the hut.
When to go: I recommend visiting this area for hiking when there isn't any snow on the ground, from June to September. Early June is better if you want to avoid mosquitos. Middle of September is excellent time due to the colors of autumn. In winter Särkitunturi can be accessed by cross-country skiing or snow shoes, but hiking in winter might also be possible, if the trail has been used a lot. There is no official snowshoeing or hiking trail in winter, it basically follows the summer route.
What to wear: Mosquito repellent is essential. The trail is covered with crushed stones, and you won't need sturdy hiking shoes – normal sneakers will do just fine. Swimming suit might be a good idea if you want to go for a resfreshing dip in the lake like Nalle. Nalle is always prepared for a swim.
Have you ever visited Särkitunturi or any other fell in Finnish Lapland?

Also visit in the area
Ruoppaköngäs rapids in Kulkujoki river near Pahikkojärvi lake are located along this same Muonio-Levi road, about 23 kilometers from Särkitunturi parking lot towards Levi.