Pyhäjoki nature trail is located in Pallas-Yllästunturi National Park in Lapland, Finland. It is a circle trail that showcases the versatile nature around Pyhäjoki river between Pallastunturi fell and Pallasjärvi lake. We visited the Pyhäjoki nature trail in August when there were no mosquitos and hardly any other tourists. The nature trail does not climb to any fells but still has nice views to Pallas and Lommoltunturi fells, and provides wonderful resting spots along the way.
Pyhäjoki nature trail is 3,5 km long and versatile
The nature trail begins from a parking lot by Pallaksentie road, but it is also connected to Pallas-Yllästunturi National Park's trail network. We parked our car near Pallasjärvi lake on the parking lot and headed to the nature trail, which is recommended to be walked anticlockwise. The nature trail forms a circle and returns back to the parking lot by stepping very briefly along the Pallastie road. The beginning of the trail is accessible and follows the river on the western side of it. The nature at the beginning is very lush. There are blueberry bushes and old pine and spruce trees. The easy part of the trail ends in the first resting spot by the river.
After the first resting spot the nature changes to a more typical Lappish nature, rugged hills with many rocks and boulders. There is a slight uphill until an intersection, where this nature trail continues left and another trail departs towards Pallas. We came from Pallasjärvi parking area.
In a distance we could see a glimpse of Lommoltunturi fell. Then the trail decends to a little pond in the river. There is another resting spot and viewing deck where you can see rapids on the other side of the pool and hear another rapids close by. We sat down and had a little break here. It was a really beautiful day, about +15 degrees Celcius and sunny.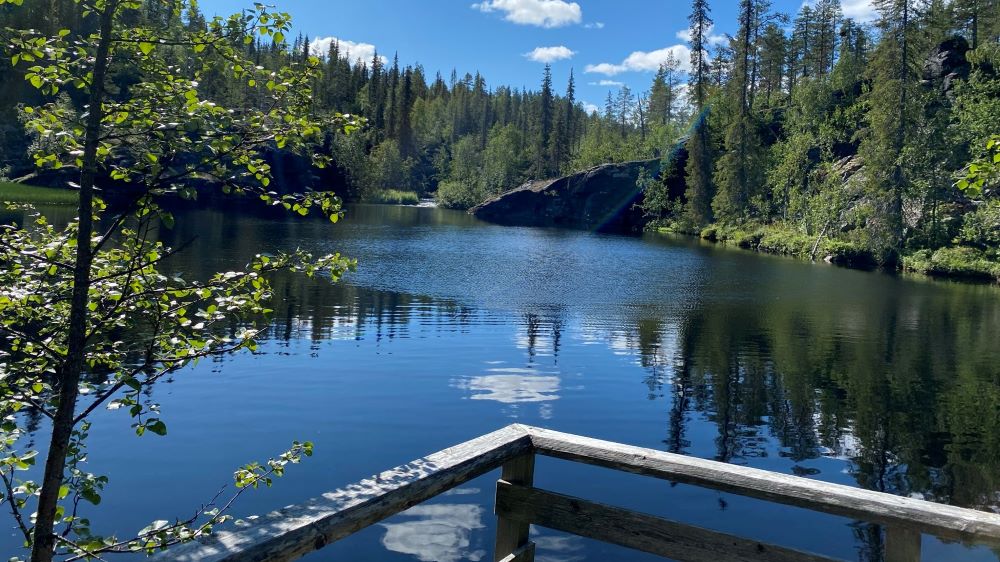 We continued hiking and crossed an old bridge over the river Pyhäjoki. Fishing is not allowed here as these types of small rivers are vital for river trouts. After the river we arrived to another rocky area. Pallaskero peak of Pallastunturi fell was rising behind us.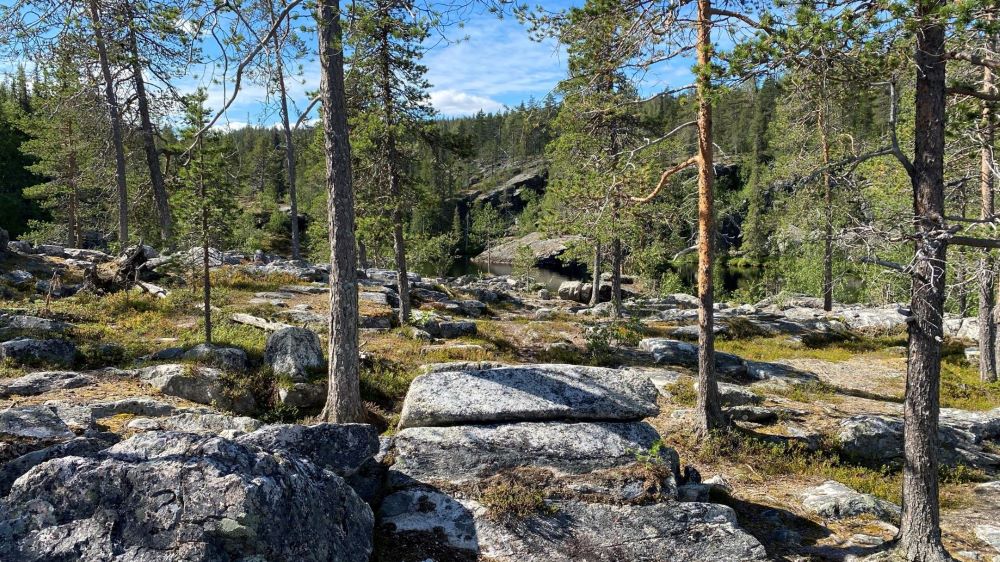 We climbed few stairs and got even a better view towards Pallaskero and saw again few benches next to the trail. When it came to altitude and chairs along the way, this trail could be classified as easy, as it stands in official maps. But the trail wasn't completely flat and there are few uphills and rocky parts making this close to moderate, in my opinion. Here we were approximately in half way.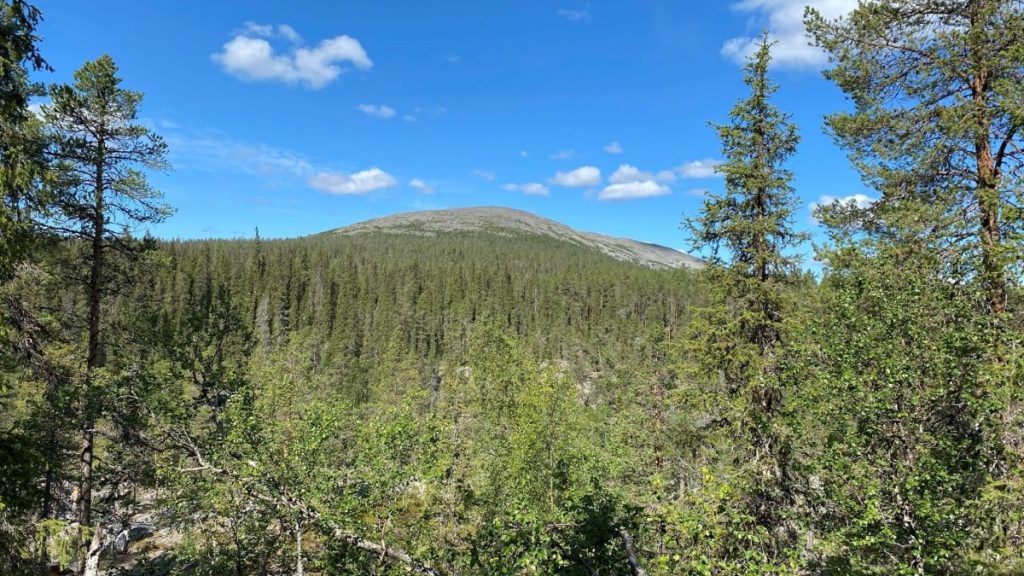 Next the trail decended to a swamp with duckboards and even better view to the Lommoltunturi fell. We didn't see any cloudberries, but it is also forbidden to step of this nature trail during summer due to protected area. The nature trail continued towards Pallaksentie road and we could hear cars driving by. Soon we saw an old barn and a field by the road, and continued along the trail next to a reindeer fence. Actually, according to an information board, that was a vole fence. They had been conducting a vole research in the area and reindeers were not allow to enter the research area. Multilingual information boards along the trail had been interesting. This one below was placed next to an old hunting pit, showcasing the history of hunting in the area.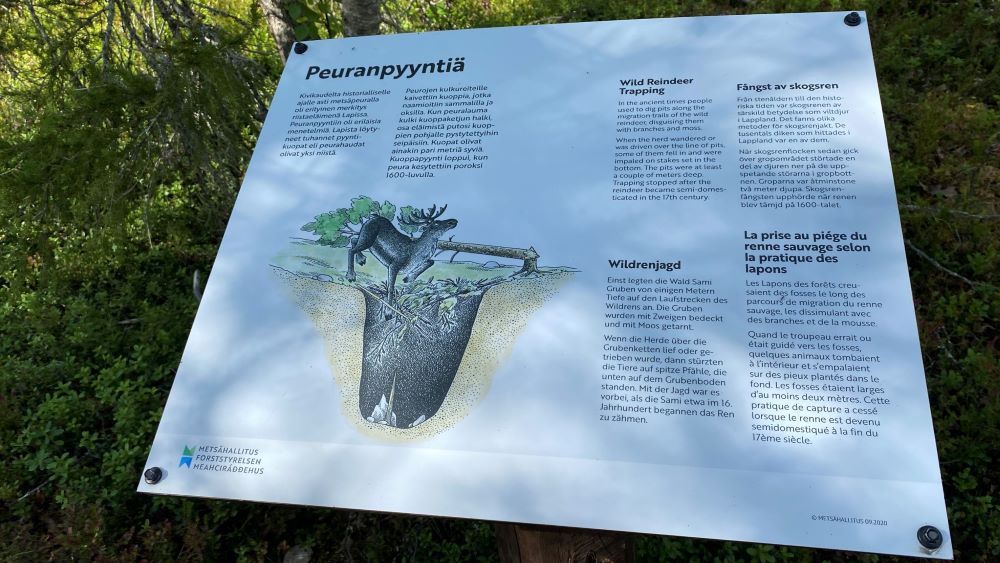 At the end of the trail we encountered one reindeer, which walked towards us and passed us, even thought Nalle was very keen to get acquinted with the reindeer. The reindeer clearly didn't care about barking Lapphunds at all. Unfortunately everydog's rights don't allow chasing reindeers in the national park and Nalle had to stay leashed. Bummer!
Directions to Pyhäjoki nature trail
Address:
Pallaksentie 1890
99300 Muonio
How to get there:
Car: The nature trail is starts and ends at a parking lot along Pallaksentie. Use address "Pallaksentie 1890, Muonio" in navigating. Pallaksentie road extends from Jerisjärvi to Raattama. The parking lot is on the opposite side of the road than Pallasjärvi lake.
Bicycle: Cycling route is the same as vehicle road.
Public transport: There are buses between Muonio and Kittilä traveling along Pallaksentie road on normal weekdays few times a day. The closest bus stop is called "Metsäntutkimuslaitos" about 300 meters away. See tickets and timetables at Matkahuolto website.
Facilities: Several benches. There are no outhouse toilets along this nature trail, but there is one in another parking lot near Pallasjärvi lake in the direction of Raattama.
What to wear: Normal sneakers will suffice on a dry day. Mosquito repellent or net might be a good idea in summer. Nordic walking sticks if you wish.

Accessibility: The beginning of the trail is accessible if assisted. Otherwise there are stairs and duckboards as well as rocky terrain along the trail. The very end of the trail comes to Pallaksentie road and crosses the river with the same bridge as cars use, keep this in mind if you are hiking with children.
Special to know: Please remain on the trail in summer. Fishing is forbidden. Dogs should be kept on the leash.
Also visit in the area