Hietatievat close to Nunnanen in Enontekiö are sand dunes worth visiting. The dunes form long chains and the area has some vegetation such as juniper bushes that cover the sand but not the formation of the dunes. The dune field is approximately 4 kilometers long and 1,5 kilometers wide. It's an impressive sight that makes you wonder how they were formed.
I visited Hietatievat area in June. I learned that Hietatievat are ridges of sand, gravel and other sediments deposited by meltwater from a retreating ice sheet. Dune ridges and deflation basins cover esker ridges, and wind erosion keeps them partly open. The fun thing about Hietatievat is that Kalmantie road cuts straight through the area. One minute you are driving on a gravel road and the next you are in the middle of geologically significant sand dunes. It doesn't get any easier than this to reach Natura protected areas in Finland.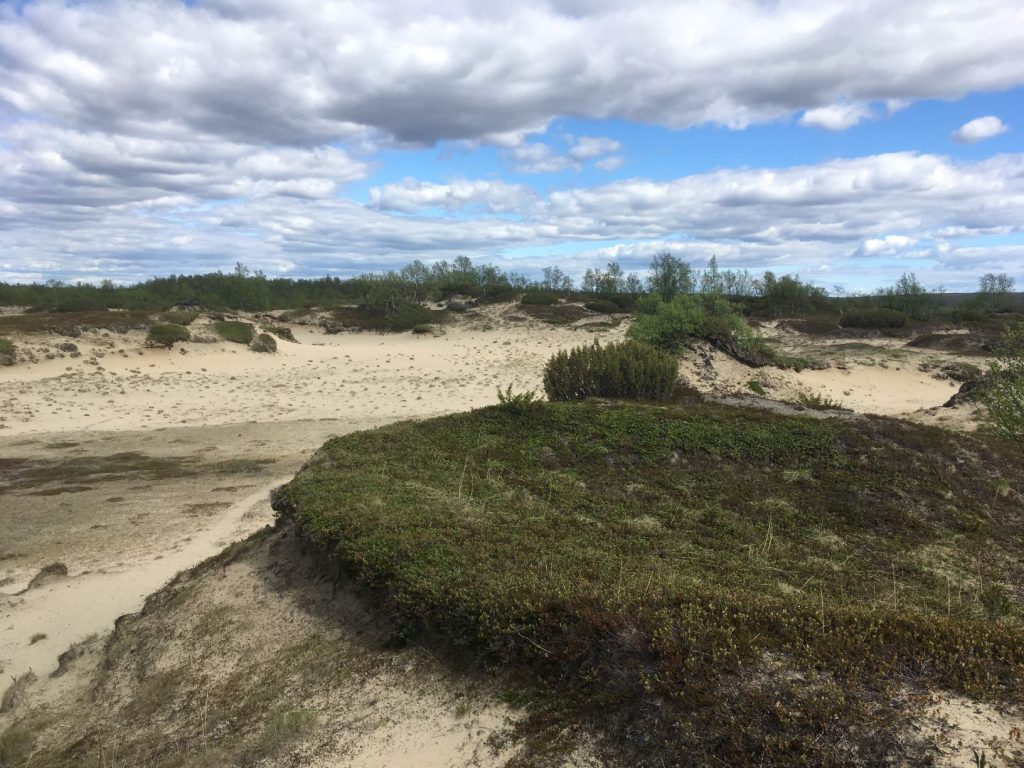 I recommend abandoning the car and taking a walk around the area for a closer look. You can also spot old hunting pits near Hietatievat. Pit hunting was a typical deer hunting method at the old days, and in case you are interested you can find some reconstructed hunting pits at Peurapolku trail at Fell Lapland Visitor Centre in Hetta, Enontekiö.
Directions to Hietatievat
Address:
Kalmantie
99430 Enontekiö

WGS84 coordinates:
lat: 68° 26.8336′
lon: 24° 42.8023′
Hietatievat are located in Enontekiö between Pulju and Pöyrisjärvi wilderness areas and near Lemmejoki National Park. Sand dunes are typical also at Pöyrisjärvi wilderness area, especially in the northern part of it. The Kalmantie road to Hietatievat might not be in good condition right after winter, so it is advisable to visit the area during summer months June-August.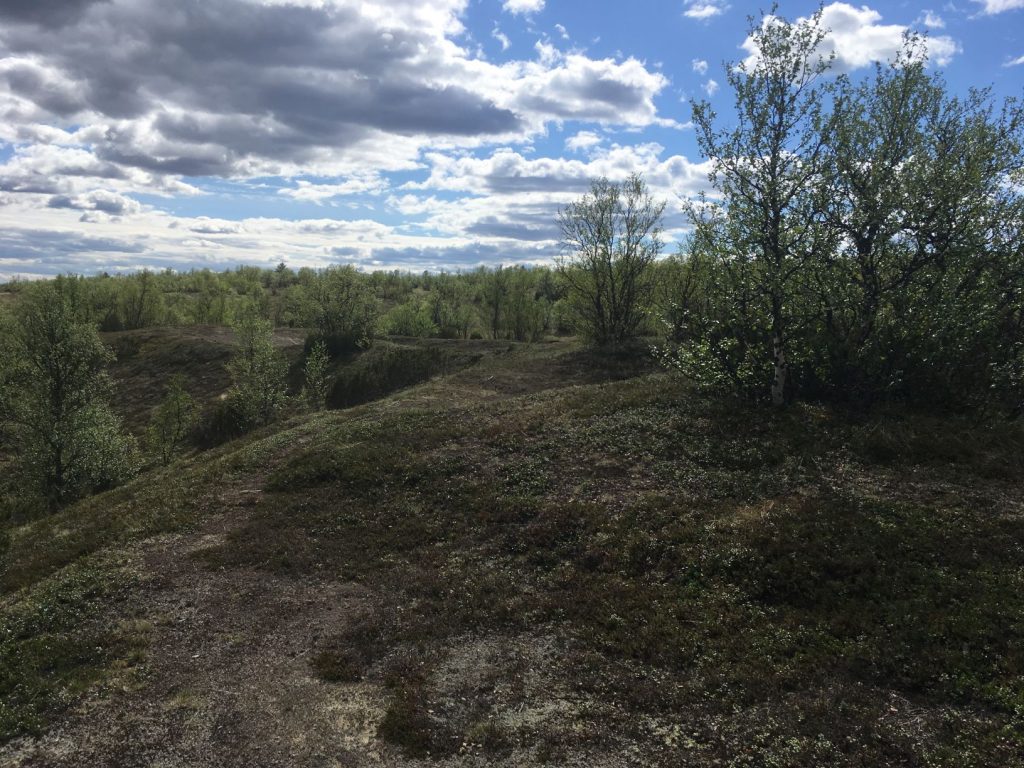 Check out Sininenjärvi on the way to Hietatievat
Sininenjärvi is a small lake by the Kalmantie road on the way to Hietatievat. It is a beautiful setting for a little walk or a break, but only if you are up for steep downhill to get there – and uphill when you want to return.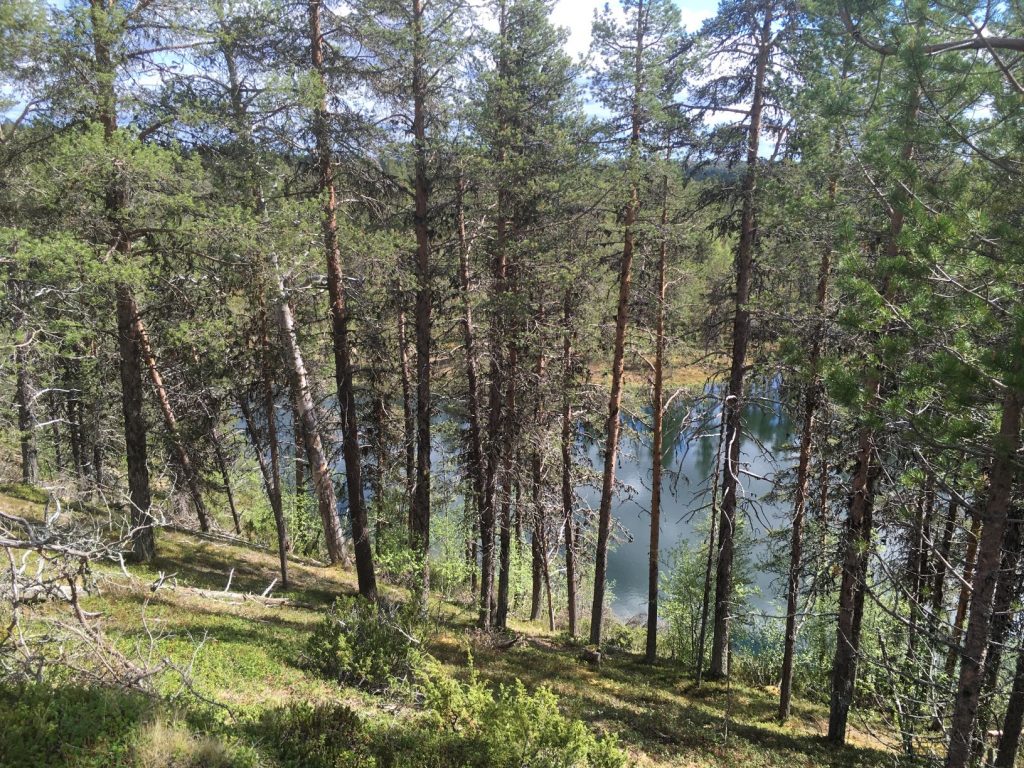 WGS84 coordinates to the lake:
lat: 68° 25.5150′
lon: 24° 41.5075′
Kalma's lean-to shelter by Käkkälöjoki
We decided to head to Kalma's lean-to shelter (Kalman laavu) to cook some lunch. The lean-to shelter is only few kilometers further from Hietatievat, next to Käkkälöjoki river. The river is flowing behind the shelter. There was some firewood, and we checked that forest fire warning wasn't on before making the fire. You can check that at the Finnish Meteorological Institute's website.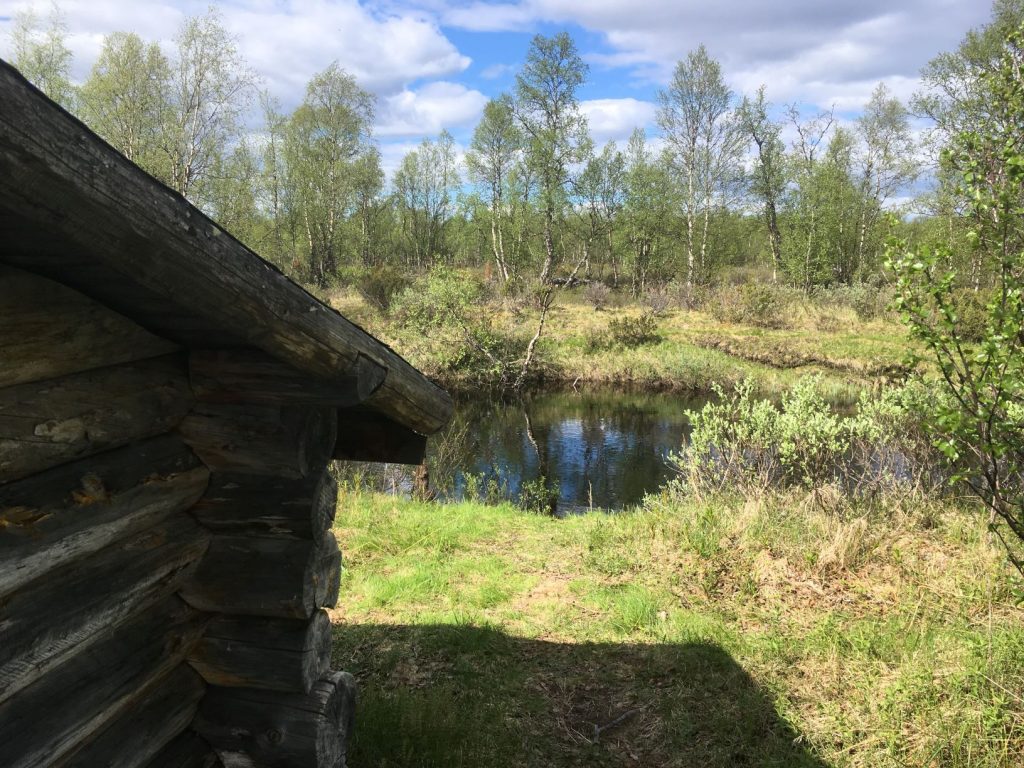 WGS84 coordinates to the lean-to shelter:
lat: 68° 29.5201′
lon: 24° 41.9083′
There is a walking bridge crossing the river and a small boat landing place next to the lean-to shelter. Käkkälöjoki is popular for canoeing and angling as the river has grayling, whitefish, trout and pike. If you go there to fish, don't forget to buy permits.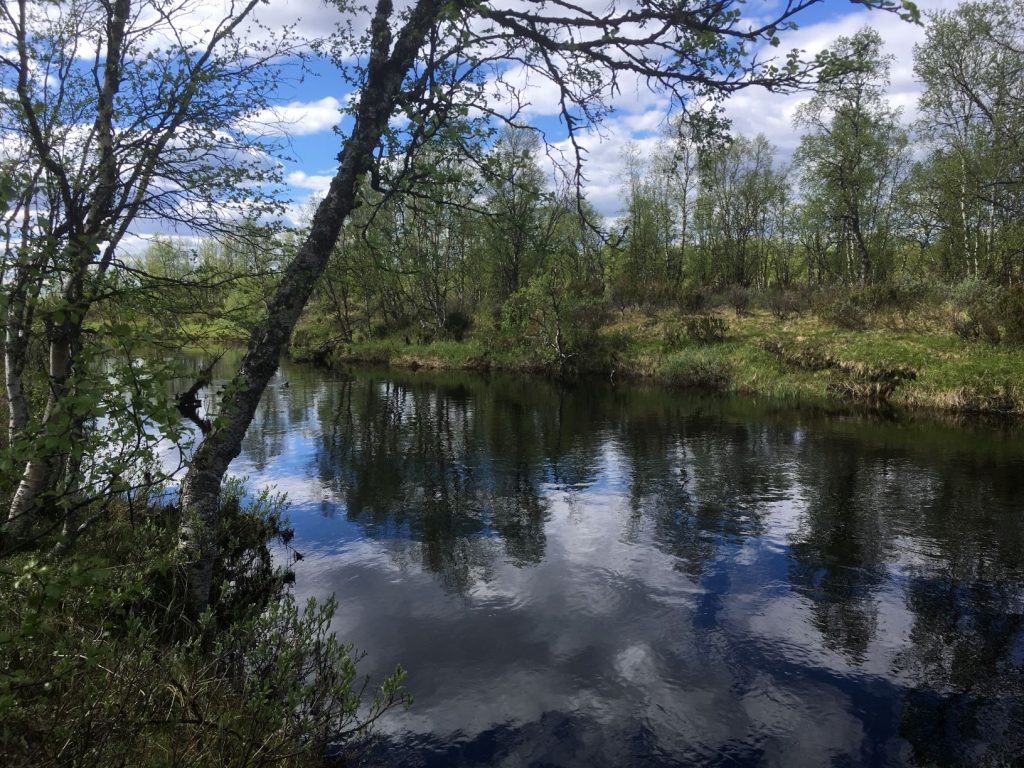 Kalmankaltio wilderness hut
Kalmankaltio (=Fountain of death) wilderness hut is a popular destination for trekkers and fishermen near the lean-to shelter.

WGS84 coordinates to the wilderness hut:
lat: 68° 30.2329′
lon: 24° 43.3744′