Ruoppaköngäs area consists of a small Pahikkojärvi lake, rocks surrounding the lake, and a small Kulkujoki river with Ruoppaköngäs rapids, which are somewhat hidden in the forest. Ruoppaköngäs is located close to Muonio-Levi road in Pallas-Yllästunturi National Park. Ruoppaköngäs is only about 200 meters from the parking lot, but the terrain is not suitable for everybody.
Köngäs refers to rapids in Finnish and these small rapids are in the Kulkujoki river. This area as whole is pretty cute and worth a visit if you happen to be passing by. This area summarizes Finnish wilderness well: it's harsh, scarce, quiet but yet so beautiful.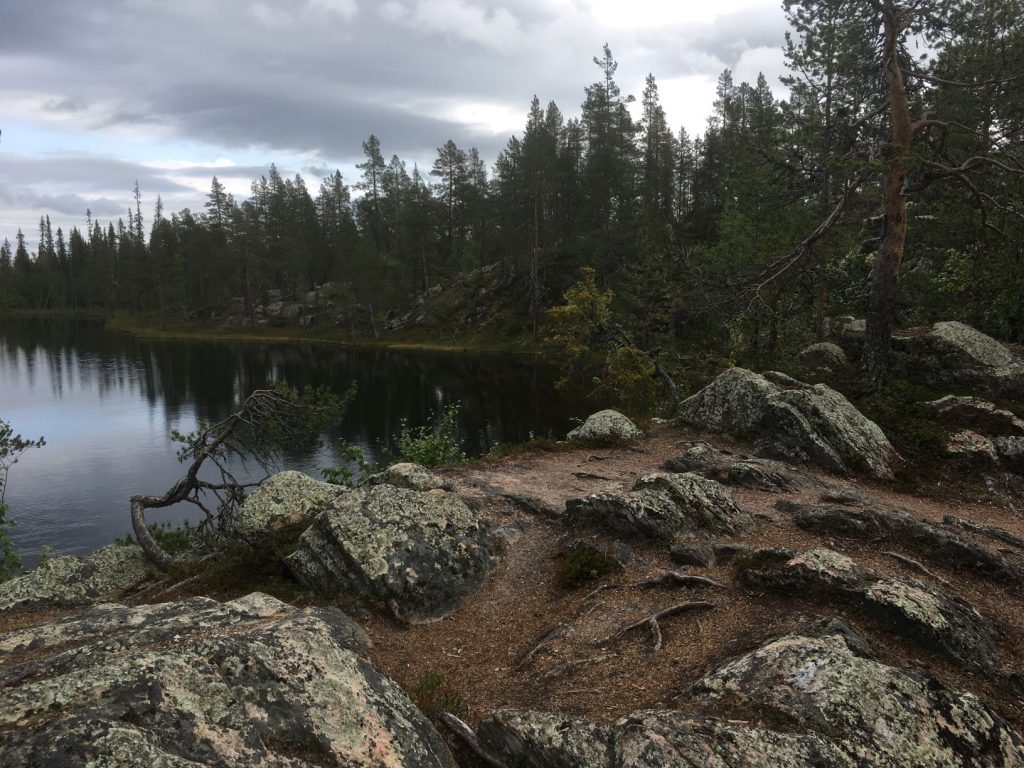 Exploring Ruoppaköngäs area
We were driving from Muonio to Kittilä when we spotted a brown sign to Ruoppaköngäs on the right side of the road. Small and rocky trail departed from the parking lot. There were some brown poles by the trail and when I followed them, I ended up by this breath-takingly beautiful Pahikkojärvi pond, which was hiding behind rocks. The lake is tiny and it didn't seem to have any rivers flowing nearby.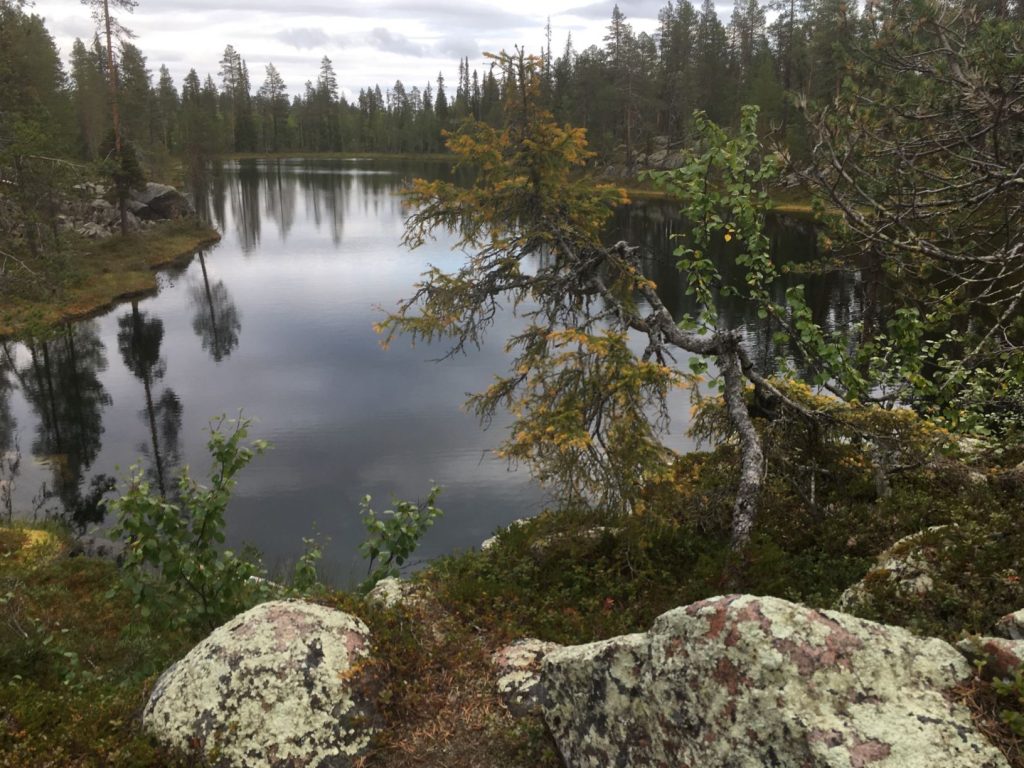 As I was standing by the lake, I could hear some rapids behind me. Based on the map I expected them to be close to this lake, but now I knew that was not the case. It was somewhere close, but hidden in plain sight. The trail I had followed to the lake had an intersection to the right, so I decided my best chance of finding the rapids was to walk back and take the other trail towards the sound of water.
Eventually I found the little river and rapids, coming from opposite direction of what I was expecting. This was the Ruoppaköngäs rapids, flowing from Ruoppajärvi to Pöntsöjärvi.
Directions to Ruoppaköngäs
Address:
Muoniontie 2177
99135 Kittilä
How to get there:

Car: From Muonio-Kittilä road number 79 look for a sign to Ruoppaköngäs. It is located approximately 38 kilometers from Muonio and 42 kilometers from Kittilä – or 23 kilometers from Sirkka.
Bicycle: There are no specific pedestrian or cyclist roads in this area so you will have to cycle next to the road.
Public transport: There are buses operating between Muonio and Kittilä, see the timetables at Matkahuolto website. The closest bus stop is called Majavaoja.
Accessibility: This site has a short but somewhat demanding trail, which is not suitable for children's buggies or anyone with limited mobility. Trees that had fallen over the trail had not been cleared.

When to go: Summer is the best time to visit Ruoppaköngäs. Perhaps avoid this area when there is snow on the ground as these trails and rocky area around the lake and river will be slippery.
What to wear: The number of mosquitoes on the riverside can be extremely high in the summer, so don't forget the mosquito repellent if you visit the area in July or August. I usually carry a mosquito net with me when I'm walking in the nature, so I can at least cover my face with it if needed.
Special to remember: Everyman's rights and restrictions apply. Littering is forbidden.
Many sights at Pallas-Yllästunturi National Park
The Pallas-Yllästunturi National Park protects the chain of fells of Western Lapland. It is the third largest national park in Finland and its highest point is Taivaskero fell rising to 809 meters. In addition to Ruoppaköngäs, the highlights of Pallas-Yllästunturi National Park include Yllästunturi Fell and its surrounding forests, Pallas Fell and Lake Pallasjärvi with a beautiful red sand beach Punainenhiekka, Aakenustunturi Fells, Ounasjoki River, and Ounastunturi Fells with the Taivaskero summit. Wondrous Pyhäjoki nature trail showcases the versatile nature around Pyhäjoki river between Pallastunturi fell and Pallasjärvi lake.