Haralanharju observation tower in Kangasala has amazing views to Finnish landscape in Pirkanmaa region. Vesijärvi lake was gleaming in the sun as the temperatures hit 25 degrees Celcius on late August day. I could feel a light breeze on my face when I was admiring the views at the observation tower. I stood there silently for quite some time, thinking how beautiful Finland really is.
Kangasala is known for its observation towers as there are four of them in this region. The first observation tower in Haralanharju was built in 1895, but it got destroyed in a fire in 1922. Another wooden tower was built in 1932 from logs donated by the people of the Suinula village, but it was burned down by a observation tower arsonist in 2007. The current tower is the third one and it was built in 2009.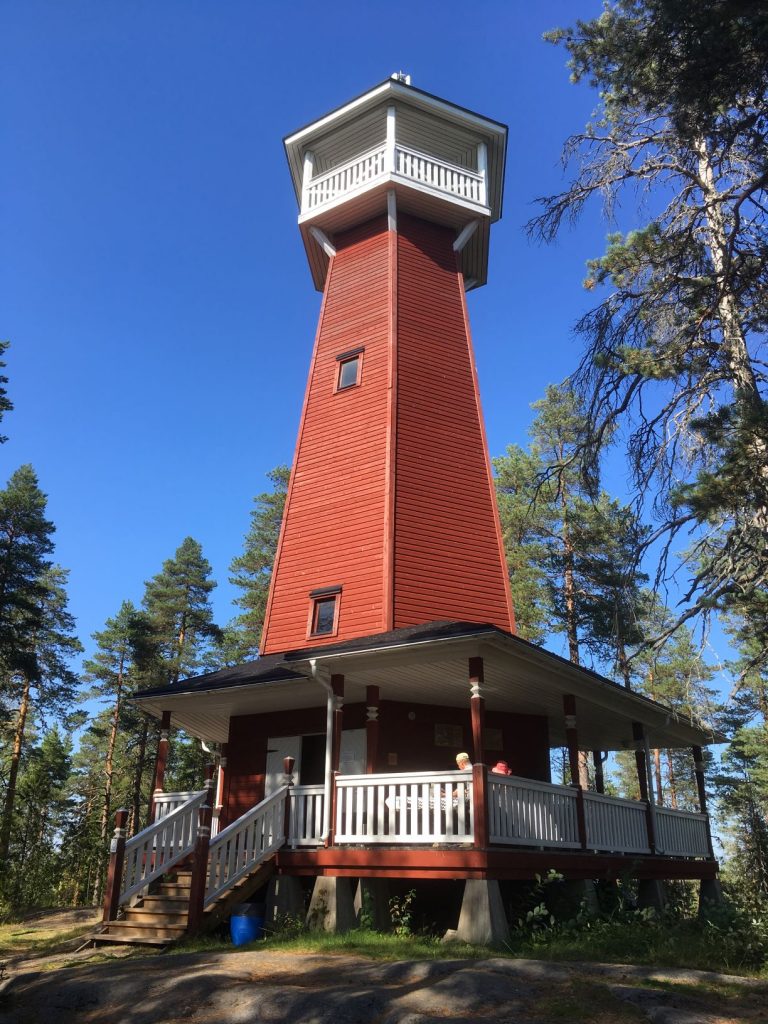 Haralanharju is glacial landform known as drumlin
Haralanharju is a hill that was formed by glacial ice acting on underlying unconsolidated till or ground moraine. Geologists have proposed several theories about the origin of drumlins and drumlin clusters. But in any case they are formed a short distance within the receding glacier ice and record the final direction of ice movement. The largest drumlin clusters in Finland can be found in Pieksämäki, Keitele, Sotkamo-Kuhmo area, Kuusamo and Utsjoki.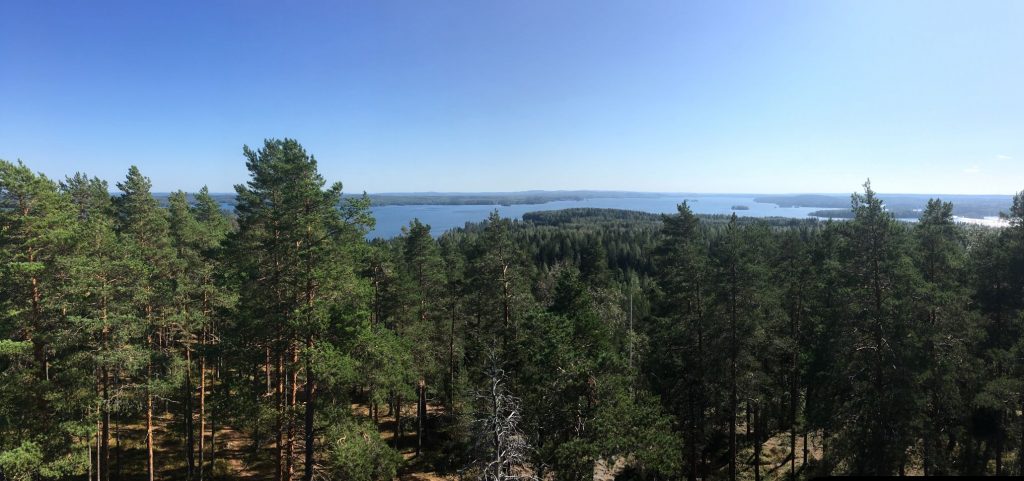 To me this landscape is as Finnish as it can get. It consists mainly of forests and Vesijärvi lake, with some fields in the distance. There are also some nature trails around the observation tower. Kaarina trail (Kaarinanpolku) is 60 kilometer long trekking trail marked by blue poles, maps are provided by Kangasala municipality. The Kaarina trail is also connected to Birgitta trails in Lempäälä municipality.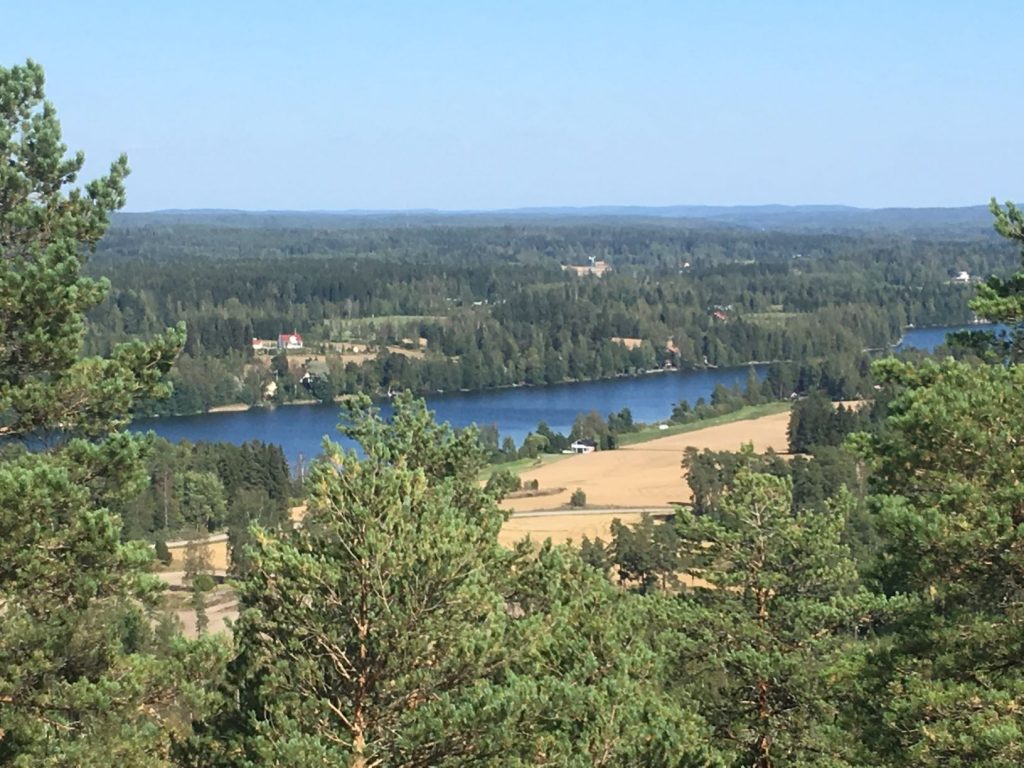 A summer's day in Kangasala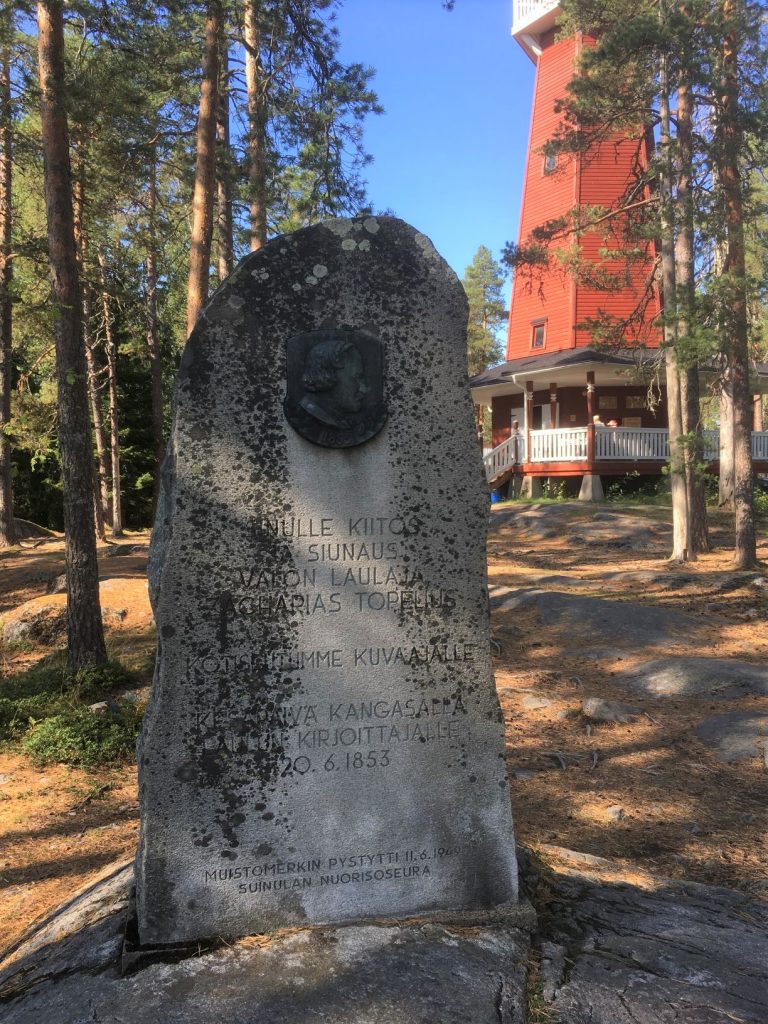 It was this exact view that inspired Zacharias Topelius to write his famous poem A Summer's Day in Kangasala. Topelius was one of Finland's most famous 19th century authors. Topelius wrote in Swedish, which is the second official language of Finland. He lived in Sipoo and is buried in the Hietaniemi Cemetery in Helsinki. The poem was turned into a song by a composer Gabriel Linsén, who visited this same location and became equally enchanted by the views. I remember singing this song in primary school, when we had to learn songs from different provinces. I don't know why it was important at the time, but I'm now glad I know them. It made my visit to this place a bit more special as I finally got to see what the song was all about. In case you are interested, you can listen the song in Finnish here. There is a memorial stone in honor of Zacharias Topelius close to the observation tower.
Directions to Haralanharju
Address:
Haralanharjuntie 142
36120 Kangasala
How to get there: You can get to the Haralanharju by car, by bicycle, or public transport.
Car: Haralanharju in Kangasala is located only about 20 kilometers north of Tampere, which is the third biggest city in Finland. From Tampere-Jyväskylä road E63 turn to Korvenperäntie. After 900 meters turn to left to Siitamantie, and in 400 meters to right on to Haralanharjuntie. You will reach the parking lot in 1.4 kilometers. The Haralanharju observation tower is very easy to reach by car as the parking lot is right next to the observation tower.
Bicycle: The cycling routes follow vehicle roads.
Public transport: The closest bus stop is called Rukoushuone 2.1 kilometers away from the tower in the village of Suinula, which can be reached from Tampere or Kangasala. Buses also frequently pass the village on E63, where the closest bus stop is called Suinula. From that stop the walk to the observation tower is approximately 2.8 kilometers. See routes and timetables at Matkahuolto website.
Accessibility: The observation tower is not accessible for disabled due to its staircase but there is a somewhat accessible cafeteria located on the first level of the observation tower. Wheelchair ramp to the cafeteria is steep.
When to visit: The observation tower can be visited anytime, but the cafeteria is only open during summer months June-August. The road leading to the observation tower is private and it is not cleared from snow in winter, so I would recommend visiting the tower when there is no snow on the ground. The area around the tower may also be slippery in winter. There is 2€ fee to be paid to the cafeteria when visiting the tower, at least in the summer.
Special to remember: Do not burn the observation tower.