Geocache locations in Uusimaa, Finland, can lead you to the most beautiful nature destinations and sights. You can often find geocaches in lean-to shelters or along scenic nature trails. But which nature locations have a good amount of geocaches in the coolest setting? We won't be revealing any geocaches, but we can give you few tips about where to go when looking for them and wanting to enjoy beautiful Finnish nature. National parks are naturally a good place to start, but there are many other scenic trails where you can collect some caches along the way. Here is our guide for the best nature destinations for geocaching in the Uusimaa region.
Geocaches in the national parks in the capital area
Finland's capital area is home to two several beautiful national parks that offer a diverse range of natural landscapes and outdoor activities. Nuuksio National Park, located just outside of Helsinki, enchants visitors with its tranquil forests, pristine lakes, and picturesque trails. Klassarinkierros is a quiet circular trail at Nuuksio national park and it hosts an adventure lab bonus. Sorlampi in Nuuksio National Park offers not only a nature trail for perfect hike but also few mysteries. Check out the seven giant's kettles of Sorlampi and its earth cache if you are in the area.
Sipoonkorpi National Park is a natural gem located in southern Finland, near the capital city of Helsinki. Spanning over 18 square kilometers, it offers a captivating blend of untouched forests, scenic lakes, and rugged landscapes. Sipoonkorpi National Park offers a bunch of mystery caches for those who are into solving them.
Other recommended geocache locations in nature destinations in Uusimaa
Kopparnäs-Störsvik recreation area in Inkoo is not only a great outdoor area, it also hosts tens of geocaches along its trails. The best part is, that most geocaches in Kopparnäs are regular caches, available for those without premium membership. There are mystery caches and few multi-caches as well.
Meiko recreation area in Kirkkonummi has a series of caches along its trails, especially the 8,3 km long trail called Meikonkierros. Here you can admire spectacular views down to the lake.
Espoo Power Trail, also known as Espoo-Pirttimäki Trail, provides a series of caches consisting mainly of small boxes, bottles, or tubes with some exceptions. Remember to look out for speed bikers and use stealth when required.
In Espoo you will find Oittaa and Lake Bodom with few caches and an interesting adventure lab. It is a new app and platform in development that allows you to create, play and share unique outdoor scavenger hunts, experiences, and games.
What comes to geocaching, Uutela has it all. Uutela urban trails include regular caches, many multi-caches, mysteries as well as few earth caches. Talosaari recreation area has also some traditional caches along its nature trails. You could easily spend a day geocaching in the eastern part of Helsinki.
Few geocaches in easy-to-reach locations in Uusimaa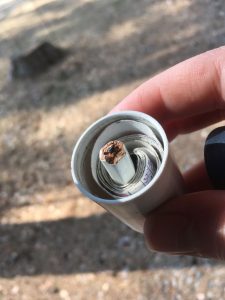 Gallträsk in Kauniainen is a lovely small lake area that is perfectly suitable for a lazy stroll to enjoy the absolutely huge spruce trees and oak trees. And a fun multi-cache along the way.
Rantaraitti in Espoo is a seaside promenade that has couple of caches for example in Haukilahti. The area has two marinas and several beaches. Taking a walk on the shore, looking for geocaches, sounds like a perfect afternoon.
Laajalahti bay is one of the best areas for bird watching in Helsinki and it also hosts several different caches from virtual cache, mystery cache, and multi-cache to adventure lab. Töölönlahti bay is the green heart of urban Helsinki and another adventure lab location in the capital area. Mustikkamaa hosts a virtual cache drawing competition.
Myllykoski rapids and Koskikara nature trail in Nurmijärvi is one location worth checking out by the geocachers. This destination can be easily reached by public transport from Helsinki, and Myllykoski rapids in Vantaanjoki river is a cool nature sight to check out. The few geocaches in this area are not too challenging but remember to avoid muggles!
Read more about geocaching in Finland from our previous post here.