It would be easy to think that the centre of the Finnish capital Helsinki is full of high-rise buildings. In reality, it's quite the opposite. One of the most popular green spaces in Helsinki is the Töölönlahti bay area right at the heart of the city. It is the place where urban beat meets with green, outdoors peace. You are still in the centre of Helsinki but you can enjoy this lush and well-maintained urban nature oasis at the same time.
Töölönlahti bay is connected to the Baltic Sea by another bay and a narrows. Right next to Töölönlahti bay is Eläintarhanlahti bay which actually used to be part of Töölönlahti. These two were separated when the railway bridge was built between them in 1862. Depending on your energy levels or activities, you can easily go choose from various different routes and activities. Due to its popularity, the trails are well-maintained and suitable for all ages and capabilities.
Activities at Töölönlahti and Eläintarhanlahti
The "classic" jogging or walking route goes around only the Töölönlahti bay (2,2km). One peculiar quirk of this circle route is that you are supposed to jog or walk it counter-clockwise. Why? Because this way you have to go up a steep hill by the two "Linnunlaulu villas". However, if you still choose to go around the bay clockwise, you won't escape the same hill at Linnunlaulu but that way it's less steep (but longer). Either way, you will end up huffing and puffing. If you are feeling energetic or feel like more sightseeing, add Eläintarhanlahti bay to this and the whole circular route is 5km total.
This area is not just for joggers or avid walkers. In the summertime, you can rent SUP-boards and canoes from the shores. A lot of people like to cycle in the area as well because it has separate lanes for pedestrians and cyclists. However, a word of warning: cyclists have to be wary of pedestrians and joggers popping on the cycling lane quite regularly. You can even rent citybikes from different places near these bays when there's no snow.
Töölönlahti is also a popular place for picnics, history buffs, and even the occasional fisher (normal or ice-fishing). It may come as a surprise but Töölönlahti and Eläintarhanlahti are very quiet places to fish. If nothing bites, you can just relax in the reeds in the summer. In the winter, when the ice has barely formed on the bay, you can see avid ice-fishers making their way across the bay. If you fish with a simple rod, you don't need a fishing permit. If you want to fish with anything else, you must purchase a permit. Pike-perch, northern pike, bleak, carp, and bream are some of the fish caught at Töölönlahti.
The long shores of Töölönlahti are also optimal for bird-watching: the highly endangered Eurasian coot nests in this area alongside with great crested grebes, mute swans, and all kinds of waterfowls.
Legendary part of central Helsinki
Töölönlahti and Eläintarhanlahti bays are part of the vibrant centre of Helsinki. The Linnunlaulu villas overlook the bays and Helsinki centre. The so-called Blue Villa (Sininen huvila) was built in 1896. The other villa, a writer's colony, is Villa Kivi (Villa Stone) is located right next to the Blue Villa. Just next to the northern edge of Töölönlahti is the beautiful winter and rose garden. On the Eläintarhanlahti bay area, you can find Kaisaniemi botannical gardens as well as some old ships.
Of course, you also find a cornucopia of Finnish culture next to Töölönlahti. The Finnish State Opera and Ballet is there as well as white-marbled Finlandia Hall. The Finnish National Museum and the Musiikkitalo concert hall sit opposite each other, overlooked by the Finnish Parliament House. Make sure you check out the architecturally unique sights such as the lovely central library Oodi and the wonderful central railway station as well.
Directions to Töölönlahti
Address: You can type Töölönlahti on your navigator. There are several different ways to get to Töölönlahti, so choose what is best for you.
Car: Parking in the centre of Helsinki is expensive. There is curbside parking but also a parking area near the Olympic stadium.
Bicycle: There are great cycling trails in the area so make sure you try them out.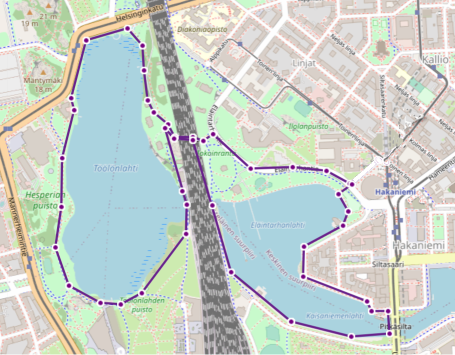 Accessibility: Töölönlahti and Eläintarhanlahti areas are all fully accessible.
When to go: We recommend you visit this place at all times of the year.
Facilities: There are lots of cafes and facilities around Töölönlahti and Eläintarhanlahti. There are two accessible public toilets around Töölönlahti at Hesperianpuisto and at Mäntymäentie (near the Olympic stadion). There are also two accessible public toilets at Eläintarhanlahti at Tokoinranta and Kaisaniemenranta.
Make sure you also check out these
Close to the Helsinki centre is also another urban park called Mustikkamaa (Blueberry land). Make sure you check it out as well.