These beautiful pine forests and hilly trails of Ämyri are located in Somerniemi approximately 90 km from Helsinki. Ämyri is actually the name of a summertime dancing arena. For years it has been popular location for dance enthusiasts, but the forests around the arena are worth checking out if you are looking for outdoor trails suitable for hill workouts.

What I like the most about these trails is that they are located in the middle of beautiful, mixed aged pine forests. Pine trees are my favourite trees. And wide trails are perfect for nordic walking in the forest.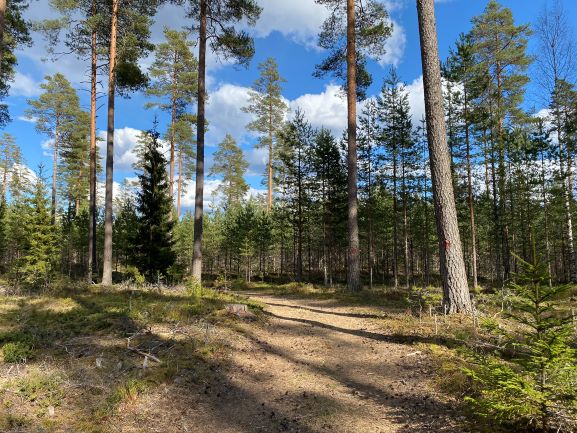 Trail map of Ämyri
The trail map of Ämyri provided by Somero municipality is actually a cross-country skiing map, but these same tracks can be followed by foot. There are two marked trails plus few other forest roads and trails to explore. The blue trail is 2,3 kilometers long. The biggest hill is located in the loop. 5 kilometers long red trail begins by following the blue trail and then takes you to a swampy little pond called Likolammi. On this trail the steepest hill was when climbing uphill from Likolammi. The trails are pretty well marked, and the area is delimited to Salkolantie road in the north, Helsingintie road in the south, and Keltiäistentie in the west.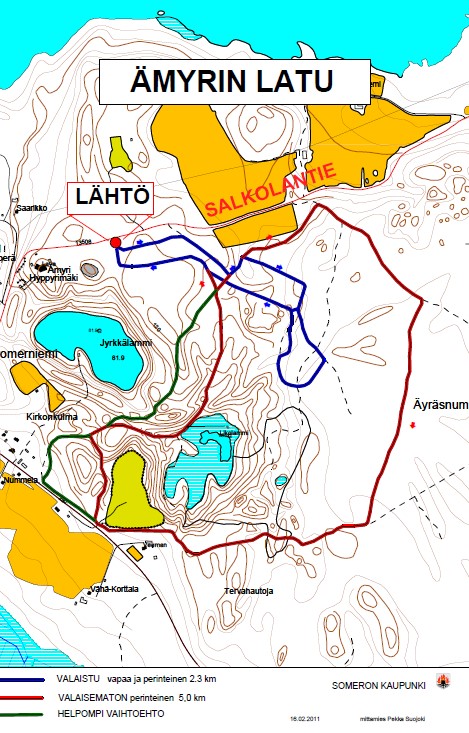 Sometimes it is worth wondering off the trail as you might find some mushrooms even in May! False morels love these sandy ridges of Ämyri. To read more about the false morels and other common mushrooms in Finland check out this post. I left these individuals still to grow. Fairwarning though if you go foraging false morels: They are toxic and must be boiled at least twice before consuming.
There are also other trails outside of the marked trail network. The trail along Jyrkkälämmi lake is very charming, especially in autumn. Jyrkkälammi also has a nice picnic spot by the lake, straight down the hill from the start of the trails.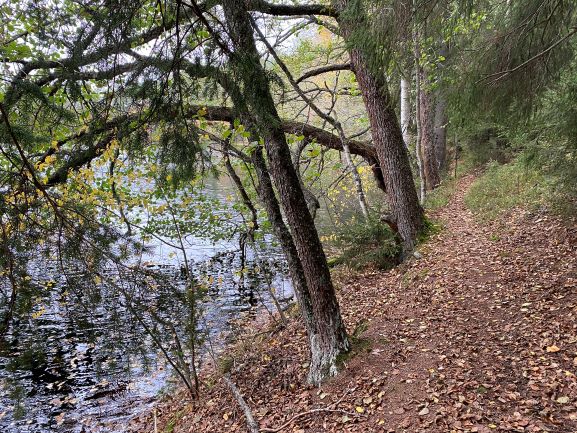 During moose hunting season in the autumn we wear high visibility vests in the forest, but I haven't seen any hunters in this area.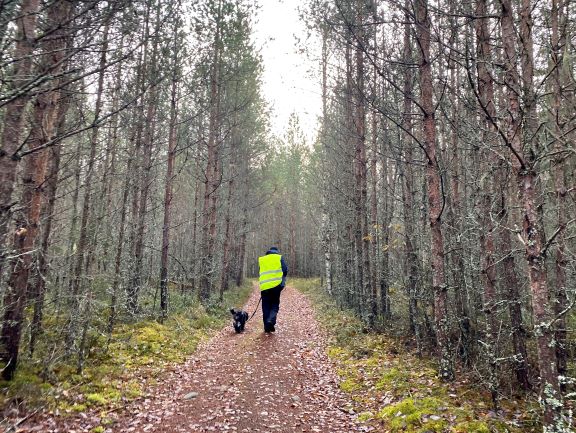 Directions
Address:
Ämyrin tanssilava / Ämyri dancing arena
Salkolantie 77
31470 Somerniemi
How to get there: You can get to Ämyri easiest by car or bicycle.
Car: From Helsingintie route 280 turn to Salkolantie road. The dancing arena and its parking lot will be on the right in about 800 meters.
Bicycle: The cycling routes are the same as vehicle roads.
When to visit: All year round as these trails are turned into cross-country skiing tracks in the winter when there is enough snow on the ground.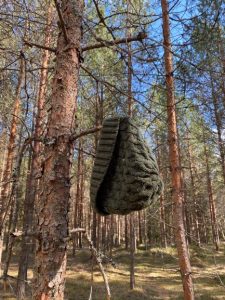 Accessibility: There are no special services for the disabled in the area and no toilet facilities either, but the trails are wide and would be suitable for children trolleys and partly for wheelchairs too. They are very hilly.
In Finland it is customary to place found objects such as gloves on tree brances by the trails so that their owners would find them on their next trip or when they go looking for them. Someone has lost this Sulo Vilén -beanie and it has been waiting for its owner for quite some time now. Share this article to help Sulo to find its owner!
Also visit in the area
There are many other interesting nature sights in Somero and Salo. Check out for example these: