Nuuksio National Park is still the most visited national park in Finland. It stretches across the municipalities of Espoo, Kirkkonummi, and Vihti. Klassarinkierros circle trail is located in the northwestern corner of the park at the border of Vihti and Kirkkonummi. Compared to the rest of the national park, Klassarinkierros is quieter and less crowded. This circular 4km trail passing two ponds is still as beautiful and serene as the rest of Nuuksio.
We knew Klassarinkierros doesn't have winter maintenance like some other trails at Nuuksio so we went there one day before a huge snowfall in late December. It would have been fine to visit after the snow as well but I don't own any snowshoes. Just before we arrived at the parking area, we noticed that the recently melted snow had combined with some sleet to form a sheer ice cover on the road. And I mean, sheer. If we hadn't had spiked winter tyres, we would have been in serious trouble due to the slant of the road… we could easily have been in the ditch on either side of the road. In fact, one car came along with only friction tyres and got stuck going uphill because the car had had to stop in the middle of the hill. The only way down was reversing on an icy hill… not fun.
One circular trail, two possible difficulty levels
Klassarinkierros starts off with a renewed gravel trail that follows a gently bending stream. The route is connected to the rest of Nuuksio trails so you can walk all the way to Haltia nature centre (11,5km away).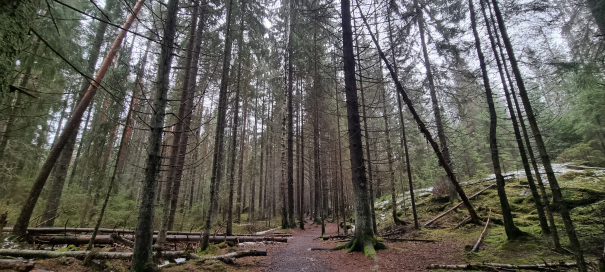 When we got there, the stream had frozen solid. It looked magical with a white frozen river winding between dark green mosses. I was half-expecting to see trolls or other fairytale creatures – that's how curious the scenery was.
The trail is relatively easy and flat at this stage. But, then it changed into frozen, super-slippery duckboards. We were prepared though with detachable shoe spikes and Nordic walking sticks for extra support. After successfully negotiating the duckboards and congratulating ourselves for making it over with dry feet, we continued on the relatively dry trail. We soon came up by Saarilampi pond, which was completely frozen over with no snow on top of it. I bet it would be a great place for some Nordic skating!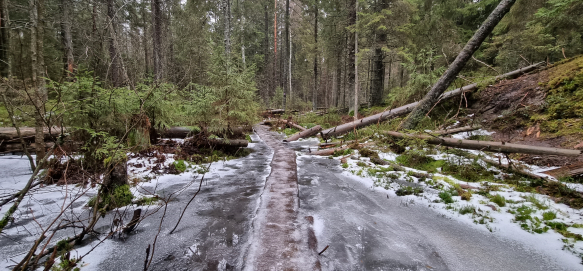 At the end of Saarilampi pond is the fireplace area. We stopped for a bit of hot chocolate to warm up. I knew that the trail would now continue uphill towards Klassarinkallio hills, which would be tougher due to the elevation and ice. So, we had two trail options: continue up to Klassarinkallio or go back to the carpark by following the wider cycling path going between Saarilampi and Kurjolampi ponds on the "isthmus".
Klassarinkallio hills overlook Nuuksio
Armed with our Nordic poles and spikes, we decided to continue to higher ground. As soon as we got off the wide cycling and skiing trail and headed back into the forest, the trail began to ascend. The higher we got, the more frozen the hillside became. We were basically just hopping from one bit of brush and shrubs to another because we didn't trust our spikes to keep us safe.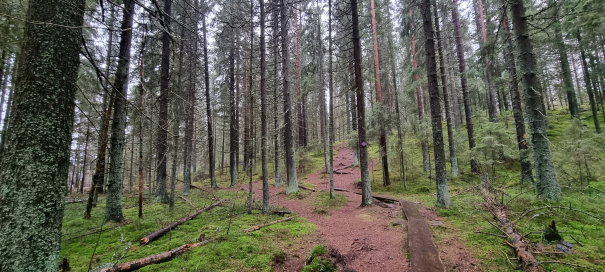 We also walked all the way up to the top of Klassarinkallio hill but unfortunately, the fog prevented us from enjoying the scenery. Instead, we spent the next 20mins climbing down veeeery slowly and gently due to the entire hillside being frozen solid. Another hiker followed us down with more trust in their spikes – they went straight down the middle of the ice sheet. We have learned to be careful because you can never trust someone to save you from the middle of the forest if you break something.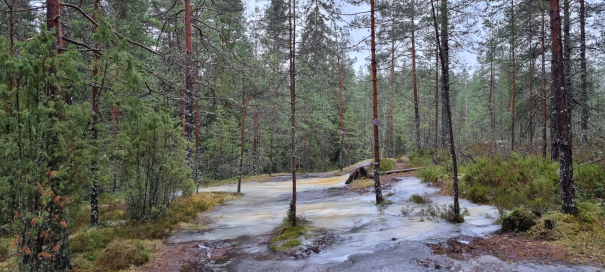 After we had scaled down the frozen hills, we were once again walking on soft forest floor. However, our ice-capade (sorry, that pun was a must!) was not yet over. We emerged from the forest and back onto the wide trail. The last 600m of Klassarinkierros follow the same route cars take. Remember when I told you that the road was sheer ice? Through determination and careful steps, we made it back to the carpark. It was definitely a fun trail but less ice and fog would have made it even better!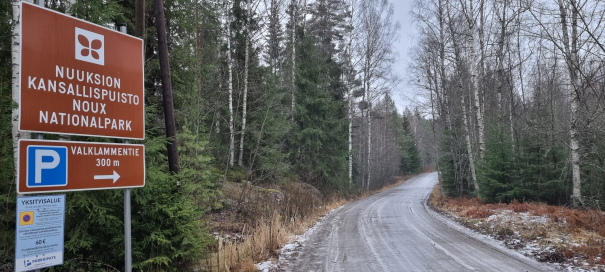 Nuuksio has dozens of trails for dozens of activities
As mentioned, Nuuksio is hugely popular due to it being in the capital area. There are 12 marked hiking routes of varying difficulty levels and lengths at Nuuksio. In addition, there is about 30km worth of cycling routes in the national park. Departure points can be seen on the map, too, but they are at Kattila, Haltia, Haukkalampi, Valklammen pysäköintialue and Siikaranta, hotel Nuuksio. Just remember that cycling is not allowed everywhere but only on dedicated areas.
Another fun fact is that you may come across some horses at Nuuksio since there are about 22km of dedicated riding trails. Check out dedicated riding trails here. It's also possible to go snowshoeing or even skiing in the national park just as long as you are mindful of other visitors.
Those who are into fishing, Nuuksio is a great place. You can fish with a single simple rod without a licence. Fishing with a lure means that you need a fishing permit beforehand. At Klassarinkierros, you can fish from the ponds but make sure you check which species of fish, eel, or crab are protected or limited.
Naturally, there are lots of swimming holes, ponds, and lakes in Nuuksio. At Klassarinkierros, you can swim in both ponds as long as you remember to stay safe.
Directions to Klassarinkierros
Address: Valklammentie 2, 03220 Vihti. You can also type Klassarinkierros on your navigator.
Car: There is some parking next to the trailhead but only for about 10-15 cars. Remember that Nuuksio national park is almost always busy.
Bicycle: There are great cycling trails in the area so make sure you try them out.
Accessibility: Klassarinkierros is partially accessible. It is not suitable for those hard of walking, for wheelchairs, or for children's buggies. There are quite a few challenging ups and downs along the route, so take your time.
When to go: You can visit at any time of the year. However, please note that during winter, there is a lot of ice due to draining water from the cliffs. On top of that, snow may cover pits and holes in the ground. Make sure you wear spikes during slippery seasons for added safety. If you visit when there is lots of snow, make sure to wear snowshoes. In the summer, remember that there will be mosquitoes.
Facilities: There is a fireplace at Saarilampi but unfortunately no hut. Remember that you can only use the fireplace when there is no forest fire warning on. The firewood is stored in a separate shelter about 50m from the fireplace to keep it dry. There is also a very nice dry toilet at Saarilampi. If you are interested in spending the night in Nuuksio, there is a rental cabin at Klassarinkierros called Tikankolo.
Make sure you also check out these
There are lots of different trails at Nuuksio such as Sorlampi circular route in the southeastern corner of the national park.