Sorlampi in Nuuksio national park has seven giant's kettles nicely grouped together. These millennia-old glacial formations are waiting for new explorers to discover them again and again. Also, story has it that an eight kettles can be found on a cliff facade only 50m from the road, about 200m from the other potholes due north. Maybe you can find it?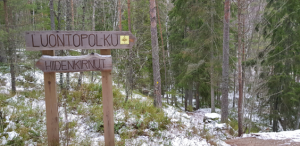 We were walking along the Sorlampi nature path when we noticed a sign directing us to the giant's kettles. There are two ways you can get to them: one is to follow the Sorlampi nature path (which is demanding and not accessible) or you can walk along the gravel road from the main Nuuksio road. The final walk from the sign is normal forest floor so covered with leaves, moss, rocks, and roots. However, it is only about 200m from the sign so not terribly far.
These glacial potholes are located right at the edge of a small ridge, so you have to keep an eye out for them when walking in the forest.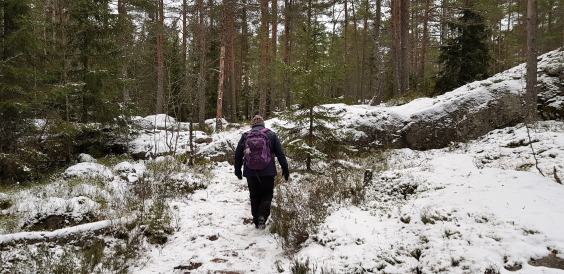 The kettles are in a quaint formation, and they vary in size: some are merely half a metre deep where as the largest ones are up to 2m in depth. According to one of the information boards in the area, a part of a wooden paddle was found in one of the kettles – and the paddle was dated to somewhere in the 15 – 17th century!
Formation and importance of giant's kettles at Sorlampi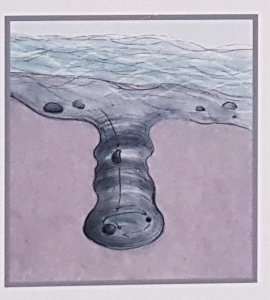 The giant's kettles of Sorlampi are located on a long, winding cliff area in Nuuksio national park.
The kettles were formed during the last Ice Age when melting glacial waters started to carve symmetrical, smooth hollows in cliffs.
Water alone didn't create the kettles, but a moulin rock was required to add friction. Finland has a lot of these glacial potholes, and during ancient times, they were thought to have been created by giants, hence the name: giant's kettles.
The glacial potholes in Sorlampi vary in size, from tiny indentations in the cliff face to massive holes up to 2m in depth and 1m in diameter. The largest giant's kettles in Finland can be found at Askola, where the largest – called Giant's Bath Tub or Jättiläisen kuhnepytty – is is 4,2m wide and 10,3m deep (13.7ft by 33.8ft).
Directions to the giant's kettles
Address for accessible route via a recreational track:
The closest accessible (for strollers, young children, those hard of walking) address is Kaitakorventie 20-22, Espoo. The road starts nearby a private riding school.
You will have to walk 1,4km one way to get to the giant's kettles by following the gravel road.
Address for non-accessible route via the Sorlampi nature path:
The easiest way to find Sorlampi nature path is by typing Sorlammen luontopolku in your navigator.
You will have to walk on a forest trail for about 1km to get to the giant's kettles. You will also have to cross some duckboards.
Exact location of the kettles:
How to get there: The giant's kettles are in Nuuksio national park. There is a bus that goes there but you can also use a car (parking is very limited, though) or a bike.
Car: Type either of the addresses (accessible or non-accessible) to your navigator. Note that there are some parking spaces but they are often full first thing in the morning.
Bicycle: You can easily cycle to Nuuksio but you may often have to share the road with cars.
Public transport: The best way to get to Nuuksio and Sorlampi is by bus (no worries about parking then). Bus 245 stops at Kaitakorpi bus stop; check timetables here.
Accessibility: National parks are open at all times but remember that there are no lights. Make sure you are well prepared for your hike.
Facilities: There is a dry toilet near the giant's kettles. There is also a lean-to with a possibility of building a fire nearby.
When to go: We recommend visiting this area at any time of the year. Deepest, snowiest winter may still mean that the potholes are completely covered with snow.
Similar sights in Finland
If you are looking for similar views, check out these posts: