The Sipoonkorpi National Park in Helsinki, Vantaa and Sipoo municipalities is a protected forest area only about 25 kilometers from the centre of Helsinki. We visited the Sipoonkorpi on a cloudy and misty day in December, but we could see that these forests would be excellent terrain for picking mushrooms and berries in summer months. We had both been extremely busy at work, so visiting Sipoonkorpi on the weekend provided us a chance to recharge our batteries. Less crowded than Nuuksio National Park, Sipoonkorpi is the perfect location for relaxation and mental wellbeing.
The Sipoonkorpi park, one of the newest national parks in Finland, was established in 2011. So far, there aren't many marked hiking trails in Sipoonkorpi, but trail runners seem to love this national parks nevertheless. Byabäcken nature trail (marked with orange diamonds) in the north part of the national park is 1,4 km long and easy trail highlighting the main features of this heritage landscape. Kalkinpolttajanpolku nature trail (marked with green and white) is 4,8 km long circle trail in the south part through demanding terrain and past Kalkkiruukki lean-to shelter and campfire site. A trail from Kalkkiuunintie road to Bisajärvi lake and Tasakalliontie road is also marked with orange. Don't mix it the accessible Byabäcken trail located in the north. (Map of Sipoonkorpi at the end of the post.)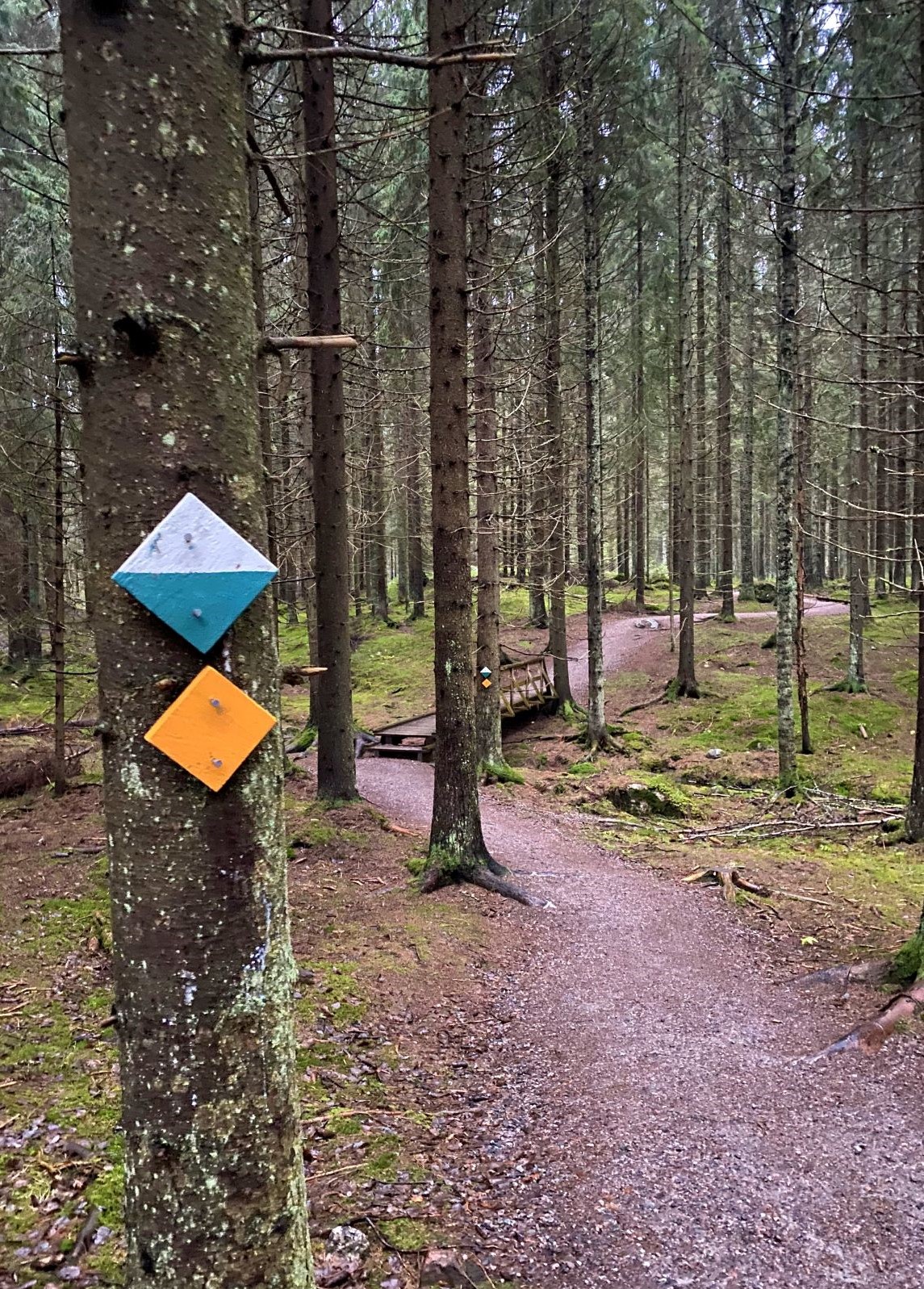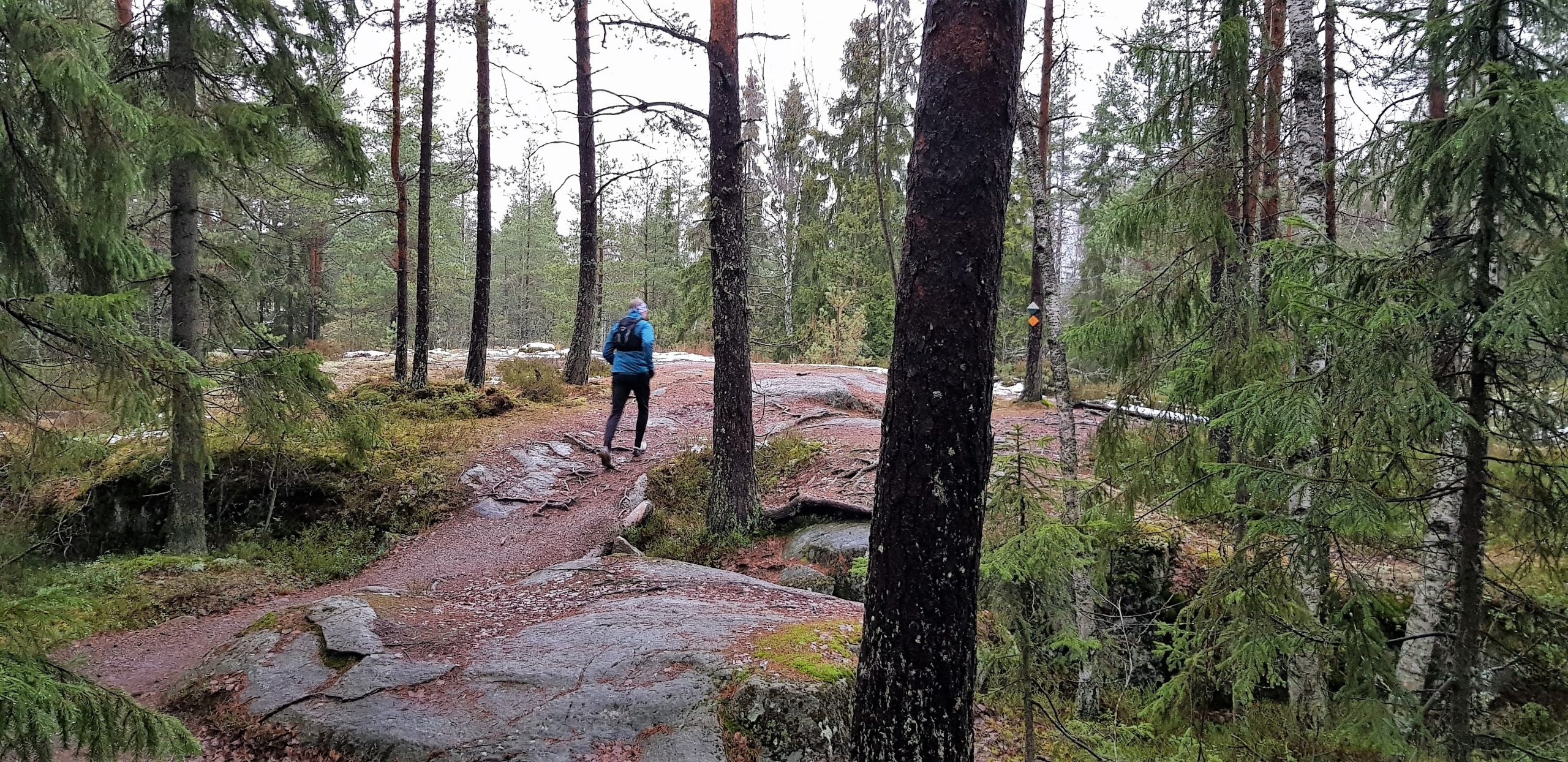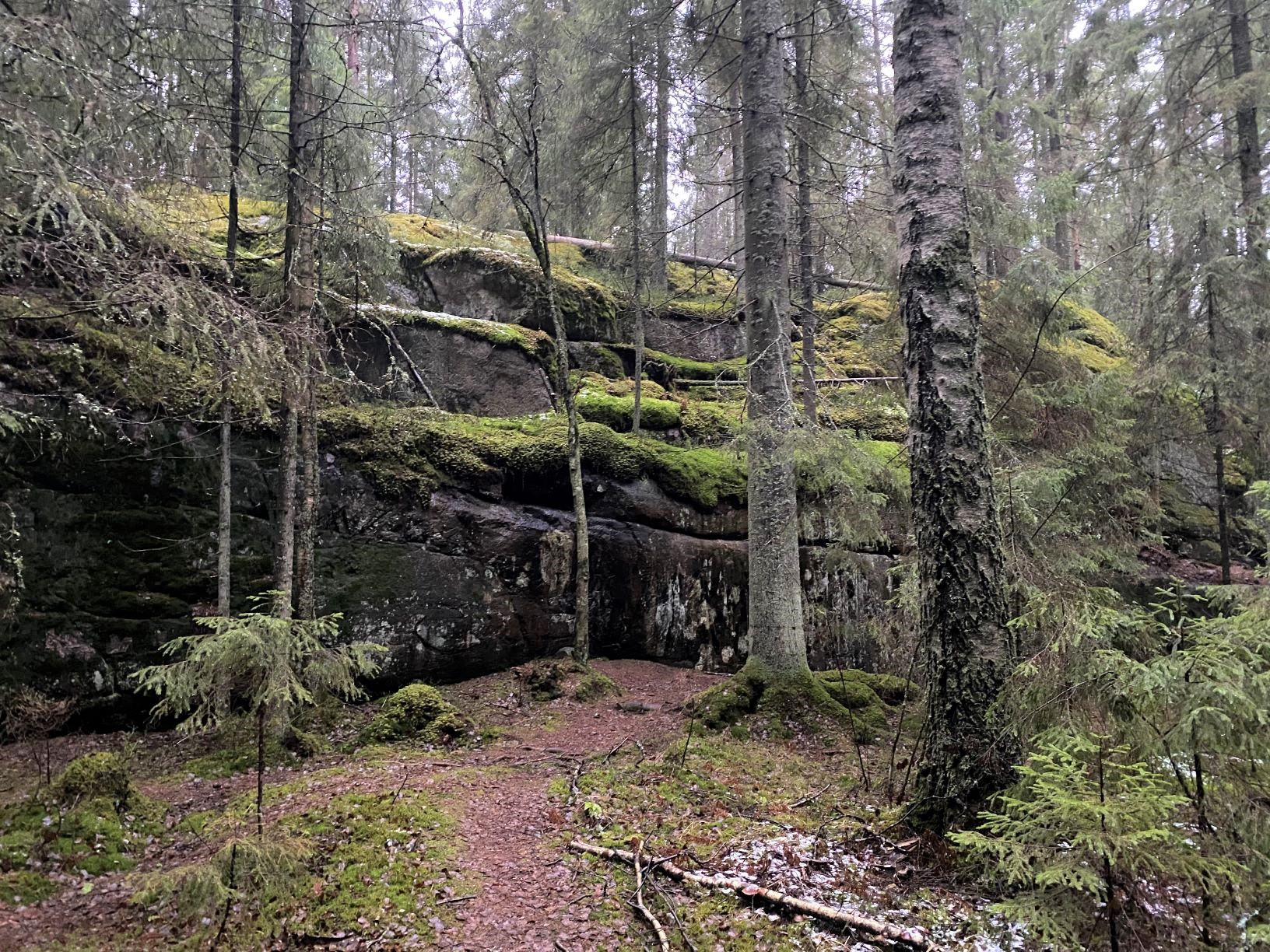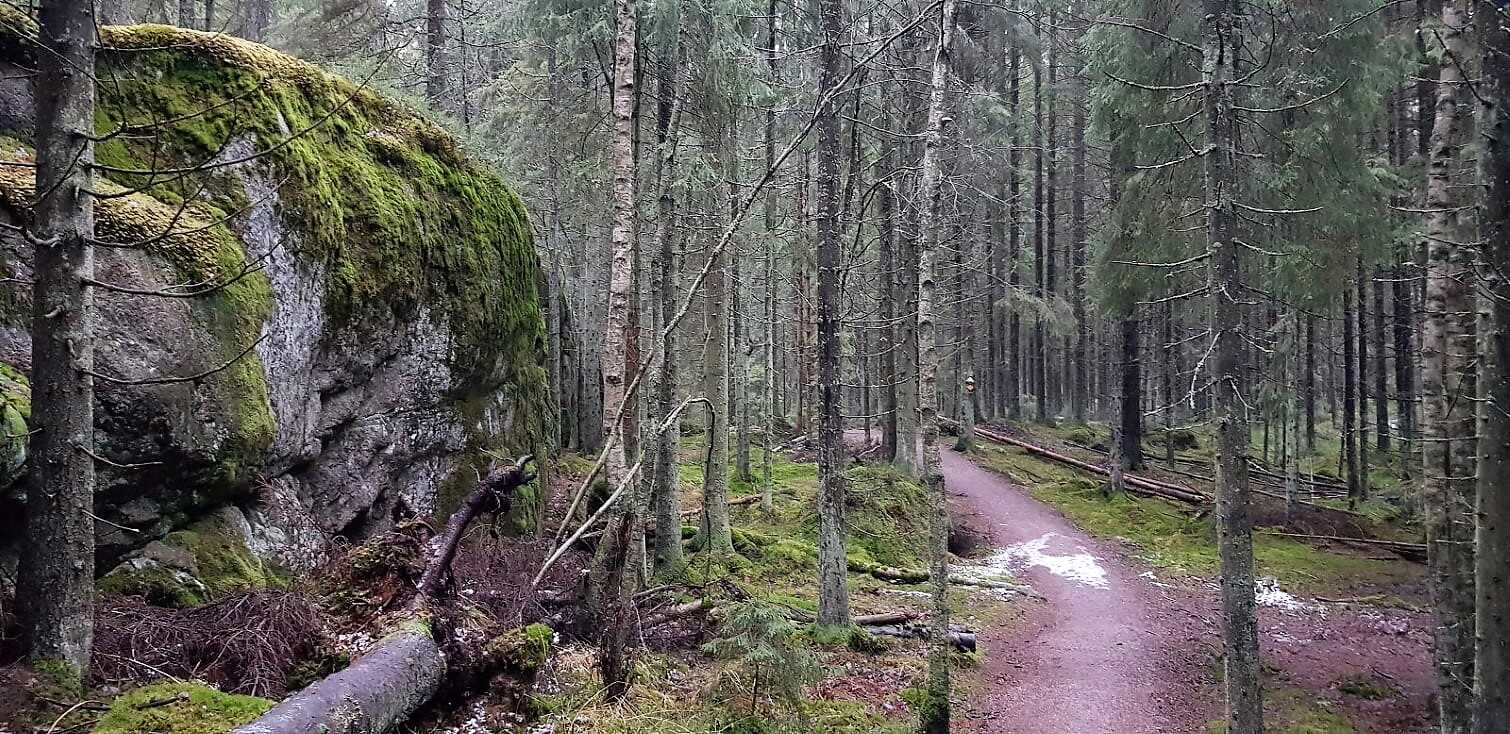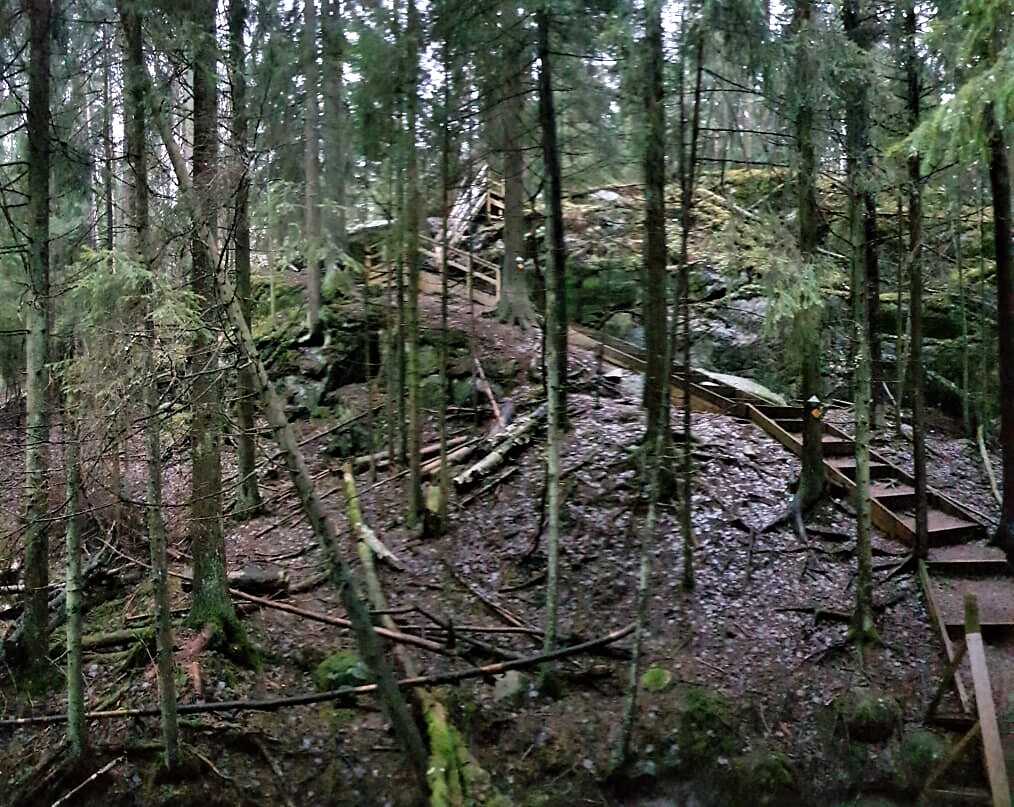 The Kalkinpolttajan nature trail
We were prepared to spend pretty much all daylight hours at Sipoonkorpi and planned to have a lunch break at the Kalkkiruukki lean-to shelter. (In December they are very limited in Finland). Therefore, we headed for the Kalkinpolttajanpolku, which can be started from Kalkkiuunintie road parking lot. These parking lots get really busy especially on beautiful summer weekends, but this time we were the first ones to arrive. The trail was wide and followed the road in the beginning.
The terrain started off nice and flat but soon got more challenging. There is still a marked trail which is mostly easily accessible but as Sipoonkorpi is a national park, any fallen trees or debris from heavy winds is left where they have landed. Some of the trail was icy, some of it was muddy. Some of it was just otherwise slippery. But challenging conditions makes for a fun hike, and our hiking boots once again proved their worth. We saw many trail runners swoosh past us during our hike, smiling while puffing ahead.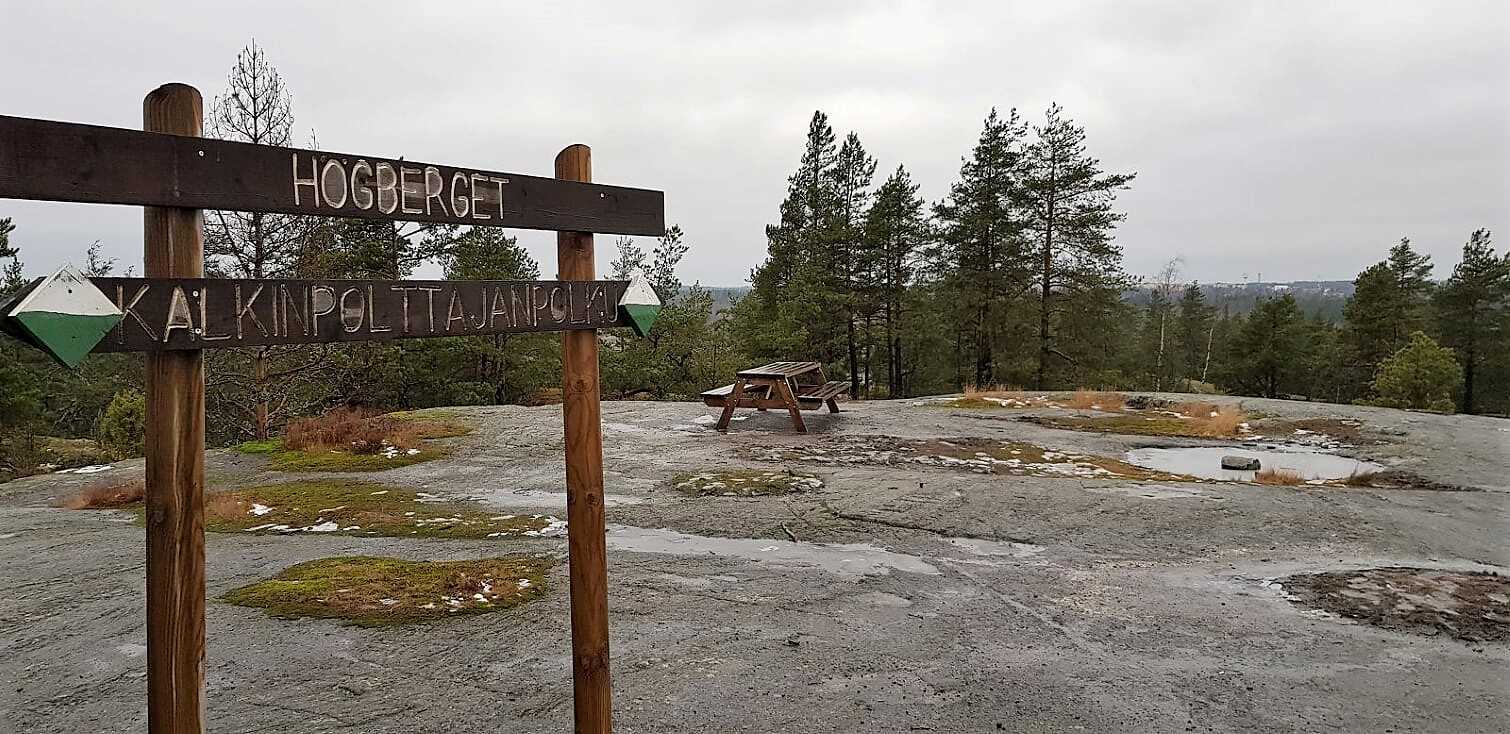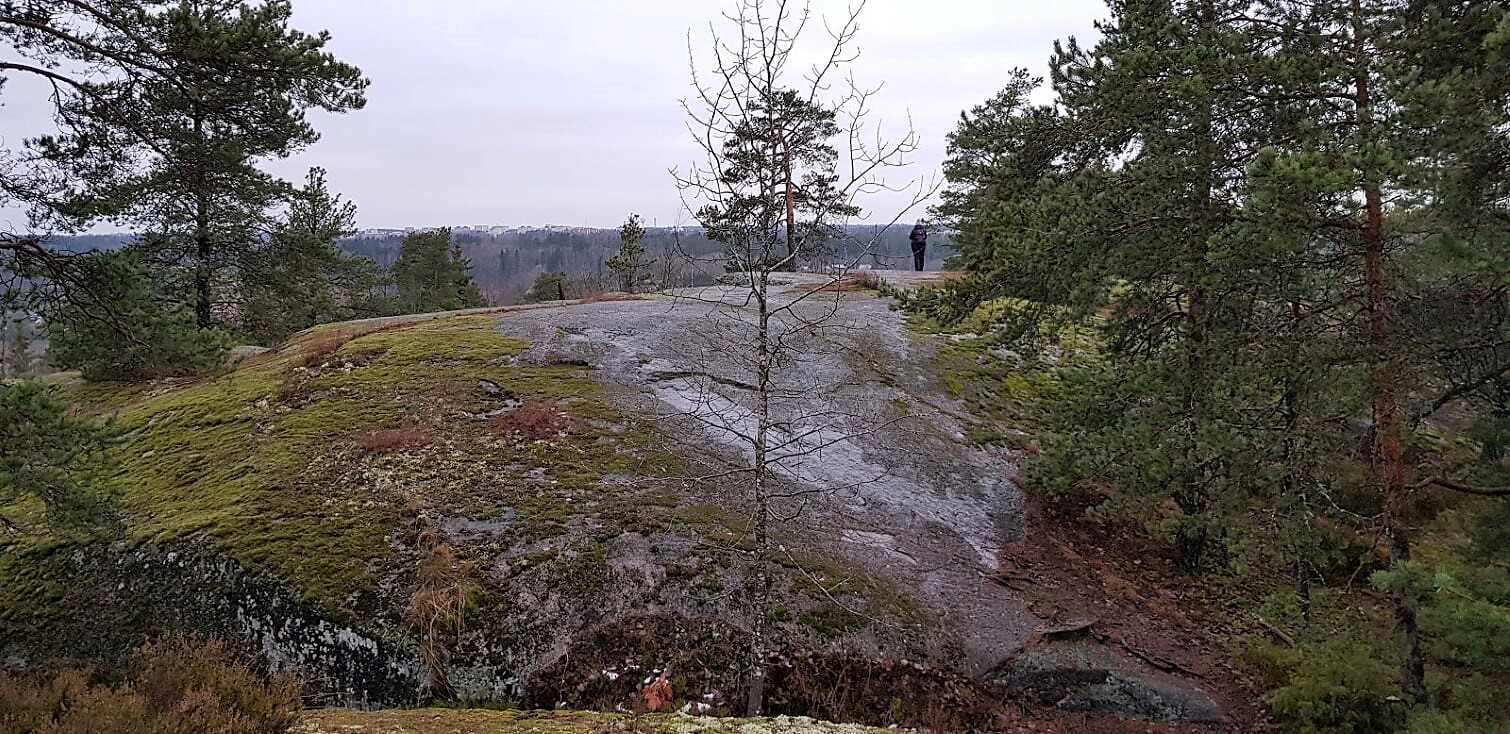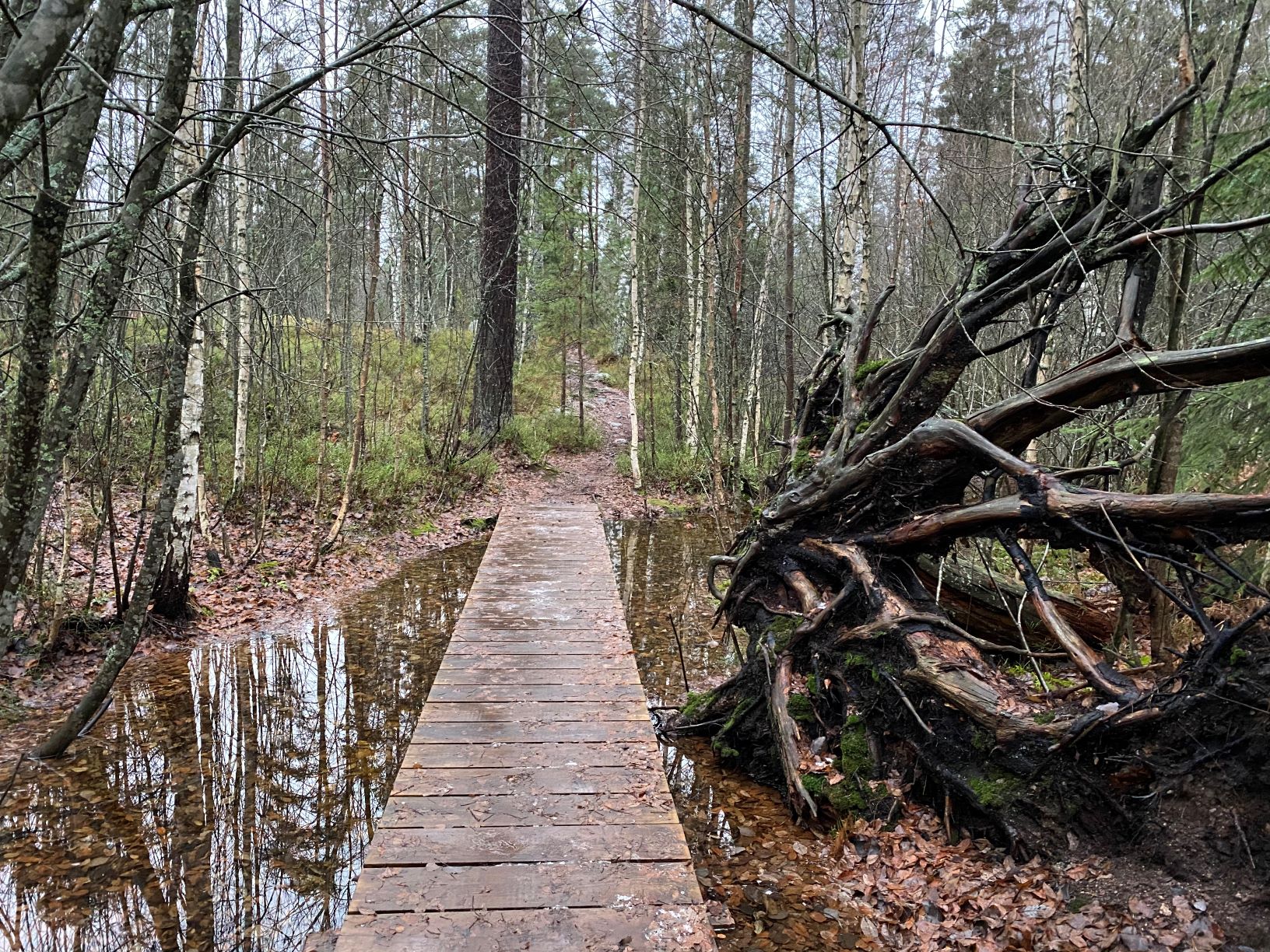 Sipoonkorpi Högberget top
Sipoonkorpi view over farms
About halfway of the Kalkinpolttajanpolku trail is Högberget, a high point overlooking much of the capital area. Even with slightly cloudy weather, we could easily see tens of kilometres to the distance over farmlands, thick forests, and sheer cliffs. Getting to Högberget (which means high mountain in Swedish) means that you have to put your muscles to good use: the trail goes up and down from mountain to ravines and back several times. There are lots of steep steps which are, however, well-maintained and very safe to use.
The old chalk quarry (kalkkiruukki in Finnish) lends its name to this trail. Depending on which way you walk the trail, it is either at the very beginning or the very end of the trail because it's situated right next to the first carpark. There are some ruins next to the deep and watery quarry pit, giving the area a unique feel. Fences surround the quarry pit to ensure everyone's safety. We have heard that geocaching is said to be fun but challenging in this area.
The Kalkkiruukki lean-to shelter
The accessible part of the trail crosses a rest stop of sorts, and it's a perfect place to sit down for a while. The Kalkkiruukki lean-to shelter had excellent facilities to offer. There is a fireplace (not usable when forest fire warning is on), and it's big enough for a few families to use at the same time. There are also plenty of handy tables bolted to the cliffs but some of them are close to sheer drops. So, keep an eye out when you walk there.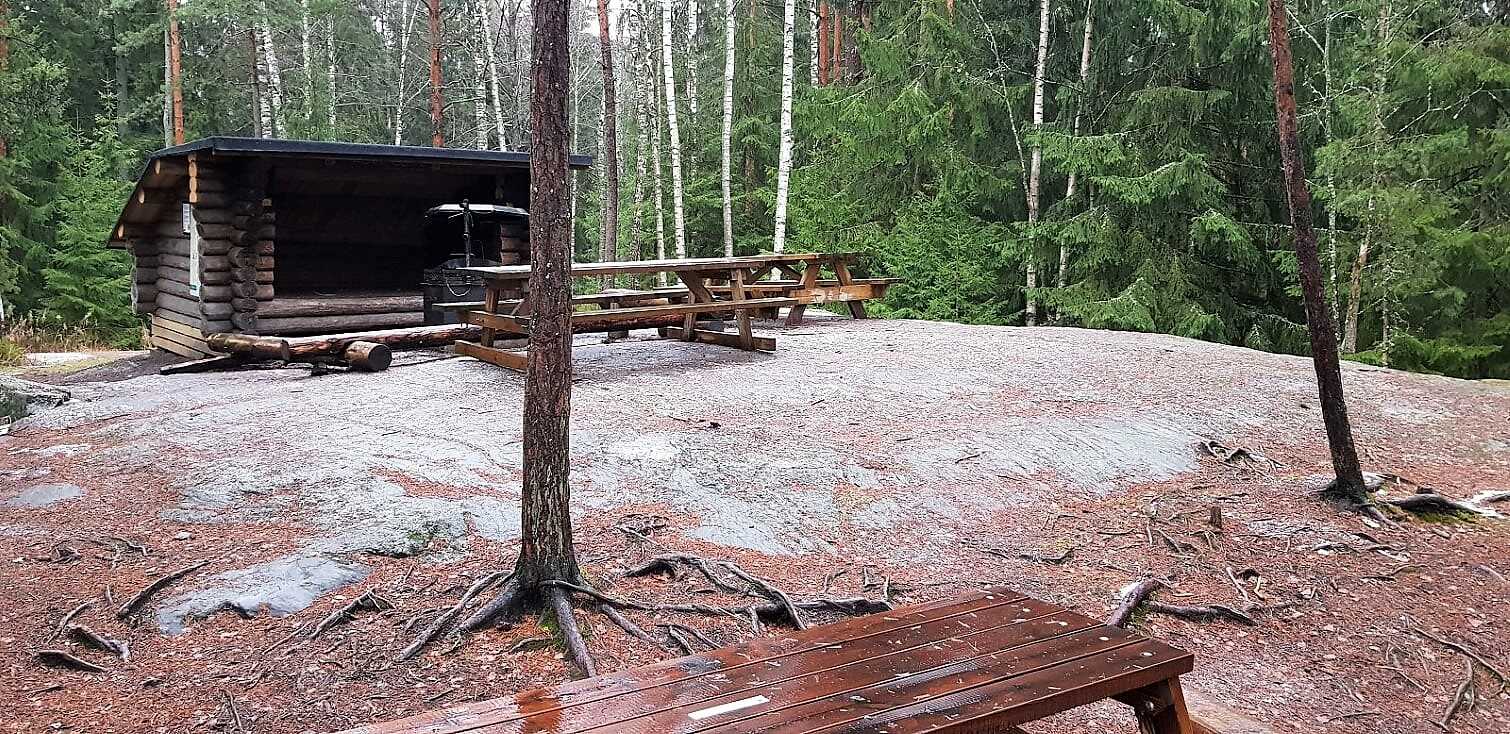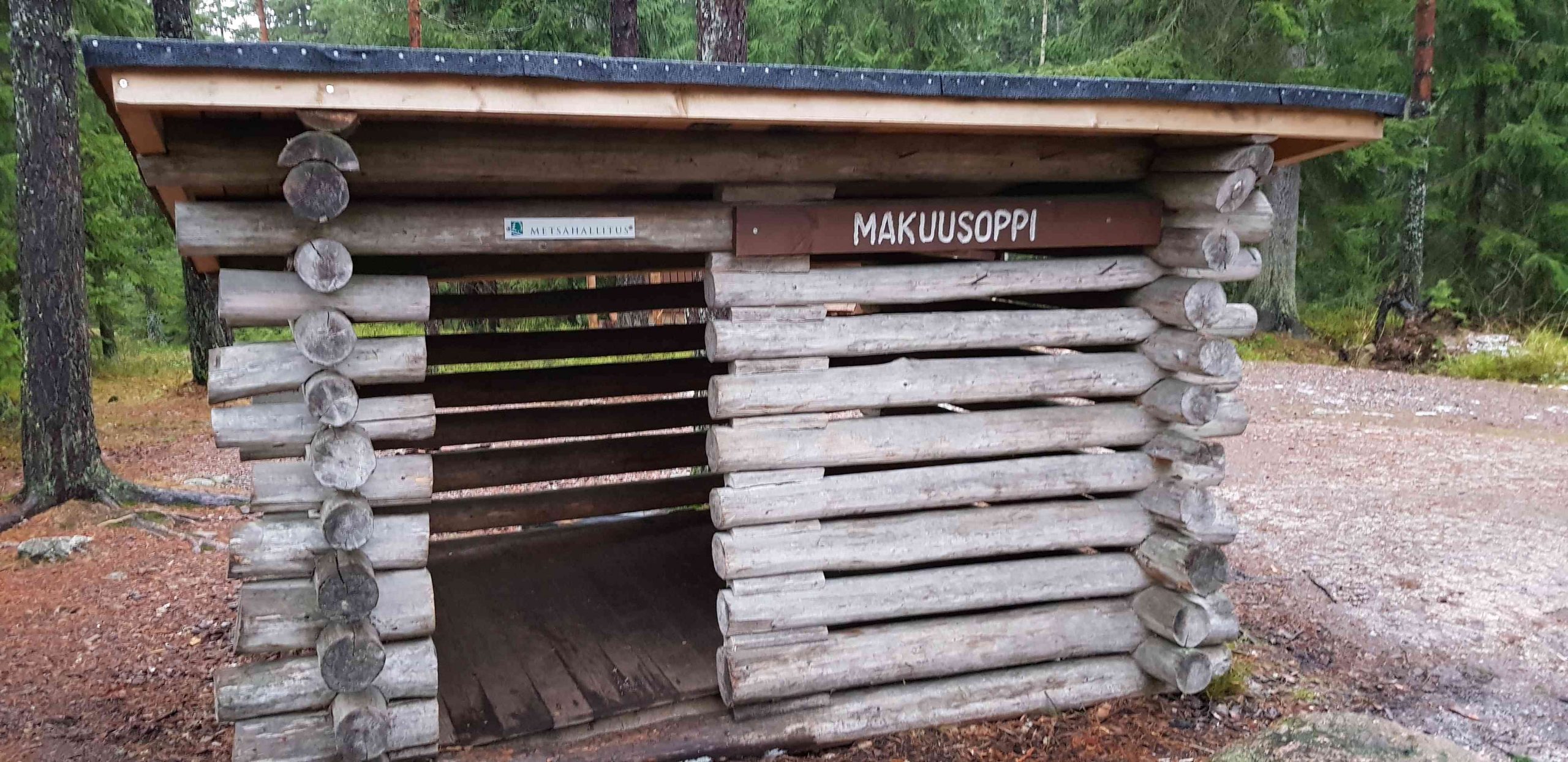 Sipoonkorpi sleeping nook
The lean-to shelter is deep and dry even during the worst of showers. The cutest little sleeping nook stands on its own in between the lean-to shelter and the woodshed. The nook sleeps about 2-3 persons in sleeping bags. The outhouse may be a new experience for some but it is very clean and well-maintained by the municipality.
Directions to Sipoonkorpi
Address: Kalkkiuunintie 8 or 12, Vantaa.
How to get there: You can get to Sipoonkorpi easily by car, by bicycle or by public transport. The parking is very limited parking in the area. A lot of buses to go multiple locations at Sipoonkorpi National park, so we recommend you use public transport.
Car: There are many possible areas where cars can be parked but parking space is very limited.

Kalkinpolttaja trail

: Kalkkiuunintie 8 or 12, Vantaa (about 20 spaces total)

Flatberget or Tasakallio

accessible trail: Tasakalliontie 1, Vantaa.

Bicycle: The bicycle routes in Sipoonkorpi are on the same road cars use so please take care. Elsewhere in the capital area, bicycle and pedestrian paths are separated and thus, safer.
Public transport: The best way to get to Sipoonkorpi is by train and/or by bus. The travel time to Southern Sipoonkorpi on public transport is about 30mins from Helsinki centre. Check out connections via the train Routeplanner or Matkahuolto for buses. There is about 1-2km walk from the bus to the trail heads.

Kalkkiuunintie bus stop (1km walk) is the nearest to Kalkinpolttaja trail.
Accessibility: The Tasakallio / Flatberget trail is accessible but the path has plenty of slopes that require assistance. The Kalkinpolttaja trail is not suitable for wheelchairs, children's buggies, or those hard of walking. The trails are very rocky and slippery, and there are fallen tree trunks everywhere. The Kalkinpolttaja trail also has some very steep and strenuous steps that are not suitable for children who are not sure-footed.
When to go: You can visit the area at any time of the year. Make sure you are careful because there is no winter upkeep (no snow removal) and a lot of the more tricky rocky areas can be hidden by snow. Also note that there are no lights in the area so make sure you visit the area when there is enough light.
What to wear: Hiking shoes are recommended but normal sneakers will suffice as long as they have a good grip on them and if they don't let in water. Mosquito repellent in the summer as there are a lot of mosquitoes.
Facilities: Sipoonkorpi has good facilities even though they are a bit clumped together (so only in one place/trail). There is a dry toilet which also acts as a composter on the Kalkinpolttaja trail. The campfire site can only be used when there is no forest fire warning on. There is plenty of firewood on premises, and also a dedicated and covered sleeping area as well as a deep lean-to shelter.