Oittaa recreation area is located in the city of Espoo, at the southern end of Lake Bodom. It can be considered as one of the more diverse recreation areas in the capital area because it has a large sandy beach, an Angry Birds park for kids, tens of kilometres of sand and gravel covered tracks, and even more tiny paths crisscrossing the pinewoods. In the winter, it is one of the busiest winter sports areas, housing a half a dozen well-maintained ski tracks for enthusiasts.
Oittaa has a reputation for being a skier's paradise in the winter, and many think it is not suitable for a hike or a walk. Quite the opposite in fact: there is a lovely, accessible 4km circular route next to Bodom lake that can be done either on foot or on a bike. I went to check it out during the weekend when all the ski trails were choc-a-block full of people, fully expecting to be dodging skiers left and right. Amazingly enough, the walking paths were nice and quiet, no crush in sight!
Oittaa beach walk along Bodom
Even among the snow, the trail is easy to pick up when you leave from the Oittaa recreation centre located in the large stone barn. The actual trail is a horse riding trail but in the winter, it can easily be used to enjoy Oittaa by foot.
I followed the shoreline closely and soon noticed how the trail went up to a hill overlooking the lake and the barn. A man was enjoying the beautiful winter day by kite skating on the lake ice, and further along, some brave souls were skiing across the lake. I'm sure (rather, I hoped) they had checked the thickness of the steel ice here beforehand to avoid accidents.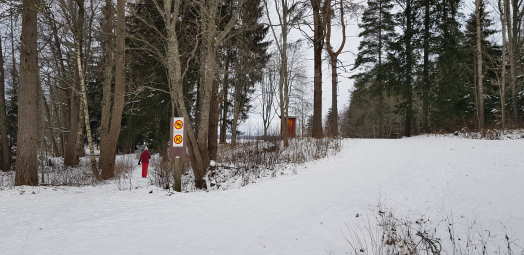 The trail continued alongside two small capes or points, and between them was a small cove and an even tinier beach. From there, the trail headed in between massive pine trees standing tall next to the lake shore.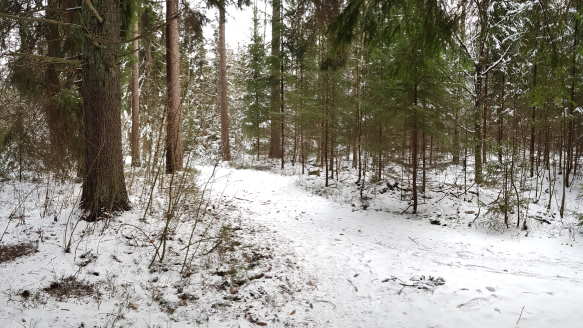 The official road turned right from the shore and led to a small shed. I decided the walk would be too short if I walked that way so when I saw a path leading left into the woods, I took it. It was a lovely trail which soon opened to a proper path again, trailing past a bubbling stream that had remained unfrozen despite the cold temperatures and snow.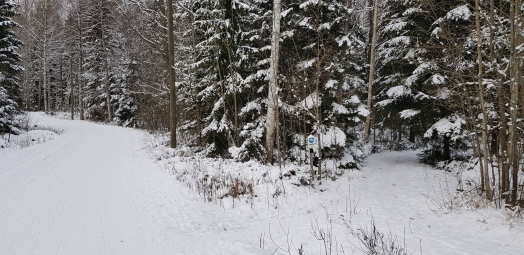 Eventually, the path turned into a wider walkway with ready-made ski tracks on one side and an area for pedestrians to use on the other. I turned right back towards Oittaa and followed it past silky, snow-clad pines. After some 10mins of walking, I once again spotted skiers who were whizzing down a fairly big hill on their way back from one of the longer ski tracks.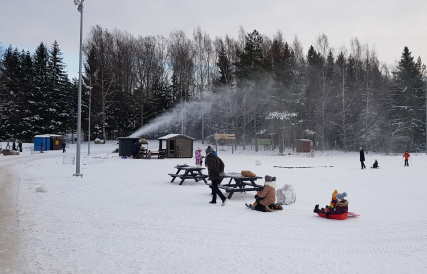 Thankfully, I didn't have to fight for space with them even there since there was still a separate track for people to walk on. Unfortunately, during the winter, all other tracks are reserved for skiers, so I wasn't able to go up the hill and explore the scenery further.
Feeling incredibly refreshed, I walked back to the shed and enviously watched people tobogganing down the slopes by the barn. Definitely a place to return to! Maybe next time I will enjoy some hot drinks by the lean-to.
Winter sports at Oittaa
Skiing is one of the biggest attractions at Oittaa. If you are not into skiing in a crowd, you can check out the current ski track traffic online. The ski tracks at Oittaa are lit 24/7, so it is not surprising that even at 3am, you may find people skiing there. There is even a dedicated skijoring track at Oittaa: in skijoring, the skier can be pulled by a dog! Even your pup will be happy!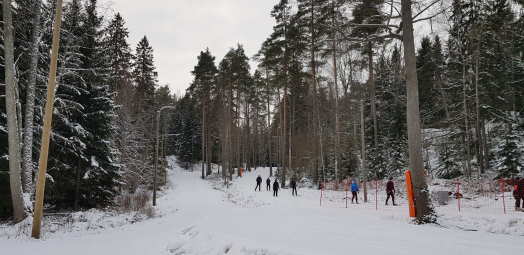 There are four different ski tracks at Oittaa: the easiest is only 750m long and with 5m elevation difference. There is also a 1.4km track, a 2.3km track, and a 4.5km track, each more demanding. You can also ski all the way to Espoo central park (about 8km) if you are feeling up to it. Check out all connecting ski tracks here by typing in "Oittaa". You can even make your way all the way to Nuuksio national park or Luukki from Oittaa if you want!
If you are new to skiing or don't have skiing equipment of your own, you can rent them at Oittaa. You can also brave the freezing water and dip into lake Bodom as Oittaa maintains a hole in the ice for ice swimmers at the beach. Outside corona restrictions, the sauna in the old barn is warmed every day during the winter season, so you will be able go in and warm yourself up after a refreshing dip in icy water.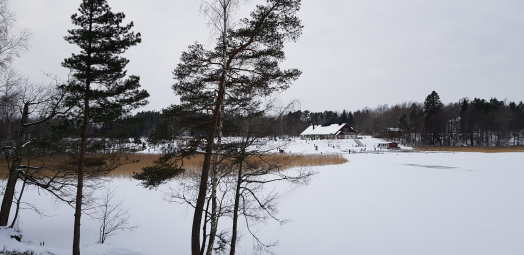 Map of Oittaa and its trails
During the winter, all these trails are meant only for skiers. However, in the summer, you can freely use these trails to explore Oittaa. Official fireplaces are also marked on the map.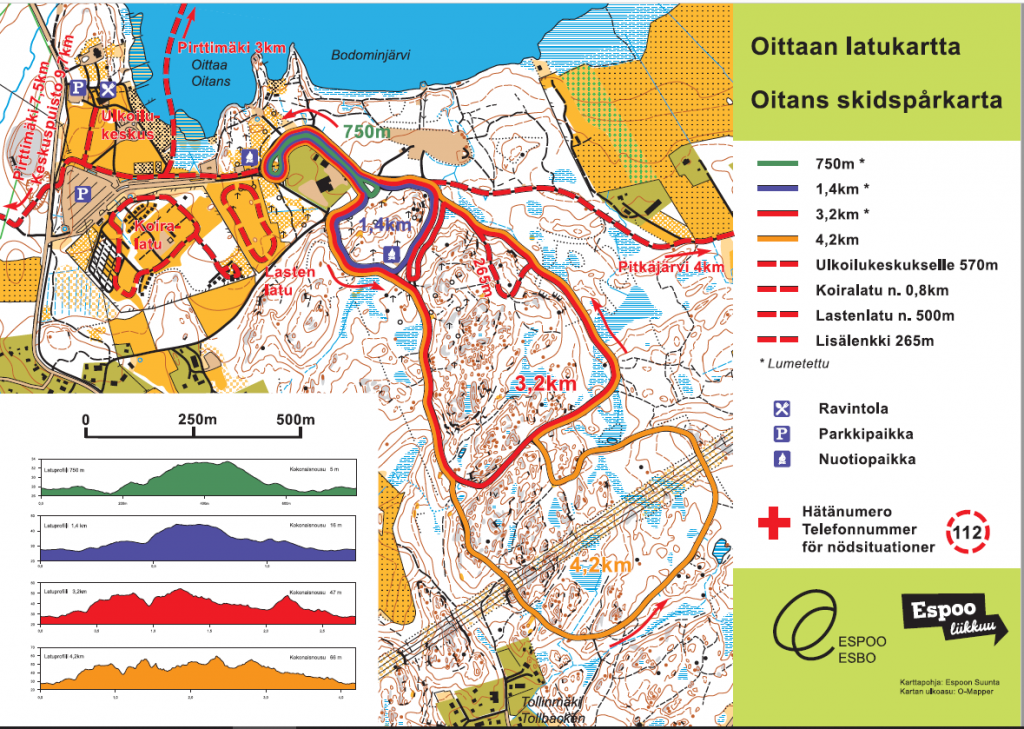 Other activities available
Oittaa and lake Bodom are very popular during all seasons. For those interested in orienteering, there are permanent orienteering markers all around Oittaa woods. There is a large area for frisbee golf, and even outdoor gym equipment free to use. Lake Bodom is also suitable for a bit of relaxing SUP boarding in the summer or you can rent a fatbike to explore the area. If you are into kayaking or rowing, you can try your water sports skills on lake Bodom. There is also a large beachvolley site near the beach.
Oittaa and lake Bodom have a diverse history
Lots has happened around lake Bodom and Oittaa. At the southeastern end of lake Bodom is a lovely manor house, which is (at the time of writing this) unfortunately closed to visitors. The recreation centre located at an old stone barn, which has been remodeled to serve as a cafe, equipment rental, and rentable recreation space.
Lake Bodom has also seen its share of sinister events. One of the most famous mysteries connected to Bodom are the unsolved murders of three teenagers in 1960. The place where this gruesome act took place is actually even marked on the map, and it's called Murhaniemi (murder point). Four teenagers were camping at near the stone barn at Oittaa. At night, they were brutally attacked by an unknown assailant: only one of them survived the attack. There are still many people who come to pay their respects at the site of this awful triple murder, so when you see candles left in the woods, you will understand why they are there.
Directions to Oittaa and lake Bodom
Address: The closest address is Oittaantie.
How to get there: The best way to get to Oittaa is to use public transport. There is parking in the area but especially during the busiest times of the year and despite the vastness of the carpark, it may be full to the brim.
Car: If you want to take your car, there is free parking available at Oittaa. There is even an electric car charging station.
Public transport: The nearest bus stop is called Oittaanranta. Bus 246 from Espoo central station (Espoon keskus) driving towards Röylä stops at Oittaanranta.
Accessibility: The area of Oittaa can be accessed by wheelchairs and children's buggies at all times of the year. Remember that during the winter, all tracks except the shore trail are meant only for skiers.
Facilities: There are toilets at Oittaa only during the summer season. Also the showers and changing rooms are open during the summer. There is a fireplace lean-to in the area which can be used. You are allowed to make a fire in this barbecue pit when there is no forest fire warning announced. For current information about the forest fire warning, please check the Finnish Meteorological Institute's website.
When to go: You can visit this area at any time of the year.
Places to visit close by
If you are looking for similar places, check out Luukki, Kaitalampi, and Nuuksio National Park in Espoo.