Levi in Kittilä municipality is ideally situated for taking excursions to nature during summer and autumn. Unlike most tourists tell you, Finnish Lapland is much more than just snow, reindeers, and Santa Claus. Lakes, rivers, fells, and forests in surroundings of Levi area provide a great variety of nature and many outstanding places to see and experience for any outdoor enthusiast. Kittilä and its neighboring municipalities Enontekiö and Muonio are vast areas worth exploring. Pallas-Yllästunturi National Park close to Levi is marvelous, but it is not the only nature sight that Western Lapland has to offer. Read more to get to know these easy daytrip destinations from Levi.
Summer in Lapland is great for nature lover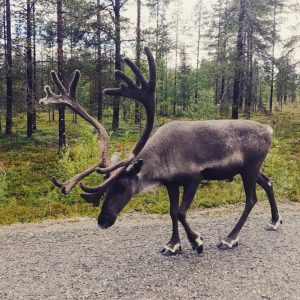 The changing of the seasons in Lapland is dramatic as harsh and snowy winters are the complete opposite of warm and green summers. Yes, we do have summers in Lapland, and no, we don't have snow all year round. While most tourists visit Lapland for the snow during winter and spring, summer is the best season to enjoy the clean and peaceful nature if you are into hiking, fatbiking, fishing, or any other summer activities.
The snow begins to melt in April and May. That is when many migrating birds return but mosquitos haven't been born yet. The summer begins in June, when it's time for bright nightless nights with sun never setting. July and its last weeks are usually the warmest times of the summer before harvest time in August and more rains. Berries such as blueberries and Lapland's golden cloudberries can be picked mainly at the end of July and early August. Mushroom foraging follows the berry picking season in the autumn. Cooler air in September brings along colors of autumn, which is a popular hiking season in Lapland simply because of its beauty. First snowflakes arrive usually in October.
From June to September, you can enjoy the nature in Lapland without the snow coverage, and that is when you should check out these nature excursion destinations. The easiest destination is of course Levi fell itself, read more about it here: Discovering the beauty of Lapland on Levi Peak Trail in Finland
10 best summer excursions to nature from Levi
Here are 10 fascinating places to visit when you are based in Levi during summer months. Take a note of these for you next road trip!
Levi excursions in a map