Koljat, also known as Koljatti, are massive rock formations in Hakovuori and Kalliomäet Natura protected area in Viitasaari. As the name suggests, Koljat can make you feel pretty small.
Koljatti nature trail to the rock formations follows the shoreline of Lake Kalliojärvi. The trail is less than a kilometer long but it is somewhat uneven due to roots and rocks. As this is protected area, you should remain on the trail.
There is a beautiful viewing spot along the way known as Erakkokallio, Recluse Rock. Uuno Leppänen was a recluse who used to live in this area. According to a story he was sentenced to jail for burning or accidentally burning his brother's barn. After being released from the jail he presumably worked somewhere and then returned to Viitasaari. He had started to shy away from people, and built a cabin and sauna in here. Locals had been wondering why he didn't show up to a store van for few weeks and asked the police to check it out. Uuno Leppänen was found drowned from the lake in 1961.
Another historical site in this area are ruins of Russian war prisoners' compound in Munakukkula.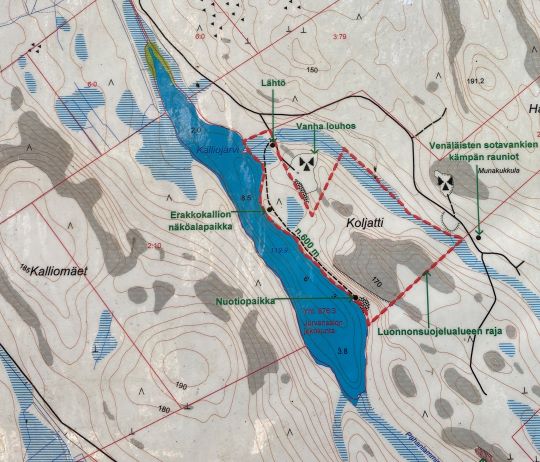 Map translations:
Lähtö = departure point
Vanha louhos = old quarry
Erakkokallion näköalapaikka = recluse rock's viewing spot
Nuotiopaikka = barbeque area
Venäläisten sotavankien kämpän rauniot = ruins of Russian war prisoners' cabin
Luonnonsuojelualueen raja = border of the nature reserve
Magnificent Koljat
The trail continued until suddenly Koljat was right in front of me. I was admiring the sheer size of this rock overhang. It reminded me of a puzzle, where massive forces of nature had moved one piece out of its place.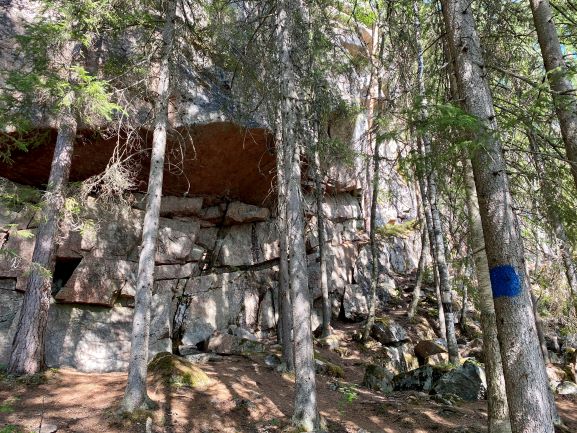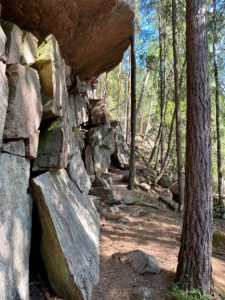 Another thing out of place was someone's name on the rock. It makes me so upset to see that kind of drawings on any nature sight. It is as stupid as signing your Facebook post when you are already signed in to your account and everyone can see who wrote the post.
Koljat is worth exploring closer. At the bottom of the precipice on the right side of Koljat, there is a bed of sharp rocks and boulders that have fallen even to the lake. If you carefully continue pass Koljat and along the precipice, you can get to the top and find interesting cave along the way. Protected species in this area include Siberian flying squirrel and Cynodontium suecicum moss.
If you don't dare to climb any higher from the precipice, barbeque area and a small shelter are located right in front of the Koljat. This deck was inviting too, I wish I had brought my fishing rod and some worms.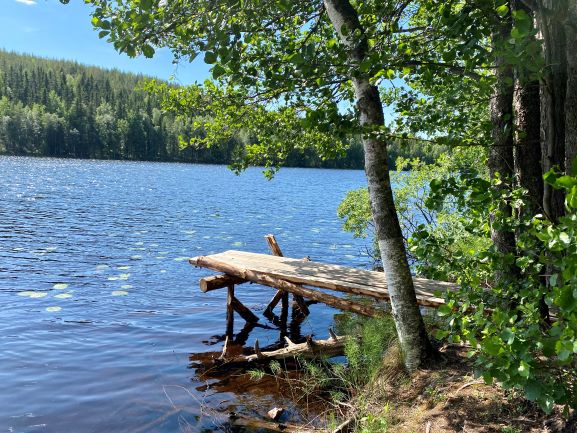 Directions to Koljatti
Address:
Sininentie 764
44500 Viitasaari
How to get there: It is located only 8 kilometers from highway 4, and about 100 kilometers north of Jyväskylä. Small road leading to Koljat was in a poor shape, but it's not a long way.
Car: Type "Koljatti" in your navigator. If you are arriving from the direction of highway 4, turn left from route 77 when you see the sign to "Koljat". This smaller road to Koljat departs from opposite of Soliskyläntie road. In 1,7 kilometers you have reached the parking lot and the beginning of the trail.
Bicycle: The cycling routes are the same as vehicle roads.
Accessibility: The nature trail is not accessible for all. I wouldn't recommended it for small children, prams or those with any mobility issues. There are also short duckboards along the way.
Facilities: There is an outhouse at the parking lot where the trail departs. One bench can be found along the trail, and some firefood by the barbeque place and shelter at Koljatti.
Special to know: Line and worm fishing is part of everyman's rights, but it may sometimes be restricted in protected areas. Here it is allowed. For fishing with a lure, you need to purchase fisheries management fee for example from Eräluvat webstore. Dogs are welcome to the area but should be kept on the leash. Lighting fire is only allowed at the barbeque place, and you should make sure, that forest fire warning at Finnish Meteorological Institute website is not on.
Other nature destinations near highway 4