Sukulanrakka devil's churns are located just 25 kilometers south of Rovaniemi in Rautiosaari village. Rovaniemi is most known for Santa Claus, Artic Circle, and Northern Lights, but hardly anyone knows about this stunning nature sight in the middle of the forest. Accessible only during summer months, Sukulanrakka hides 14 giant's kettles, some of them among the largest ones in Finland!
The devil's churns, hiidenkirnut in Finnish, are also known as giant's cauldrons, giant's kettles, or potholes. They were formed about 10 000 years ago at the end of ice age when meltwaters eroded the rocks. As the water carried some soil and rocks and began to swirl, the grinding rocks created these potholes on the bedrock.
Sukulanrakka in Finnish mythology
These particular giant's kettles are usually referred as devil's churns because according to Finnish mythology a devil used to live here in Sukulanrakka. One time the devil heard that a Swedish bishop was coming to convert locals from their pagan ways. The devil collected a huge pile of rocks, stones and arrows, and waited in ambush in a deep hole he bug himself in the bare rock. In the bottom of this devil's churn the devil also brewed up a noxious potion to use against the invaders. There was struggle, as can still be seen from the massive boulders known locally as devil's boulders. In the end the devil was defeated, and the devil fled westwards over the River Kemi. He dropped the rest of his boulders at Rajakirakka.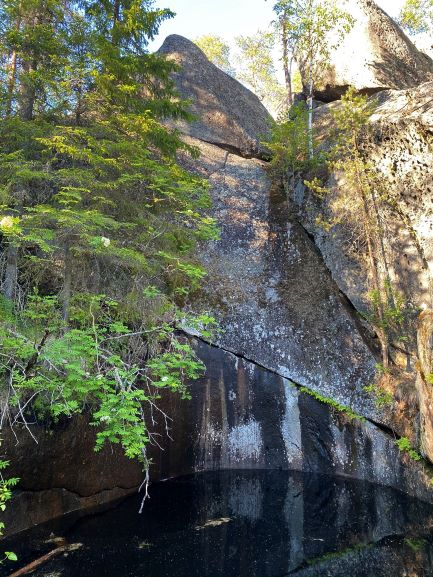 I was truly impressed by the giant's kettles themselves. The first one was one was clearly broken from the front, but it was massive in size, roughly 8 meters in diameter. It was filled with water that hide the steepness of it. This was called Devil's soup bowl.
There were staircases on both sides of the first churn, so I decide to head to the left as the information board pointed. I stayed away from the iron fences as I walked around the area. The second one was called The big demon's hide, as mentioned in the folk tale.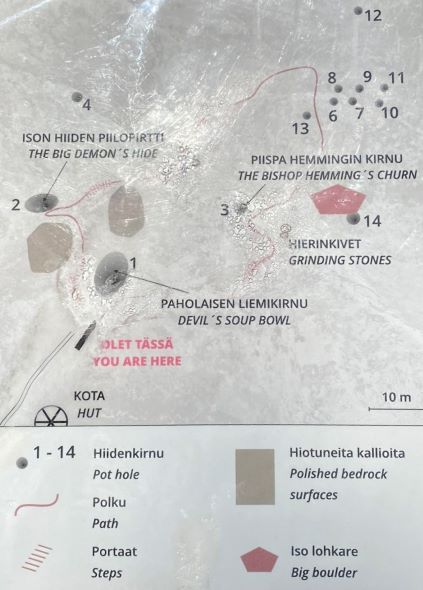 Smaller giant's kettles were also filled with water. They were not even fenced. Some of them had tree trunks in them, and I was wondering if that was done on purpose. I knew that giant's kettles may be death traps to frogs and other small animals as they cannot always climb out of them.
I then stumbled on to a staircase leading to one which was called Bishop Hemming's churn. It was a fascinating sight. You could see how swirl of water had left its marks to the wall of the rock. There was an old staircase loose at the bottom of the churn. It could have been interesting to descent to the churn, but it wasn't safe. Outside of this churn I saw two round rocks on the ground. They were clearly grinding stones that had created some giant's kettles.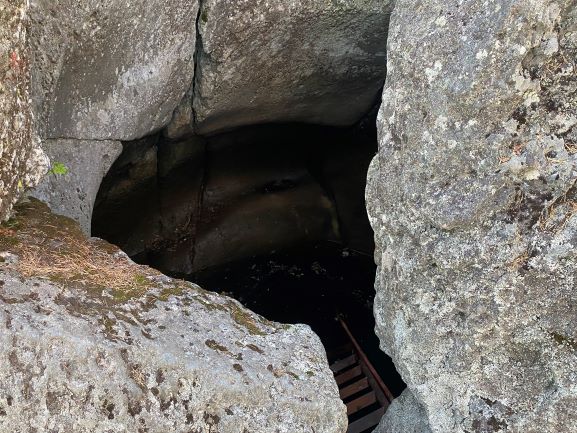 The area had a large parking lot, a picnic table, Hiidenkota barbeque hut available for rent in here, and an outhouse. Soon after I visited the site in June, the volunteers from the village organized a clean up on the site and also emptied the churns from water. I was too early, as usual for a Finn.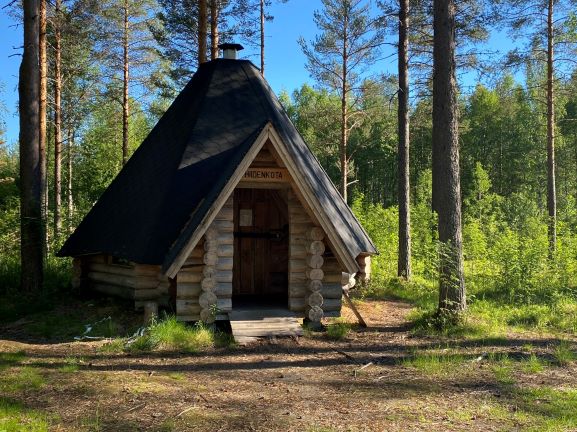 I left with very mixed emotions. I was impressed by the giant's kettles and the forces of nature that this site represented. But I was wondering why this isn't among the top attractions in Rovaniemi as it should. On the other hand I was happy that this is kind of hidden in the forest.
Directions to Sukulanrakka
Address:
Hiidenkirnuntie 165
97110 Rovaniemi
How to get there: You can access this location by car from Kemijoen itäpuolentie road either arriving from Rovaniemi or from Kemi.
Car: From Rovaniemi head south towards Kemi on E75 / route 4. Go across Kemijoki river at Valajaskoski powerplant on Valajaskoskentie road 933 and continue south on Kemijoen itäpuolentie road 926. Turn left onto Hiidenkirnuntie road. You will reach the destination in 1,7 kilometers. The Hiidenkirnuntie road was in pretty bad condition in 2020. We also saw some reindeers on the way.
Bicycle: There are no specific bicycle roads but you can cycle to Sukulanrakka by following the same roads as cars.
Accessibility: The area is not accessible for disabled. I also wouldn't recommend this site for small children.
When to visit: During summer and autumn months, from June to October. Don't bother visiting the area in the winter, the kettles are covered with snow. Also note that the kettles may be filled with water in June before they are emptied.
Special to remember: Rocks and staircases might be slippery when wet. The fences are old and not in good shape, so be extremely careful when visiting this location. The road leading to the site is not always in good condition.
What to wear: Mosquito repellent is essential in Lapland in summer.
Few other devil's churns in Finland