Hetta is the main village in Enontekiö municipality, which is known for reindeer husbandry. Located in Lapland, Enontekiö occupies a large and very sparsely populated area near Swedish and Norwegian borders. Hetta hosts the Fell Lapland Visitor Centre, which presents the genuine Nomadic Sámi Culture, the diversity of northern nature and the history of tourism in Enontekiö. The Visitor Centre is also a starting point for many hiking and skiing trails in the area.
Hetta is a popular tourist destination mainly because of its outstanding and clean nature. In summers the trails in the area are perfect for day trips, but Hetta can also be the starting point for a longer trek lasting several days. The colors of autumn can truly be admired in Hetta. In winter, especially around Christmas and March-April, Hetta is visited by cross country skiers and other outdoor enthusiasts. I have heard that one local husky sledge dog farm has been recognized for their animal welfare initiative by World Responsible Tourism Awards. The respect for nature is seen here in many different ways.
The Fell Lapland Visitor Centre is more than just an information point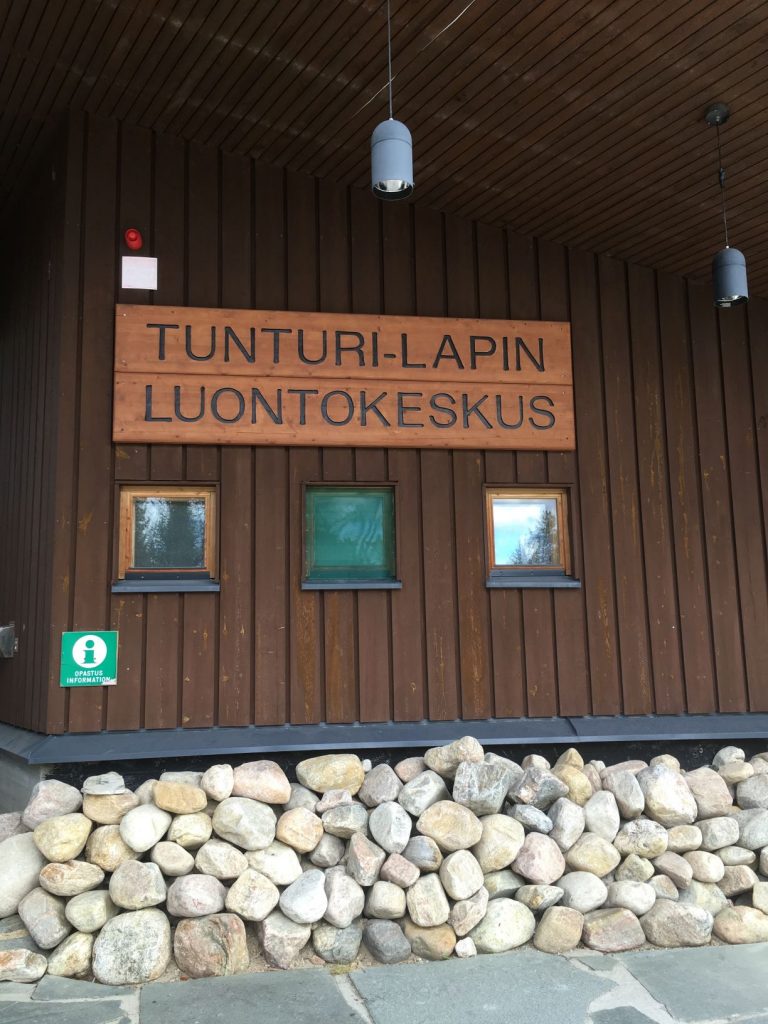 The Fell Lapland Visitor Centre (Tunturi-Lapin Luontokeskus in Finnish) is a must-see, if you are in Hetta. This Visitor Centre not only provides you information about the trails and skiing tracks as well as other activities, but it has various different exhibitions showcasing the nature and culture in the area. The permanent exhibition is called Vuovjjuš – Wanderers. It is debated where the word Lapland originates, but the local Sámi people in Enontekiö used to refer themselves as vuovjjuš. So it doesn't translate as wanderers, but means Nomadic Sámi people. Vuovjjuš exhibition describes the life of the Sámi people, who have adapted to arctic conditions while living in harmony with nature. In addition, there are several changing exhibitions on science and arts. The entrance is free.
Other services provided by the Visitor Centre include fishing, hunting and snowmobile permit sale, a cafe and souvenier shop, and a little corner for kids to play. Kino Hetta is a movie theather, which is also located at the Visitor Centre. It is not open in summer, because everyone has probably gone hiking or fishing.
Opening hours in 2019 are as follows:
1.1.–3.3. Mon-Fri 9–16 (except Fri 11.1. 9–12)
4.3.–28.4. Mon-Fri 9–17
29.4.–2.6. Mon-Fri 9–16
3.6.–22.9. Mon-Sun 9–17
24.9.–31.12. Mon-Fri 9–16
Closed Wed 1.5., Thu-Fri 30.–31.5., Fri 6.12. and Tue-Wed 24.–25.12.

The nature trails in Hetta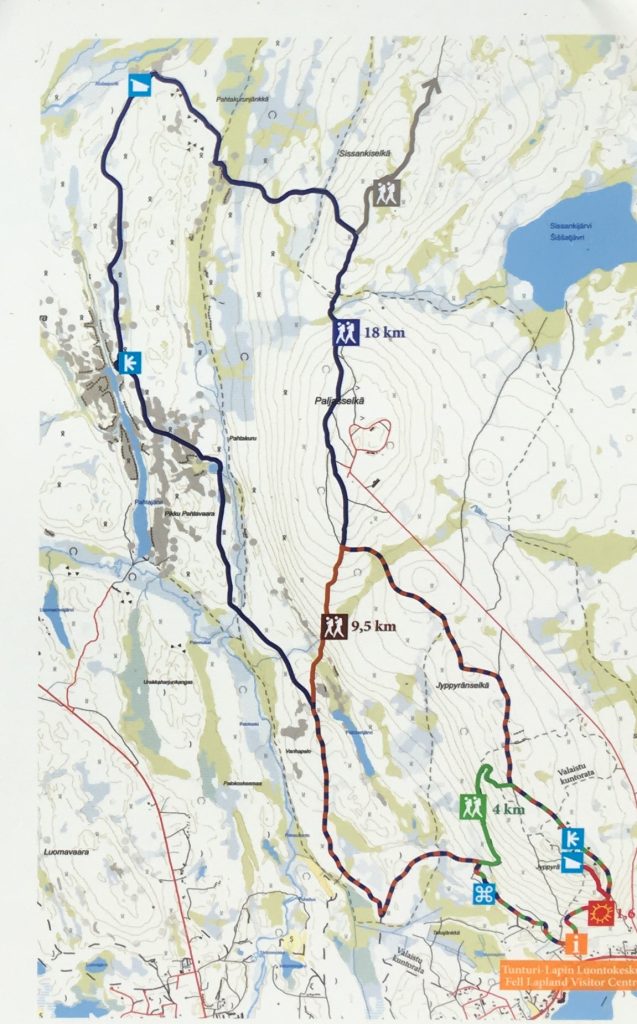 I recommed getting a map from the Visitor Centre before heading out to wilderness, but the summer trails are well marked and therefore easy to follow. They vary in length and difficulty, but I believe the most famous one is Hetta-Pallas trekking trail, which goes from Hetta all the way to Pallas-Ylläs National Park. The hiking season begins in mid-June. The snow has melted in early June but the trails will be wet and therefore prone to erosion.
I have also been cross country skiing in Hetta as there are also many skiing trails, maintained by Ounaksen Tunturiladut Oy. All the area's trails are usually open by the middle of February. Snowmobile tracks are easilly accessed on Lake Ounasjärvi. My snowmobile trip took me from Kittilä to Enontekiö as we drove to Pulju, another village in the Enontekiö municipality. You should notice that snowmobiling from Hetta to the direction of Kilpisjärvi is not allowed without a snowmobile permit, because the track between Palojärvi in Enontekiö and Kilpisjärvi is maintained by Metsähallitus and funded by permits. But in Hetta area or from Hetta to south to Muonio or Kittilä no permits are needed.
The Lake Ounasjärvi also serves as a starting point for long distance canoeists, who paddle down river Ounasjoki, which is 300 km long. The rapids along the river vary from I to III in difficulty. National biking trail 21 runs through Hetta and it is marked with brown and white bicycle signs. It is also possible to cycle to the village of Näkkälä, along 26 km long and demanding trail.
Hiking trails:

Jyppyrä trail 1,6km
I climbed Jyppyrä hill on partly cloudy day, but I wasn't dissapointed with the view. Jyppyrä is a hill that rises about 400 metres above sea level. I know it doesn't sound like a lot, but in a flat country like Finland it means good views. A marked trail (red marks) leads from the Fell Lapland Nature Center to the top of Jyppyrä lookout. I was admiring the Pallas-Ounastunturi fell chain on the other side of Lake Ounasjärvi. We continued from Jyppyrä hill to another trail, but you can also walk back to the Visitor Centre from here.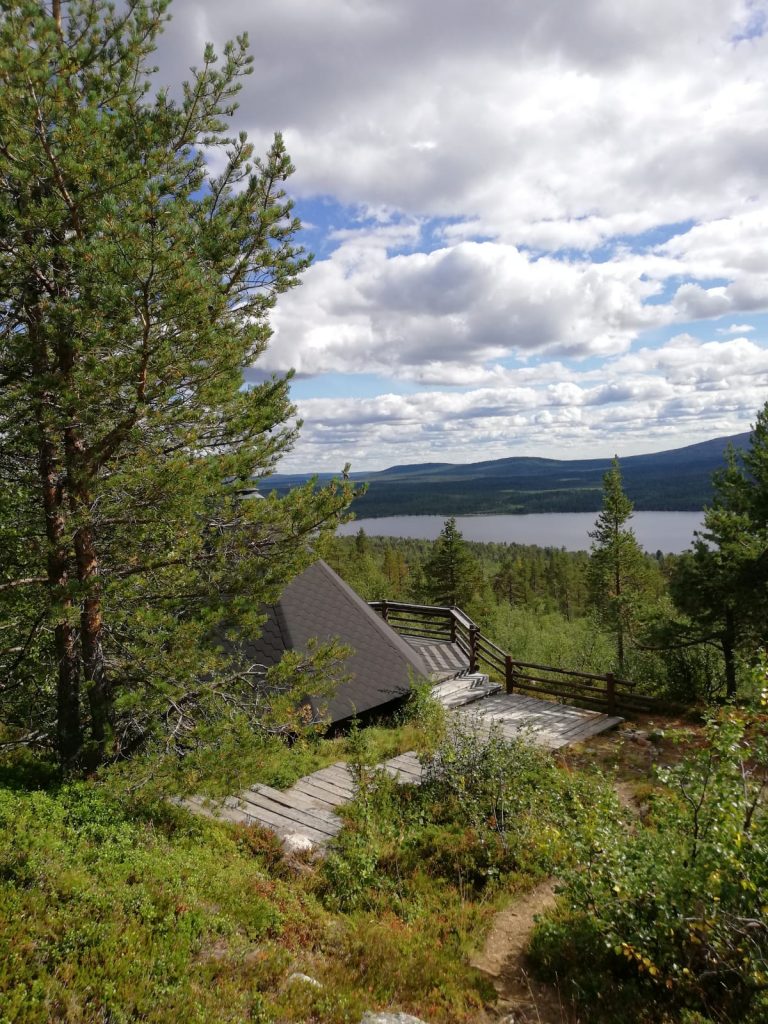 Peurapolku trail 2 km
Peurapolku means deer trail, and this trails showcases history with a fenced hunting pit reconstructed on the ground. There are actually several remains of hunting pits along the Peurapolku trail. They are protected by the Antiquities Act, which is why hikers must remain on the path. There is also a covered campfire site in the area. The trail is marked with poles that have hoof prints.

Kuntopolku circuit trail 4 km
The Kuntopolku trail is a 4 km long loop, which first rises towards Jyppyrä and then continues around the hill. Kuntopolku literally translated means fitness trail, which is a common name for any short trail in many towns in Finland. Even though this trail climbs up the hill and has some uneven terrain and big rocks along the way, I would say it is still relatively easy. The Kuntopolku trail has been marked with green marks.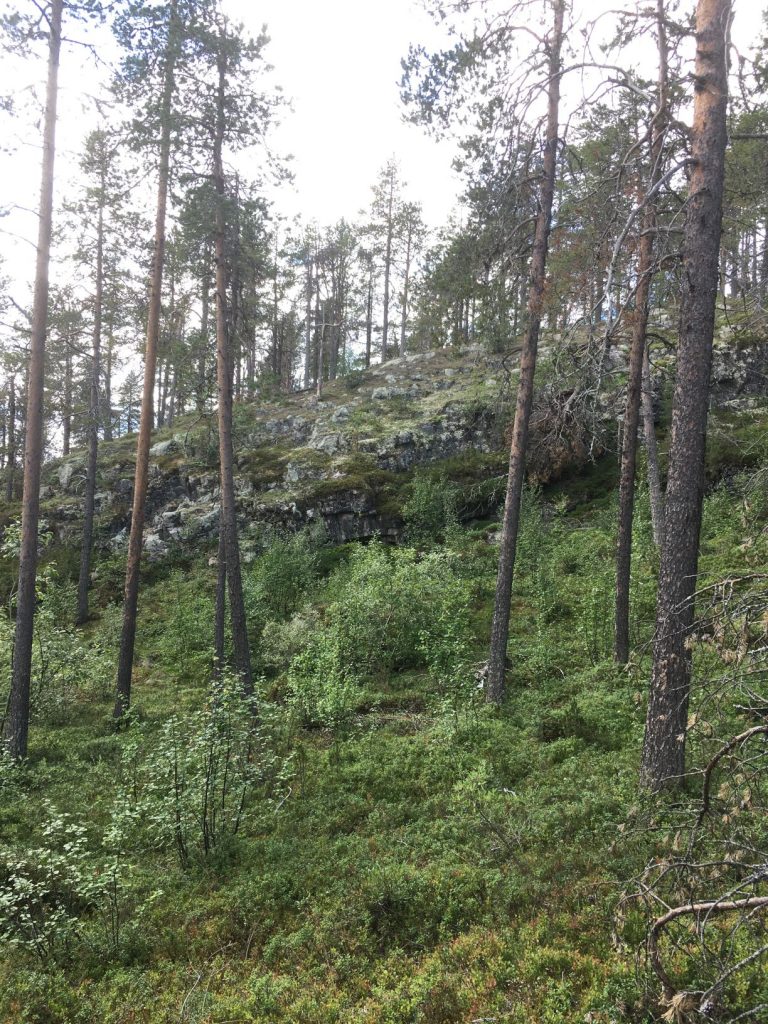 Palojärvi trail 9,5 km
Palojärvi trail circles the Jyppyrä hill further than Kuntopolku. The entire trail has been marked with brown marks.
Pahtajärvi trail 18 km
The Pahtajärvi Trail goes even further and leads to Lake Pahtajärvi and has Närpistönjoki lean-to shelter on the way. The trail has been marked with blue marks.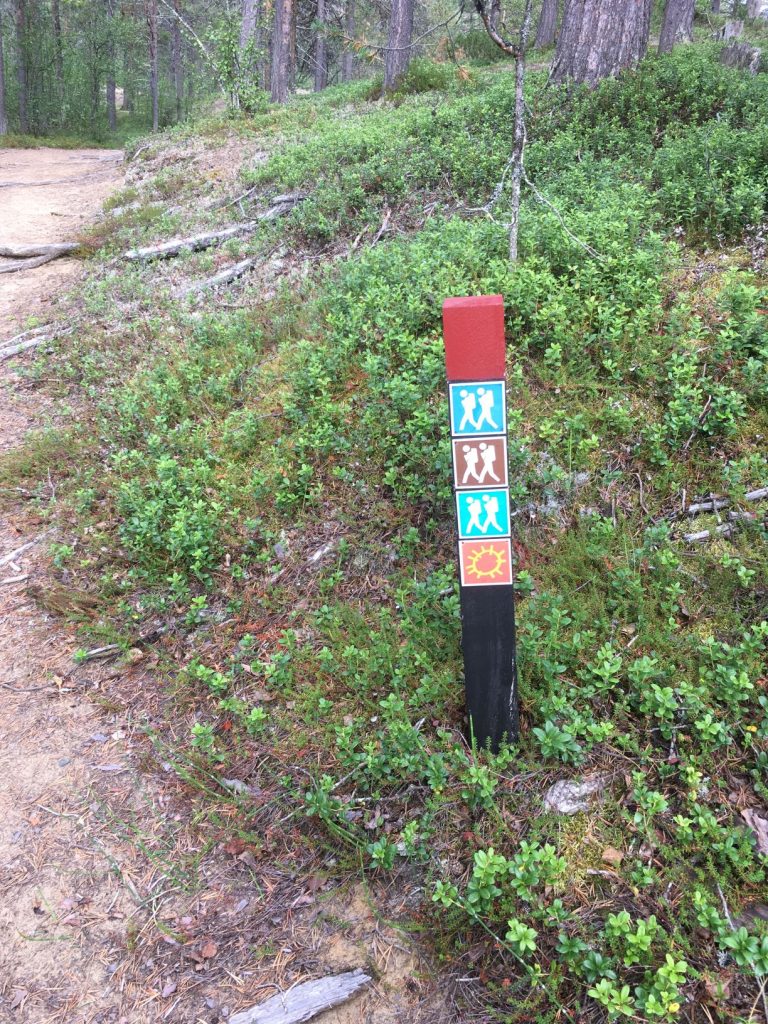 Näkkälä trail 26 km
The Näkkälä trails leads to the village of Näkkälä from Hetta. This trail has been marked with grey marks.
Hetta-Pallas 55 km
One of the most popular trekking destinations in the Pallas-Yllästunturi National Park is the 55-km-long Hetta-Pallas trail. This summer trail dates back to 1935 and leads over some fells, providing outstanding views along the way. This trail doesn't depart from the Visitor Centre, but they can certainly help you by providing detailed instructions of the trail. The trail departs from the other side of the Lake Ounasjärvi, and you need a local boat service to cross the lake. That is probably why it is more common to begin from Hetta, but scenerywise it doesn't matter which direction you walk this trail. The boat can be ordered just as well once arriving to Ounasjärvi from Pallas. There is also a car transfer service available, assisting you to get your car from the departure to the end point. This trail is pretty well marked and therefore suitable for beginner trekkers. If you are planning to do trekking in Lapland, the best time for it is from midsummer in late June to the beginning of October. The winter version of the trail is a 53-60 km long cross-country skiing track.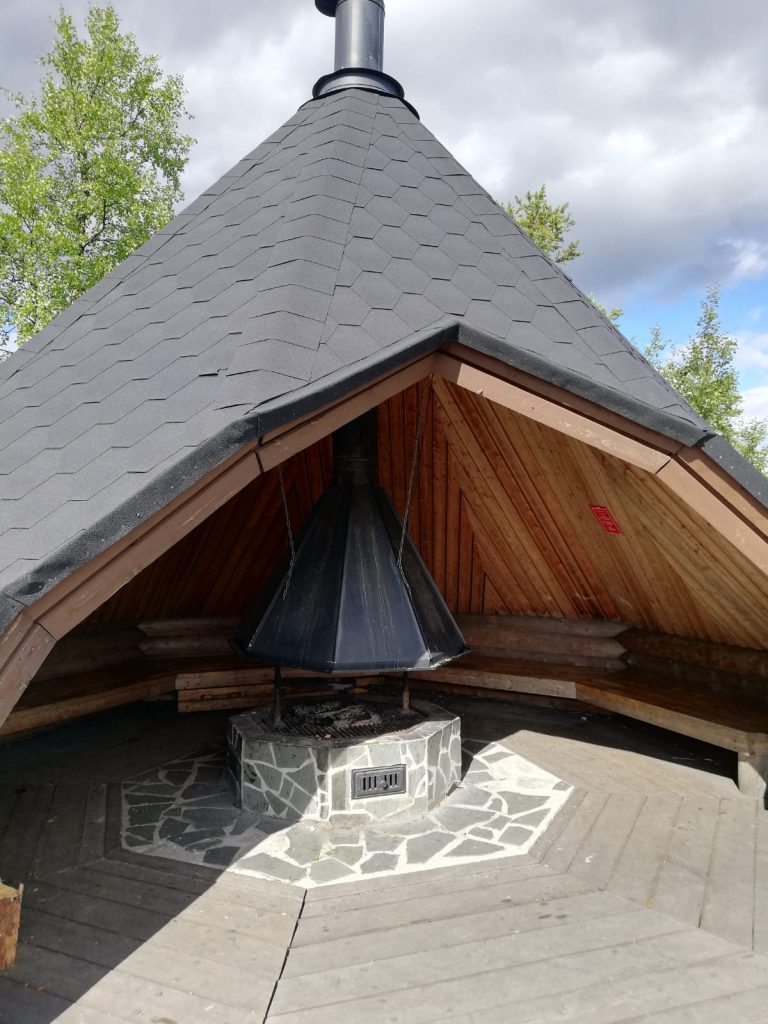 Directions
Address:
Peuratie 15
99400 Enontekiö
How to get there:

Car: Hetta can be reached by car from Kittilä, Muonio and Kilpisjärvi as well as from Kautokeino in Norway. Crossing the border is pretty straightforward, there is a border crossing point along the road 93 from Kautokeino to Hetta. You have to visit a customs office only if you have goods to declare. The Fell Lapland Visitor Centre is located at Peuratie 15, and there are good signs from all directions when approaching it. It is located 2,2 km from the center of Hetta (where the church is) in direction of Vuontisjärvi.
Public transport: The closest airport is in Kittilä and the closest railway stations are in Rovaniemi and Kolari. A bus travels from Rovaniemi, Kittilä and Kittilä airport to Hetta through Muonio, but use the municipality name "Enontekiö" as your destination when searching for the tickets at Matkahuolto site. The closest bus stop to the Visitor Centre is called Hotel Hetta on Ounastie road, and from there you need to walk about 550 meters to reach the Visitor Centre.
When to visit: The best time to visit Hetta is in summer, July-August, or September, when the autumn foliage will peak. Christmas time is popular tourism period for all destinations in Lapland, but you should note that at Christmas the daylight hours in Hetta are really scarce. For a skiing holiday March-April is better purely because of the sunshine.
Accessibility: The Fell Lapland Visitor Centre is suitable for all and it has accessible toilet. The Jyppyrä hill cannot be accessed by a wheelchair. Sotkajärvi bird watching tower in Enontekiö has a accessible lean-to shelter.

Special to remember: As usual, forest fire warning status should be checked from the Finnish Meteorological Institute website before lighting fire in Jyppyrä lean-to shelter or wilderness huts on the way to Pallas. There are no garbage bins by the trails, so you need to carry your own garbage away from the forest. Camping is allowed in Hetta area according to everyman's rights, but in Pallas-Ylläs National Park it is allowed near lean-to shelters or barbque huts. Snowshoeing is allowed, but not on the skiing tracks.
Also visit in the area
Check out our post about bird watching towers in Enontekiö. Yrjö Kokko bird watching tower is is a popular place for any migrating birds, and birdwatchers, and a lovely place to stop by (in summer) if you are driving to Hetta from the direction of Pulju/Kittilä.