Are you wondering how to get to Finnish Lapland on a budget? Lapland can definitely be considered a remote destination. The arctic circle is located about 850 kilometres north of Helsinki, so if you make it to Finland's capital, you are not even close. If you are planning a visit to Lapland in Finland, here is some advice on the best way to get there and to its wonderful nature destinations.
Where to go in Lapland?
Lapland is a vast area, so make sure you familiarize yourself with destinations and their locations before booking anything. The arctic circle runs through the city of Rovaniemi at around 66°N. The region above that is considered to be Lapland. Rovaniemi itself is known as the Official Hometown of Santa Claus, so it is definitely a great destination in Lapland.
There are many other possible destinations in Lapland in addition to Santa. Some of the main ski centers in Finnish Lapland are Levi in Kittilä and Ylläs in Kolari near Kittilä. There are also smaller Olos and Pallas near to Levi in Muonio. Further up in northeastern Finland in Inari is the ski centre of Saariselkä. Ounasvaara ski centre is located close to Rovaniemi. Luosto in Sodankylä and Pyhä in Pelkosenniemi are fairly close to each other. Small Salla ski resort is in Salla, and Suomu can be found in Kemijärvi. Ruka ski centre is in Kuusamo and officially below the arctic circle. It's a very popular place to visit.
In the map below you can see the locations of airports, train stations, and ski resorts in Lapland:
What are the options of getting to Lapland?
By plane
If you don't reside in Finland, you probably have to hop on a plane to get to Lapland. Flights to Finnish Lapland land on its three main airports at Rovaniemi, Kittilä, or Ivalo. It is important to notice that many airlines operate to Lapland only during high season from December to March. In summer, it is much harder to get to Lapland by international flights, but domestic flights from Helsinki operate regularly. Please note that all the information has been checked and accurate at the time of writing.
Rovaniemi (RVN) at 66°N is the capital of Lapland. It attracts the most international visitors by being the hometown of Santa Claus. Based on number of travellers on a yearly basis, Rovaniemi airport is the largest one in the area. The airport is located 10 km northeast of the city centre. Domestic non-stop flights to Rovaniemi are operated by Finnair and Norwegian. Cities that have non-stop flights to Rovaniemi include Istanbul by Turkish Airlines, Paris by Air France, Düsseldorf by Eurowings, Milan by easyJet, Luxembourg by Luxair, Barcelona by TUI, Kyiv by Windrose, and London Gatwich by easyJet.

In the winter, Kittilä (KTT) at 67°N is much busier than Rovaniemi because of the popular skiing centers at Levi and Ylläs fells. The airport is located about 5 km from Kittilä, 15 km from Levi, and 35 km from Ylläsjärvi. Domestic non-stop flights from Helsinki to Kittilä are offered by Finnair and Norwegian. Cities that offer direct international flights to Kittilä include Munich by Lufthansa, Amsterdam and Brussels by TUI Fly, Riga by Air Baltic, Geneva by Swiss, Kyiv by Windrose, and Bristol and London Gatwick by easyJet. In 2022, Lufthansa will offer flights from Hamburg to Kittilä.

Ivalo (IVL) at 68°N is the third largest airport in Lapland but still a small one, attracting a good number of visitors mainly because of the Saariselkä resort. The airport is located 10 km southwest of Ivalo. Ivalo can be reached by domestic flight from Helsinki or international flights from Paris Orly by Transavia, Frankfurt by Lufthansa, and Amsterdam by TUI Fly.

Enontekiö (ENF) at 68°N is a tiny airport in the northwest of Lapland. There are currently weekly flights from Helsinki to Enontekiö, and there may also be some charter flights.

There is a small airport also in Kuusamo (KAO) at 65°N. Kuusamo with its popular ski center Ruka can be considered as a Lapland destination, even though it is technically located in Northern Ostrobothnia region. Magnificent national parks in Oulanka, Riisitunturi and Hossa can be reached from Kuusamo. Direct connections to Kuusamo can be found from Helsinki by Finnair, Brussels and Madrid by TUI Fly, and from Frankfurt by Lufthansa.
By train
If flying to Helsinki airport is a better option for you or you are based in south of Finland, one good option for covering the distance is an overnight train with VR from Helsinki or Tampere to Rovaniemi or Kolari. The distance from Helsinki to Rovaniemi is about 850 kilometers, and Kolari is located about 200 kilometers northwest of Rovaniemi. On the train, you can book a cabin bed or a whole cabin for a proper rest. You can even take your car with you if you have one in the south of the country and you are planning to drive in Lapland. Cars can be loaded onto Lapland trains in Helsinki (Pasila station) or at Tampere. Trains can be pricey in Finland, so make sure you book it in advance for the best deals. The railway network in Lapland is limited to only western Lapland at Rovaniemi and Kolari, so take that into consideration when planning your travels.
By bus
Long distance buses are also quite good way to travel to Lapland, especially during ski season when there are direct buses to ski centers. Usual routes would take you from Helsinki to Rovaniemi with few rest stops along the way, and from Rovaniemi to Kittilä or Ivalo on another bus. Buses are usually more affordable than the train.
Bus companies to compare:
By car
Distance from Helsinki to Rovaniemi is about 850 kilometres, to Kittilä about 1000 kilometres, and to Ivalo about 1100 kilometres. For example, to Kittilä you can make it in 12 hours if you don't stop too many times. However, in the winter that same journey may even take 15 hours. The problem is not only driving in slippery and snowy conditions, it's mainly the ever-present darkness, and moose. Oh, and of course reindeer in Lapland. There are some moose fences on major highways, but only on a fraction of the way. If there is only one driver, I would highly recommend an overnight rest stop along the way. In the summer, wildlife is equally active, and especially reindeer love to stand in the middle of the road to cool off and escape bugs. Also, the never-ending light may be disorienting and tiring in the summertime. And don't forget the clouds of mosquitoes and horseflies if you ever get out of the car. I recommend not to get out of the car to pet the reindeer in the middle of the road, as that might be too surprising for other road users.
Common routes to Lapland:
Helsinki-Lahti-Jyväskylä-Oulu-Kemi-Rovaniemi(-Kittilä/Ivalo)
Highway 4 is the fastest but also the busiest route to Lapland. It has many interesting nature sights along the way, but it's maybe not the best if you are planning to spend several days on the way and make a proper roadtrip.
Helsinki-Lahti-Mikkeli-Kuopio-Iisalmi-Kajaani-Ranua-Rovaniemi or from Kajaani to Kuusamo-Sodankylä-Ivalo
In this option you would follow highway 4 until Heinola and then highway 5 until Kajaani. This is great if you want to do some sightseeing in Kuopio or perhaps check out Ranua Zoo.
Helsinki-Tampere-Virrat-Kaustinen-Ylivieska-Liminka-Oulu-Rovaniemi
This route follows smaller roads and there are many options for the exact way from route 66 to stopping by at famous Tuuri department store.
Helsinki-Tampere-Parkano-Seinäjoki-Kokkola-Raahe-Oulu-Rovaniemi
With this route you will be taking highway 8 on the coast and pass Kalajoki beach.
Remember long distances, petrol prices, and ask for tips
Currently, petrol prices are at record high with 95E10 exceeding 2 euros in some locations. Modern cars consume less, but it's good to know that a chargeable hybrid may consume more due to the weight of its batteries than a petrol or a diesel car. You can make the journey with an electric car, but you need to reserve hours for charging and consider that charging network is limited (charging station map). Also remember that even normal petrol stations are few and far between in Lapland as well so make sure you always have enough in your tank.
It goes without saying that driving solo is expensive way to get to Lapland. Car sharing apps are not very popular in Finland, so your best bet to find other travellers to share costs for driving are Facebook groups.
One additional thing to take into consideration in Lapland is that some roads are not regularly maintained. By following shortest routes instructed by Google is not a good way to drive, because the shortest doesn't equal the best. Believe me, I have had a to dig a car out of snow in the middle of the road once. Don't hesitate to ask locals their instructions to get to your destination if you are driving in Lapland. Four wheel drive is not necessary, but winter tyres are mandatory from 1 November to 31 March.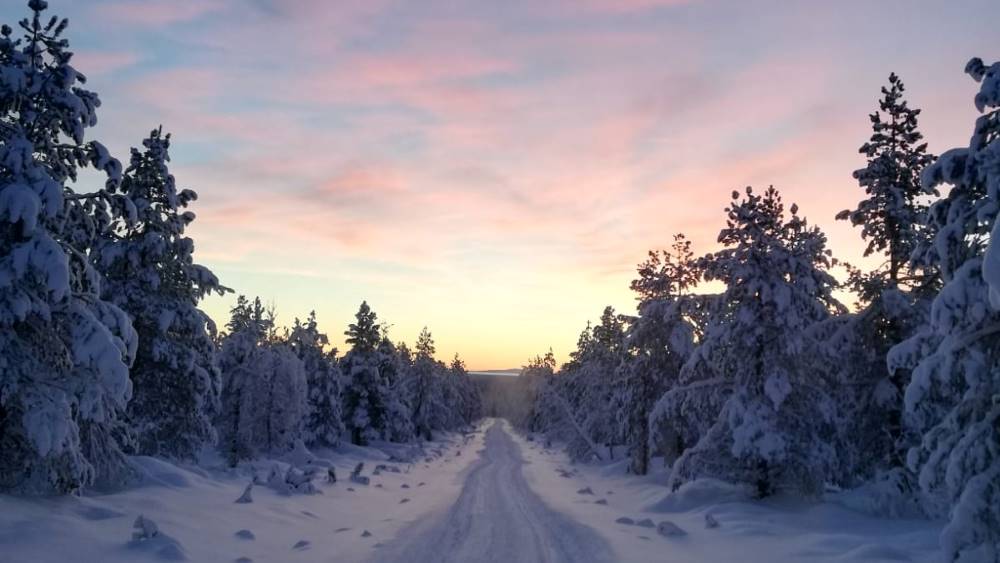 What is the cheapest way to get to Lapland?
The cheapest way to get to Lapland depends greatly on where and when you are travelling from, how many people are travelling with you, and when are you booking your trip. Here's a real example of one family's (2 adults, 2 kids) travel costs to Lapland in February 2020 when departing from London:
Gatwick-Rovaniemi-Gatwick £205
Cabin for 4 nights £486
AirBnB 2 nights £190
Car hire 7 days £277

Those amounts obviously exclude all excursions and food, but this gives you an idea of the costs when compared to package holidays. You can spend a fortune for a package holiday in Lapland, or for different activities and attractions. But you can also get there with smaller budget and still enjoy the magic of Lapland.
For those who consider flying to Lapland from Helsinki too expensive, the cheapest option is the bus. I have traveled to Lapland from the south of Finland on my own by plane, bus, and train, and the cheapest option for one person has always been the bus. A bus ticket from Helsinki can be as cheap as 15 euros if there is a good campaign, but a normal price with return can be around 50 euros. Student discounts and senior citizen discounts are available for buses and trains.
Train is slightly faster than the bus, but becomes easily more expensive, especially if you want to book a bed in a night train in a shared or private cabin. Normal ticket prices vary from 20 to 100 euros, depending on how early you book them. Sleeping cabins are obviously more expensive. If you are travelling to Kittilä, Ivalo or any other destination than Rovaniemi, you must also consider how to get there from Rovaniemi or Kolari train station and calculate that to the total cost. Train can be a good option for a family with kids or senior citizens who want to take their car with them and sleep on an overnight train instead of driving. Price for the car is roughly 150 euros more. It's not necessarily cheaper than flying, but if you are in south of Finland with your own car, it's a good option if you don't want to drive.
A return flight from Helsinki for one person can sometimes cost under 100 euros, but I don't think I have ever found them for that little. At the time of writing, a Finnair flight for next year from Helsinki to Kittilä would cost between 131 and 236 euros. Flights to Helsinki are not usually super cheap either, so if you can find a flight directly to Lapland, it might easily be cheaper than the layover in Helsinki. Check sites such as Skyscanner for the cheapest options.
The best advise I can give is to book early with flexible return policies. And remember, that you can rent clothes and equipment instead of buying and bringing your own. You also don't need to do everything from husky, reindeer, and snowmobile safaris to aurora sightseeing tours. The best thing about Lapland is the nature, and that is free.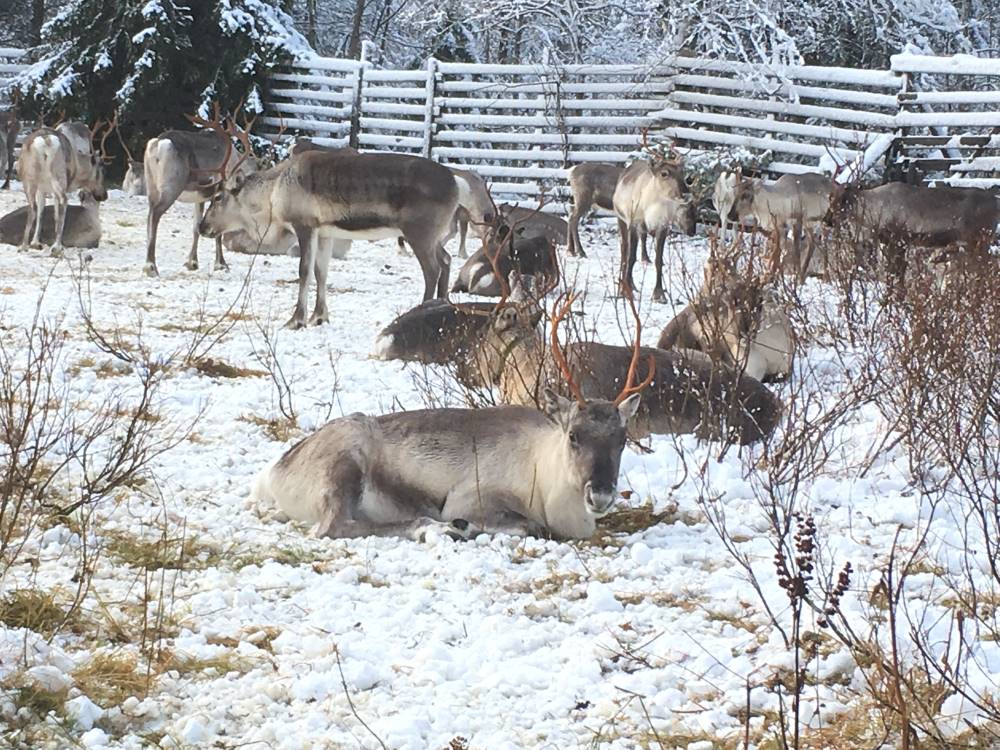 Are you planning a trip to Lapland or have you already been there? Have you got any good tips for those who are considering travelling to Lapland on a budget? Comment below!
Here are some fun winter stories
Read also our summer posts about Lapland
Lapland has plenty of locations that also provide excellent hiking or fishing opportunities in summer.