Snowmobiling in Lapland is a bucket list thing to do for any petrol head or those who want to really experience Lappish nature in the winter, outside of Hullu Poro. Skiing is of course a nature lover's number one option and snowshoeing comes as close second, but there are somewhat limited number of kilometers that you can cover with them – or at least what I can cover with them. Snowmobiling is a great option for seeing the nature and reaching your destination when you need to travel further or faster than what your fitness level supports.
There are few rules that you need to know before starting the engine. Anyone with a driver's license can rent a snowmobile, and there are hundreds of kilometers of tracks that you can use if you comply with the basic rules and etiquette of snowmobiling, provided here by the Finnish Road Safety Council. You should know that riding a snowmobile on off-road terrain is always subject to permission from the land-owner, meaning generally not allowed.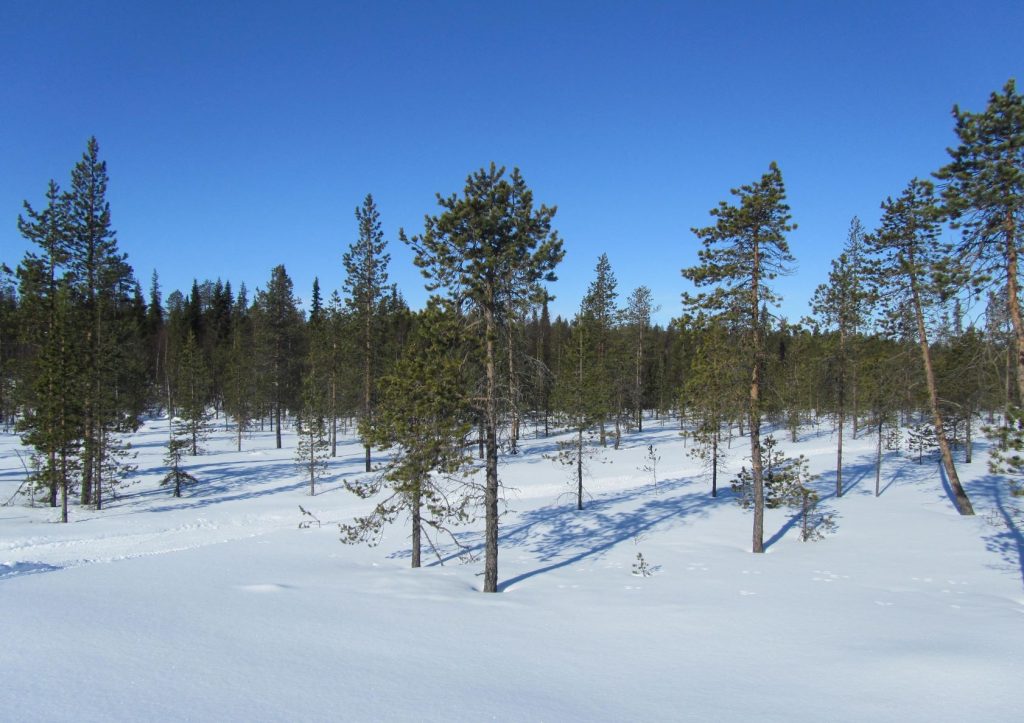 I have been lucky to be able to use a snowmobile whenever I have been in Lapland in the winter, and I understand why many locals prefer it over a car. In many areas in Finland public transportation is not an option. When it is, people like to use it as it also saves money. But in Lapland snowmobiles are often used instead of cars when there is no other way of getting somewhere. In the north of Finland also police officers patrol with snowmobiles.
The importance of snowmobiles for locals, rescue personnel or reindeer hurdlers is indisputable, but many tourists also enjoy this form of traveling. Recreational usage of snowmobiles is completely another topic, and the local environmental impact of snowmobiles is significant. Snowmobiles are noisy and might cause stress for animals and influence their habitat use. Their exhaust accumulates pollution and they damage land cover through direct physical injury to plants and increased erosion in areas with inadequate snow cover. Snowmobiles also compact the snow, affecting vegetation growth and development later in the year. This is one very good reason why you should obey the rules and remain in marked tracks.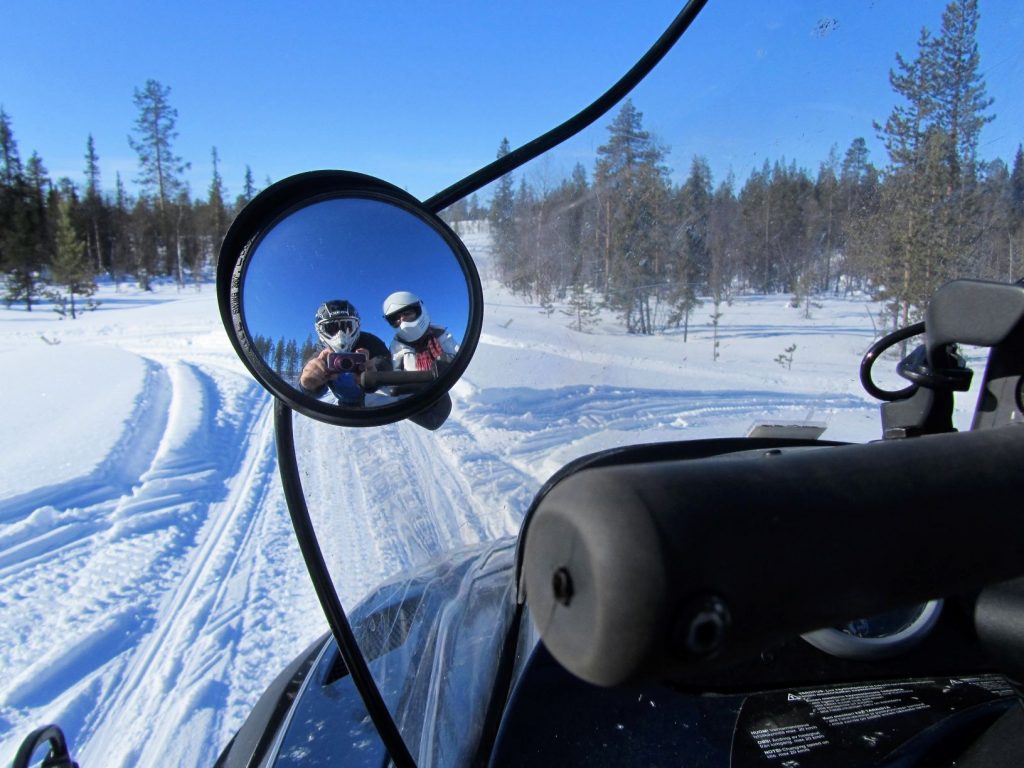 One of the most memorable tours in Lapland has been snowmobiling to a Pyhävasa wilderness hut with a local guide last winter. (Our tour wasn't any official tour nor was the guide, so I can't provide any recommendations on those.) Before departure he checked how comfortable I was with the snowmobile I borrowed, and made sure that I know how to keep my legs in when the snowmobile falls to its side. He said when, not if. It is common behavior for the snowmobile in the snow, but unfortunately it is also common for us tourists to react in a wrong way and perhaps try to prevent the fall by extending our leg on the way. It would hurt. Luckily I didn't have to test this theory as I had no problems with the snowmobile on this tour.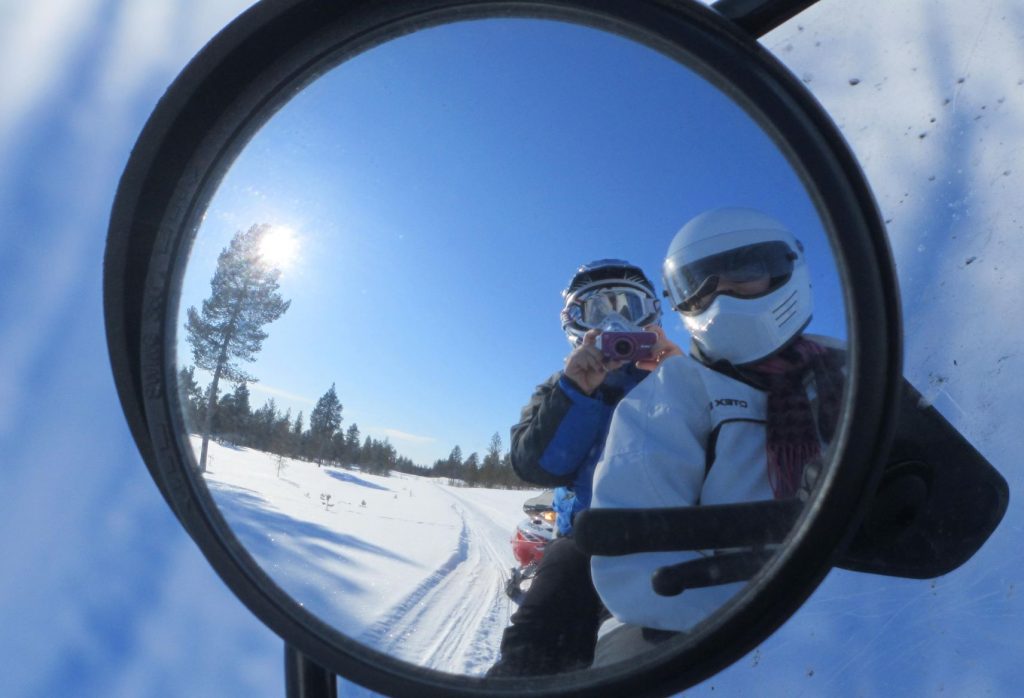 We utilized the official tracks but also the tracks that are made by the locals, who know the permissions for land usage. I also got to test off-roading while we were in my guide's own forest, and that was a lot of fun. Keeping the pace with much more experienced drivers wasn't easy, and I was sweating under my helmet. Reindeer hurdlers don't usually wear a helmet, but they are also pretty familiar with snowmobiles. Tourists are much more likely to crash with the trees that suddenly step on the way.
I knew we were going to have a lunch at the wilderness hut and I tried to make an impression by baking buns and making moose burger patties to pack with us to our snowmobile safari. But someone was so excited about the snowmobiling that she forgot the buns in the kitchen! Plain burger patties were not that bad when grilled and topped with some pickles and ketchup. I confessed that I forgot the buns. Why didn't I just say that I'm watching the carbs?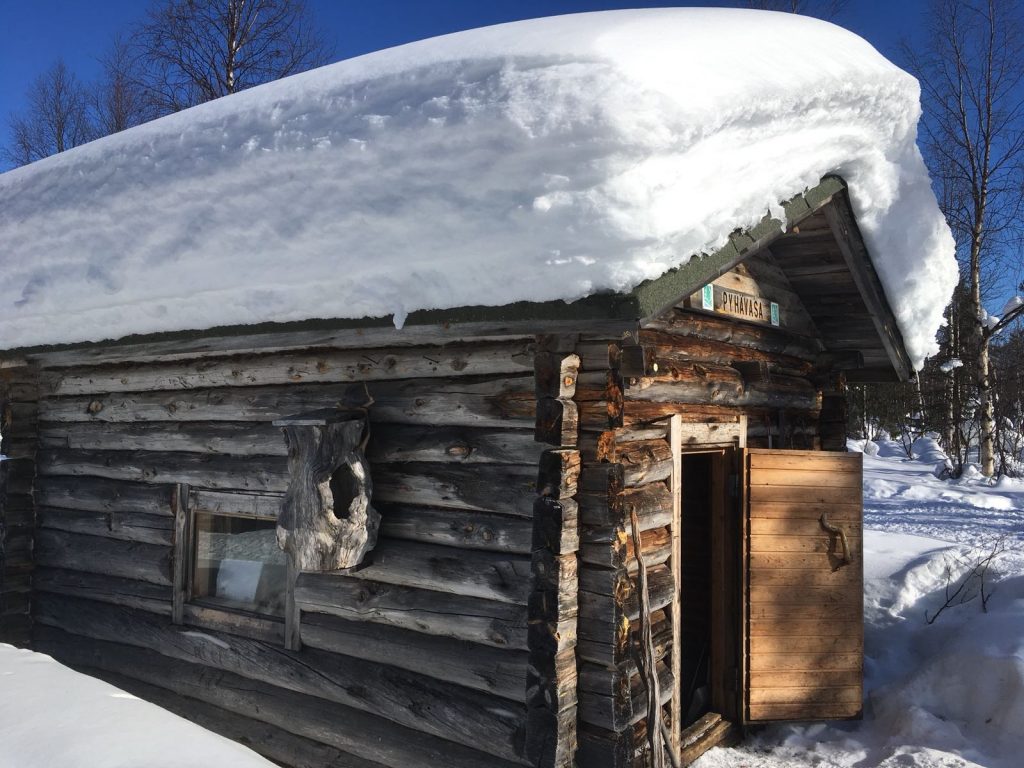 The Finnish wilderness huts deserve a post of their own. What an awesome way to allow people enjoy trekking, skiing or snowmobiling in the nature and safe their lives by providing a proper shelter with dry firewood! This Pyhävasa wilderness hut was located by a small river and it had a nice barbecue area, a perfect place for our carb-free lunch. Nobody was staying in this shelter over night when we were there, but had there been skiers, snowmobilist would need to give way to those moving on foot by skies.
One of the highlights of this trip, in addition to making it back alive, was spotting wolverine tracks in the snow. Wolverine is an extremely rare sight in the Finnish nature and while I wasn't lucky enough to spot one, we could confirm that one had been there earlier.
How to find the Pyhävasa wilderness hut

Address:
Pyhävasa wilderness hut is located in Kittilä, south from Lemmenjoki national park.
Euref-Fin (~ WGS84) lat: 68° 12.6198′ lon: 25° 06.8164′
ETRS-TM35FIN: N: 7567509 E: 421866