Snowshoeing in Lapland is a great way to explore the nature. There are many nice showshoeing trails for example in Levi, Ylläs or Saariselkä, but I also like to go snowshoeing off the beaten track. There's nothing better than taking off from the cottage with snowshoes, ski poles, and hot chocolate in the backpack.
I have had some old snowshoes for years, but I finally got new ones this winter. They are heavier than my old ones, but also more narrow, which I like. There are many different types of snowshoes, so don't be crushed if the first ones you try seem clumsy. It's the snowshoes' fault, not yours!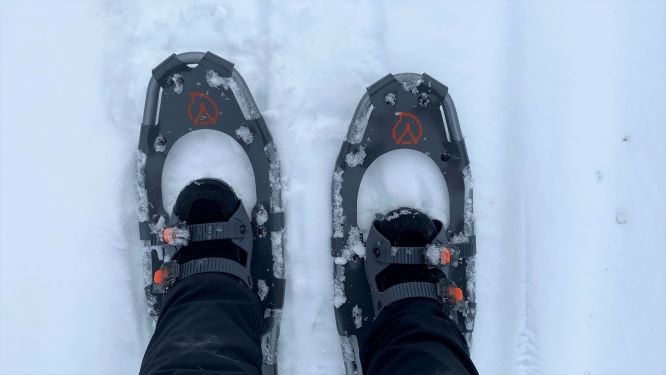 It had been quite warm and the snow was very mushy already in the beginning of April. The snow coverage was about 70 cm, low when compared to earlier winters but very deep for snowshoeing. On a good weather you can head almost wherever you want with the snowshoes and they give you a great freedom to hike out in the nature, but this time the snow didn't have a crust that would carry me. I ended up sinking thigh high in the snow even with the snowshoes, and with this kind of snow depth it is really difficult to climb back up. My dog Nalle had same issues, so he was trying to be smart and came to stand behind me on my snowshoes. Needless to say we were both stuck deep in the snow.
I quickly admitted the defeat and came to the conclusion that I needed to find somekind of track and leave Nalle home. I ended up following an unofficial snowmobile track and some other old trails in the forest. Please note that I do not recommend walking on the official snowmobile routes where there is traffic. That could be very dangerous.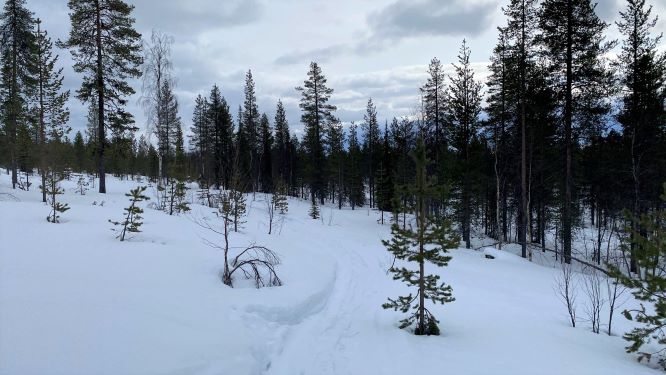 That old snowmobile track was icy enough to carry me well and snowshoeing was effortless as long as I stayed on the track. It was so peaceful to be snowshoeing alone in the forest. I could see many wild animal tracks on the snow. Trees were mostly bare from the snow but small birch trees were still pressed down from the weight of the snow.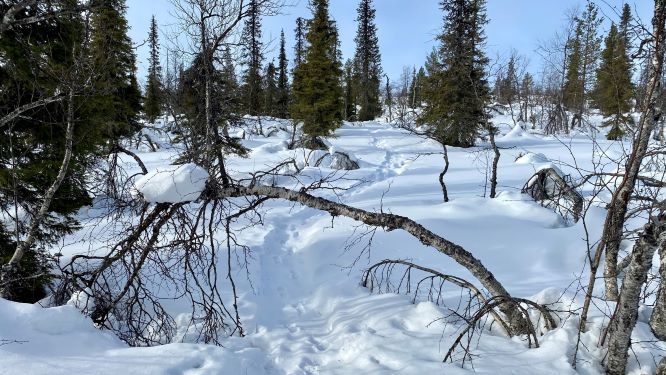 Snowshoeing is much easier than cross-country skiing, and you can also rent snowshoes with poles for about 15€ from ski resorts, hotels or even cottage renters. Once the snowshoes are strapped to your shoes, you can walk in your natural stride.
Few tips for snowshoeing in Lapland
It's allowed to go off-trail when snowshoeing, if you can.
Snowshoeing can be tough if you are not used to it, start with a short distance.
Tell someone where you are heading and when you should be back.
Avoid stepping on cross-country skiing tracks with your snowshoes.
Watch out for the petrolheads with the snowmobiles.
If you are snowshoeing with a dog on the leash, be aware that your dog might not be able to follow you in the snow, and dogs can get paw fractures from the snow crust.
Check the weather forecast as snow blizzard can start suddenly.
Those going up the hill have the right of way if you are on a snowshoeing trail.
Remember water, snacks, sunglasses and sunscreen.
Make sure you phone is fully charged and keep it in a warm place such as inner pocket of your jacket.
Whatever you can carry to the forest, you can also carry back with you.
Take your time to observe the nature.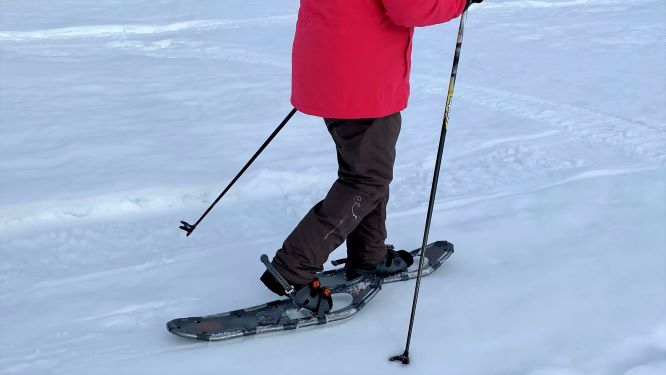 Check out also these posts
Popular snowshoeing trails
Check out the following ski resorts to read more about these popular snowshoeing trails in Lapland:
Levi:
Kätkätunturi 5,8 km moderate
Ahopää 3,0 km easy
Kiilopää summit 4,0 km easy
Ahopää 6,0 km moderate
Iisakkipää summit 6,0 km moderate
Ruka:
Ruka village trail 1,2 km easy
Saarua 1,7 km easy
Salpalinja 2,0 km easy
Konttaisen Kuhaus 2,0 km moderate
Valtavaara 2,6 km moderate
Pyhän Jyssäys 5,8 km moderate
Valtavaara 5,1 km demanding
Pyhä: