A short but strenuous hike in the middle of the forest takes you to Pähkänänkallio cliffs which open a wondrous view over dense fir woods, a winding, sparkling Kitkajoki-river, and steep gorge-like cliffs. If you are prepared to work a little bit for incredible views into the heart of Finland, this is definitely a place to visit. It has to be said, though, that this 2km hike demands a lot of balance and courage because there are virtually no safety measures in place. But oh boy, it is worth it! In fact, Pähkänänkallio has been voted as the most beautiful Finnish view in the world.
Patience rewarded
We had already been hiking in northeastern Finland for a while and we thought to "pop by" Pähkänänkallio viewpoint. Well, this had to be the understatement of the year because the entire trek turned out to be quite a challenge.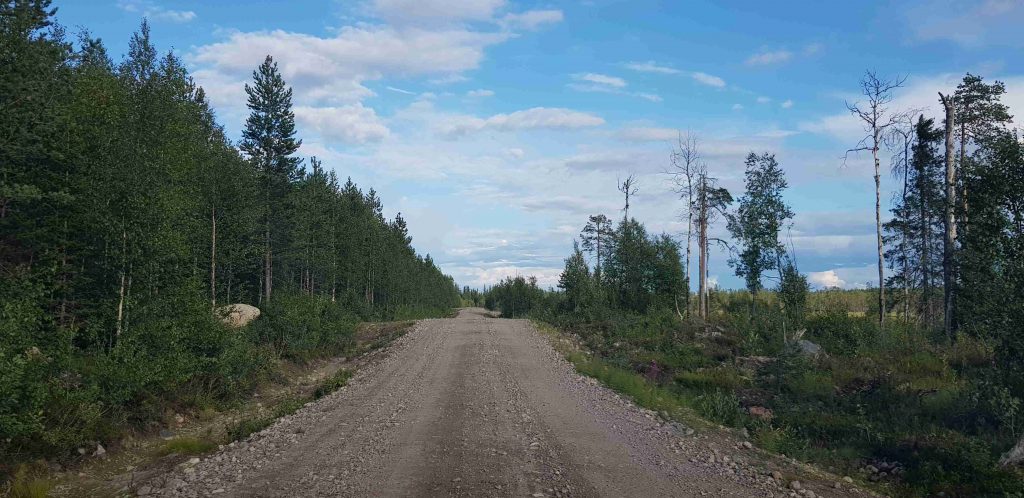 You have to turn onto a smooth sand road from, which quickly turns into a very gravelly and challenging drive. We had to drive slowly so we could spot any rocks which could brake our tires or large potholes which could damage our wheels. Our navigator did guide us to the right place even though internet disappeared halfway of the 10km drive from the larger road.
The carpark was a large loop, where there was plenty of space for dozens of cars. The trail starts next to the big map of Oulanka National Park. There are two signs: one for Kitkajoki for fishers, one for Pähkänä for those seeking the most amazing nature views.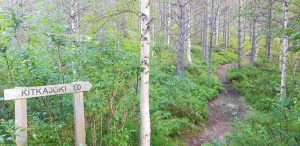 The trail starts off with a gentle sloped trail in the woods but very quickly starts descending down towards Pähkänänlampi pond. Once you reach a huge white fallen tree, the trail starts to truly go downhill. Literally. Just before you get to the level gravel road on the bottom, you have to scale down a nearly vertical drop with only a few rocks, trees, and roots to hold on to. Thankfully the vertical bit is a short one because it required some hard thinking: I was travelling with my mom who is less used to trekking so we had to negotiate the best footholds for her so she wouldn't fall.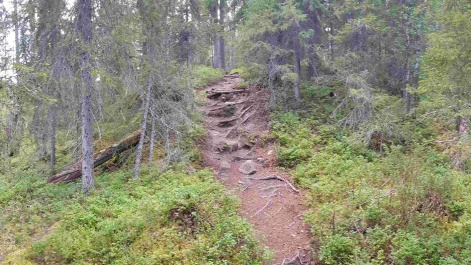 For a hundred metres or so the path is nice and smooth. Then it rises up to the forests again, and you have to walk over quite a few roots and rocks. Eventually the woods start to clear in front of you, and you face a fork in the road. The road continuing straight ahead and down takes you to Kitkajoki river, the one to the right takes you to Pähkänänkallio. However, there is no direction or signpost there so you just have to remember this.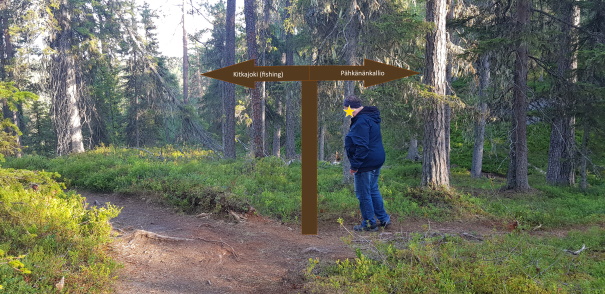 After this fork in the road, the trail becomes even more challenging. It is sloped and slanted, and you have to rely on soft brushes to keep you from tumbling down into nothingness on your left. There is a trail of sorts but you need to make your own decisions on where it is safe to walk. We held onto trees, branches, and roots while climbing to the top. Occasionally, when we didn't trust our feet or our balance, we even planted our bottoms on the ground and slid to safety!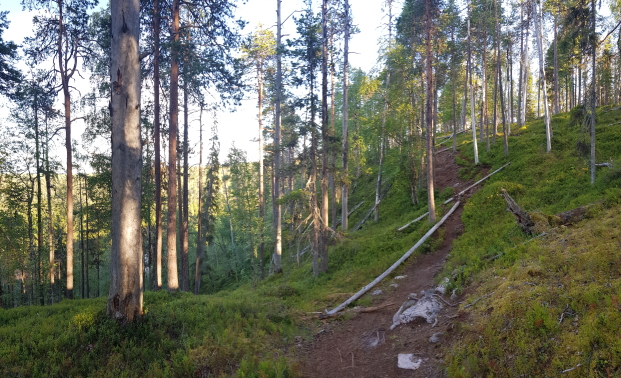 The best views over Kitkajoki are at the very end of Pähkänänkallio cliffs. The brushes have been eroded and the area is quite sandy, and thus slippery. We sat down on some fallen trees there to enjoy the incredible scenery in front of us. We were so proud of ourselves for making it there! The trail is the same back so we still knew we had to keep our wits about us and not let our focus wander.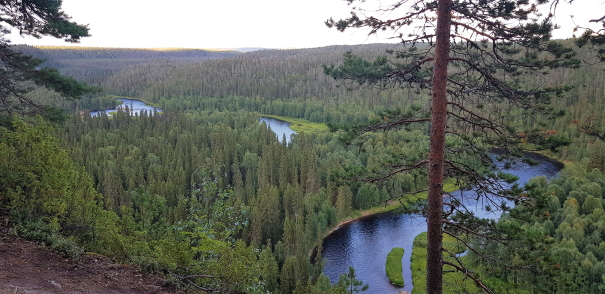 Part of the Oulanka National Park
Pähkänänkallio is close to Juuma village, which is one stop on the famous 82 kilometre-long Karhunkierros in Kuusamo. Pähkänänkallio is not exactly on the Karhunkierros trail but rather an extra sightseeing option for them.
It is a good idea to make noise when you are in these thick woods. There are bears, wolves, moose, and other critters which may be fun to see when you are safely inside your car or a cabin but a lot less fun when face to face with them without any shelter. Just keep making a bit of noise and they will avoid you.
There are also a lot of reindeer both in the forests and on the roads. They can run out of the woods at breakneck speeds onto the road. They can also stand in the middle of the road and refuse to budge. You just have to be patient and wait until they move away.
Trail maps
As mentioned, the trail from the carpark to is about 1km/one way.
You should check out the trail before you leave just in case because there is no internet in the woods. You can check for other services and sights from the official Finland trek map produced by Metsähallitus. Since you are trekking in the middle of unknown woods where there are several hazardous areas, not to mention the possibility for serious injury or accidental encounters with wildlife, you should let an outsider know where you are going since there is no mobile phone or internet connections in this area.
Directions to Pähkänänkallio
Address: You can drive relatively close to the cliffs, but you have to hike 1km/one way from the carpark.
How to get there: The best way to get to Pähkänänkallio is by car. There is a large carpark area, where you can safely leave your car. Type Pähkänänkallio on your navigator or the nearest address Päähkänäkalliontie 87-73.
Car: Car is the best way to get to Pähkänänkallio even though the last 10km of the road is a bit tricky.
Bicycle: You are not allowed to cycle on this nature trail but it is possible to cycle there alongside cars.
Public transport: Unfortunately there are not so many public transportation options near Oulanka National Park and Pähkänänkallio. There is a bus service from Kuusamo to nearby Juuma village but this is very infrequent and with it, you still have to walk about 30km/one way to get to Pähkänänkallio.
Taxi: There are local taxis that drive to Pähkänänkallio. Check with them before embarking on the trail first.
Accessibility: The beginning of the trail looks easy but it gets very difficult very quickly. There is a lot of uneven ground, slippery cliffs, and a fair amount of climbing up and down. Suited only for older children who are used to walking independently on uneven terrain. Not suitable for wheelchairs, people hard of walking, or children's buggies.
Facilities: There is a fireplace area at the Pähkänänkallio carpark. Remember that you can only use the fireplace when there is no forest fire warning on. There is no firewood on site.
When to go: Make sure you go when it is light: the trek lasts for about 1.5h. In twilight or waning light, the trail becomes very hazardous. Not suitable during rain or snowy times due to dangerous climbs and uneven terrain.
What to wear: Make sure you've got a sturdy pair of shoes on because the trail can be hard on your ankles due to the slanted slopes. Mosquito repellent is a must in dense Kuusamo woods.