Riisitunturi National Park has been on my bucket list for years. Having seen incredible pictures of trees heavy with crown snow (tykkylumi in Finnish) from Riisitunturi, I also wanted to see if the rumours of far-reaching views over Lapland you had from the Riisitunturi fell. Oh boy, were the views from the highest peak in the area (466m/1530ft) worth all the wait!
Braving possible rain, we headed out from Kuusamo towards Riisitunturi National Park in Posio about an hour's drive away. There were clear signs leading to Riisitunturi along the way but there was nothing to indicate where the official start-off point to the trails was. So, we just rode up the fell until we came to a huge clearing filled with cars. We knew Riisitunturi was popular but we could barely fit our car there! Thankfully, we found out that they were clearing a bigger parking area for cars because the park authorities had also noticed a huge jump in visitors.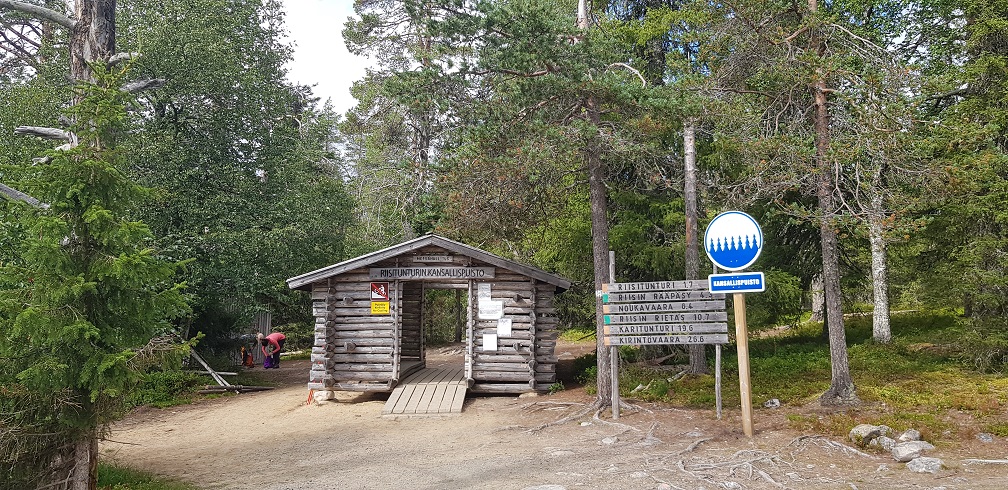 All of the trails at Riisitunturi National park depart and end up in the same location. This makes hiking there very easy since you don't have to worry about how to get to your car from some far-away point in the middle of nowhere. We had decided early on that we would do the "Riisin rääpäsy" -circular trail, which is about 4.5km (2.8mi) long. The hike started to snake up the fell almost immediately after the official gate to the national park. Some of the trail was a bit tricky with some loose rocks and tree roots. However, it was not too hard to avoid them as long as you paid attention to your feet and didn't lose yourself in the great views.
Riisin rääpäsy -circular trail
The hikes were very well marked with signs and dots of colour. Story boards pointing out different sights were also in English, so this trail is well suitable for those who don't understand a word of Finnish. Our trail, "Riisin rääpäsy" (loosely translated as Riisi's rip) goes a short way along the longer, "Riisin rietas" -trail (loosely translated as the wanton man of Riisi).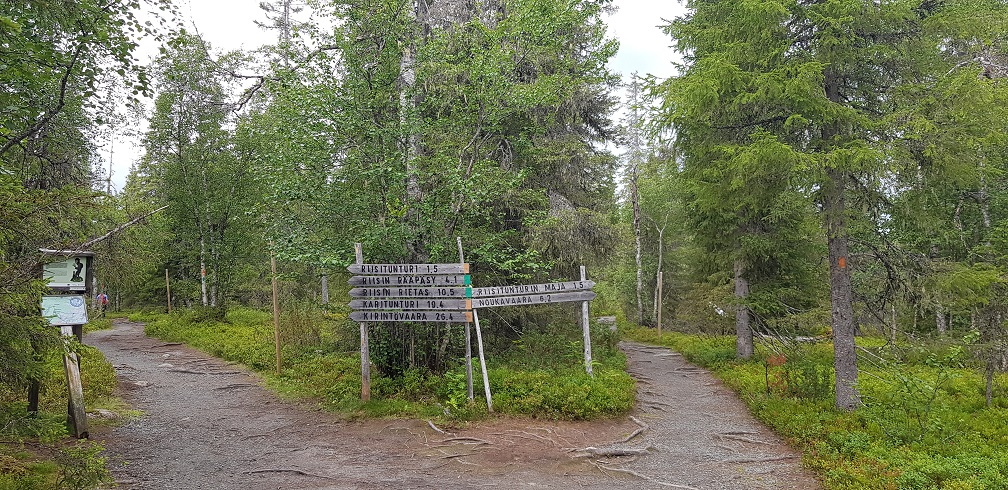 As soon as we had turned left onto the Riisin rietas -trail, we saw an incredible spruce which was growing width, not height. These trees have been worshipped as the tables of Tapio, the king of the forest in ancient Finnish mythology; hence the name "Tapio's tree". Ancient Finns used to sacrifice part of what they had hunted or gathered, in order to remain at peace with the forest spirits.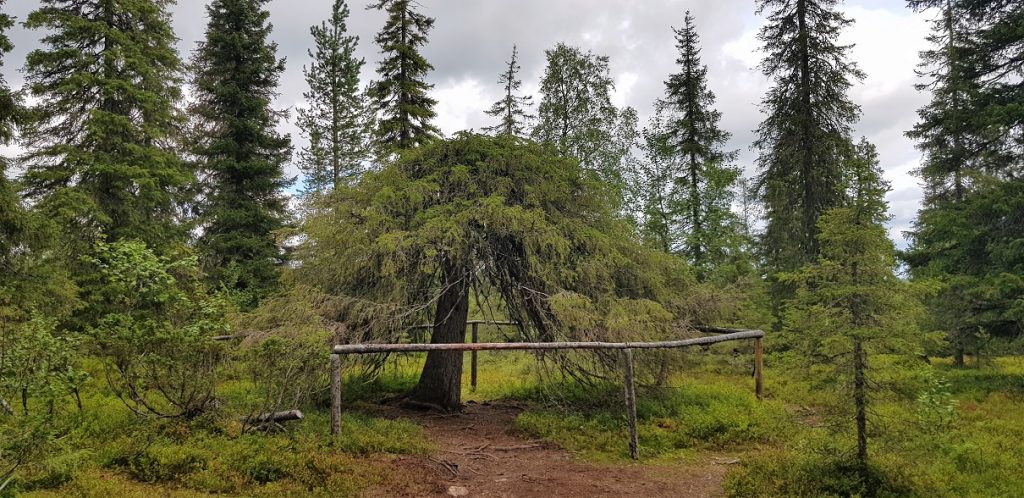 The trail kept zigzagging up the hill, and soon we found ourselves inside a very long-hanging cloud… which rained on us. But thankfully, we were not yet at the tree line so we managed to take refuge from the rain under a fir tree. Slowly but surely, the trees became thinner and more mangled as we approached the top of the fell and the tree line. We turned around to glimpse behind us because we knew part of the rain cloud was now behind us.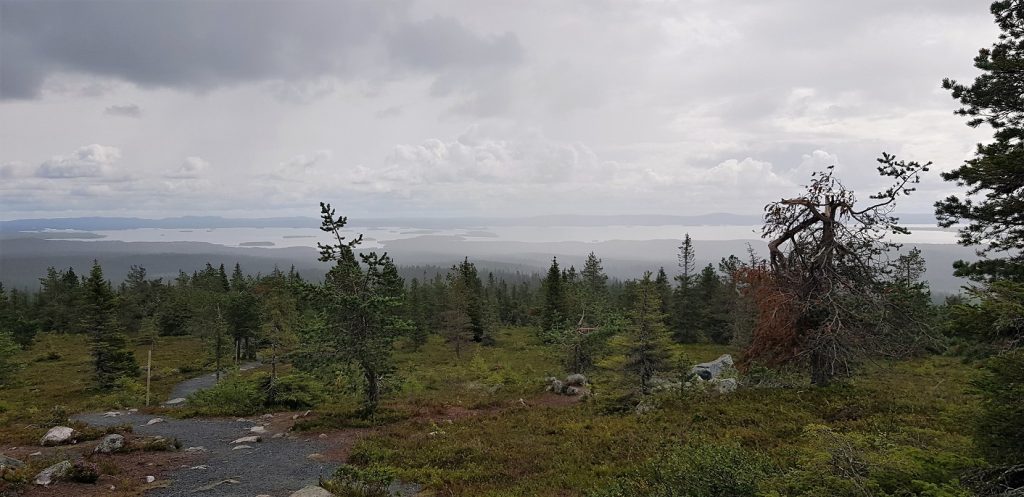 Still, the climb to the top of Riisitunturi fell continued. The sun had come out, and there was a lovely breeze on the top of the fell. As soon as we got to the top, we found the perfect spot to sit and enjoy some snacks whilst enjoying the incredible views over Lapland.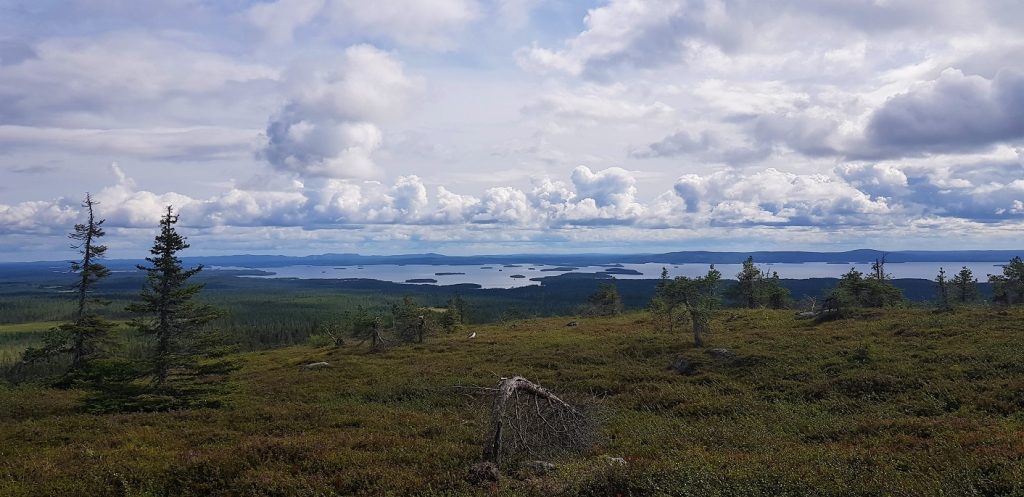 When all snacks had been consumed, we started the walk back down. Not long since we had left, we came upon a tiny fell pond. The National park staff had also acknowledged its simple beauty since they had built a bench for people to sit on while enjoying the "infinity pool"-type view over the nearby fells. It's even fittingly called Ikkunalampi or Window pond.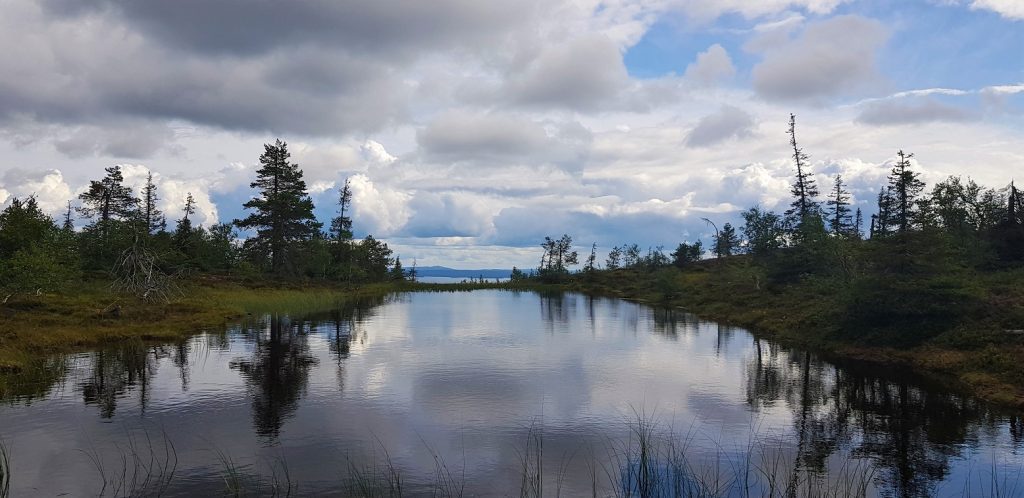 The track continued down towards the Riisitunturi wilderness cottage (maja in Finnish), which can house 6 persons. These wilderness cottages are meant as temporary shelters, and as such, they have rules of how to use them.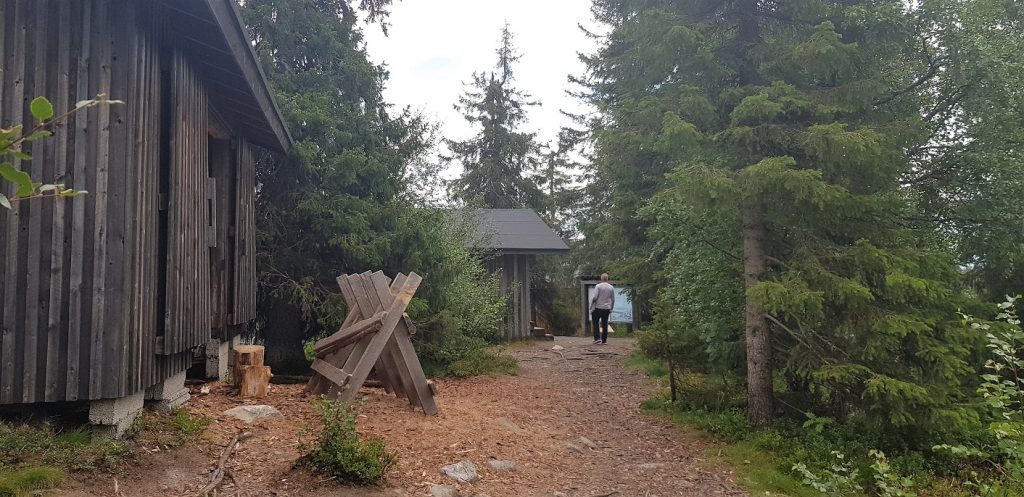 By the wilderness cottage, the trail went in several different directions so we had to check which way to go. The trail continued to the right of the cottage, going slightly uphill for a while. There were some boggy bits so duckboards have been laid down to ease over them without getting your feet wet.
Some final beautiful views over the lakes took us among the reappearing trees, all the way back to Tapio's tree and to the gate again. Definitely a great hike for almost everyone; smaller children can be carried in baby backpacks, and older ones ran amok eating blueberries straight from the shrubs.
Plenty to enjoy at Riisitunturi
Riisitunturi and Posio town are right at the centre of reindeer country, and reindeers roam freely on the fells, forests, and often even in the middle of roads (so watch out). There is also a variety of other wildlife in the area such as bears and lynx as well as eagle-owls and black grouse. For those looking for once in a lifetime experiences, the clear and unobstructed top of Riisitunturi is an excellent place to view the Northern Lights in the winter!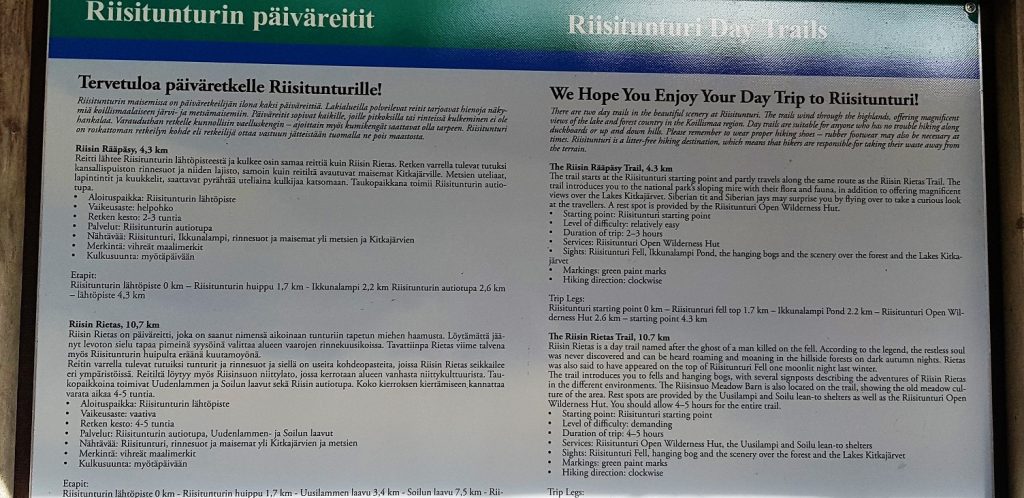 Directions to Riisitunturi
Address: Just type Riisitunturi on your navigator and it will take you to the nearest carpark about 100m from the trail start-off point.
How to get there: The best way to get to Riisitunturi is by car. There is a large carpark area, where you can safely leave your car. Just type Riisitunturi on your navigator. If you go to Riisitunturi during snowy seasons, check that they have plowed the snow from the road first.
Car: Car is the best way to get to Riisitunturi although the carpark may be full at times.
Bicycle: You are not allowed to cycle on this nature trail but it is possible to cycle all the way to the starting point.
Public transport: Unfortunately there are not so many public transportation options near Riisitunturi so the nearest buses go only to Posio town. Check out timetables here from Kuusamo or from Rovaniemi.
Taxi: There are local taxis that drive to Riisitunturi.
Accessibility: The Riisin rääpäsy trail is easy to moderate with some duckboards and uneven ground. If you have a special children's buggy suitable for trekking, it is possible to use that there. Same goes for wheelchairs and those hard of walking.
Facilities: There are several fireplace areas on Riisitunturi fell but on the Riisin rääpäsy trail, the official one is at the wildness cottage. There is firewood at the cottage as well as a wood-burning stove inside the cabin. Remember that you can only use the fireplace outside when there is no forest fire warning on. There is also a dry toilet at the cottage.
When to go: Make sure you go when it is light: the trek lasts for about 3 hours when there is no snow on the ground depending on how many stops you make. If you go snowshoeing or skiing, make sure to stay on the marked tracks or at least in their vicinity.
What to wear: Make sure you've got a sturdy pair of shoes on because the trail can be hard on your ankles due to the slanted slopes. Mosquito repellent is a must in dense Lapland woods.
While you're in the area
Since you are already near Kuusamo, check out some of the amazing places at Oulanka National Park nearby such as Pähkänänkallio cliffs, Oulanka canyon and rapids, as well as the famous Kiutaköngäs rapids.