Talvia giant's kettles in Lohja are easy to reach by car as these glacier potholes are located approximately 400 meters from the parking lot. These are not the biggest or finest giant's kettles in Finland, but definitely worth seeing if you happen to be in Lohja. You can also find prehistoric cup-marked stones in Lohja.
Visiting Talvia giant's kettles
The giant's kettles in Talvia are located on private land but access is permitted by everyman's rights. I had few business meetings in Lohja and as I love combining nature walks to any other visits I have in certain places, I typed Hiidenkirnuntie to my navigator after I was done with the meetings and headed to Talvia giant's kettles.
The parking lot at Hiidenkirnuntie road was easy to find, and there was a sign that said the trail to the giant's kettles was 400 meters. I had visited some giant's kettles before, but I wasn't expecting these to be so remarkable.
The bigger giant's kettle is about 3 meters wide and approximately 5 meters deep. It had a lot of water in it. The small kettle next to it is less than half a meter wide and not very deep. Above the big kettle, there are two very small ones, only 10-15 cm deep. It never stops to amaze me what nature can do.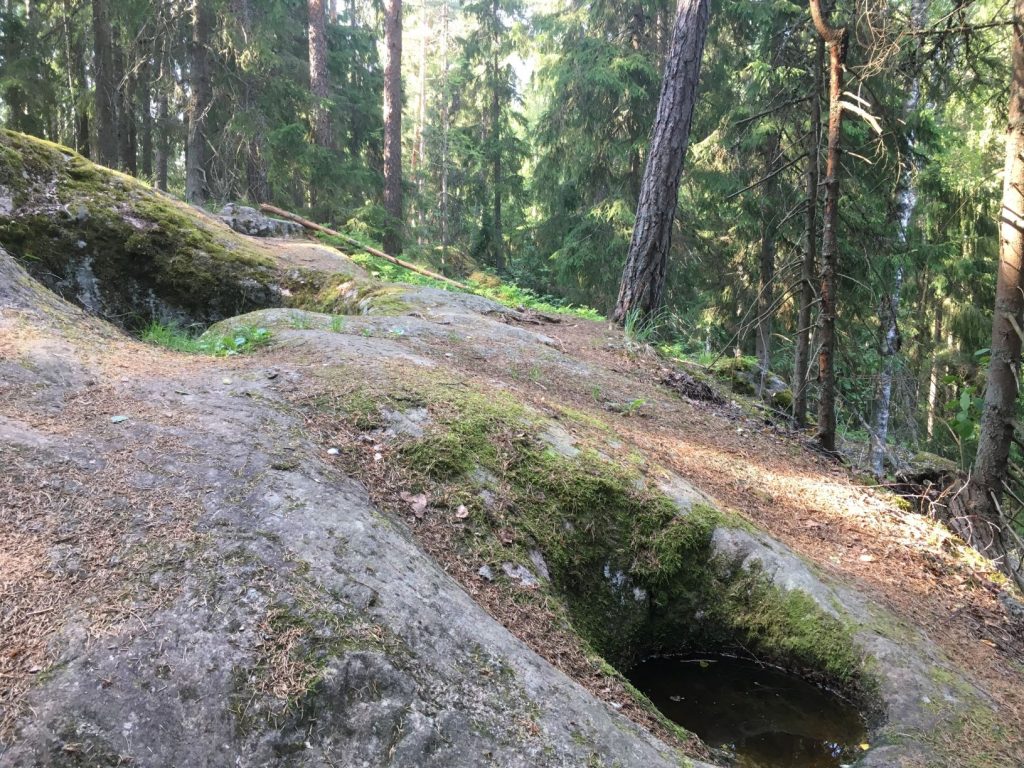 How the giant's kettels were formed
The kettles were formed during the ice age when melting water on top of the glacier formed little streams, which flowed down onto the bedrock, taking with them smaller rocks and debris. In some cases, small rocks got stuck on the surface of the bedrock and the flowing water together with the churning rock slowly eroded away the bedrock, forming potholes.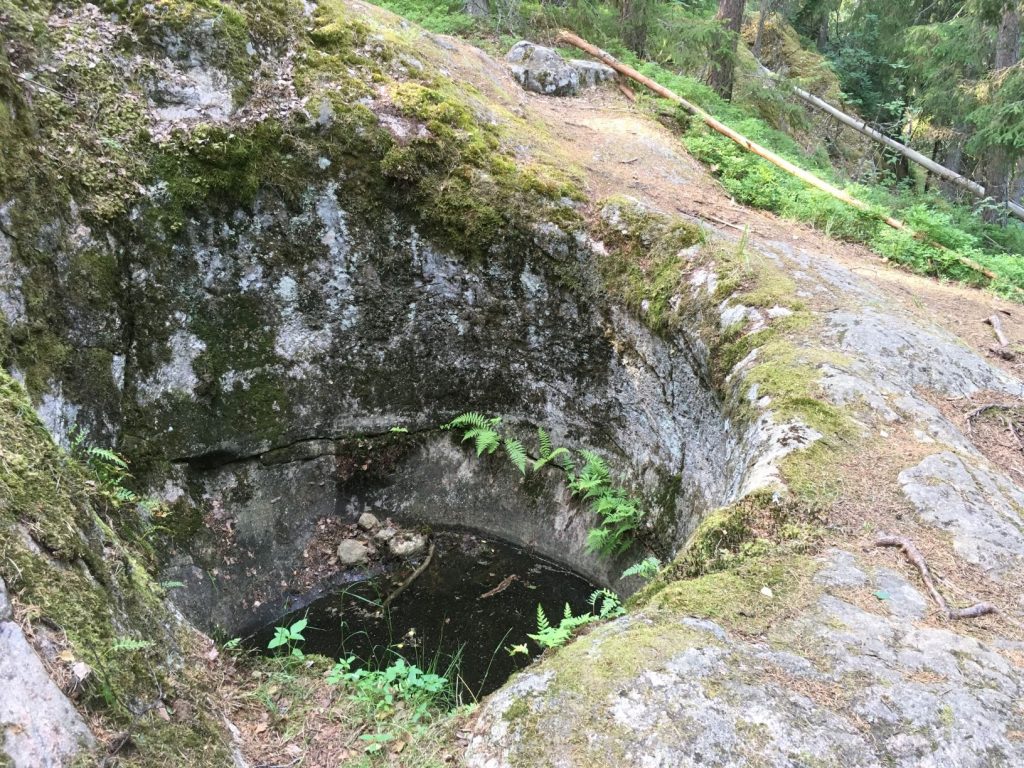 Giant's kettles or giant's cauldrons are called hiidenkirnu in Finnish (hiisi = a giant, kirnu = butter churn) because ancient Finns thought that magical beings in the forest would drill these holes into the hills when nobody was watching.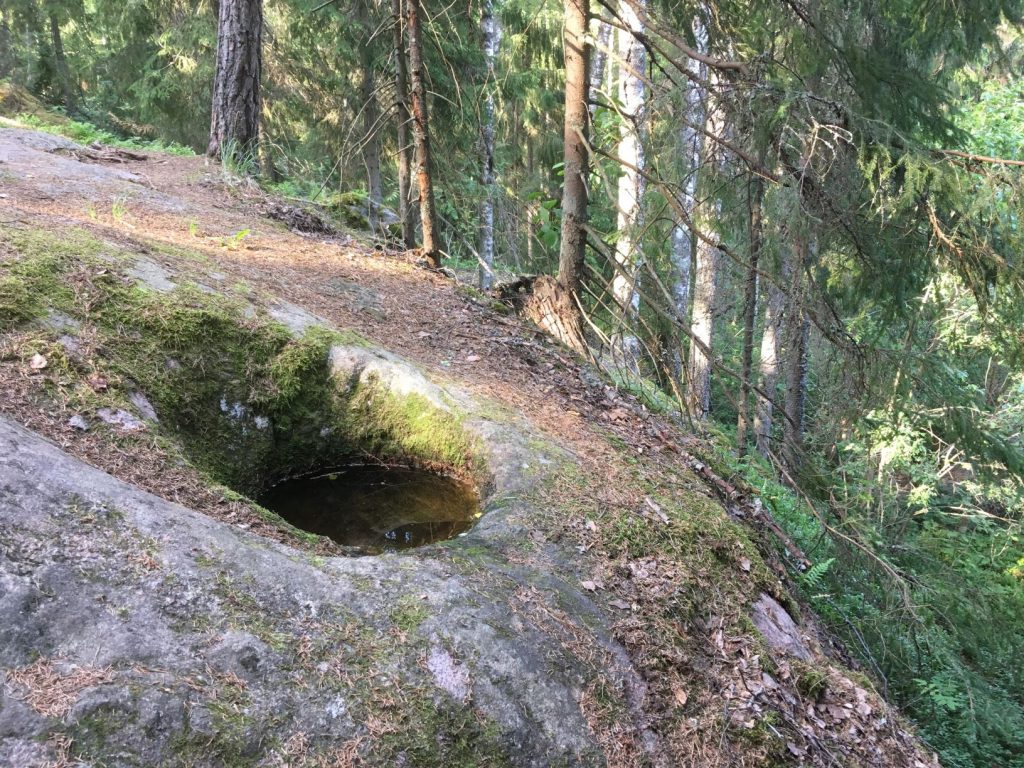 Directions to Talvia giant's kettles
Address:
Hiidenkirnuntie 84
08100 Lohja
How to get there: You can best get to Talvia giant's kettles by car or by bicycle.
Car: From Lohja you need to drive towards Sammatti by road 1070. Turn to Talpelantie and after 1,2 kilometers turn to Hiidenkirnuntie. The parking lot is on the left after about 1,2 kilometers.
Bicycle: The cycling route is basically the same road cars use so please take care.
Public transport: The closest bus stop is Talpela in the beginning of the Talpelantie, about 2,4 kilometers from the parking lot. For routes and timetables please visit Matkahuolto website.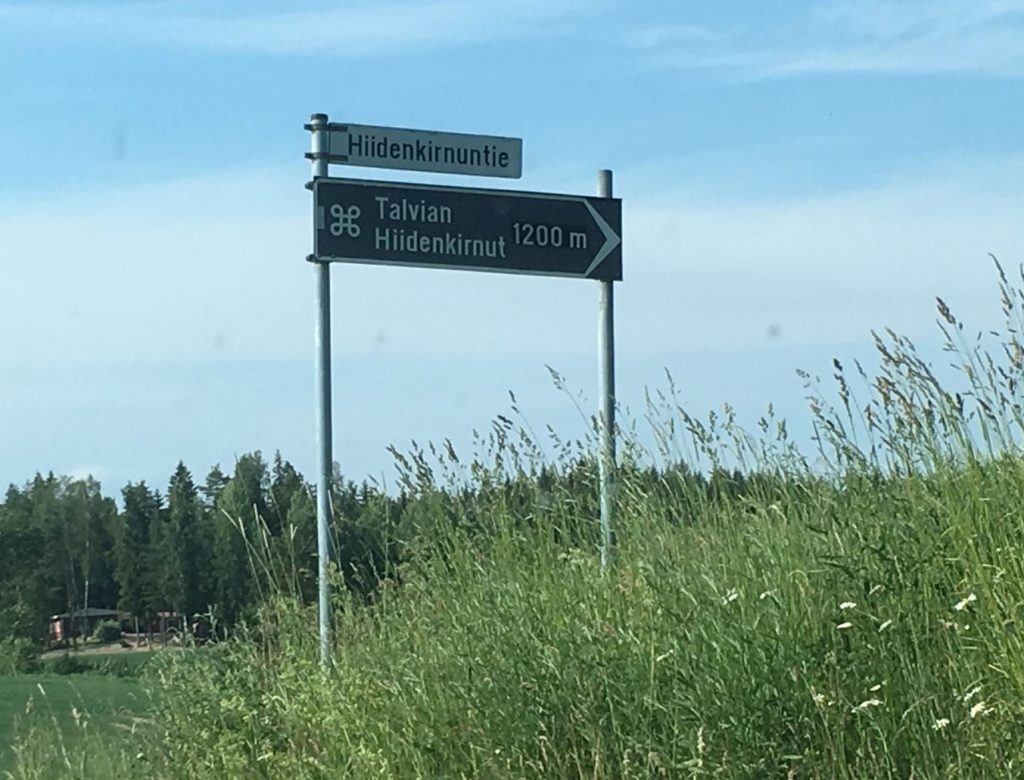 Accessibility: The Talvia giant's kettles are not accessible to people with limited mobility or to any wheeled vehicles such as children's buggies or wheelchairs. Be aware that these giant's kettles are not fenced.
When to go: You can visit the area at any time of the year but the best time is when the kettles and the ground are not frozen, i.e. from May until mid-November. It might be slippery around the giant's kettles when it's raining.
Few other giant's kettles in Finland