Myllyoja bridge in Turku is famous for not leading anywhere. It certainly looks that way, where you are walking towards the bridge from Paimalantie road and the parking lot. The Myllyoja is a narrow steel bridge built in 1980. It seems to be leading to a forest, which in October was showcasing the beautiful colors of autumn. I wasn't the only one who parked the car by Paimalantie, so I expected this to be a popular hiking destination.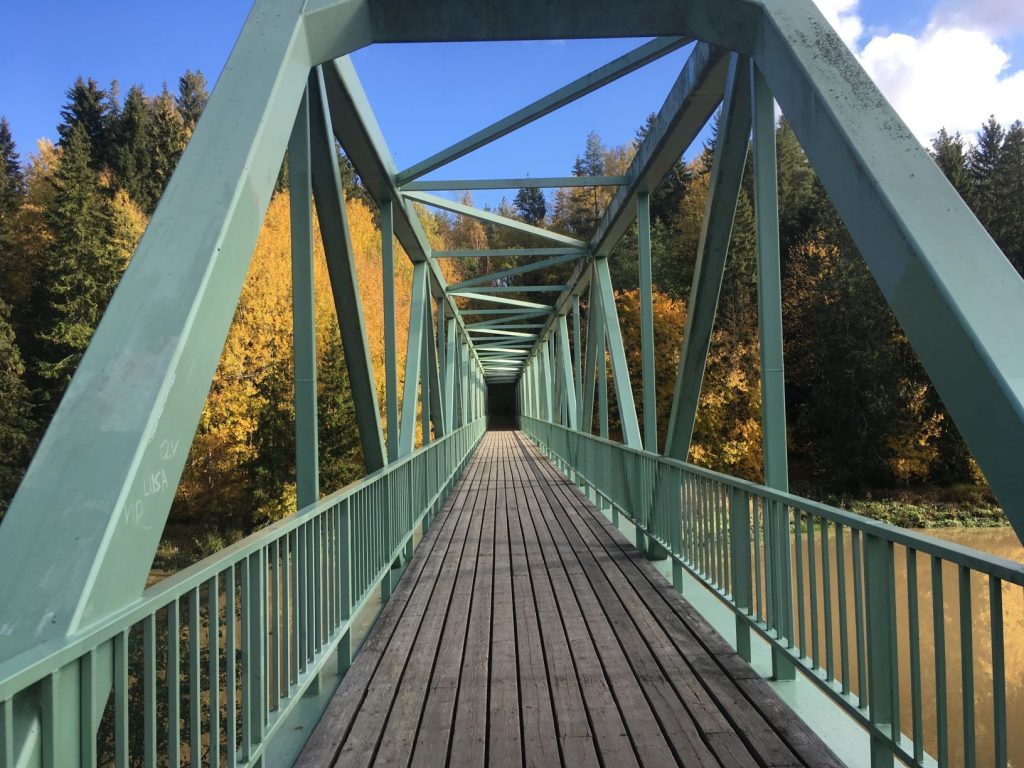 The bridge crosses Maaria's pool, which is a water reservoir in Vähäjoki river and part of Aurajoki basin. The Maaria's pool is utilized for swimming and fishing, but last summer it had some issues with high e-coli levels. Brown waters were not tempting for me for neither activity, so I crossed the bridge to see where it leads. If anywhere.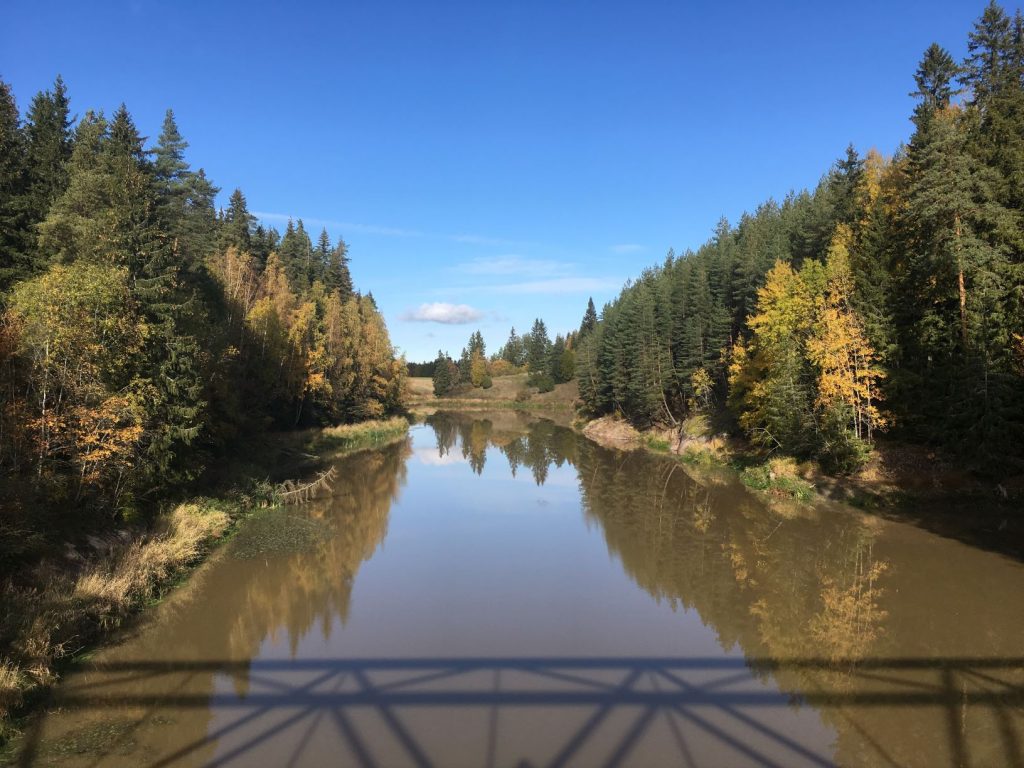 The bridge literally ends up to a forest wall, that makes it look like a dead end. I was surprised to see this, as I knew about Maaria's nature trails behind the bridge. I didn't except the bridge to live up to its reputation, but it did. What a cool bridge this is!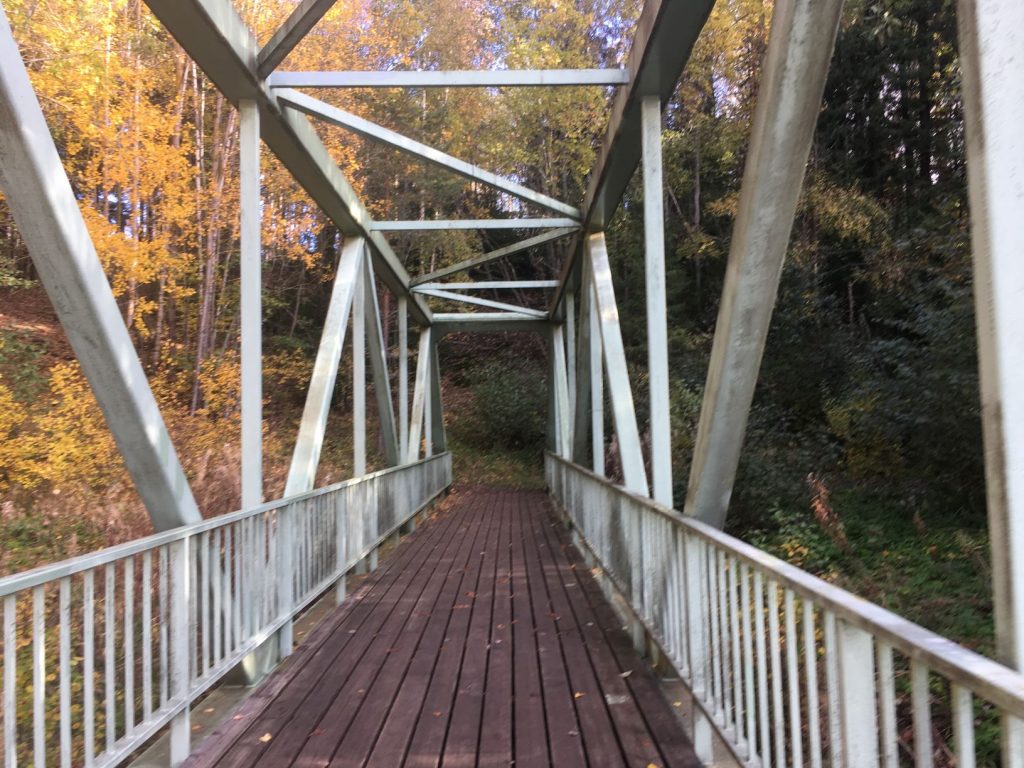 Okay, so at the end of the bridge you can turn left or right and find the paths leading to Maaria's trails. This area was inhabited 5000 years ago, and one of the trails is therefore called Maarian kivikautinen polku, Maaria's stone age trail. It's a 6 km long trail that you can reach right at the top of the hill near this bridge. It's marked with red paint on trees.
You might also spot yellow and blue markings in these forests. Yellow ones mean old nature trail and blue color leads you on to Paavonpolku trail, which is located in the north part of this area. Paavon polut are routes that have been marked on the terrain and introduce walkers to the local nature and urban environments in various places in Turku. In many places the trails merge with other outdoor recreation paths and link them together. In Maaria Paavon polku is a circle trail.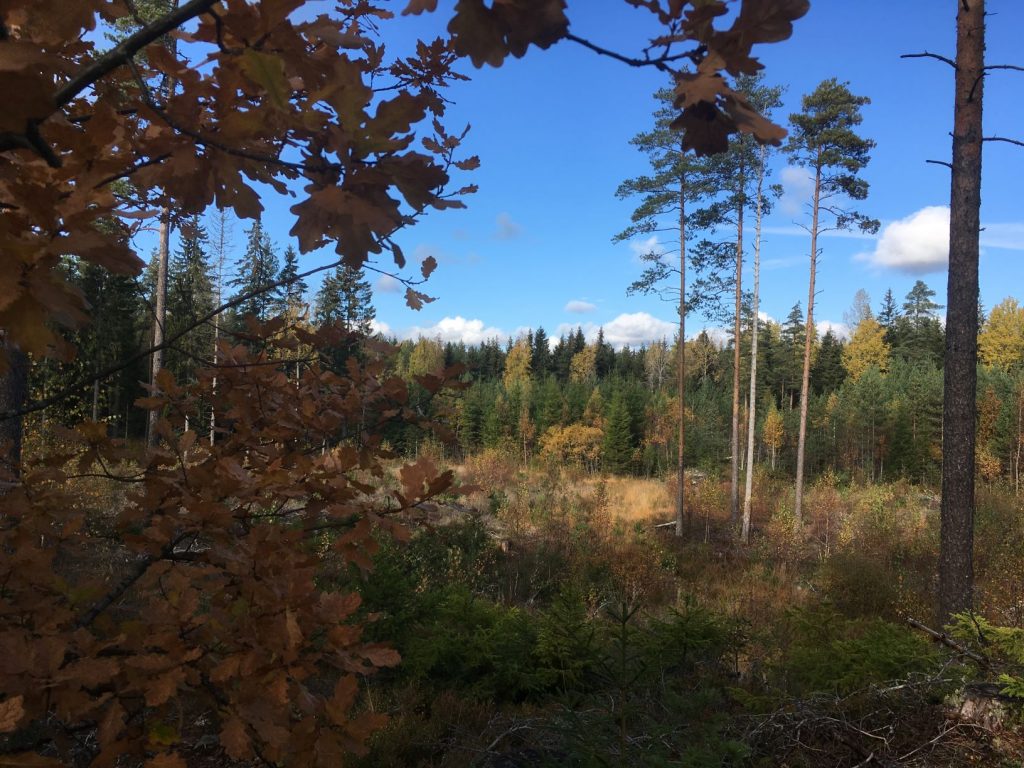 Instead of just walking on one trail, I took advantage of the crazy network of trails and walked aimlessly around the area. That was fun. I did see many other people here, picking some mushrooms and enjoying the lovely autumn day. I could also see many fatbike tracks, horses' hoof prints and paw prints of dogs. This area and these forests were full of life, but apparently more city life than wildlife.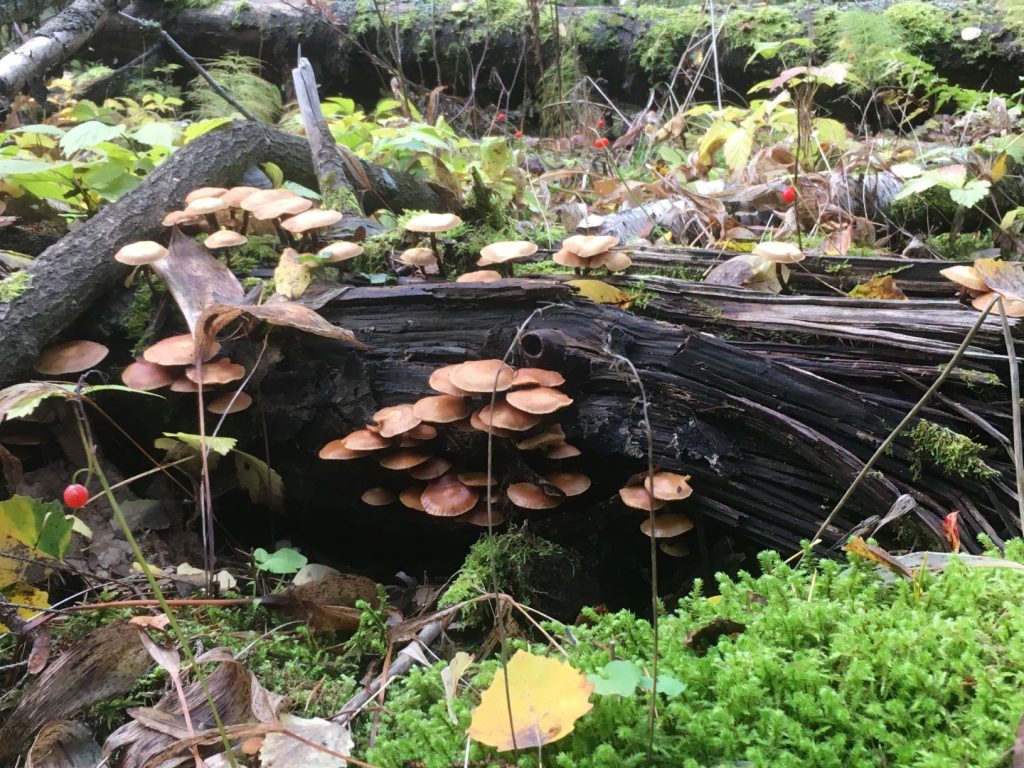 Kukonmäen muinaislähde is an ancient spring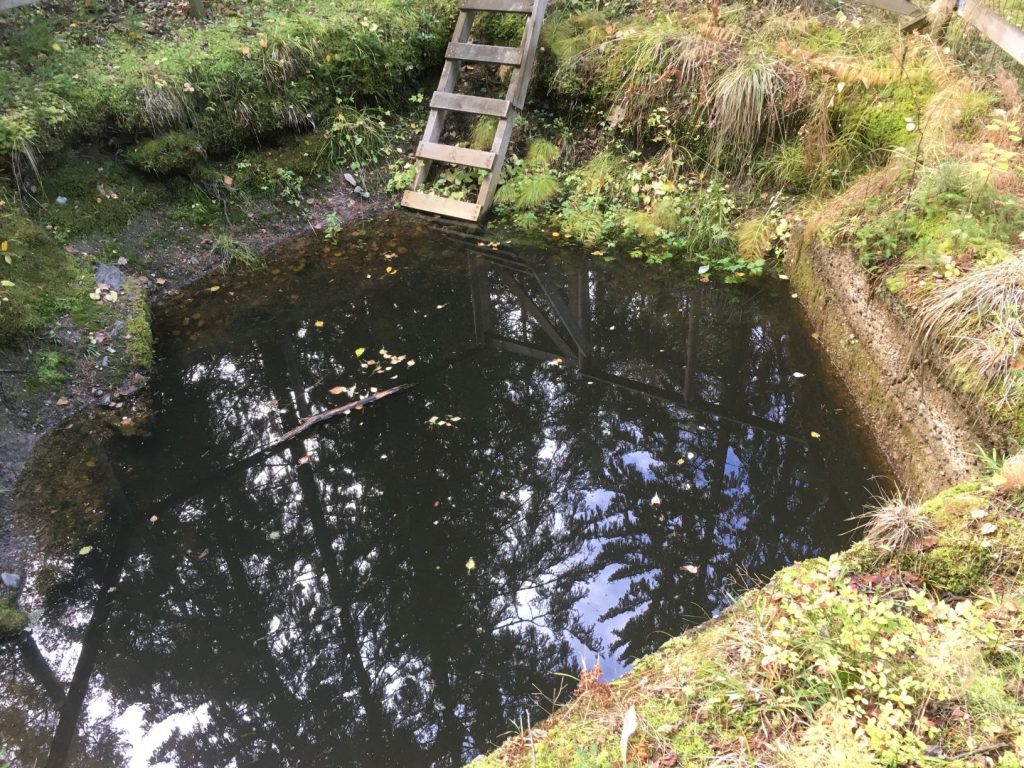 When I returned to the parking lot, I decided to go check out Kukonmäki spring, which was located on the same side of the Maaria's pool as the parking lot, about 120 meters to the opposite direction as the trail to the bridge. A small path was leading to the spring behind the private property. Apparently this ancient spring was cleaned up and fenced 10 years ago, but it is 5000 years old. The cement that you see inside the spring probably dates back to 1930s. The water of the spring is not drinkable without boiling, but it definitely looks different than Maaria's pool. This spring is also called Kukonmäki healing spring, but I wasn't desperate enough with my illnesses to test the healing properties of this hole. It's still a cool place to visit, and I'm glad it had been restored back in 2009. Sometimes it is difficult to comprehend the historical value of certain places, which have probably had a significant meaning in people's lives back then. This area has couple of natural springs, which could be the reason for the area being inhabited already in stone age. We take the clean water for granted nowadays.
Directions to Myllyoja bridge
Address:
Paimalantie 361
20460 Turku
How to get there: You can get to Myllyoja bridge by car, by bicycle or by bus easily from the centre of Turku.
Car: Set Paimalantie 361 to your navigator. It leads you from Turku to north on old Tampere road towards Metsämäki horse racing track. Before the track in Oriketo turn left to Paimalantie road. You will spot the bridge on your right and find the parking lot close to it.
Bicycle: The Myllyoja bridge and Maaria's trails are accessible by bicycles by public roads and this area is a popular biking destination.
Public transport: Buses 22 and 22A pass the Paimalantie road from Puutori in the centre of Turku in just 25 minutes. The closest bus stop is called Myllyoja after the parking lot. Check out timetables and tickets at Föli website.
Accessibility: The nature trail has some wider parts suitable for wheelchairs and children's buggies, but generally the trails are narrow paths in the forest. The area is suitable for children, as long as you pay close attention to them by the river area and Maaria's pool crossing.
When to go: I recommend visiting this area for hiking when there isn't any snow on the ground. Cross-country skiing and ice skating tracks can be accessed from Tervaniemi beach in winter. Remember that walking on skiing tracks with or without a dog is never applauded.
What to wear: Normal hiking shoes are fine. There were quite many wet and muddy parts on the trails, so rubber boots would have been even better in the autumn.
Also visit in the area
Paattinen nature trail nearby is a peaceful location with a beautiful lean-to shelter, so head there if you want to avoid the crowds. Katariinanlaakso nature reserve in Ilpoinen suburb in Turku provides also short trails for an easy day trip. Special characteristics of Katariinanlaakso include rich oaks and little-leaf lindens, some historical boulders, and many curious little squirrels. Katariinanlaakso is also an excellent location for birdwatching.