Heinäjoki nature trail is a fun nature destination with duckboards and few birdwatching towers near Pihtipudas town centre in northern Central Finland. Pihtipudas is located about 140 kilometers north of Jyväskylä along the highway 4 (E75). The municipality has a population of 4000, but there are astounding 140 lakes in Pihtipudas. Heinäjoki, Hay River, connects lakes Alvajärvi, Saanijärvi and Kolima.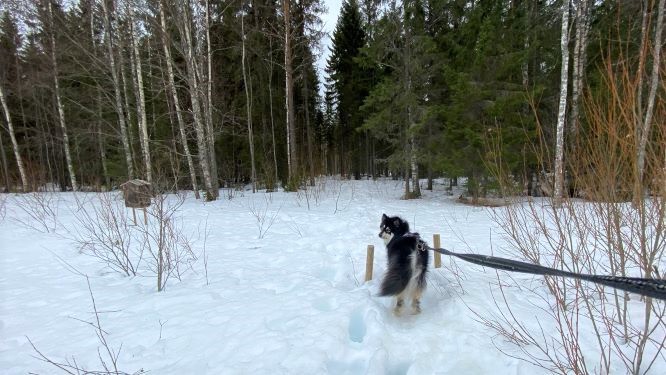 We visited the Heinäjoki nature trail in early April when there was still too much snow on the duckboards and Heinäjoki river was mostly frozen. I accidentally stepped aside from the duckboards many times but Nalle had no trouble walking on the snow.
I could see some grass by the river even despite of the snow. Apparently, this used to be a slightly bigger river before a dam was built under railroad track next to Alvajärvi lake. That slowed down the river and it nearly dried out, until the dam was fixed and the river flow ensured.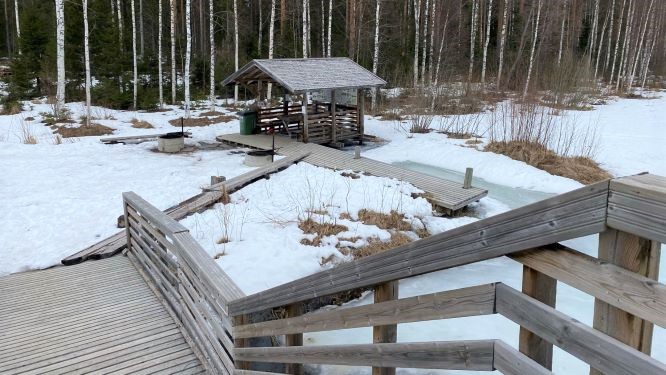 It was a bit too early to spot many migratory birds, so we definitely have to come back later when we are next passing by Pihtipudas. Birds to spot in this area include swans, mergansers, whimbrels, divers, ducks, and even eagles. Geocachers will be happy to know that there are few premium geocaches and one multicache in this area.

Edit: We came back here in early June so few summer photos added, but I didn't manage get pictures of any birds. But I saw hundreds of mosquitos.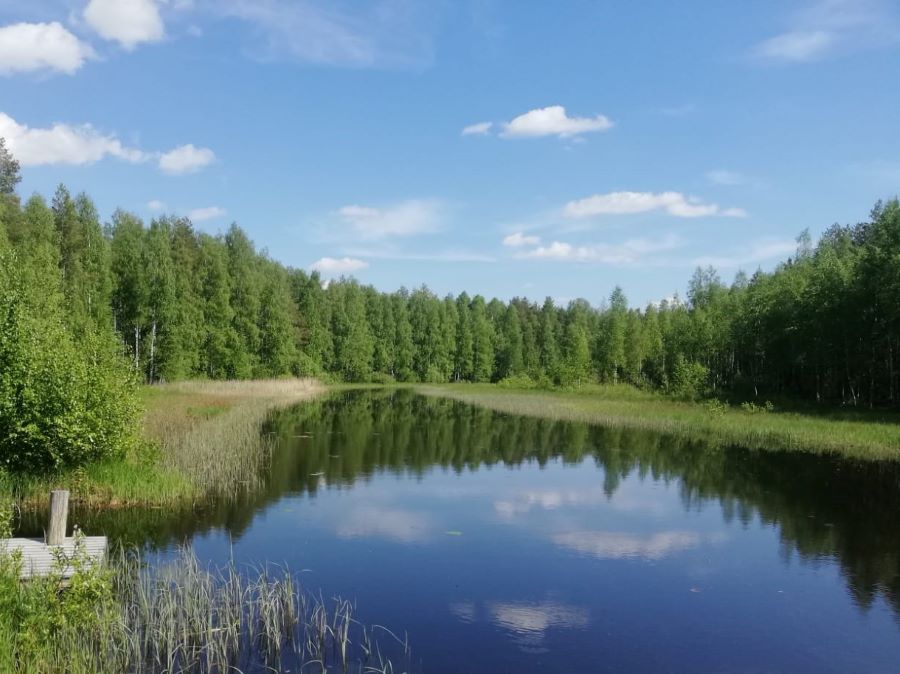 Map of Heinäjoki nature trail
Heinäjoki nature trail begins from Karjasillantie road (1.) and first the older part of duckboards take you over Mainneva bog. There is a lean-to shelter (2.) and main birdwatching tower (3.) near the river. The duckboards continue to the second and smaller birdwatching tower (4.) in Sahinniemi. Jokisaari is a small island in the Heinäjoki river, accessible by a pontoon bridge from the south, over a part called Matalajoki. The fireplace with outhouse (5.) is located on the other side of Heinäjoki river next to a wooden bridge. Alltogether this nature trail is about 3 kilometers long if you walk to the fireplace and back along Karjasillantie road.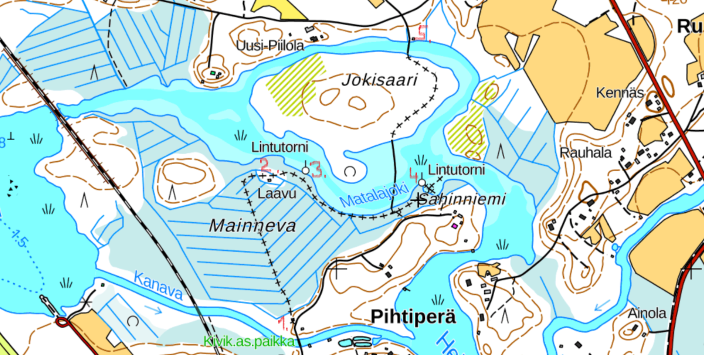 Alternatively, you can continue from the fireplace (5.) along Rasinahontie, Reisjärventie and Ruukintie roads back to the town. That way you will be passing beautiful Saaninkoski rapids in Saaninjoki river, and a historical Heinäjoki bridge that was built in 1924. That makes about 6,5 kilometers long circle trail.
Directions to Heinäjoki in Pihtipudas
Address:
Heinäjoen luontoreitti / Heinäjoki nature trail
Karjasillantie 20
44800 Pihtipudas
How to get there: You can access the Heinäjoki nature trail from Karjasillantie road, about 1,4 kilometers from Pihtipudas town centre.
Car: In Pihtipudas centre drive west along Asematie and before the railway turn right to Pohjanpolku. From Pohjanpolku turn left to Liitontie. Park your car next to Karjasillantie road before the bridge.
Public transport: Pihtipudas town is a popular stop along highway 4 and accessible by public transport. See timetables at Matkahuolto website.
Accessibility: There are duckboads and stairs along the way, so the nature trail is not accessible for all. It is suitable for children but not for prams.

Facilities: Lean-to shelter, bidwatching towers, fireplace and an outhouse toilet.
When to go: This area is recommended to be visited when there is no snow on the ground as there is no upkeeping of the trail in winter.
What to wear: Don't forget your binoculars for birdwatching. Insect repellent could be also useful in summer as mosquitos usually love wetlands.
Special to know: Respect the nature in the area and remain on the duckboards. You should not make a fire at the lean-to shelter during summer, but use the fireplace by the bridge. Please make sure that forest fire warning at Finnish Meteorological Institute website is not on before making any fire.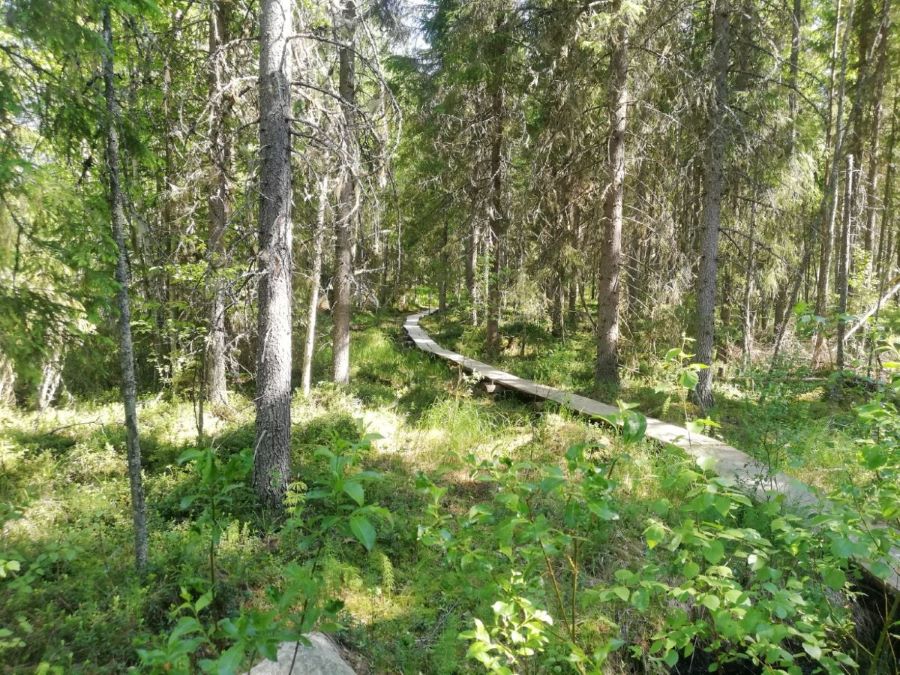 Other nature destinations near highway 4