Pääkslahti nature trail in Vihti surprised me thoroughly. I had been planning to go there for months, but during Covid-19 I have spent less time in the capital area and had no chance of going to Vihti. Last weekend I was finally able to go there. And I'm so glad I did.
It was an overcast but mainly dry Saturday in June. It was raining when I was driving to Vihti, but it stopped when I arrived to the parking lot. Despite of it being a weekend, I saw absolutely no-one here during the whole day. My car was standing on the parking lot alone even when I came back from the trails. Why would anyone head to crowded national parks when you have a quiet gem like this nearby! Laukkakallio views to Hiidenvesi give you a little glimpse of what can be found at Pääkslahti.

Highlights of Pääkslahti include giant's kettle, sandy beaches, views to east from Mustakallio and to west from Laukkakallio, and very well maintained lean-to shelters in Puumanni and Rysätarha.
The giant's kettle (hiidenkirnu) in Pääkslahti is well marked and easy to find. It's pretty small in diameter, but apparently about 3 meters deep. It was filled with water after the rain. It's certainly not as magical as Giant's Kettle Park of Askola but it's nevertheless an interesting sight in this versatile nature trail.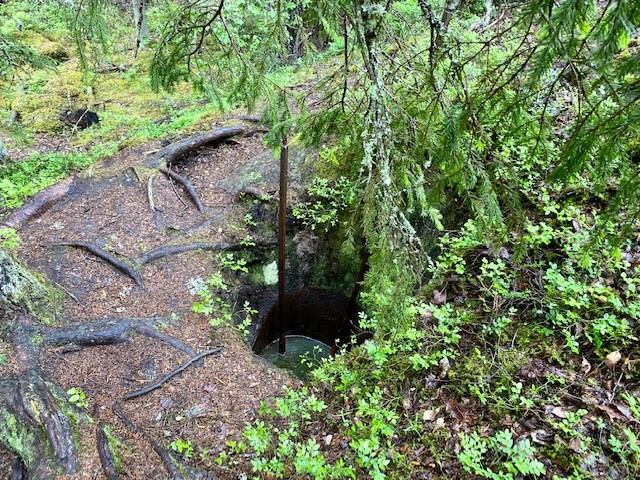 Another interesting sight was this protected pine tree few meters of the nature trail. Pine trees start to create this kind of thick shield bark when they are at least 150 years old, and it is said to protect their trunks even from forest fires.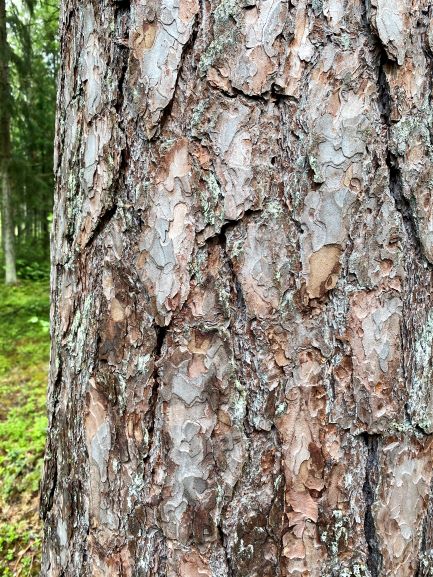 Puumanni hosts two stunning lean-to shelters with outhouses as well as several barbeque places and picnic tables. They have been built by Hiidenveden Purjehtijat. If you visit this place, make sure you leave it in equally mint condition afterwards. Lean-to shelters were very clean, they had plenty of chopped firewood available, and there was even toilet paper in the outhouse. This gotta be one of the best maintained campsites I have recently been to.
Trail markings are also excellent. Many thanks to HiiPu!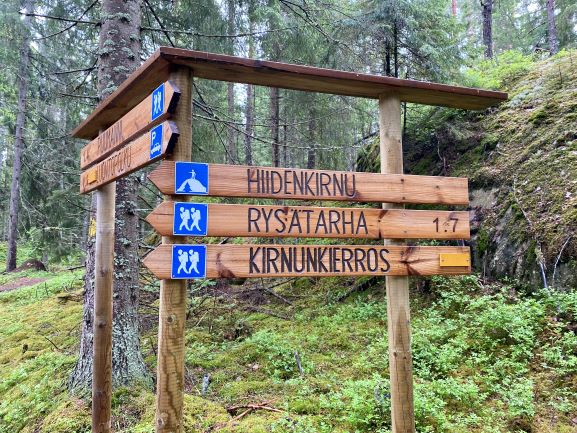 The trail map is below. The trail network is based on Kirnunkierros trail (yellow), which is 2,8 kilometers long trail to the giant's kettles. Puumanninpolku (red) adds another 1,3 kilometers and Laukkakallionlenkki (blue) 1,2 kilometers to it.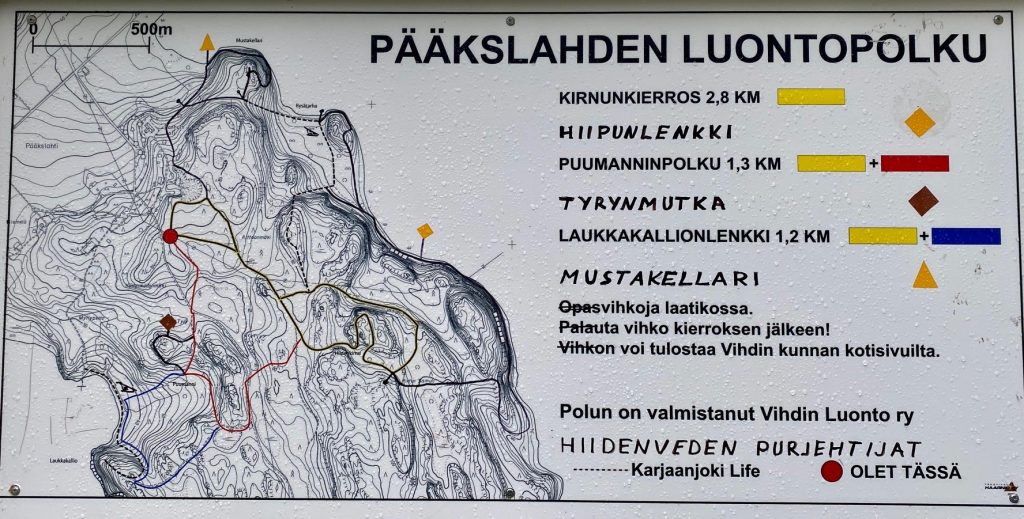 Directions to Pääkslahti nature trail
Address:
Pääkslahden luontopolku / Pääkslahti nature trail
Pääksniementie 69
03400 Vihti

How to get there: You can get to Pääslahti by your own car or bicycle.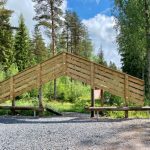 Car: Drive to Pääksniementie and pass horse stables on your right. The parking lot is located soon after the stables at the top of the hill on your left. It has a cool entrance to the trails, you can't miss it.
Public transport: There are no public transport available directly to the nature trail.
Bicycle: The nature trails are located about 8 kilometers from the centre of Vihti.
Accessibility: There are no services for the disabled in the area. The area is suitable for families with children, but the trails are not suitable for prams. There is about 40 meters of elevation on the nature trail.
What to wear: Normal sneakers will suffice during dry summer months, but the trails will get muddy easily.
Special to know: Horses from the nearby stable enjoy this nature trail too. Take this into consideration especially if visiting Pääkslahti with your dog – keep your dog on the leash.
Few other giant's kettles in Finland