The Ice Age has carved out many amazing natural wonders in Finland. The devil's gate near the Putelo croft estate at Rantasalmi deserves a definite mention among Finland's geological wonders. It is a bit tricky to find but it is truly a remarkable sight to see!
I had found this incredible natural rock formation by accident when looking for sights near Savonlinna. According to the Geological Survey of Finland (GTK), the formation is known by many names such as Putelon lohkare ("the boulder at Putelo"), Putelon pirunportti ("the devil's gate of Putelo"), and Kaperin linnake ("the Kaperi fortress"). A small (and private) gravel road turns off the main road to Savonlinna – so small in fact that I missed it the first time! We drove on the unnamed road for a few minutes until we noticed a one-car sized dent on our left. It was a perfect spot to leave our car and find the trail to the Devil's gate.
There is a tiny (and I mean tiny) trail that starts by the larger gravel road. Unfortunately, you have to go across a tiny ditch to get to the forest, but thankfully there was no water in it. We did stomp our feet vigorously to make sure there were no snakes hiding in the ditch.
Once in the forest, you immediately see a large glacial erratic and imposing cliffs rising behind it.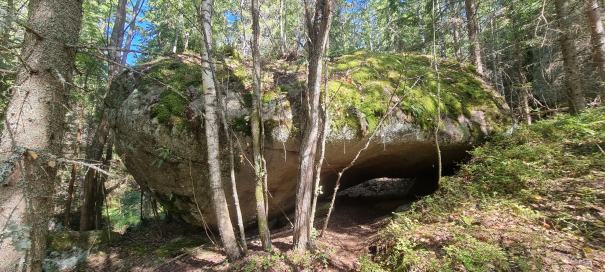 We circled them, looking for the actual gate. Clearly, something massive was going on here during the last Ice Age to create so many glacial erratics and steep cliffs in one place.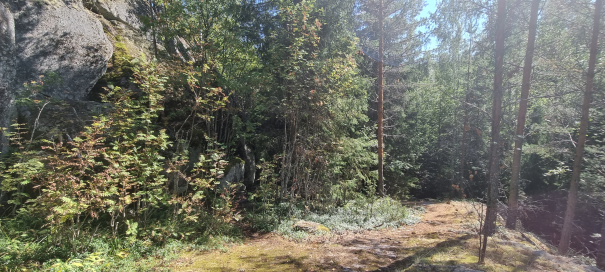 Eventually, I noticed a path which led down the hill. It wound between trees and became more steep. I walked through a spider's web (of course!) and because I was sputtering and trying to get it off my face, I stopped. When I started paying attention to my surroundings again, I noticed that I had arrived to the gate.
On my left was an enormous rock bridge! It stood at least 3-4m from the ground, imposing and dark. Underneath the bridge are more massive boulders. No wonder it is called the Devil's Gate! I doubt anyone walking through it would be surprised to find themselves on another planet. Yes, it was impressive.
I noticed that there are cracks in the rock bridge, so sadly, it is possible it will eventually crash down. It is very important that you do not attempt to climb or poke it under any circumstances!
More about the Devil's gate
The Devil's gate, the Putelo boulder, or the Kaperi fortress all describe the same rock bridge structure. The gate itself is a sheet-like boulder which eroded into an arch-like formation. Originally, the rock sheet was loosened by the last Ice Age and its massive glaciers. Currently, the arch stands about 6m wide and 3-5m in height. It may be the largest natural rock arch formation in Finland!
Directions to the Devil's gate at Putelo
Address: The road that leads to the Devil's gate is unnamed so type Kaperinlinna or Putelon pirunportti on your navigator.
Car: There is a tiny area where you can leave your car next to the forest road leading to the Devil's gate. The clearing is about 20m before the Devil's gate area.
Bicycle: There are no specialised roads for cyclists so you have to take care when driving alongside cars.
Public transport: A bus stop is located about 2.5km from the Devil's Gate. The closest bus stops are Torasalo and Repomäki P. The bus between Savonlinna, Varkaus, and Kuopio runs close by. You can take the bus from any of these cities (route planner) or from the nearby town of Rantasalmi (route planner).
Rough map of the area (click to enlarge):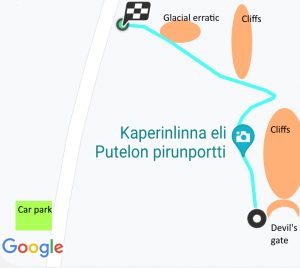 Accessibility: This area is not suitable for wheelchairs or children's buggies. It is also hilly and rocky, so it requires attention. The distance is only about 100m from the road.
When to go: The best time to visit is when there is no snow. Snow obstructs visibility and may make the area more dangerous. It is, however, possible to see the Devil's Gate even during the winter because it is so far off the ground.
What else to see?
There are many sights to see nearby. If you want to see other Ice Age curiosities, check out Kummakivi ("Strange rock") balancing rock nearby. Also, go see the incredible rock paintings at Astuvansalmi and climb the Devil's Loop and Neitvuori mountain.