Sledding. Tobogganing. Sleighing. Flopping. Tubing. Belly flying. Whatever you want to call it, this ancient form of fun of gliding down a snowy slope is a winter sport suitable for everyone! One of the best places to enjoy it is at Taivaskallio in Käpylä, Helsinki.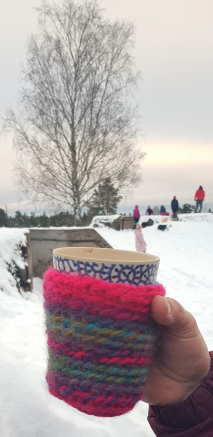 It also has excellent outdoor facilities to take a break and drink some hot chocolate in between runs like we did. Normally, outside of corona virus times, the Helsinki Lions club also organises a traditional Mardi Gras or Shrove Sunday (Laskiaissunnuntai) sledding event on Taivaskallio called "Taivaskallion laskiainen".
As Taivaskallio is one of the highest points in Helsinki, it is also popular among other sports enthusiasts as the hike (or even run!) uphill definitely makes you huff and puff. There are lovely routes around the hill, which you can explore on your way up to enjoy the spectacular views over Helsinki.
At New Year's Eve, many gather up to Taivaskallio to enjoy the fireworks. In the winter, when it's dark enough, you can even enjoy watching the night sky and all the stars because there are no lights on the very top of the hill. In the summer, the cliffs are full of people basking in the sun, having a picnic, or even picking berries.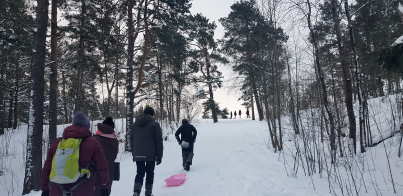 Taivaskallio and its history
Before Malminkartanonmäki hill and Paloheinä hill were created, Taivaskallio was the highest hill in Helsinki at 60m (196ft). During the wars in 1939-1944, Taivaskallio (Heaven hill) was the site of the Helsinki air defense regiment called Taivas (Heaven). You can still see old batteries on top of the hill as well as one sealed anti-aircraft gun with a memorial plaque attached to it. There is also a giant underground silo carved into Taivaskallio hill.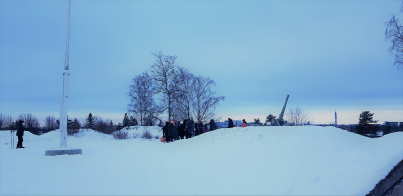 Bouldering and rock climbing galore
Taivaskallio has also been important in the development of bouldering and rock climbing in Finland since the 1950s. Its cliffs were developed to provide both easy and more challenging routes from beginners to more advanced climbers. Obviously, bouldering is recommended only during non-snowy times, but the crags offer something for everyone. If you're interested in bouldering, check out routes in English and Finnish here.
Directions to Taivaskallio
Address:
Taivaskallio, Helsinki.
How to get there: Taivaskallio is a suburb of Käpylä in Helsinki. It can be easily reached from Helsinki city centre, since it is only 8km from the centre. The best way to get to Taivaskallio is by public transport.
Car: Type Panuntie 7 in your navigator. There is no guaranteed parking space at Taivaskallio or even nearby.
Bicycle: You can easily cycle to Taivaskallio via Pohjoisbaana, a dedicated cycling route alongside the railway tracks from Helsinki centre.
Public transport: The best way to get to Taivaskallio is by train to Käpylä. You can also take a bus: the closest bus stops are Käpylän asema and Panuntie.
Accessibility: The area has both accessible and less accessible routes with both asphalt and gravel sections. The fitness track area has lighting so it is safe even after dark. However, there are no lights on the very top of the hill.
Facilities: There are no toilets in the area or a possibility to build a fire.
When to go: We recommend visiting this area at any time of the year since it offers great views over Helsinki and it is simply a fun place to spend time.
Also check out these
If you are looking for high places to visit, check out Malminkartanonmäki and Paloheinä hills as well as Vuosaarenhuippu hill.
If you are into historical sights, check out Mustavuori in Vuosaari.