Moose hunting in Finland can be a fun hobby for some, but many people hunt moose because it is an important source of food and to keep the moose population limited in order to minimize the number of car accidents. Even if you are not into hunting, there are few things you should know about the moose in Finland. It is good to know when is the moose hunting season, and how you should take hunting into consideration when you go out in the nature. Knowing what to do if you hit a moose by car or encounter one in the nature is also useful.
How many moose are there in Finland?
There are approximately 80 000 – 85 000 moose in the Finnish forests every year after the hunting season. Moose in Finland are large, iconic herbivores that are commonly found in the country's forests and wilderness areas. Moose are known as "hirvi" in Finnish. These animals are adapted to the cold climate and are typically solitary in nature, although you might occasionally spot them in small family groups.
How many moose accidents occur in Finland each year?
Moose cause fatal accidents on Finland's roads every year. According to the most recent statistics by Statistics Finland, there were 13 758 accidents in Finland related to all game, and moose was part of 1509 car accidents in 2022. Collisions with moose occur all over the country, including Helsinki.
Many stretches of major highways are lined with high moose fences to prevent accidents, but the best way to avoid collisions with moose is to obey speed limits, pay attention to moose warning signs, and take into consideration the natural habits of the moose. They for example like to be on the move in the twilight hours around dawn and dusk, so that is when you need to be extra cautious when driving. Moose mothers wean their calves in spring when the calves are approximately one-year olds to make way for newborn, so in springtime these young one-year olds tend to be jumping on the roads and sometimes stray to wrong places such as town or city centers. Autumn is also very active time for the moose because of rutting season and later because of the hunting and being chased by dogs. If you spot a moose running over the road in a distance, it's better to slow down because there might be a calf or a dog following the moose. Always keep a safe distance to the car in front of you so that you will have time to break if needed.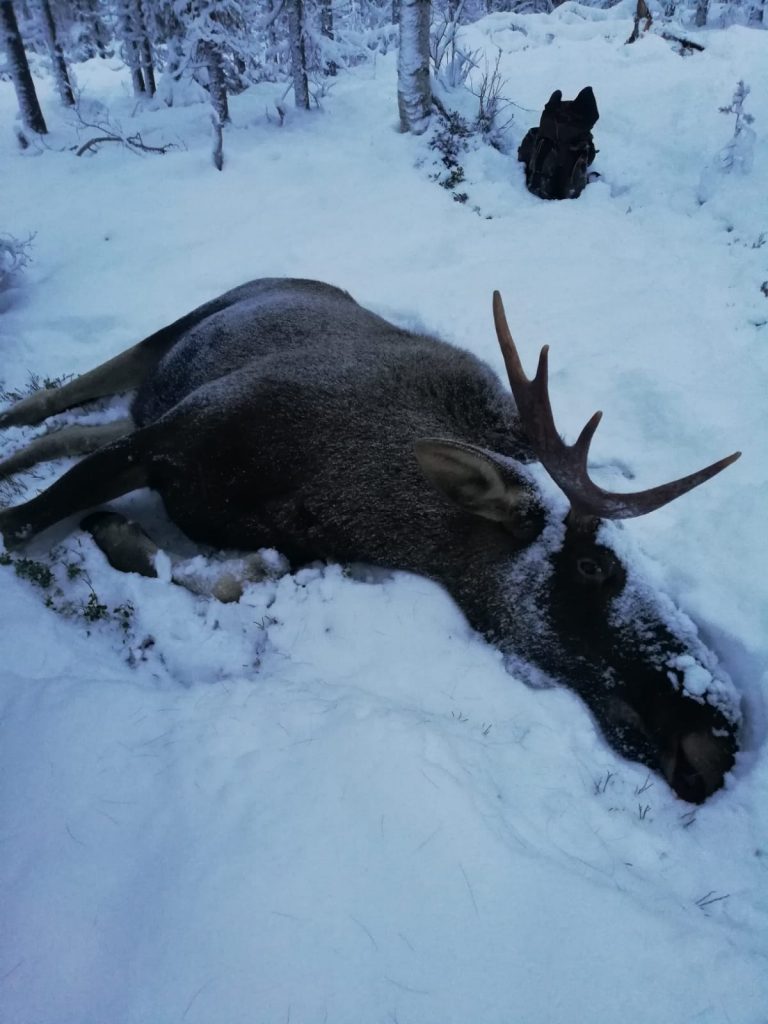 What to do if you hit a moose on the road?
Nobody wants to experience a collision with a moose, which is easily the size of a horse and can weight up to 700 kilograms. Should the collision with a moose occur, you should warn others in traffic and make sure others can see you and slow down. I always have reflective vest in my car in case of accidents because Finnish roads can be pretty dark for the majority of the year. Put on the vest if you have one. You should call the ambulance if needed and notify police by dialing 112, or preferably through 112 Suomi app, which shows your exact location to the Finnish authorities. First help injured people on site, before checking the status of moose. Do not start tracking the injured animal in case it runs to the forest. Wait for the police and hunters to arrive so that they know where to start tracking it.
What if you encounter a moose in the forest in Finland
Encountering a moose in the forest is not very common as moose are shy of people and avoid confrontation. If you happen to see one, calmly back away. Almost all of those times I have encountered a moose in the forest, the moose has stared at me for few seconds before it turned around and ran away. One time it completely ignored me and continued eating. Maybe it didn't see me. I turned around and quietly walked away. You should note that male moose may be aggressive in the autumn during rutting season, and female moose are always keen to protect their little calves. Do not approach a moose if you encounter one in the forest. If moose was to attack you or run towards you aggressively, which is rare, it would be better to escape behind a tree instead of trying to outrun the moose.
Autumn is the moose hunting season in Finland
Moose hunting season began in 2020 on the 1st of September in Lapland, Kuusamo and Taivalkoski, and breaks for few weeks before starting again on the 10th of October in the whole country. It ends latest in mid-January or earlier if all the permits in the area have been used.
If you are interested in moose hunting, check out the Finnish Wildlife Agency website for more information. In short, everyone who hunts in Finland is required to pay the state a game management fee and you also need a Finnish hunting license and you need to pass a Finnish shooting test.
There are many other rules and regulations regarding moose hunting, beginning from the bullets and the size of hunting groups. You are for example not allowed to shoot the moose while it is swimming, because of the risk of it going to the bottom of the lake. Most respectable hunters do not shoot moose mothers with calves, even if that is currently allowed. You should be aware that moose hunting might also be allowed in national parks, especially in Lapland.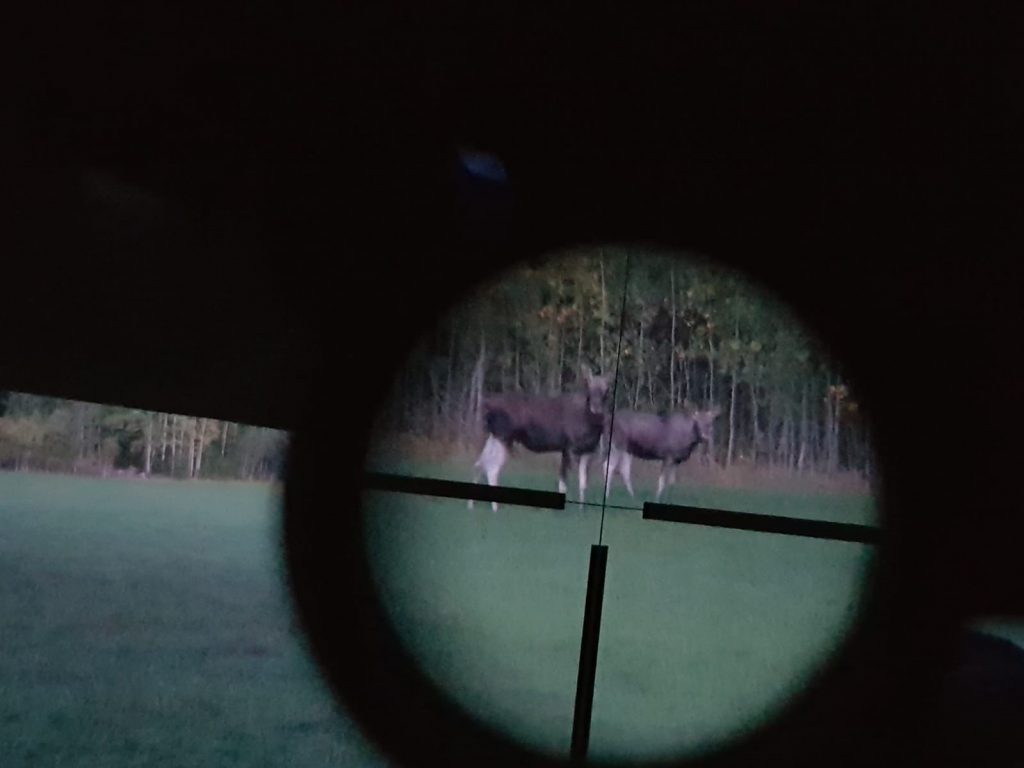 When you go to the forest during moose hunting in Finland, especially in the beginning of it, you should wear bright yellow or red vest or jacket. This is another controversial topic in moose hunting, as many people feel that they should be able to go to the forest at any time as allowed in everyman's rights and it is hunters responsibility to spot other people. This is correct, you are allowed to go to the forest at any time of the year, but for you own safety you should still wear bright colors. Personally, I avoid going to the forest on the first weekends and especially mornings at the beginning of moose hunting season in the areas where I know the hunting takes place. If you happen to spot hunters wearing orange on your way to the forest, it might be a good idea to change location or at least let them know your whereabouts. In my experience they appreciate this information.
If you happen to see hunters or a sign warning about ongoing moose hunting by the road when you are driving, take extra care and slow down for your own safety. I have seen a moose being chased by dogs running over the road, and a hunting dog being hit by a car. The hunters usually know where the dog is going, so they try to warn drivers if the dog (and the moose) is coming close to a road. So be aware, that another driver wearing orange flashing headlights from a car might be a hunter trying to get other drivers to slow down. Flashing lights is a common way in Finland to warn other drivers about moose.
Where to see moose in Finland
For those who are interested in seeing the moose, Ähtäri Zoo or Ranua Wildlife Park are the safest bet. Or just keep your eyes open near one of the 4587 moose warning signs by the Finnish roads.
Check out also
Deer hunting in Finland is a common hobby as there are large populations of fallow deer, white tailed deer, and roe deer roaming in our forests. Read more about deer hunting in Finland.