The steep cliffs overlooking lake Lohjanjärvi and southern Finland, the lush hazel groves, and forbidding pine trees offer a fantastic place for exploration and adventure… and all handily next to the old ironworks hamlet and castle at Mustio. Korpudden is a hidden gem close to the capital.
I visited the Korpudden recreation area in early April when most of the snow had already melted from low-lying areas. When I turned to the tiny road leading down toward the actual Korpudden area, I stopped and thought for a second: "I must be insane to willingly drive down a sloped hill, which is in the middle of nowhere." There was still plenty of snow on the ground, and the driveway was sheer ice. Literally. I got out of my car to check if the clearance under my car was enough so that I wouldn't get stuck on a snow bank… because, as mentioned before, I was in the middle of nowhere and getting a tow car to get me out would be super-embarrassing.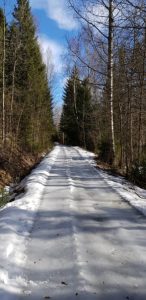 Luckily, I had enough clearance. Just barely enough, though. Slowly, very slowly, I guided the car down the icy slope. It is only about 700m but it felt like 7 kilometres. Once I got down to the first clearing, I decided to leave my car there and walk the rest of the way because the rest of the road that had been made by a 4-wheel drive looked very unsafe. So I left my car next to a bubbling brook that had found its way from under the snow, and started walking in the sunshine toward the actual Korpudden area.
I walked past lovely ice formations, trickling down alongside the high cliffs to my left. I could see the Lohjanjärvi lake to my right, frozen still but slowly thawing. At the end of a cul-de-sac stood a sign board which had the general area marked as well as the track leading up to the cliffs and back down.
There are two different camp sites in Korpudden: a covered campfire site with proper walls and a flue (which can be used during forest fire warnings), and a fireplace next to the water (which absolutely must not be used when forest fire warning is in place). I sat down for a while just to enjoy the sunshine and the first rays of spring in the air.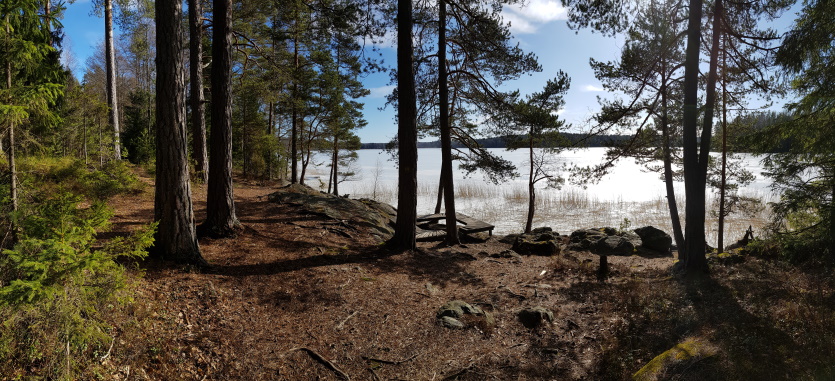 The track that leads you up to the top of the steep cliffs leaves from behind the covered campfire site. The signposts are not very visible but if you take your time and walk carefully among the fallen tree branches, you can make your way to the top of the cliffs. And the views are pretty amazing. Even during the cold winds of early April, it was a beautiful places to visit. Even with snow, the area was covered in greenery.

Carefully making my way down from the top of the cliffs, I nearly stepped on some animal droppings. They were huge. I had to send a picture of them to Jenni, saying: "Please tell me I'm not going to be mauled by a bear." She laughed at me and said: "Not unless they have started growing hooves and antlers. Those are moose droppings."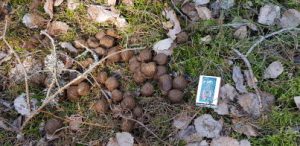 Having been saved from hungry post-hibernation bears, I continued about half-way down the slope. I noticed that there was a fork in the path: one toward the fireplace on the right and one leading to the tip of the cape. I wanted to check out the cape so I went left to explore. Very quickly, the cliffs tapered to a thin point leading down towards the lake, which had melted completely next to the shore. There were some rocks at the very tip of the cape, so I sat down to enjoy the view for a bit. I even saw half of a clamshell on the ground… clearly a muskrat or an otter had been enjoying their lunch there.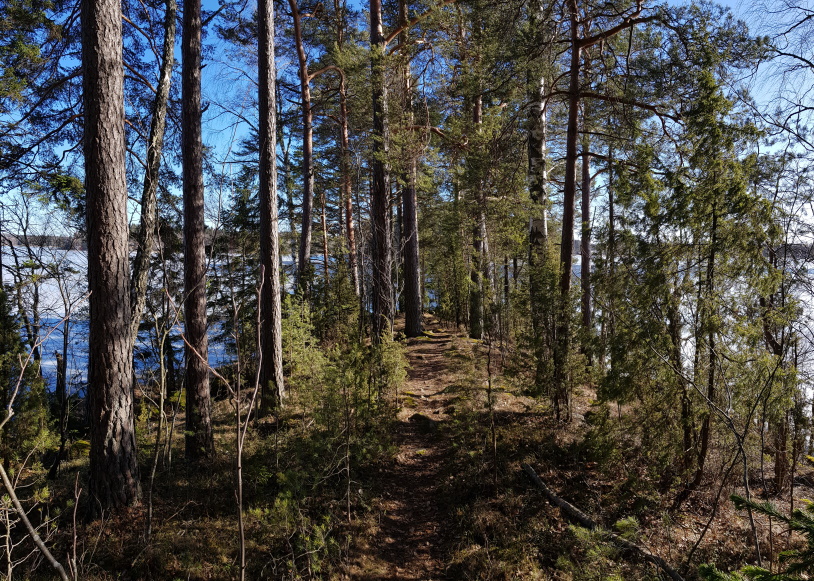 Going back from the cape took me by the fork in the road and finally to some steps that have been built to make it safer to come down from the cliffs. The path continued past incredibly cliffs covered in soft green moss dripping with water. So peaceful. The lake was within touching distance, and I kept thinking that I have to return there in the summer just to try the water. Even just dipping my toe in.
The entire tour took only about an hour but stopping, wondering, exploring, and enjoying the best of nature therapy made it almost 2 hours. Sipping my hot chocolate and gazing over the half-frozen lake in bright sunshine…. what could be better?
Directions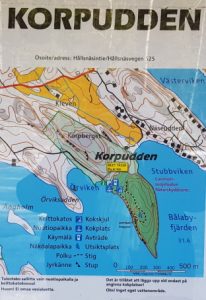 Address: Hållsnäsintie 519, Raasepori. Turn right from here onto a narrow, one-car-wide forest road going down towards the lakeshore. Depending on the time of year you are visiting, check below for guidance on where to park. Basically: when there's no snow or slippery conditions, you can drive all the way to Korpudden. Otherwise, parking depends on your car, your skills in driving on very slippery surface, and the current weather conditions.
Safest spot for parking during winter: This place is not an official carpark and it's located in a corner of the road. So, if you choose to park here, make sure you, your car, and other motorists are safe. The walk down to Korpudden is about 1.5km from here.
Winter map for cars/parking: if you are secure in your driving, you can drive to this point even when there is snow. However, check that there is still enough clearing under your car to go over the hard, packed snow so that it doesn't get stuck. The walk from here to Korpudden is 750m.
Summer map for cars/parking: takes closer to Korpudden but NB! This carpark is not accessible at all during winter or early spring by car. Only suitable for walking when there's snow or it's slippery.
How to get there: You can get to Korpudden by car, by bicycle or by public transport.
Car: Instructions above.
Bicycle: The bicycle routes follow closely to the car route. The cycling route is basically the same road cars use so please take care.
Public transport: Getting to Korpudden by public transport is possible but it requires a little bit of prior planning. The best way to get to Korpudden town is by train and by bus. The travel time on public transport is about 3.5 hours total from Helsinki. There is about a 6.5km walk from the Mustio station to Korpudden but you get to walk past the wonderful Mustio castle on the way. Check out ideas via the Routeplanner and e.g. the Matkahuolto bus service (Google Maps doesn't show you all options so check out a few).

Closest bus stop: Mustio

Route idea #1: take a train to Karjaa/Karis, then a bus to Mustio.
Route idea #2: take a bus to Lohja or Karjalohja, then another one to Mustio.
Accessibility: Korpudden is not accessible to those hard of walking, for children's buggies or wheelchairs. Especially the cliffs overlooking the lake require careful attention especially with children due sudden falls. The paths run on the natural forest floor as well as bedrock with moss, branches, and rocks.
When to go: You can visit the area at any time of the year – the views are great no matter what time of the year. You can visit the park during snowy or wintery seasons but make sure you are careful because there is no winter upkeep (no snow removal) and a lot of the more tricky areas can be hidden by snow. You don't want to slip and injure yourself (or worse) on the slippery cliffs. Also note that there are no lights in the area so make sure you visit the area when there is enough light or have a flashlight with you.
Facilities: A fire pit, a campfire site with a flue (NB. Only the ones with a flue can be used if a forest fire warning is in place!!), dry toilet.
What to wear: Outside the snowy season, normal sneakers will suffice as long as they have a good grip on them. Mosquito repellent in the summer is always a good idea due to the closeness of the lake.
Special to remember: Make sure to check out where and when you are allowed to make a fire (if you're camping in the area). You can pick berries and mushroom in the park. You are also allowed to fish as long as you respect Everyman's rights. If you want to swim in the area, check it doesn't have blue-green algae in it as it's a health hazard to humans and animals. The Lake Wiki shows up-to-date algae info.
Things to see near by
Since you're here, also check out the most beautiful tree in Finland called Paavolantammi.