Do you think you can recognize many Finnish mushrooms growing wild in the forests? There are over 2000 mushrooms in Finland, and roughly 10% of them are edible. Are you a beginner in the mushroom forest or experienced mushroom foodie? Take our newest nature quiz to find out how well you know Finnish mushrooms!
Read more about edible mushrooms on our posts Foraging for the most common mushrooms in Finland and Mushroom picking in Finland is fun.
Enjoyed this quiz? There is more!
Out in the Nature Quiz – Another fun mushroom quiz
In this quiz, we are asking if you can identify these Finnish mushrooms. However, it doesn't include the most common mushrooms that have been featured in the earlier and easier quiz. Do you think you are good at identifying Finnish mushrooms? Take this mushroom quiz and test your real knowledge!
Never ingest any Finnish mushrooms unless you know them
These pictures in the quiz should not be used to identify any mushrooms. There are lethally poisonous mushrooms in Finland. Also, some mushrooms are deadly when raw but incredibly delicious when properly prepared. Therefore, you not only need to correctly identify mushrooms, but also have the knowledge on how to prepare them.
In order to identify mushrooms correctly you need more than one bad photo of it. You need to know the environment where that mushroom grew and possibly utilize other senses than just sight. You might want to smell the mushroom, cut it, or even taste it to be absolutely sure you recognize it.
If you are beginner with mushrooms, it is always good to ask someone to confirm your mushroom identifications. You could contact for example Finnish Mycological Society or the Martha Organisation, to locate an expert.
If you've found this quiz interesting, please share it and click the picture below to Pin It for later!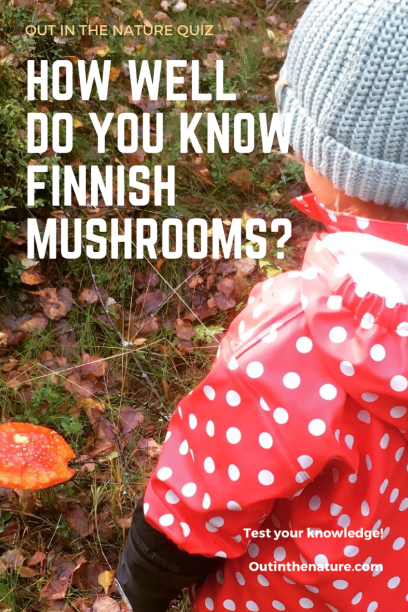 Out in the Nature Quizzes
Out in the Nature Quiz – Can you match the autumn leaves to the trees?
Walking on a forest trail full of autumn leaves made us wonder if we recognize all of the leaves on the ground. Have you ever wondered how well do you know autumn leaves and Finnish trees?
Out in the Nature Quiz – Which Finnish national park suits you best?
Thinking of visiting Finland but there are too many nature destinations to choose from? Or already familiar with many Finnish national parks, but wondering where to go next? Take our nature quiz to find out which national park suits you best!
Out in the Nature Quiz – Finnish Nature Quiz for Kids
Finnish nature quiz for kids is meant for approximately 3–7-year-old children. It includes fun trivia questions with multiple choices. All questions are related to the Finnish nature.
Out in the Nature Quiz – Wildlife in Finland
Are you ready to test your knowledge on the wildlife that roams in the Finnish forests and waters? This fun quiz is suitable for both adults and kids, so challenge your whole family to take part!
Out in the Nature Quiz – How well do you recognize traces of ice age?
How well do you actually recognize the traces of the ice age in the Finnish nature? Do you know how they were formed? Take our quiz to learn more!

Out in the Nature Quiz – Above the Arctic Circle
With this quiz we are heading to Lapland, the northernmost region of Finland. It's time to test your knowledge on the Arctic!