Deer keds (Lipoptena cervi) are usually found on deer, elk and moose, but occasionally bite humans and domestic mammals. They are those annoying little insects that fly directly on to you in autumn forest, crawl into your hair and drop their wings like they have finally found the moose they were looking for. Deer keds, known as hirvikärpänen (=literally moose fly) in Finnish, look like a mix of spiders and flies. They have long wings but they are flat and elastic. And annoying as hell.
The deer keds emerge from the soil each fall, usually in August or September. They look for a host and after they have landed on one, they immediately shed their wings, happy to stay on that same host for the rest of their lives. Females produce just one egg at a time inside of them, and when the larva is almost fully developed, it drops to the soil and forms a pupa, eventually emerging as a winged adult at the end of August. Both males and females suck blood.

The adult deer ked is looking for a host mainly by warmth. Therefore, they mistake humans or even dogs as moose sometimes. The main annoyance in humans is the inconvenience and unpleasantness of removing keds from hair and clothes. But they can also bite and cause intense itch. It is still unknown whether they can transmit diseases, but the fact that they easily drop their wings in the host means that their capability to transmit diseases from animals to humans is limited. In Sweden the deer ked has been documented since the 18th century, but in Finland it started spreading in the 60s. It might have been here before, but started spreading more because of large deer and moose populations. Remains of deer ked have even been found in Ötzi, the natural mummy of a man who lived sometime between 3400 and 3100 BCE and who was found in the the Ötztal Alps in 1991. Poor Ötzi, not only was he murdered but he suffered from the deer keds too.

Interestingly, the deer keds in Sweden use roe deer as their main host instead of moose. The Swedish deer keds are smaller in size and less annoying to humans.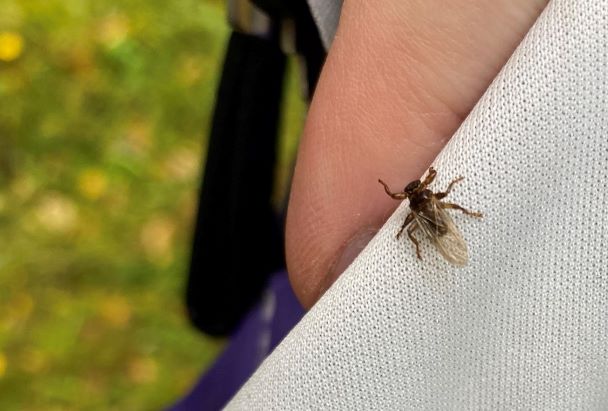 One moose can carry even 10 000 deer keds on itself. I recently stumbled into a resting spot of a moose and was hit by tens of deer keds instantly. Recent research made in Finland found that some birds, especially tits, preferred to stay close to deer ked infected moose and their resting spots as the tits utilized deer ked pupa as their alimentation. This had a limiting effect on deer ked population in that area the following year.

One concern in Finland has been if the deer keds spread into Lapland and to reindeers. At the moment it seems that they can be found in reindeers close to the arctic circle but they cannot effectively reproduce in them. Which would be good because they annoy the hell out of reindeers, too. I once found a deer ked-like creature in my head in Lapland I was freaking out that they have spread there too, but it turned out to be another insect, a bird ked. Slightly smaller in size and lighter color than the deer ked. Some people who claim to have seen deer keds as early as in June in Finland may in fact have found these bird keds. They are similar, but the bird keds don't drop their wings and they are not known to bite humans. They are active early in the summer when birds fly out from their nests.
What is the difference between deer ked and tick?
Ticks and deer keds are both types of ectoparasites that feed on the blood of animals, including deer and sometimes humans. However, deer keds do not embed themselves in the skin like ticks, and they are less likely to bite humans. Read more about ticks from our post: All you need to know about ticks in Finland
How to get rid of the deer keds?
Some people avoid going to the forest in the autumn after the deer keds appear. Some may have severe allergic reaction to their bites and must be careful because of that, but many just find them so unbearably annoying.

Unfortunately, there is no simple solution for the annoyance of the deer keds. Camphor drops were believed to expel them at the old days, but that hasn't been scientifically proven. Some people still recommend that even today. You can also buy a deer ked repellent Hirvikärpässtop, but I have soaked myself in it with zero effect on the deer keds. Some people believe that white or light-colored clothing would be better, but I personally believe they are better only because you can spot the deer keds easier on white and pick them away from your clothes. You can use mosquito net hats or jackets and cover yourself from head to toe like a bee keeper, but the deer keds are vicious little creatures and they somehow always crawl inside of your protective outfit eventually. And then it's even harder to pick them away from your skin when they are under your net. Some people suggest that since ants are the natural predators of the deer pupa, formic acid from ants' nest could work as repellent. Some believe in the power of garlic. And one person even recommended shaving your head.. Covering yourself with light-colored long sleeve clothes and a hat and net might still be your best bet. And antihistamine and resin cream in case you get bitten.

Killing the deer ked isn't easy either. They simply won't die. One positive thing about cold winter is, that it stops the deer keds from flying and you can relax in the forest again. But they can survive even in -15 degrees and fly again if the sun warms them up. As the deer keds love deer and moose, the best strategy would be to limit the amounts of their hosts. Suddenly a wolf in a nearby forest is not such as bad thing.
My record so far is 17 deer keds on my hair, can you beat that? I needed a beer keg after that hiking trip!
Read also
Deer and moose populations affect the number of deer keds out in the nature. Read more about deer hunting and moose hunting in Finland.